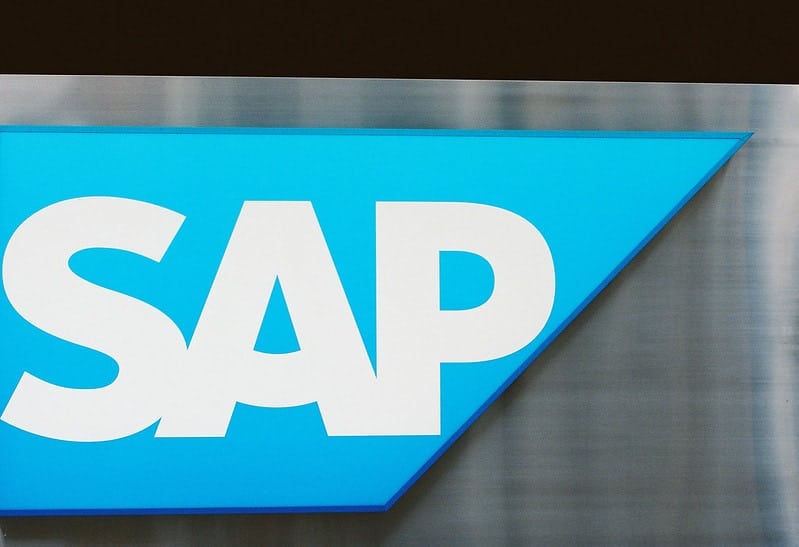 SAP shares are down almost 20% during today's stock trading activity in Germany at €100 per share, as the German software developer slashed its earnings guidance for the year while signaling a forced strategic shift towards the cloud.
These announcements came as part of the firm's release of its financial results for the third quarter of 2020, although a separate press release was published this morning, in which the management team informed investors that they expect to see a downtrend in revenues from 2020 and forward as part of an accelerated shift to cloud-based services and off the traditional licensing model the company has relied on for years.
The Walldorf-based software maker expects to see its cloud revenues almost triple by 2025 at around €22 billion, with this segment potentially representing around 60% of the firm's €36 billion forecasted revenue for that same year.
However, the firm slashed its revenue guidance for 2020, with total sales now expected to land in a range between €27.2 and €27.8 billion, down from a previous forecast of €27.8 to €28.5 billion.
This accelerated shift to cloud-based solutions comes as the pandemic has forced businesses around the world to rely on off-premise software to support their operations, while a growing number of companies appear to be identifying the benefits of working from home – which results in higher demand for applications that can be run from anywhere.
SAP expects that the pandemic – and its resulting economic blow – will have an impact on the demand for its services at least until the first half of 2021, while the company has also warned that its travel-related SAP Concur business is likely to remain depressed for the remaining of 2020.
A weak quarter for SAP piles on to the bleak guidance
SAP reported €6.5 billion in revenues during the third quarter of 2020, a figure that is 4% lower than the firm's total sales a year ago.
The software maker's software licenses segment took the biggest hit during the quarter, as its revenues drop as much as 19% year-on-year on a constant currency basis with sales landing at €714 million, with this poor performance being partially offset by a 14% growth in the cloud segment – which jumped to €1.98 billion in sales vs. €1.80 billion the company reported last year.
Meanwhile, IFRS gross margins were up 90 basis points at 71.1% while non-IFRS gross margins jumped 140 basis points at 73.7%. However, operating margins retreated 220 basis points compared to a year ago at 22.5% following IFRS rules, while non-IFRS operating margins actually advanced 110 basis points at 31.7%.
SAP's IFRS operating profits declined almost 12% during the quarter at €1.47 billion as a result of a 14% jump in research and development expenses and amid the deceleration in revenue.
Finally, earnings per share jumped almost 28 cents compared to the year before at €1.32, which represents a 26% surge, although most of this jump came as a result of extraordinary finance income of €616 million during the quarter which resulted from an accounting adjustment of the firm's investment in Sapphire Ventures.
What's next for SAP shares?
Today's plunge seen by SAP shares has also been fueled by a price target cut from JP Morgan, with the investment bank slashing its 12-month forecast to €120, down from a previous target of €160. The bank also moved the shares from Neutral to Overweight.
SAP shares are currently trading at 32 times the firm's forecasted free cash flow for 2020, which makes the stock much more attractive as the valuation multiple has dropped to more affordable levels.
The weekly chart above shows that SAP shares are finding support at a lower trend line that emerged in 2016, although the €100 stop could only be a psychological price action floor.
At this point, investors are probably concerned about the firm's future, given that SAP's management will have to prove that they can accomplish the herculean task of transforming a company of such massive size in a significant way and fast.
A move off SAP's traditional licensing model to a subscription-based cloud model is not as positive as it seems as subscription models have lower profit margins.
Moreover, the cloud-based enterprise software landscape is filled with strong competitors who have already made significant advances in that direction – if not pioneered their way to it.
SAP's challenges remain big in the near future but opportunities remain for investors who could jump in if the stock were to move much lower, as the transactional cost of moving to other technologies remains high for SAP's long-term clients, which reduces the level of volatility that SAP revenues may experience during this strategic restructuring.
Potential entry levels for investors based on the charts are €81, €75, and €65, all of which could serve as support for a fresh uptrend.