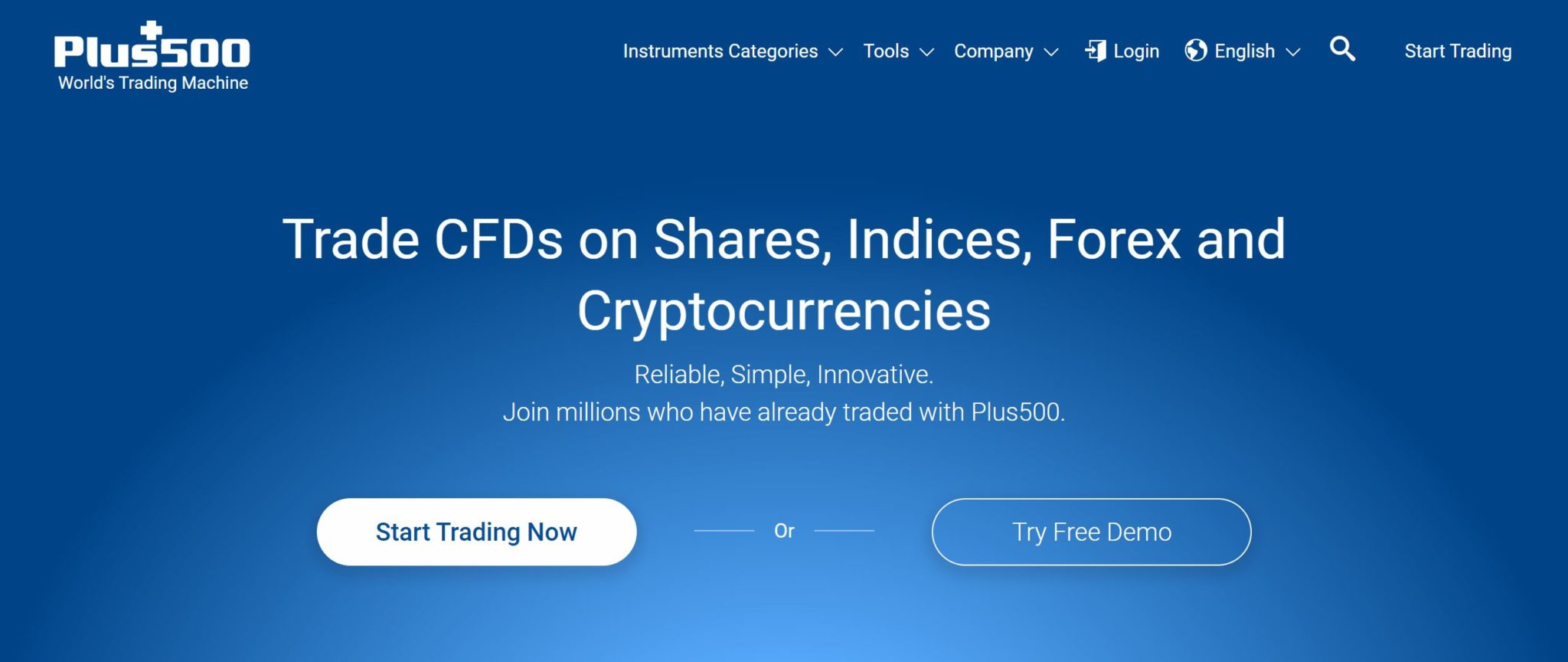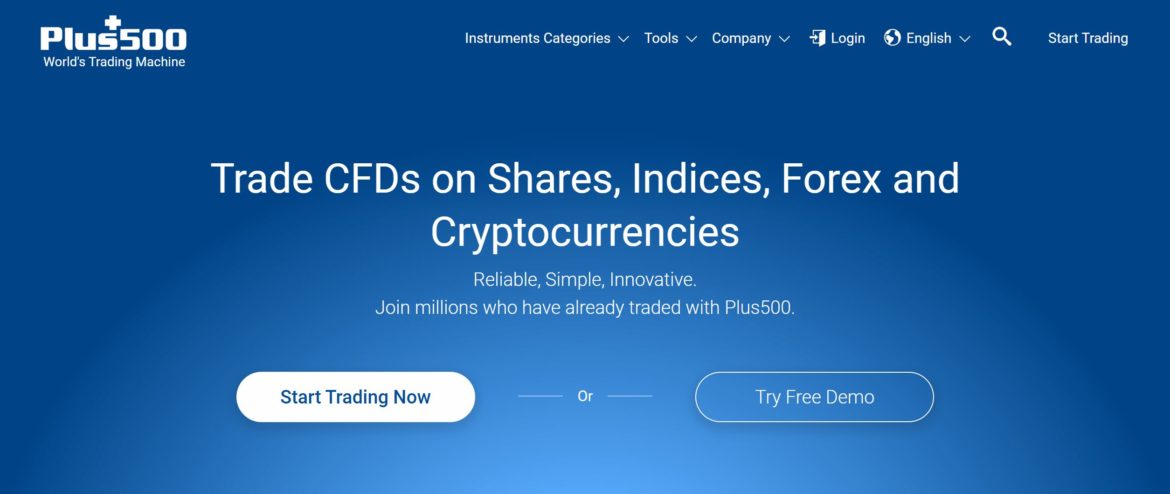 Plus500 shares are effectively reversing a strong loss they saw in early stock trading activity in London following the release of its full-year 2020 financial results, as market participants keep digging into the report for clues about the brokerage firm's future.
Plus500 shares dived roughly 4% earlier today despite the firm posting a strong financial performance during 2020, yet the stock quickly bounced from those lows, booking a 2% gain right now at 1,407p per share.
The platform, which enables trading of contracts for difference (CFD), reported one of its best years on record amid a surge in retail trading during the pandemic.
Revenues for the 12-months ended in December grew 146%, moving from $354.5 million to as much as $872.5 million, while the company's EBITDA landed at $515.9 million – more than doubling from a previous $192.3 million the firm booked in 2019.
During the year, the company processed more than two times the number of the trades that it did in 2019 while tripling its client deposits from $1 billion to $2.9 billion by the end of 2020.
The firm qualified this kind of growth as "unprecedented", while also stating that there were "unparalleled" levels of platform usage during the year.
Meanwhile, Plus500 could now be eyeing the incorporation of other financial assets to its portfolio of instruments, similar to what eToro did years ago when it launched non-CFD instruments like stocks and exchange-traded funds (ETF).
Moreover, the platform aims to keep adding a wider selection of CFDs, currently offering a selection of approximately 2,000 contracts covering multiple commodities, cryptocurrencies, stocks, indexes, and ETFs.
During 2020, Plus500 attracted a total of 294,728 new customers to its platform, roughly three times more than in 2019, while the number of active customers more than doubled, ending the period at 434,296.
The company's net income ended the year at $500 million, up 231% compared to 2019, while earnings per share more than tripled, landing at $4.71 by the end of the year.
How have Plus500 shares performed lately?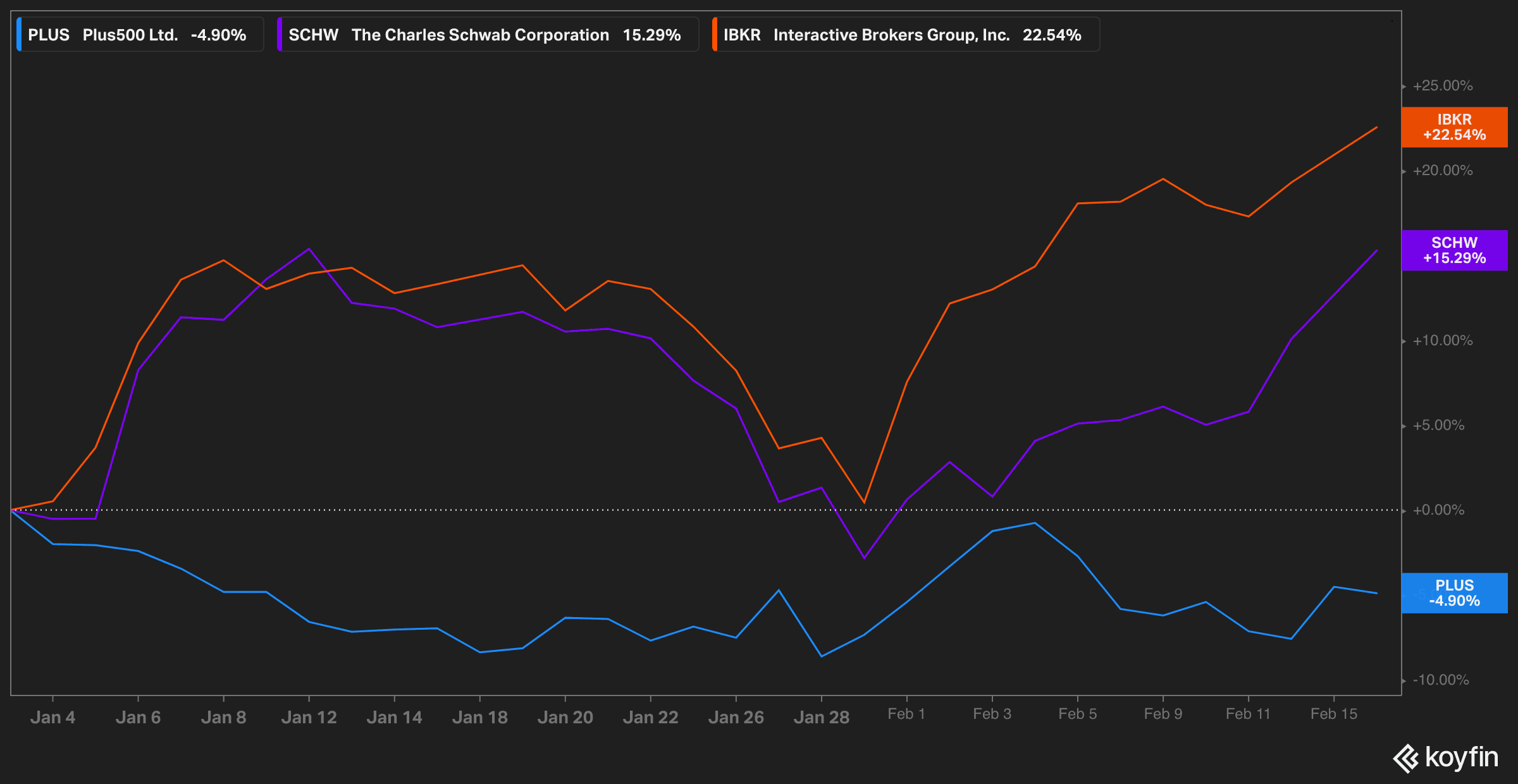 Last year, Plus500 shares delivered a solid 78% return for investors, as market participants possibly priced in this unprecedented surge in usage and profitability once the retail trading boom became evident.
Interestingly, Plus500 shares outpaced many of its peers including Interactive Brokers (IBKR) and Charles Schwab (SCHW), which yielded 31.7% and 13.6% during the same period.
That said, since 2021 started, these two have outperformed Plus500 since the platform's shares have lost 4.9% – possibly as most of its growth was already priced in.
Now that the company is heading to a potentially more stable pace of growth in 2021, market participants could start to take some of last year's profits off the table.
What's next for Plus500 shares?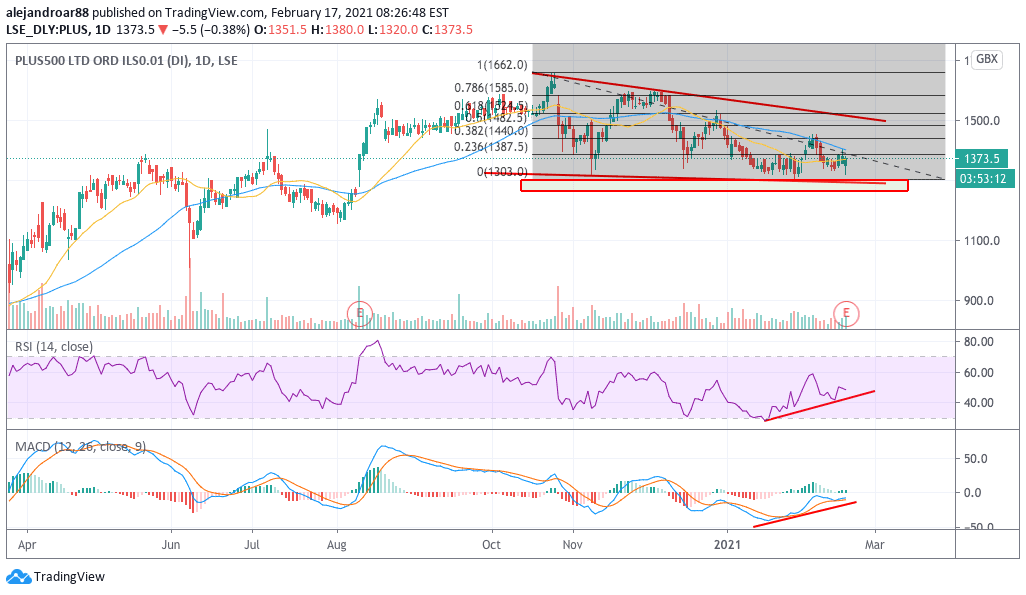 The chart above shows that Plus500 shares are heading to a key area of support at the 1,300p level and traders should keep an eye on how the price action works out in relation to that threshold.
A move below those levels could signal the start of a downtrend, even though, given the positive financial performance of the firm lately, this appears to be an unlikely scenario.
On the other hand, if the share price were to bounce strongly off these lows, market participants could be ready to boost the firm's valuation amid a promising outlook for the business.
Reinforcing this scenario, there is a bullish divergence in both the MACD and the RSI that could be indicating that the momentum for Plus500 shares is picking up lately despite the price being temporarily depressed.
Interestingly, Plus500 ended last year with a total of $593 million in cash and equivalents, which represents almost 30% of the firm's total market capitalisation of $1.97 billion.
Meanwhile, the company is being valued at roughly 4 times last year's earnings and 13 times its 2019 earnings.
Since the firm managed to attract so many new customers during 2020, it would be plausible to think that earnings might land somewhere in between these two figures – possibly ranging from $250 to $350 million by the end of 2021.
If we were to value the company based on the low end of that earnings forecast, the current price-to-earnings multiple would be 8 – a potentially low multiple if one expects that Plus500 could use last year's incredible performance to further boost its growth, while possibly eyeing an acquisition that could further boost its top line over the coming months.