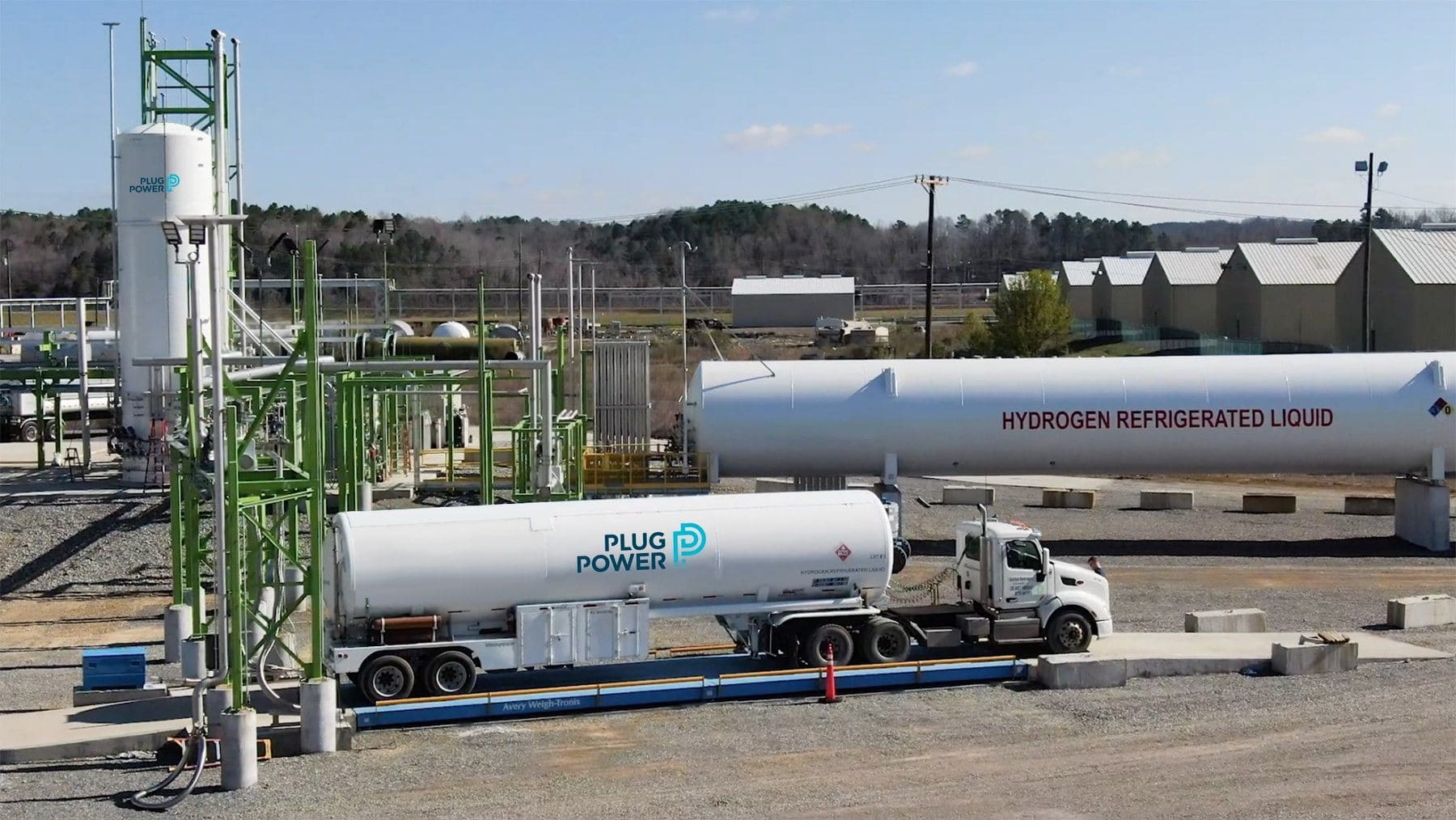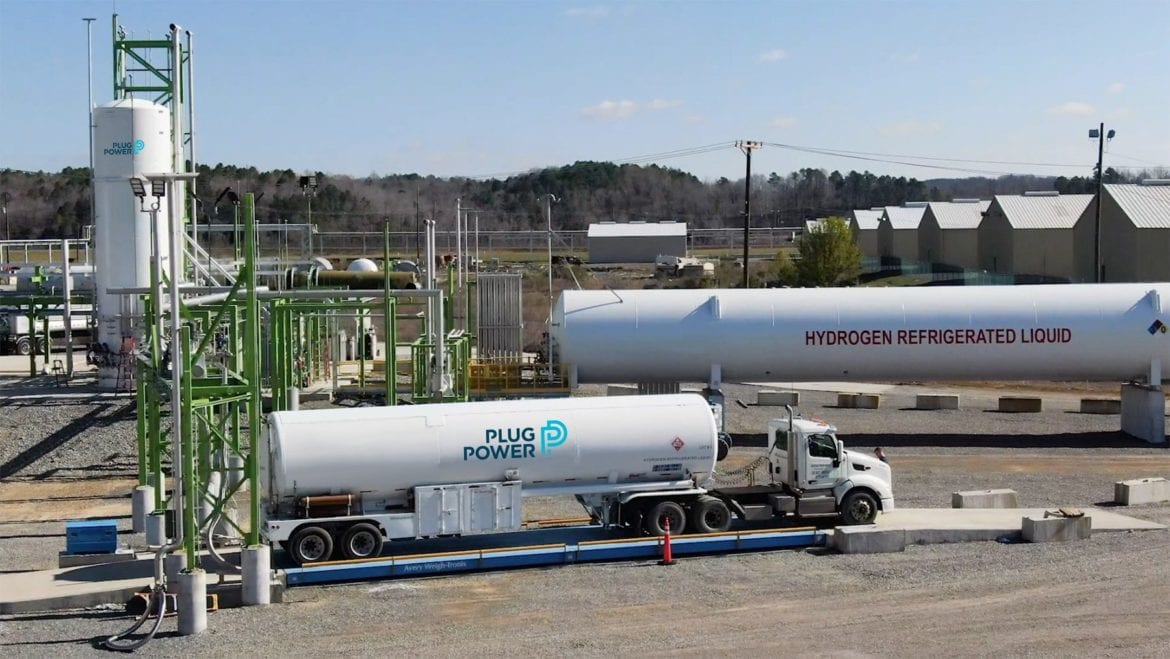 The price of Plug Power shares jumped 2.3% yesterday at $29.85 per share following the release of the firm's earnings report covering the first quarter of its 2021 fiscal year, with revenues landing above analysts forecasts while the company shared further details about its plans to build a factory in Georgia.
Sales of the manufacturer of hydrogen fuel cells came in at $72 million, resulting in an 76% jump compared to a year ago while exceeding analysts' estimates of $66.6 million for the quarter.
According to the press release, the firm shipped a total of 1,308 units of its GenDrive fuel cells during the three months ended on 31 March compared to 825 units it delivered during the same period a year ago.
In regards to its profitability, the firm highlighted that "a number of events" had a materially negative effect on its bottom-line results including lower fuel gross margins amid a transition to another industrial gas provider while also pointing to the Texas freeze that took place in February as an event that had a negative effect on hydrogen supply.
Plug Power (PLUG) reported gross losses of $12.17 million, which results in a negative gross margin of 16.9%. This shows a deterioration in the firm's top-line performance compared to the previous year when Plug reported a negative gross margin of 9.7%.
Meanwhile, the company reported net losses of $60.75 million, a number that was 62.2% higher than last year's negative bottom-line performance, while losses per share landed at $0.12 amid a leap in the number of shares outstanding, which ended the period at 513.46 million. Analysts had forecasted net losses per share of $0.08.
In regards to its plan to build a giga-factory in Georgia, the firm stated that it aims to achieve a daily output of 15 tons of green liquid hydrogen while the management expects that the project should be completed by the end of 2022 or the beginning of 2023.
The company also reported that it completed the restatement of its 2020 annual report, an event that caused a fair share of nervousness among investors back when the company made the announcement about these modifications. According to the management team, the modifications "did not impact the company's cash position, business operations, or economics of commercial arrangements".
How have Plug Power shares performed so far this year?
After an eye-popping 973% jump last year, shares of Plug Power remain under the water in 2021 as they have lost almost 12% of their value. An ongoing sector rotation toward virus-battered areas of the market is possibly one of the reasons why this renewable energy stock has lost some territory, while Plug's valuation is particularly lofty based on most fundamental metrics.
According to data from Seeking Alpha, analysts are expecting to see PLUG sales landing at $464 million this year, with the highest estimate currently sitting at $493 million which results in a forward price-to-sales ratio of 35.7 times.
Meanwhile, the consensus estimate at the moment is bullish, with 12 out of 19 analysts currently covering the stock holding a buy rating while there is only 1 seller in the group.
What's next for Plug Power shares?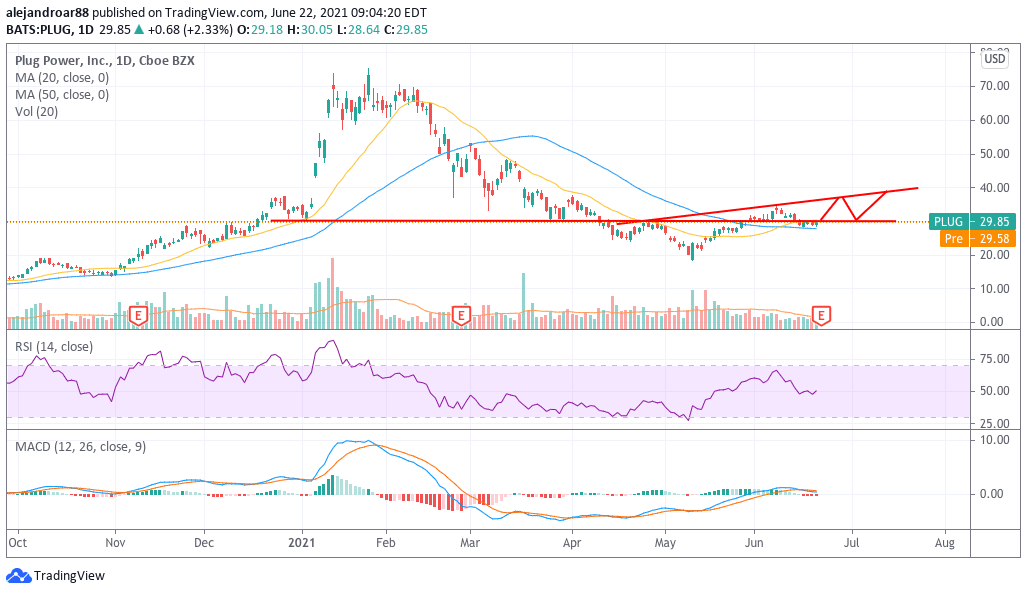 The outlook for Plug Power is a bit hard to assess at the moment as the stock price is hovering near a long-dated support/resistance area at the $30 level, which means that market participants have not yet agreed on the nature of this threshold for the stock.
A sharp move below this line could result in a sharp pullback for Plug, possibly aiming at the $20 level next. However, the price action has posted a higher high recently, which reinforces a near-term bullish outlook.
This bullish outlook could only hold if the stock manages to stay above that $30 level in the following days or weeks while it would be nice to see Plug surging to the high 30s as that would result in a new higher high and could possibly confirm the beginning of a more stable uptrend.