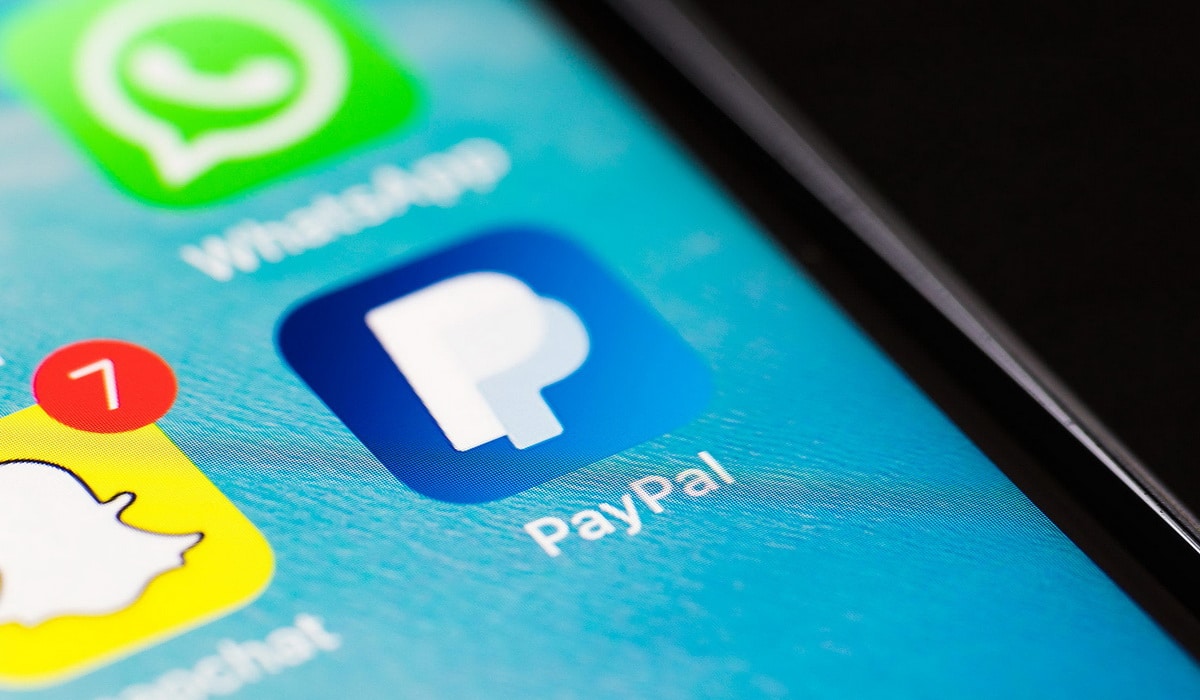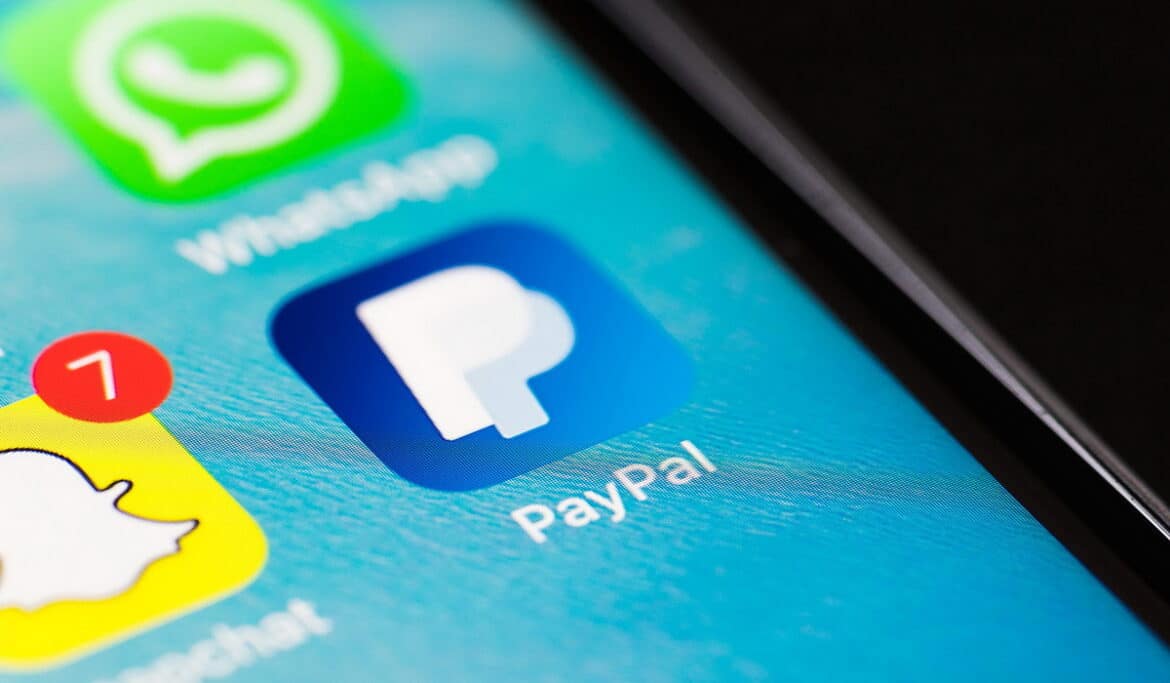 PayPal shares are sliding today in pre-market stock trading action after the company released its financial results covering the second quarter of 2021 as guidance for the coming three months came below analysts' estimates.
PayPal reported a 40% jump in total payment volumes (TPV) during the three months ended in June 2021 at $311 billion while revenues came in at $6.24 billion – up 19% compared to the figure reported a year ago while slightly below Wall Street's forecasts for the quarter.
Net new active accounts added by the firm dropped from a total of 21.3 million during the first quarter of 2020 to 11.4 million during Q2 2021, primarily due to higher comps amid the pandemic tailwind last year. Total active accounts, however, still grew 16% compared to the same period a year ago, finishing the quarter at 403 million.
Notably, the company mentioned that transaction volumes from eBay Marketplaces fell 37% with total volumes coming from the e-commerce platform now representing only 4% of total TPV, down from a previous 9% reading seen during the second quarter of 2020.
As per the firm's profitability, PayPal (PYPL) reported an operating margin of 18.1% – unchanged compared to a year ago – while the firm's net income shrunk by $346 million for a 23% retreat compared to Q2 2020. GAAP diluted earnings per share landed at $1.15 or 8% higher than last year's results and slightly beat analysts' estimates for the quarter.
However, the company guided for lower earnings per share than expected for the upcoming third quarter of 2021, with GAAP EPS forecasted to land at $0.68 compared to $1.08 analysts had estimated according to data compiled by Seeking Alpha.
Perhaps notably, this softer guidance would include a $0.13 gain coming from PayPal's strategic investment portfolio, which means that core-business earnings would be less than half of what analysts had anticipated for this next quarter. That said, full-year guidance came in line with market estimates.
Shares of the digital payments platform reacted negatively to this softer guidance as they are slipping 5.3% so far in pre-market action at $286 per share.
How have PayPal shares performed so far this year?
Even if today's pre-market downtick materializes during the live session, PayPal shares would still be up for the year, effectively delivering a 22% gain for investors as the firm's performance continues to be positive and its growth prospects remain intact.
This year-to-date gain would come on top of a blockbuster 2020 performance, as the stock of the digital payments platform more than doubled in value as a result of pandemic tailwinds.
PayPal has managed to successfully navigate the progressive loss of eBay's once-prominent transaction volumes and the pandemic may have provided the perfect scenario to shrug off worries about the impact of eBay's decision on the firm's TPVs.
Accounting for only 4% of the total now, eBay volumes remain important but not essential for PayPal's future growth as that percentage is now 700 basis points lower than it was back in 2019 when the e-commerce platform announced the end of its operating agreement with the firm headed by Dan Schulman.
What's next for PayPal shares?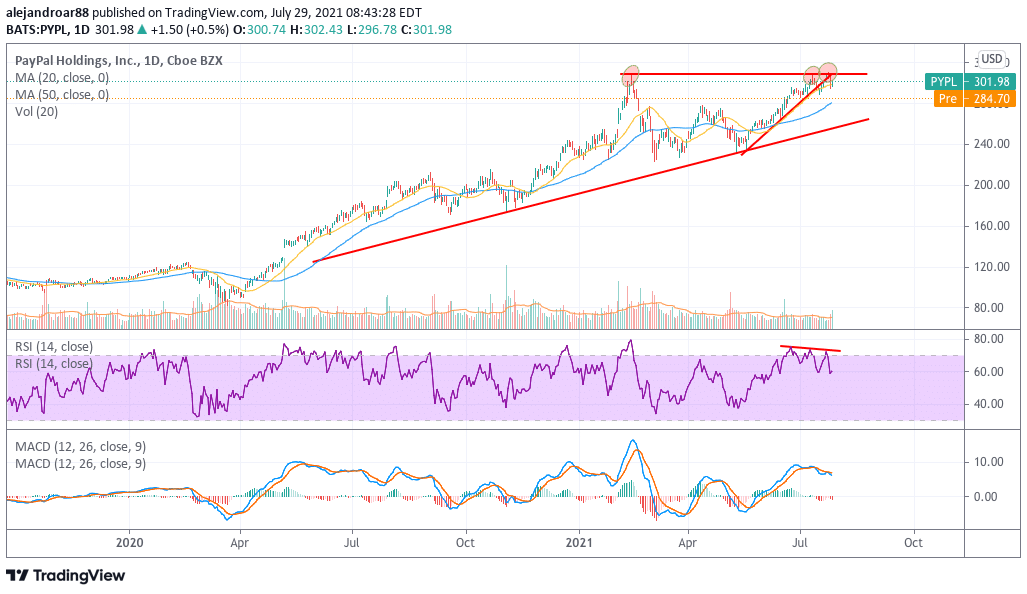 The latest price action seen by PayPal is pointing to a bearish outlook for the digital payments stock as most of the quarterly growth the company reported may have been priced in before the earnings release.
The chart above shows that a move above the $310 level was rejected for a third time while trading volumes were quite high in the past two days. Moreover, the Relative Strength Index (RSI) is displaying a bearish divergence – a typical sell signal that emerges when the price is advancing consistently on lower momentum readings.
These bearish signals combined with the softer guidance provided by the management for the upcoming third quarter could result in a swift correction for the price of PYPL stock, possibly eyeing the 50-day moving average as a plausible landing zone at $280. This results in a 7.3% downside risk that would already be partially materialized as a result of today's pre-market downtick.
However, if that support is broken, chances are that PayPal stock could experience a full-blown reversion to the mean. If that is the case, the next support area for PayPal would be found at around $260 – $270 for an extra 7% downside risk.
At those levels, considering PayPal's robust balance sheet, strong track record of top and bottom-line growth, and other positive qualitative factors of the business, the stock would be fairly attractive as it would be trading at a more conservative forward P/E ratio of 55 that would be justified based on the firm's historical and forecasted earnings growth.