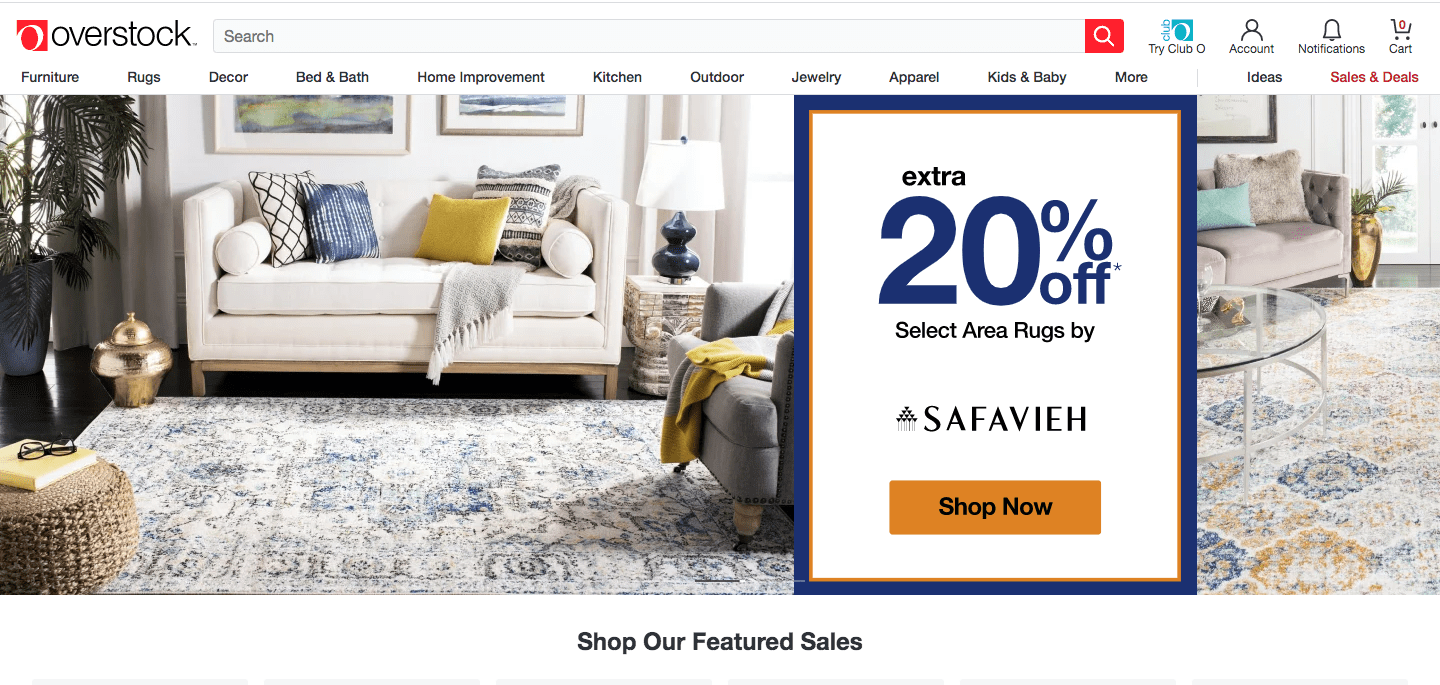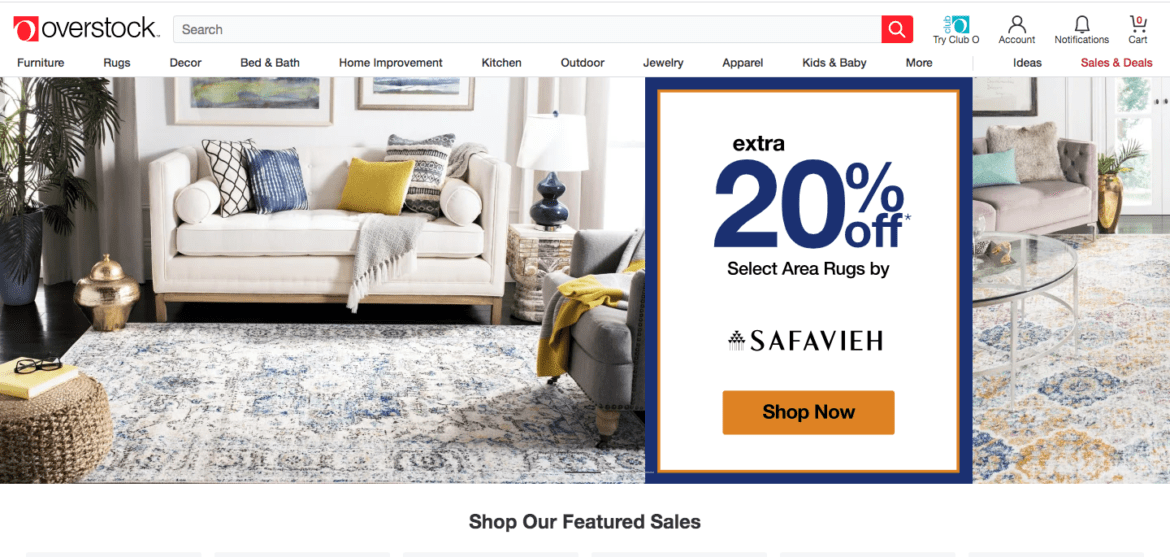 Shares of online retailer Overstock.com (OSTK) jumped above their all-time high of $90 per share yesterday following an estimate-smashing quarter that ended up pushing the stock's price above that landmark.
The Utah-based company has been a Wall Street favorite since the stock touched its March bottom at roughly $2 per share, managing to rise to $92 per share in less than four months and delivering an eye-popping 4,400% return during that period.
The stock has received a big push since 24 July, when it was trading at $50 per share, as investors eagerly anticipated the company's upcoming Q2 2020 earnings. Overstock.com has been expected to be a beneficiary from higher online shopping amid stay-at-home orders in the US during that three-month period.
Were these quarterly results any good?
Actually, they were great.
Overstock.com managed to beat analysts' expectations in both earnings and revenues after posting $782.54 million in sales vs. $680 million analysts had forecast, while earnings per share landed at $0.84, which is $1.07 higher than the $0.23 loss per share Wall Street had estimated for the online retailer.
As a result, shares climbed from $60 per share to $93.85 in the five days following the report, sending the retailer's market cap to nearly $3 billion, despite the fact that the company has been losing money consistently during the six quarters preceding the earnings announcement.
Meanwhile, analysts' estimates for 2020 are forecasting earnings per share of $0.09 by the end of the year, which would put the company's current P/E ratio at 1,026 if those forecasts materialise.
What's next for Overstock.com shares?
Overstock's shares have been riding a steady uptrend line since they touched their March bottom and the price is not showing signs of a reversal any time soon.
However, this latest move has sent the RSI oscillator to almost 90, its highest level since the post-pandemic stock market recovery started, which could be signalling that a small pullback is to come within the next few days.
Trading volumes seem to confirm that thesis, as the number of shares traded has consistently declined since that push above the $50 level.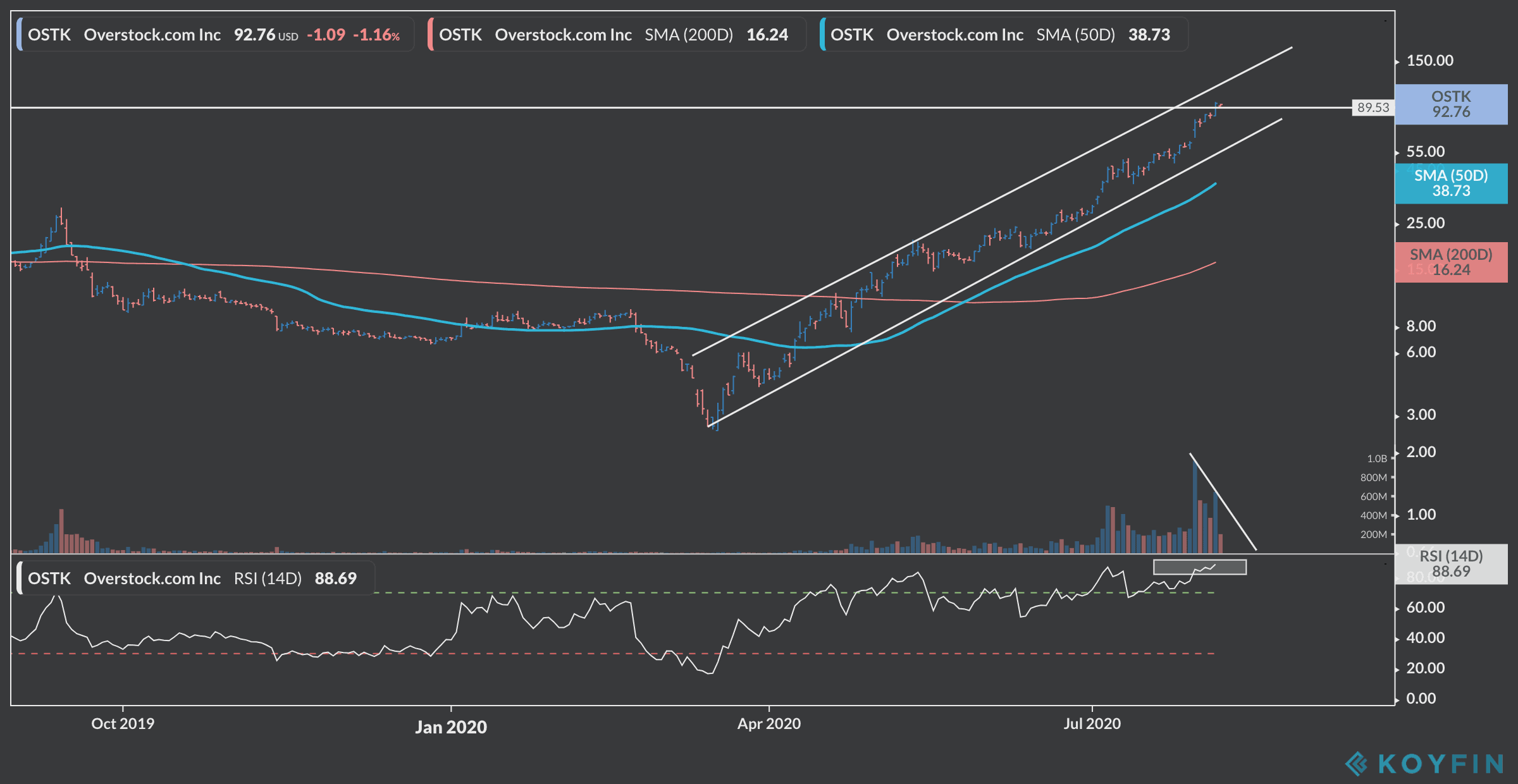 However, at this point, given the increased interest around the stock and the positive momentum that followed the earnings report, there are no negative catalysts to push Overstock.com shares below that lower trend line, which means that any pullback would actually present an opportunity to buy the dip. The shares are currently priced 3% lower at $90.97.
On the other hand, traders should keep an eye on rising tensions between the US and China, as any indications that the recently signed trade deal between the two countries could unravel may lead to a sharp sell-off. Overstock's business model relies heavily on cheap Chinese imports sold by the company's third-party vendors.
Furthermore, news of a vaccine release and a steepening curve of virus cases in the United States could also result in downside movements for Overstock.com shares, as the company's windfall resulting from a large number of people staying at home will ultimately fade if the virus situation is successfully contained.