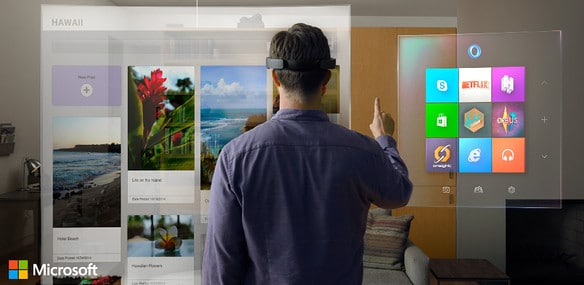 Microsoft has been awarded a huge contract with the US Army to manufacture an augmented reality device that will deliver "enhanced situation awareness" to the country's military forces.
Microsoft's technical fellow, Alex Kipman, wrote in a blog post released yesterday that the firm will work alongside the military body to accelerate the development and production of its "Integrated Visual Augmentation System (IVAS)", an augmented-reality headset based on the company's HoloLens.
According to sources familiar with the contract, the deal has a price tag of $21.88 billion and is set to last over 10 years.
Kipman further explained that these devices should enable military personnel to share information in real-time, possibly improving their decision-making capabilities in multiple scenarios.
The contract is reportedly the result of two years of collaboration between US military forces and the company founded by Bill Gates.
This is the second multi-billion Department of Defense (DoD) contract that Microsoft has been awarded lately, alongside a $10 billion contract the firm secured in October last year after outbidding Amazon (AMZN) to support the DoD's JEDI initiative through its cloud solution Azure.
Meanwhile, this is n important win for Microsoft's bet on augmented reality, with most estimates pointing to this market being worth more than $300 billion over the coming years.
Microsoft (MSFT) shares reacted positively to the news, with the stock advancing 1.14% in pre-market stock trading action today after closing yesterday's session 1.7% higher at $235.77 per share.
The latest steps in Microsoft's AR initiatives
Microsoft made multiple moves in the past decade to secure a spot in the augmented reality market, starting with the purchase of $150 million in patents from the Osterhout Design Group (ODG) in 2014.
Meanwhile, only a few weeks ago, the company announced a platform called Microsoft Mesh – a mixed-reality environment through which people can interact with each other via 3D content and holographic images.
Among the many benefits that such a platform could bring to the corporate world, remote workers could use the technology to engage with co-workers, possibly eliminating some of the downsides of this particular work methodology, which include feelings of isolation and a diminished sense of belonging.
What's next for Microsoft (MSFT)?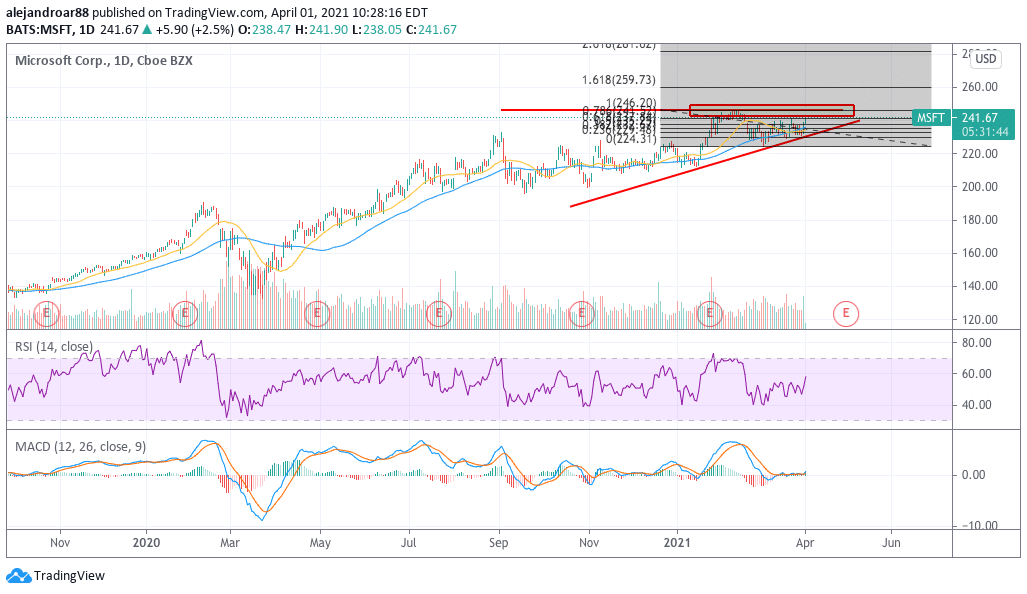 Microsoft's sales during its 2020 fiscal year ended at $143 billion, while analysts are expecting sales to jump to $163 billion as cloud-related revenues continue to accelerate.
Since 2015, the intelligent cloud revenue stream has moved from $23.7 billion by the end of 2015 to as much as $48.4 billion in 2020, with the firm effectively doubling its revenues while this particular segment has become the largest for Microsoft.
Meanwhile, during the first six months of the firm's 2021 fiscal year – ended on December 2020 – revenues landed at $22.7 billion, which puts the company on track to generate $40bn+ sales from its cloud segment.
Microsoft's increased reliance on this growing area of the tech industry – cloud – and the launch of cloud-based augmented reality solutions such as Mesh, should keep contributing to strengthening the growth of this segment of the business in the near future.
If we forecast that both the intelligent cloud service and the productivity and business processes segments continue to grow at a CAGR of 15% – in line with their growth in the past five years – we could see MSFT revenues landing at around $240 billion in the next five years.
MSFT $2.4 trillion market cap in five years?
Meanwhile, if we were to use  price-to-sales multiples of 5 to 10 for Microsoft – also in line with its historical averages – the firm's valuation could land at around $1.2 trillion and $2.4 trillion five years from now.
Based on those assumptions, the maximum five-year upside for MSFT would be 33.3% compared to today's market cap of $1.82 trillion, excluding its 1% annual dividend yield.
On the other hand, from a technical standpoint, MSFT's shares seem heading to retest their $247 per share resistance from early February. The latest price action shows that the stock has been posting a series of higher lows as it continues to approach this threshold, which makes it highly likely that Microsoft could end up breaking this resistance.
If that happens, a short-term target for Microsoft could be set at $260 per share.