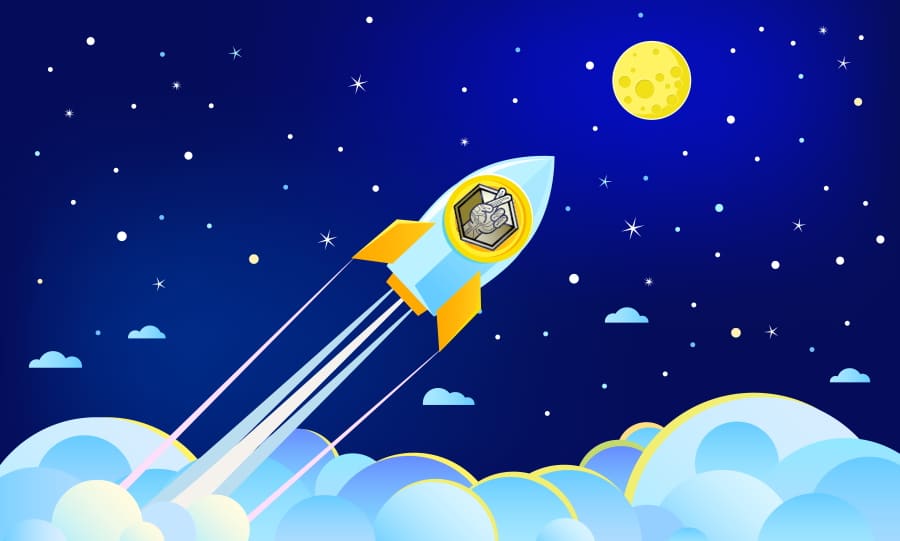 Crypto-lottery platform Lucky Block, fresh off of its PancakeSwap listing, has already made waves in the crypto market, with the price of LBLOCK rocketing over 700% since launching on the 26th of January.
According to CoinMarketCap, Lucky Block now has a market cap of over $58 million – although this figure rises to over $180 million when accounting for the total supply of LBLOCK tokens.
The current LBLOCK price is hovering around $0.001789 at the time of writing, as the price has taken a breather after some incredible bullish momentum during the past few days. All eyes will be on the price chart during the coming days as the token gears up for another upwards push.
LBLOCK Price Prediction – More Bullish Momentum Ahead?
Since Lucky Block is only in its seventh full day of trading, it's challenging to offer comprehensive technical analysis on the higher timeframes, as the price is still finding its feet. However, we can dig a little deeper into the lower timeframes to get an idea of where the price may go next.
Looking at the LBLOCK price chart on CoinGecko's GeckoTerminal, we can see price does seem to be forming a clear bull flag on the 4H and 1H timeframes. As you may be aware, bull flags tend to develop following a solid bullish impulse and highlight periods of consolidation within the market.
The critical factor to remember with bull flags is that they tend to break to the upside. So, the fact that LBLOCK's price is creating this pattern is a relatively bullish signal.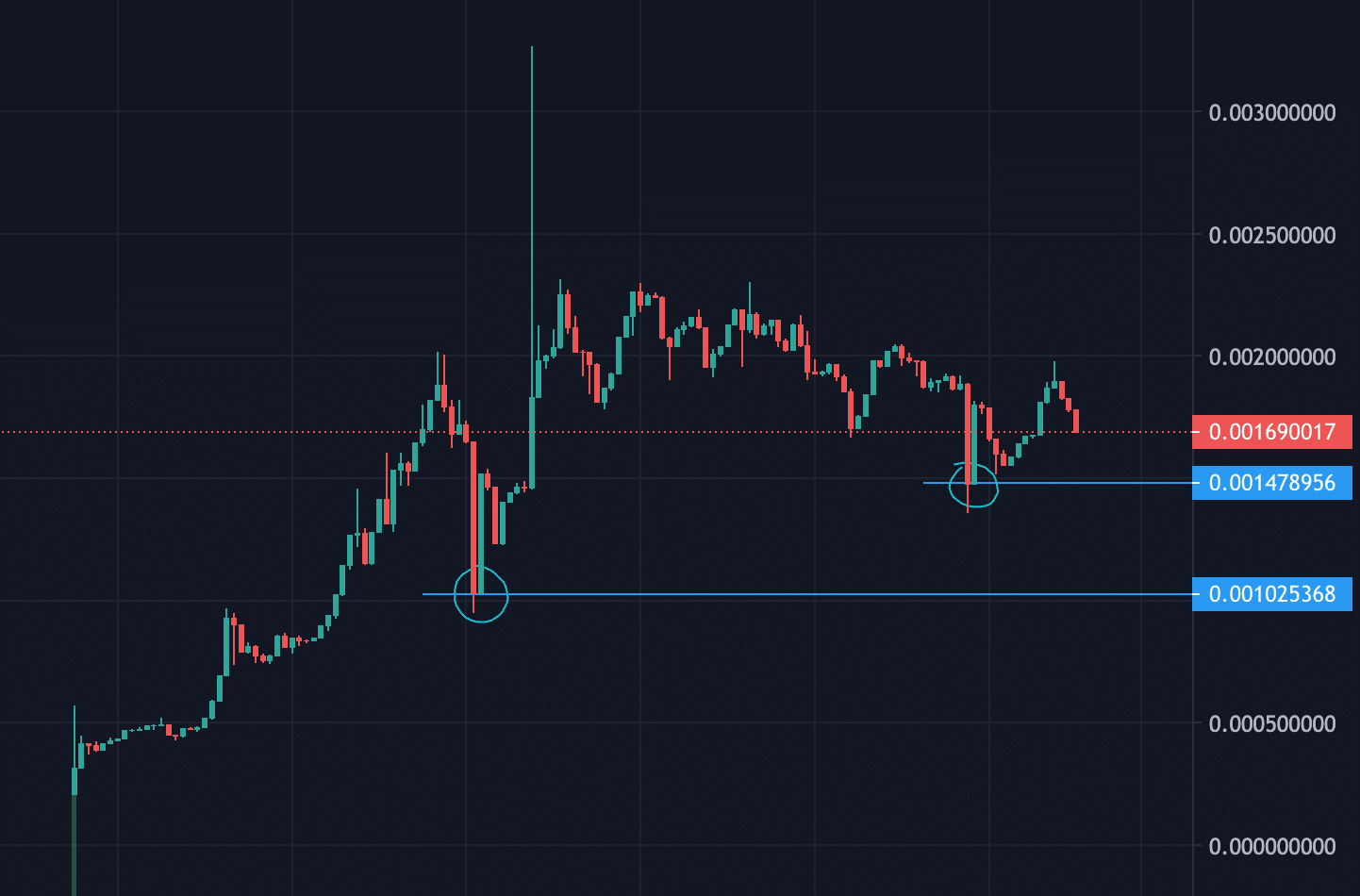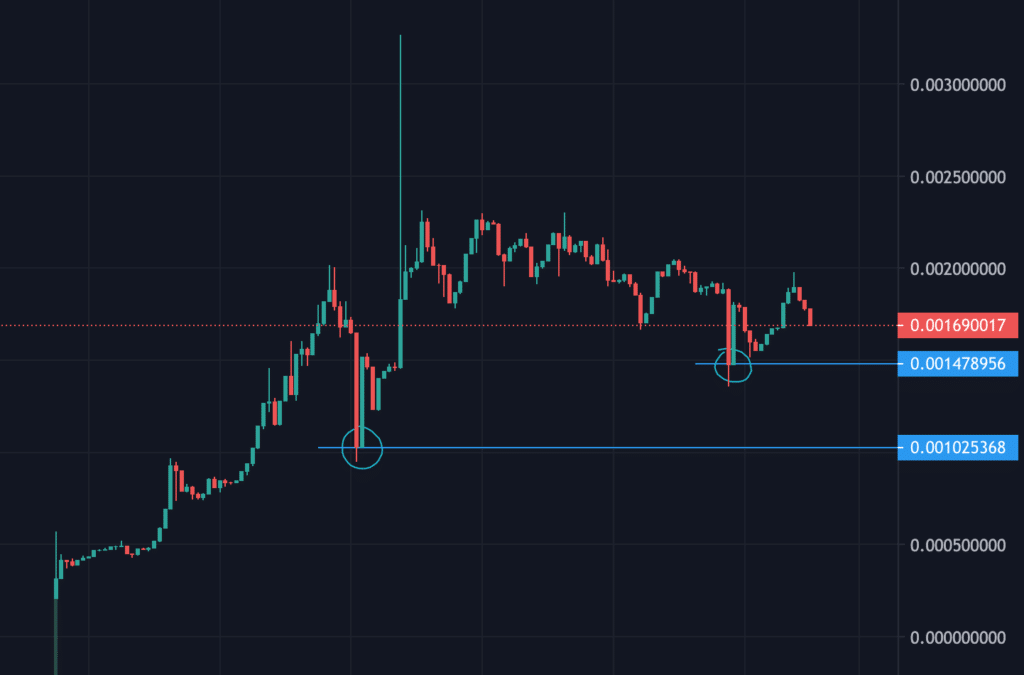 As visualised in the image above, there are two key areas where the LBLOCK price may rebound and begin another bull run. The upcoming support area around $0.0014 acted as a floor for price on the 31st of January, with an aggressive rejection occurring when price tapped this level.
Another support area to be aware of is around $0.0010, where price rejected on the 29th of January. These areas of support tend to be where a significant portion of buy orders are located and act as a way to prop up the price.
As you may know if you buy cryptocurrency regularly, support levels are a great location to invest as they provide the highest chance of upwards momentum. Furthermore, these levels offer a clear structure for setting stop losses, as traders can close their positions a few points below the support level if the trade idea is invalidated.
Lucky Block Forecast – Price Prediction for 2022
An attractive facet of LBLOCK is that there is a built-in tax of 12% when an investor sells the token. This incentivises investors to hold long term and reduces large amounts of selling pressure.
This aspect of the token could be crucial in the weeks ahead, as it'll allow LBLOCK's price to naturally rise, as there is unlikely to be a significant degree of profit-taking. In addition, large holders of LBLOCK are subject to a three-month 'lockup period', meaning they cannot sell within the first 90 days of owning the token.
Given these factors, the first price target for LBLOCK would be around the $0.0032 region, which is where LBLOCK posted its all-time high on the 29th of January. This could be achieved quickly if buyers were to enter the market around the previously highlighted support areas, resulting in a 93% return from the current LBLOCK price.
This new cryptocurrency to invest in 2022 could go even higher if the price closed past the previous all-time highs. Keep an eye out for a solid close on the 1H or 4H timeframe and a potential re-test of that level, as this would confirm that resistance has turned into support.
Since this would be new territory for LBLOCK, it's difficult to place a specific price target for this scenario. However, one potential area that price could gravitate towards would be the $0.0050 region, representing a strong psychological level for investors. If LBLOCK were to hit $0.0050, that would mean a return of nearly 200% from today's price point.
Moreover, for a more in-depth guide, you can read our how to buy Lucky Block tutorial right now.
Bright Future Ahead for Lucky Block
Ultimately, Lucky Block is still in its infancy, meaning that anything could happen when it comes to this token. Aside from the technical aspects, other elements may come into play that help drive price upwards.
These include the strong community backing that Lucky Block has, with over 24,000 members in the platform's Telegram group and the fact that LBLOCK has already been mentioned in numerous mainstream media outlets, including Yahoo Finance.
If you're looking to buy Lucky Block, you can do so through PancakeSwap in a matter of minutes. You can also join the Lucky Block Telegram group to network with over 24,000 members and share your thoughts on the new crypto project.
Cryptocurrency markets are highly volatile and your investments are at risk.