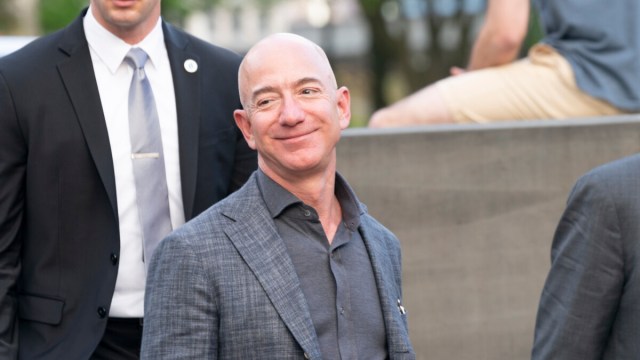 Amazon stock (NASDAQ:AMZN) has risen 73% so far this year on the back of increased online shopping during the lockdown. Fortunately for investors, AMZN shares is expected to move even higher as e-commerce businesses see cash flow flowing.
Given that Amazon generated $24.3 billion in free cash flow in the last 12 months (LTM), this drove analysts to rate its stock a Strong Buy ahead of the retailer's second-quarter report due on July 30.
Investors who have purchased AMZN stock in 2000 would have enjoyed a 2,200% return on their investment as 2020 rolled around. A purchase of Amazon shares in 2010 would still have netted a 1,276% return at the start of 2020. Waiting until the start of this year to buy Amazon shares has still returned 67% as of right now with the share price sitting around $2,986 at market close on Friday.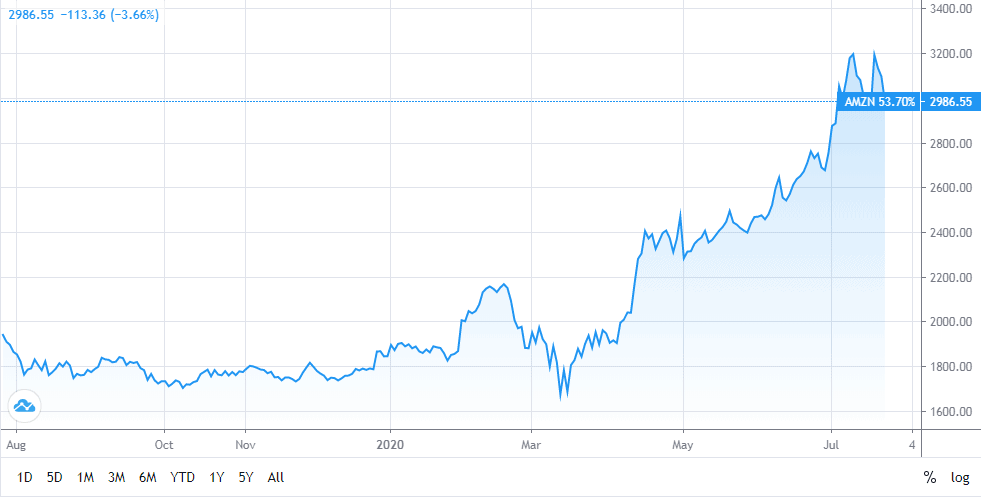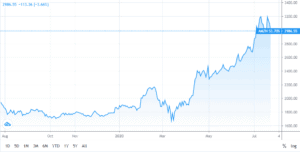 Are Amazon shares worth buying this July 2020?
The consensus among analysts is that Amazon is one of the few stocks that have actually benefited from the coronavirus pandemic. 98% of recommendations are to buy the stock with one analyst on CNBC saying recently that AMZN stock could rise another 20% or so. Nancy Tengler, chief investment officer at Laffer Tengler Investments, said the company's fast sales growth will push the stock higher.
Goldman Sachs and Jefferies both raised their price targets to $3,800 quoting the "accelerating e-commerce" segment as boosting the stock.
If this happens, Amazon's share could hit $3,800 over 12 months. Even in a more modest scenario, Amazon stock is still worth buying now for just over $3,000. The company is on a strong trajectory to diversify its business and its interest in the cloud computing segment could see Amazon taking up over 40% of that market and over 30% of the e-commerce market in the coming 10 years. That could happen, and the purchase of Amazon stock today could pay off in the future.
An American Story of Success
Founded by Jeff Bezos in 1994, Amazon went public with an IPO in 1997 at just $18 a pop. An initial investment back then would have returned 17,344% today.
Amazon's trajectory has followed a consistent upward trend and ita aggressive expansion saw founder and CEO, Jeff Bezos's personal fortune skyrocket by a whopping $13 billion (£10bn) in one day this week following a surge in Amazon share prices.
According to Forbes Billionaire's Index, the increase marks the largest ever recorded in one day and it means Amazon's founder has a fortune that exceeds the GDP of Ukraine and Hungary.
Bezos' wealth has grown significantly since the start of 2020 along with Amazon share prices, which increased by 70% in value since January. This saw the billionaire add a cool $74 billion ($58bn) to his fortune.
Amazon has undoubtedly benefited from the Covid-19 pandemic with millions of consumers turning to online shopping as smaller retailers and brick-and-mortar shops close.
Given that the current price of Amazon shares puts it out of reach for most investors, a more reasonable approach would be to buy shares in one of the FTSE 100 trusts that give you exposure to Amazon and other tech companies, and shares cost under $10, which is much more manageable.