Business intelligence giant Informa plc (INF) reported a huge £1.1 billion pre-tax statutory loss today from its 2020 operations, due to the company's conference business being hit by the Covid pandemic lockdowns and social distancing measures.
According to the firm's report, its most important division – Informa Markets – suffered a 63.5% drop in revenues compared to the previous year, while posting almost £600 million in losses last year.
Meanwhile, the Informa Tech and Connect units suffered a similar fate, with revenues plunging 57% and 41% respectively, while reporting combined losses of £492.5 million during the year as a result of quarantine measures, which prevented the firm from organising its trade and training events.
More than half of this £1.1 billion resulted from a one-off non-cash asset impairment charge of £592.9 million, amid the deterioration in the firm's long-term outlook for its portfolio of physical events.
In this regard, the management team reported that operating cash flow may not return to pre-COVID levels until 2025 as a result of lower attendance levels at its trade events. That said, the firm does not expect to take any more impairments in the foreseeable future as the virus situation should come to an end as vaccines are progressively rolled out and administered across the world.
Last year, Informa reported revenues of £2.89 billion and net statutory earnings of £318 million before taxes. Meanwhile, after adjusting losses for one-off and non-cash items, Informa reported pre-tax earnings of £170.4 million, which represents an 80% plunge in profitability.
How is the market reacting to the report?
Informa shares are reacting negatively to the earnings report, dropping 2.6% to 549.4p per share in mid-day stock trading action while accumulating a 36% loss since the pandemic crash of February-March 2020.
Even though the stock price initially ticked higher after the Pfizer (PFE) vaccine news of November last year – reaching a post-pandemic high of 659p per share – the stock has struggled to trade above 600p in the months following that news.
One of the reasons behind this rangebound pattern could be that the market expects a slow recovery in the business rather than a full-blown return to pre-COVID  levels, once a large percentage of the world's population gets vaccinated.
That said, the management's view about reaching pre-pandemic operating cash flow levels in 2025 seems overly bearish and might have been the result of assuming the worst-case scenario for the firm.
The base-case scenario, in this case, could be a bit more optimistic, with the firm possibly seeing a stronger recovery next year as this year has been deemed as one of transition for Informa.
What's next for Informa plc?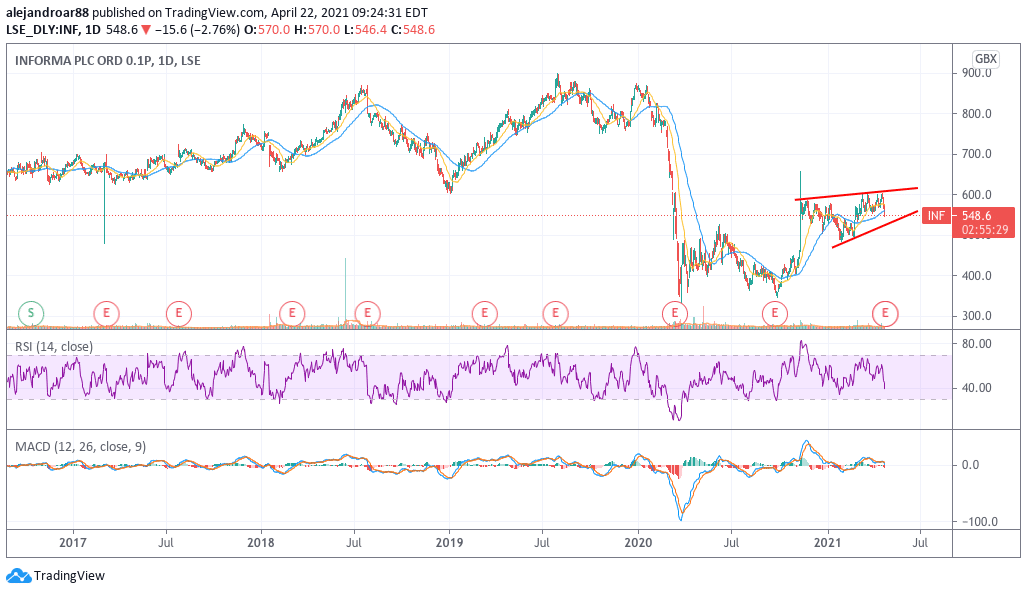 Before the pandemic struck, Informa's revenues were steadily growing, leaping from £1.345 billion in 2016 to £2.89 billion by the end of 2019 at a compounded annual growth rate of 29%.
During that same period, the firm's net income moved from £173 million to £246 million last year for a 12% CAGR.
However, from 2018 to 2019 the firm's earnings growth rate was a bit slower at 8%, which means that we could assume an average earnings growth of 10% once the pandemic situation is in the rearview mirror.
If we assume a more optimistic scenario, where Informa's top and bottom line recover by the end of 2022 to pre-pandemic levels, we could see the firm's earnings jump to around £250 million by then and £275 million by the end of 2023.
Historically, the company has been valued at around 12 to 16 times its earnings, which would gives a market capitalisation between £3.3 and £4.4 billion.
Based on those estimates, the valuation at this point is not overly attractive as the market capitalisation of the company currently stands at £8.48 billion – roughly twice our valuation – while the pace of its recovery remains uncertain based on how event attendance behaves in a post-COVID world.