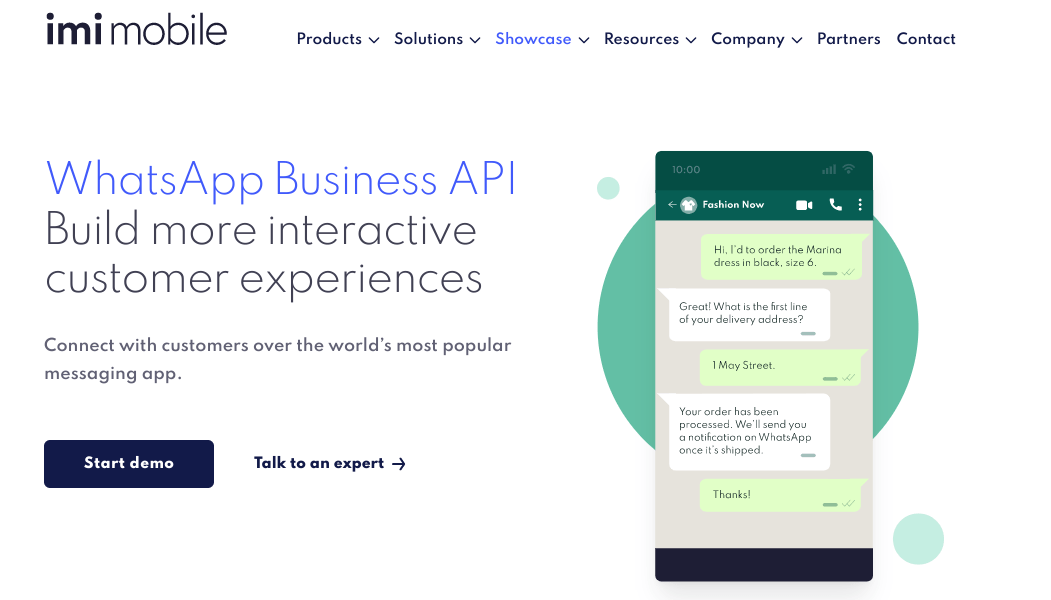 IMIMobile shares are surging nearly 50% this morning at 593 pence per share after US tech conglomerate Cisco Systems (CSCO) announced the acquisition of the marketing communications firm for $730 million.
The deal, which Cisco aims to complete by the first quarter of 2021, aims to incorporate IMI's omnichannel customer relationship software into Cisco's Contact Center business unit to strengthen the American firm's end-to-end customer interaction infrastructure to provide "rich customer experiences", said the firm in a statement released this morning.
IMIMobile's shareholders will receive a total of 595 pence per share, assuming fully diluted shares, although IMI's Board of Directors still has to clear the deal before it can move forward to seek regulatory approval.
IMIMobile's team will be joining the unit headed by Omar Tawakol, vice president and general manager of Cisco's Contact Center unit, who shared his comments about the deal in a blog post released yesterday – a day before the official announcement.
"IMImobile is creating a world where enterprises and organizations can stay constantly connected to their customers across their entire journey", said the executive.
Tawakol added: "IMImobile's omnichannel capabilities make it easy for any marketing or service organization to message with their customers on any channel their customers prefer including WhatsApp, Apple Business Chat and Google RCS", while he emphasized that "by combining IMImobile with the All New Webex Contact Center offer, Cisco will be able to provide a robust CXaaS offer."
How have IMIMobile's shares performed so far this year?
IMIMobile's shares – which trade on London's AIM market – were registering a 17% gain so far this year as the company's adjusted EBITDA has kept growing constantly over the past five years as a result of strong demand for its advanced customer interaction software.
According to the company's latest interim report – covering the six months ended on 30 September – IMIMobile managed to deliver a 5-year compound annual growth rate (CAGR) of 19% in its gross profits, while the firm reported a 26% jump in its adjusted EBITDA during the period at £12.4 million.
Meanwhile, the firm headed by Jay Patel said that "increasing momentum from digital transformation trends" amid the pandemic provided significant opportunities for the business while it remained "well-positioned" to keep growing over the coming years.
Cisco shares, on the other hand, have lost 4.3% of their value so far this year, as the firm has struggled to remain competitive in key markets although it will likely benefit from a shift to 5G technology over the next few years.
The acquisition of IMIMobile could be a positive step for Cisco to rejuvenate some of its services, as the pandemic has accelerated the pace of digital transformation across multiple industries.
What's next for Cisco shares?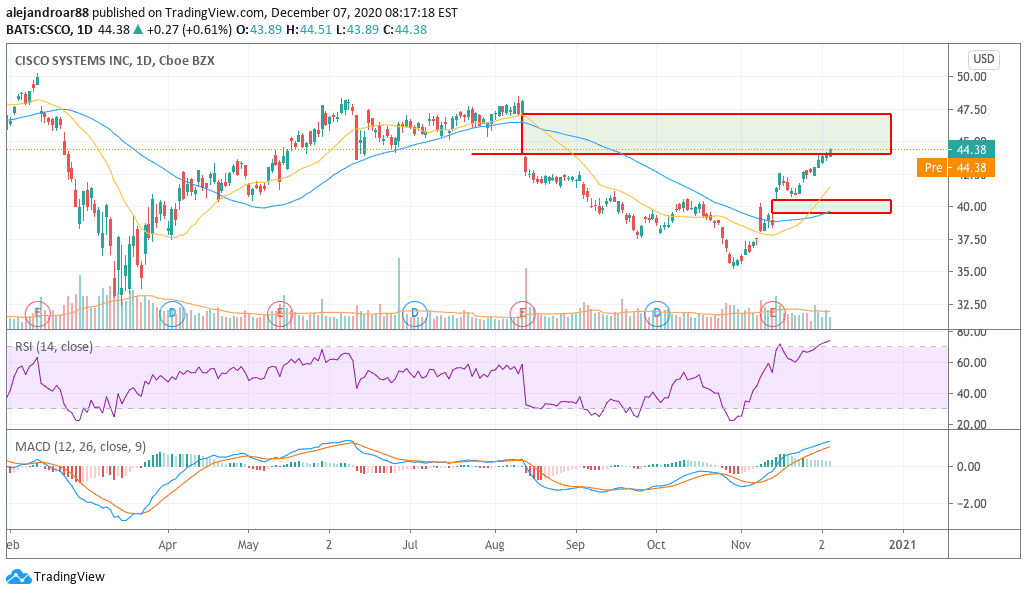 Cisco shares have been rallying since the company announced its financial results for the third quarter of the year, with the American tech conglomerate's shares jumping as much as 7% after beating revenue estimates for the three-month period although sales were still down 10% compared to a year age. Meanwhile, non-GAAP earnings per share came 0.06 cents ahead of forecasts at $0.76 per share.
That 13 November uptick resulted in a big bullish gap that has provided support to the latest rally, with shares moving above the $44 level for the first time this last Friday since the 13 August sell-off.
Now, the price action is possibly facing a boom-or-bust moment as the share price has made the first step to fill the huge gap left behind in August on the back of overheated indicators.
Two scenarios could play out at this point. First, bulls could push the price higher to fill the gap to then take sizable profits – which would probably result in a big short-term plunge – or, profits might be taken now to give the stock a breather after their 5-day rally while bulls reload to make another charge towards the $47.50 level.