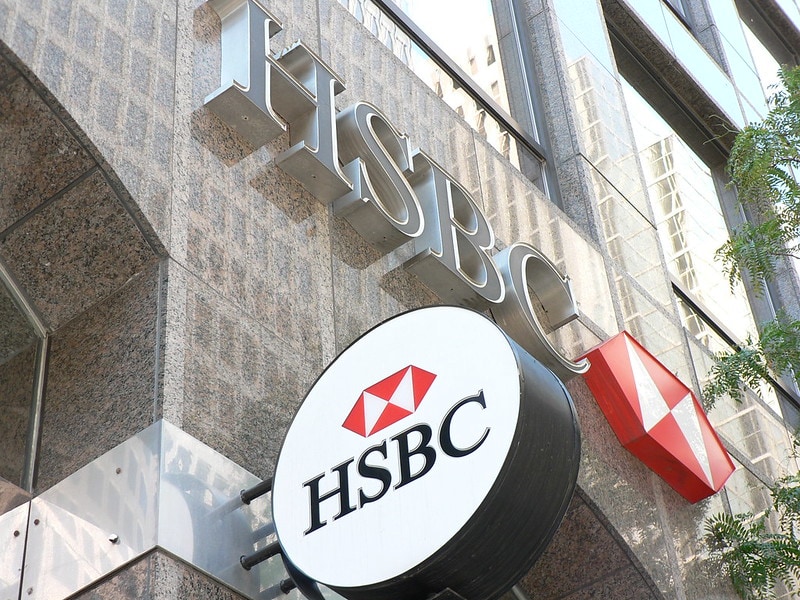 HSBC shares dropped 3.1% in London at 319.8p per share after closing 2.5% lower in earlier stock trading activity in Hong Kong. The sharp moves follow the bank's announcement that it was eliminating a type of mortgage that allowed homebuyers to purchase a property by putting down just 10% of the asking price.
The bank cited increased demand and an uncertain economic environment as the leading causes for its decision to terminate the offering, leaving first-time homebuyers with the burden of raising a higher down payment – possibly higher than 20% – to afford a purchase.
HSBC (HSBA) said in a statement released this morning that the bank has not been able to meet its standards due to the increased demand for these loans which has often resulted in a delay in the application and approval process for the product.
Although the change will take effect immediately, HSBC also stated that it plans to still offer the product to clients who had already made an appointment with the bank to apply for it.
HSBC's decision to slash this attractive mortgage product comes as house prices in the UK continue booming with the latest report from Nationwide released this Wednesday indicating that home prices have reached all-time highs at £224,123 per home sold in August.
HSBC allegedly mistreating Hong Kong pro-democracy clients
HSBC shares have been headed on an unstoppably downward trajectory this year as a result of a whirlwind of bad news, including the coronavirus pandemic, social unrest in Hong Kong, a looming no-deal Brexit threat, and increased tensions between the US and China.
Only a few days ago, HSBC was slammed by accusations from the US State Department that pointed to unfair customer service practices applied to pro-democracy activists that have accounts with the bank in the country.
The Secretary of State Mike Pompeo said that the bank reportedly maintained accounts of pro-China individuals that have been sanctioned by the US, while shutting accounts held by people fighting for Hong Kong's freedom.
More specifically, Pompeo referred to executives of Next Media – a pro-democracy media company – being unable to access their accounts, including Jimmy Lai's personal account – the renowned media tycoon and pro-democracy activist who owns a portion of Next Media.
All of these events have added more bearish pressure to HSBC's stock, as the bank continues to navigate an extremely complex political environment in Hong Kong along with many other claims of alleged financial misconduct from other fronts, including money laundering-related charges and fines in the US.
What's going on with HSBC shares?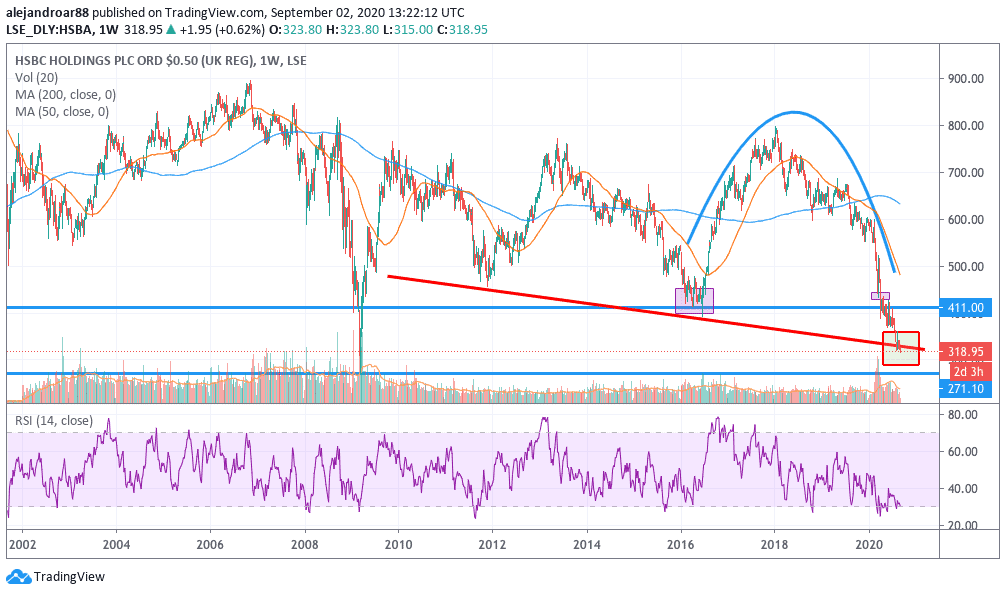 HSBC shares continue to head down after they broke below the neckline of the rounding top formation shown in the chart above. The price has not shown any signs of a rebound since  dropping from those levels.
Moreover, shares of the UK-based global banking giant are trading slightly below a lower trend line that dates back to 2012, which is an indication that this selling momentum is likely to continue – especially now that virus cases are once again spiking in Europe, the US, India, Hong Kong, South Korea and elsewhere.
The RSI is currently sending an overbought signal but there's no indication that this downward momentum is going away any time soon, although the stock may take a breather in the next few sessions in response to this technical break.
On the other hand, HSBC shares are advancing at an accelerated pace towards what could be a support line at 270p per share, a level that traders must keep an eye on since breaking below this price could signal an even worse short-term outlook for the stock.
The complexities that HSBC currently has to navigate to get out of the hole it has been sent to are reducing the chances of a comeback for its shares dramatically, as there are no indications of improvement on any of the fronts cited above, including the relationship between the US and China, the situation in Hong Kong, or the economic fallout caused by the coronavirus outbreak.