Goldman Sachs has initiated coverage on Deliveroo (ROO) shares with a buy rating and a 420p target price. The shares had a dismal listing and have looked weak thereafter. Analysts have a mixed opinion over the food delivery company's shares.
Deliveroo was the largest IPO to list in London in over a decade, in the wake of mining and trading giant Glencore listed in May 2011. In terms of money raised, it is the largest since September 2020 when e-commerce company The Hut Group raised £1.88 billion in its IPO. Deliveroo ended up raising almost £1.5 billion in the IPO of which £500 million went to selling shareholders which included its founder Will Shu and early investor Amazon. The company netted £1 billion by issuing new shares.
Deliveroo was the biggest London IPO in a decade
However, in what was supposed to be a test of London's appetite for tech shares amid a red-hot IPO market for tech stocks in the US, it turned out to be a lacklustre event. Deliveroo priced the IPO at 390p which was at the lower end of the range and the company blamed "volatile global market conditions for IPOs." Despite pricing the IPO at the lower end of the range, the stock tumbled 30% on the listing day.
Apart from a sell-off in growth stocks, a strike from some riders and worries over a dual ownership structure that gives its CEO Will Shu more than half of the voting rights also weighed heavy on the shares.
Deliveroo shares fell after the trading update
Deliveroo released its first trading update as a publicly-traded company last month and the shares tumbled despite the company reporting strong growth. The management sounded circumspect on whether it can sustain the high growth rates. "It is difficult to say how much of this growth has been driven by the special circumstances of the current lockdown restrictions in some of our markets," said the company in its release.
Commenting on the outlook, it added: "The Company continues to operate in an uncertain environment given that the timing and impact of these restrictions being lifted in the coming weeks and months remain unknown. Deliveroo expects the rate of growth to decelerate as lockdowns ease, but the extent of the deceleration remains uncertain."
Goldman Sachs initiates with a buy rating
Meanwhile, several analysts have started covering Deliveroo shares. Goldman Sachs, which was the lead book runner for the IPO along with JPMorgan Chase has initiated coverage on the shares with a buy rating and 420p target price. While the target price is only about 8% higher than the IPO price, it is a premium of 65% over current prices.
Sounding a bullish note on the shares, Goldman Sachs analyst Rob Joyce said "We forecast 5-year GTV (gross transaction value) and gross profit CAGRs of 26% (from 2020-2025 est)." Deliveroo's GTV increased 119% year-over-year to £794 million in the first quarter of 2021. The company has been increasing its base in the UK as well as international markets and is hopeful of covering two-thirds of the UK population by the end of this year.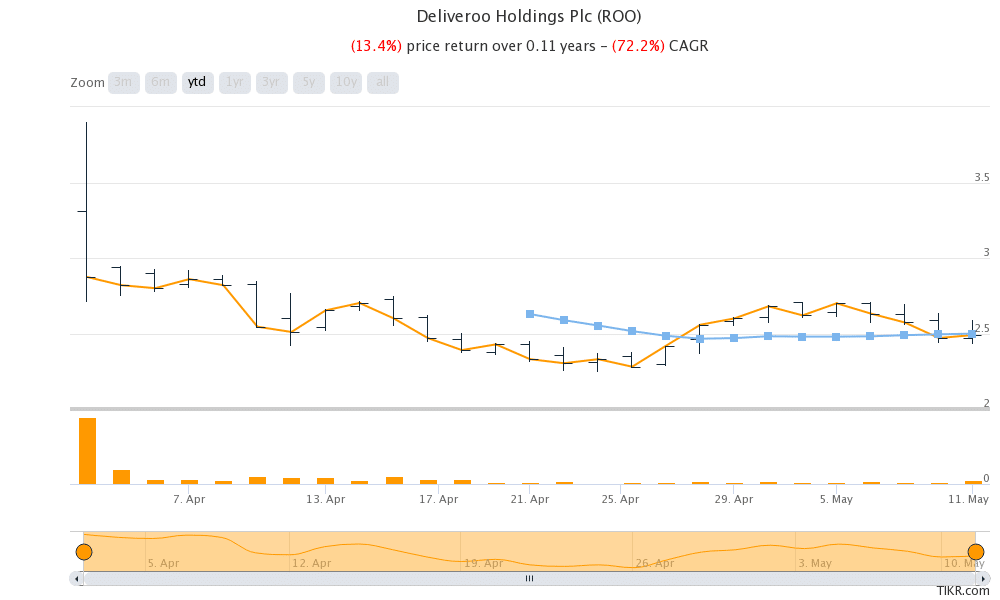 Goldman Sachs was the lead book runner for Deliveroo
It is believed that Goldman Sachs purchased £75 million of Deliveroo shares last month to prop up the prices. The slump in the shares also reflects poorly on the investment banks that priced the issue.
Meanwhile, yesterday Bank of America also issued a bullish note on Deliveroo shares. The bank initiated coverage with a buy rating and a 335p target price. Notably, the price is much below what the IPO was priced at but implies a 35% upside from current levels. Bank of America was also among the investment bankers that handled Deliveroo's IPO.
Bank of America also issued a bullish note
"Despite its smaller scale, we think ROO can succeed, as we are still in the early days for the penetration of food delivery and even more so groceries, said Bank of America in its report. It added, the Deliveroo has "some of the best sector unit economics, allowing it to invest aggressively in marketing while keeping free cash flow burn in check." Bank of America is also bullish in the company's grocery delivery business and expects it to contribute significantly to its gross margins.
Bank of America also pointed that Amazon is the largest shareholder of Deliveroo. It said, "The relationship between Amazon and Deliveroo is at arm's length, but we think having such a high-quality backer and expert in delivery and logistics is a positive for Deliveroo's development." Meanwhile, it also sounded cautious of higher competition in the core UK market where Just Eat is aggressively trying to regain some of its lost ground.
Jefferies also has a buy rating on Deliveroo
Jefferies, another institution that was involved in Deliveroo's IPO has initiated coverage with a buy rating and a 390p target price. The brokerage called Deliveroo "the definitive online food company."
JPMorgan Chase and Berenberg have a hold or equivalent rating on Deliveroo shares. JPMorgan Chase was the second lead book-runner for the IPO. Here it is worth noting that there is a Chinese wall between different functions of a bank. Often, we see the brokerage arm and investment banking arm take a different view of a share.
The Analyst sees Deliveroo shares falling more
Independent research firm The Analyst has a pessimistic view of Deliveroo shares. "We looked at Deliveroo in January when an IPO was first mooted and it was obvious then that the company was operating in a highly competitive market and was facing legal challenges to its labour practices on multiple fronts," said Mark Hiley who runs the Analyst.
Notably, The Analyst was among the first to raise an alarm about the German company Wirecard. The group filed for bankruptcy last year after allegations of frauds. The Analyst last month said that Deliveroo shares could fall another 40% before they hit a bottom.
Meanwhile, after a series of buy recommendations, Deliveroo shares were higher yesterday and are up 1% in early London price action today. However, for the shares to recover anywhere near their IPO price, we would need some stability in growth and tech shares which have plummeted amid firming inflation and the rise in bond yields.
Disclaimer
All trading carries risk. Views expressed are those of the writers only. Past performance is no guarantee of future results. The opinions expressed in this Site do not constitute investment advice and independent financial advice should be sought where appropriate. This website is free for you to use but we may receive commission from the companies we feature on this site.