GlaxoSmithKline shares are moving higher today in early stock trading action in London, following an announcement about the company's plan to demerge its consumer healthcare unit into a separate publicly-listed entity.
In a lengthy statement released this morning, the British pharmaceutical giant explained its ambitions in detail, which include a separation of Glaxo, named New GSK, from its Consumer Healthcare business, a transaction that the company expects to complete by the end of the first semester of 2022.
According to the management team, the Healthcare unit alone should generate sales of up to £10 billion per year. Meanwhile, the transaction will result in Glaxo giving up 80% of its current 68% holding in GSK's Healthcare while this new separate entity is expected to retain a premium listing in the United Kingdom while also floating an ADR in the United States market.
New GSK expects to retain its remaining 20% stake in the new Consumer Healthcare business as a "short-term financial investment" while the company will eventually sell the shares to further strengthen its balance sheet.
As a result of the move, New GSK should receive an £8 billion dividend from GSK Healthcare while this new and possibly nimbler entity is expected to display a net debt/adjusted EBITDA ratio below 2 alongside a forecasted 5% annual revenue growth from 2021 to 2026.
Moving forward, New GSK expects to accelerate its revenue growth by focusing on the development of its vaccine and specialty medicine segment, with sales expected to reach £33 billion by the end of 2031. This number would represent a £10 billion jump compared to New GSK's £24 billion in sales last year, excluding the £10 billion expected to be cut off by the demerger.
Meanwhile, the company will continue to generate revenue through the development of four core therapeutic segments including infectious diseases, HIV, oncology, and immunology/respiratory.
The price of GlaxoSmithKline (GSK) shares reacted quite positively to the news as it is advancing 3.4% so far this morning at 1,442p per share.
What will GlaxoSmithKline's shareholders get from the transaction?
Before the demerger is completed in 2022, GSK shareholders will be entitled to receive a dividend of 55p per share which results in a 31.25% reduction in the company's expected distribution for the year. This dividend cut will result in a lower dividend yield of 3.8%, down 1700 basis points from the current rate.
Moving forward, the new GlaxoSmithKline expects to implement a more aggressive dividend policy involving a 40% to 60% payout ratio. This new policy will be rolled out in 2023 with an initial dividend of 45p per share.
Including today's uptick, GlaxoSmithKline shares have delivered a 7% gain for investors so far this year, currently outperforming the British FTSE 100 index by almost 5%. However, the stock is still trading 21% below its pre-pandemic peak of 1,822p per share.
What's next for GlaxoSmithKline shares?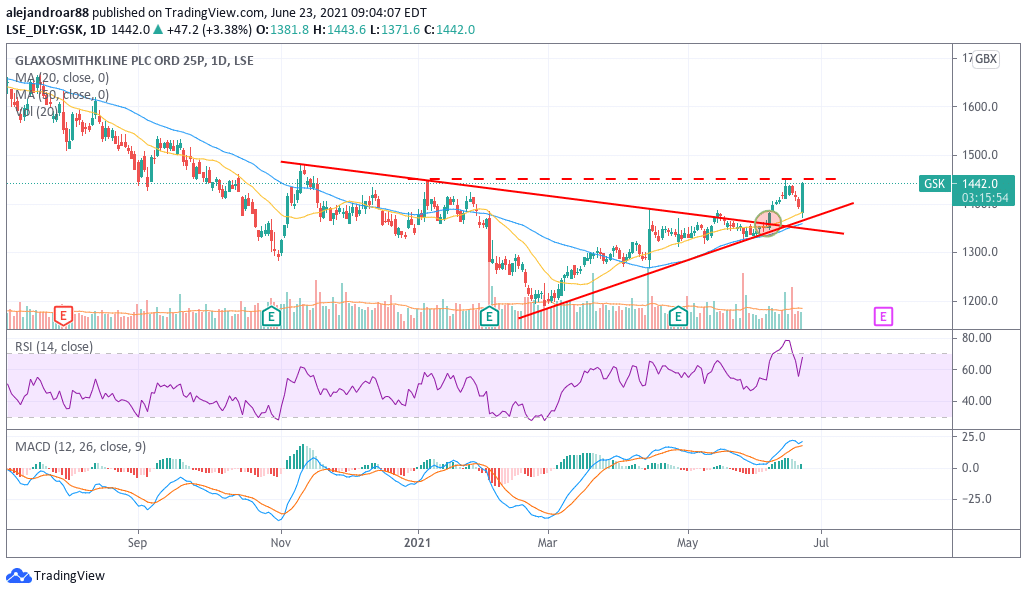 The chart above shows that GSK shares have managed to reverse a long-dated uptrend that started back in the early 2020s and that accelerated significantly amid the pandemic market crash.
This latest price action has pushed the price toward the stock's early January resistance of 1,450 per share and this would be the key level to watch for GSK shares moving forward as a break above it could result in a sustained uptrend, possibly aiming toward the 1,480 level for a 2% near-term upside.
Meanwhile, the consensus rating for GlaxoSmithKline shares from analysts surveyed by MarketBeat is hold, with an average 12-month price target of 1,535.8 for the stock that results in a 6.6% potential upside based on today's price if such target is hit.
Notably, only a couple of days ago, Credit Suisse, Deutsche Bank, and Barclays reiterated their sell rating for the stock. Meanwhile, Goldman Sachs and Berenberg Bank retained their buy rating for GSK.
Following this announcement, it would be plausible to expect that some of these analysts currently displaying a bearish outlook for GSK could change their view about the company's future if they believe that this demerger will be positive for GSK in the long run. That could unlock further upside for the stock, which could aid the current uptrend in reaching higher places.