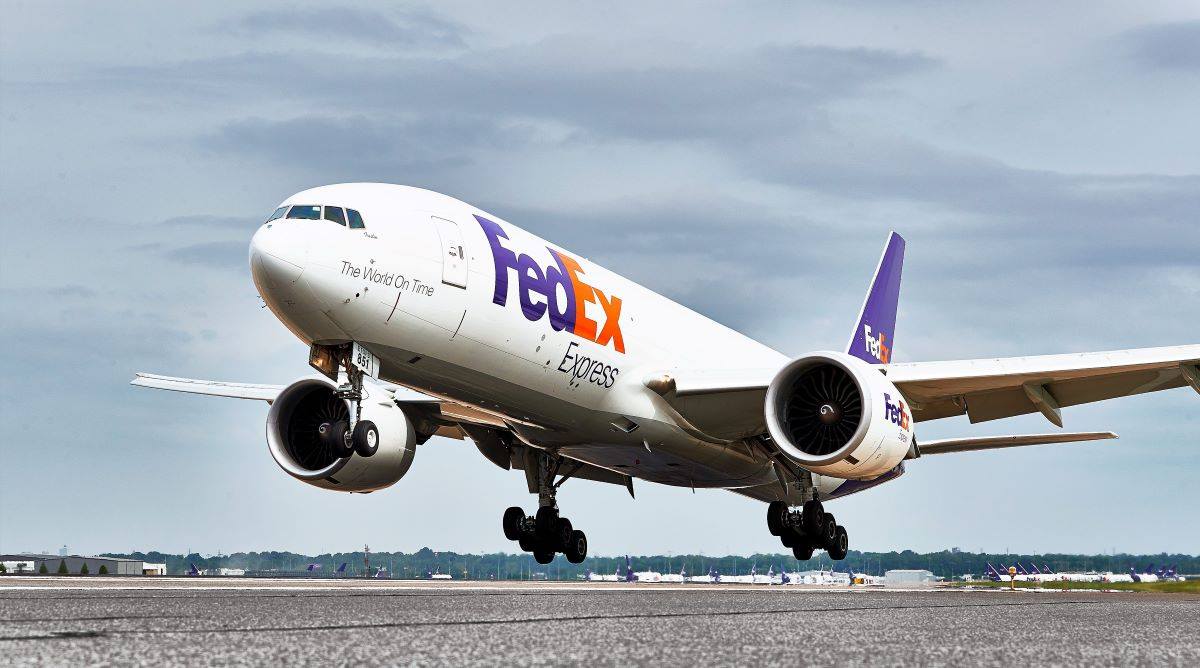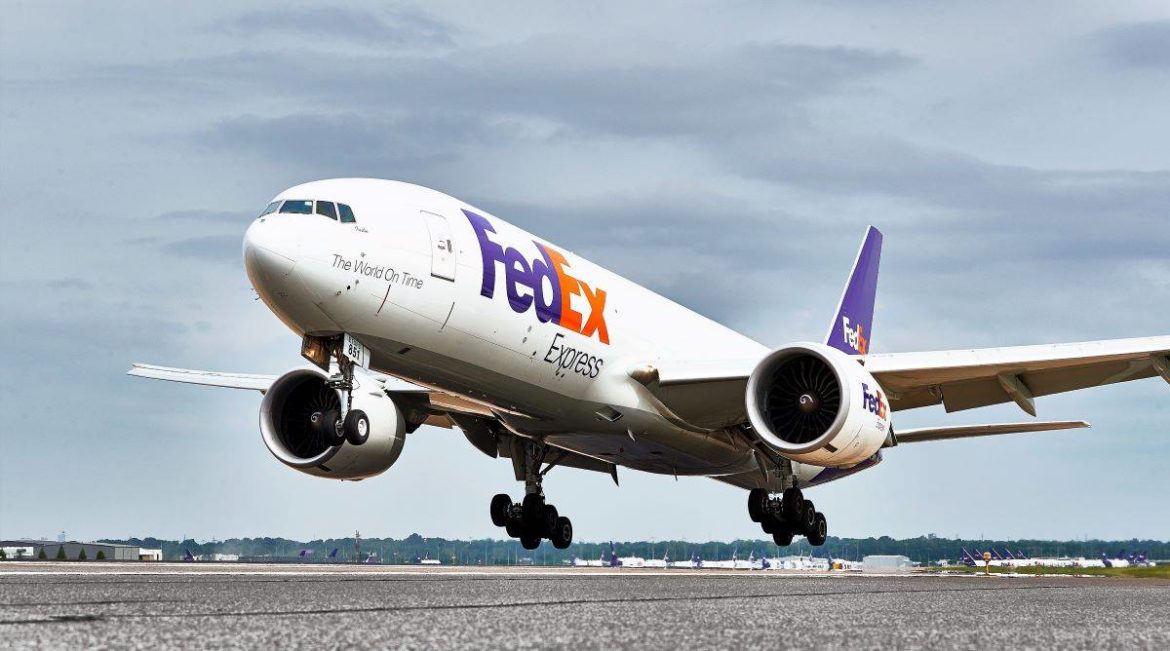 FedEx shares (FDX) were trading sharply lower in US premarket trading today despite posting better-than-expected earnings in the fiscal second quarter of 2021. The company pointed to an uncertain environment that seems to be taking a toll on market sentiment.
Tennessee-headquartered global delivery services company FedEx released its earnings yesterday after the markets closed. It reported revenues of $20.6 billion in the quarter, which was ahead of the $19.45 billion that analysts polled by Refinitiv were expecting.
FedEx reports better-than-expected earnings
The company had reported revenues of $17.3 billion in the corresponding quarter last year. The nearly 20% rise in FedEx's fiscal second quarter 2021 revenues looks encouraging and has been driven by higher demand for its services amid the lockdowns. More consumers are shifting to online shopping due to the lockdowns. While this has led to higher sales for e-commerce platforms like Amazon, it has also led to increased demand for FedEx's logistics services.
FedEx also managed to beat its bottomline estimates and its adjusted earnings per share of $4.83 were higher than the $4.01 that analysts were expecting. Its adjusted earnings per share almost doubled from the $2.51 it posted in the corresponding quarter last year.
FedEx did not provide guidance
Meanwhile, FedEx did not provide guidance for its fiscal 2021 earnings. "While the overall environment remains uncertain, we expect earnings growth in the second half of fiscal 2021 driven by the anticipated heightened demand for our services as we continue to execute on our strategic priorities," said FedEx's Chief Financial Officer Michael Lenz.
Meanwhile, the company said that it expects its capital expenditure to be $5.1 billion in the fiscal year 2021. It also expects its margins to improve year over year in the next two quarters.
The company is also partnering with the US government for the rollout of COVID-19 vaccines. The US government has given emergency approval to Pfizer's COVID-19 vaccine and Moderna's vaccine candidate has now received emergency authorisation.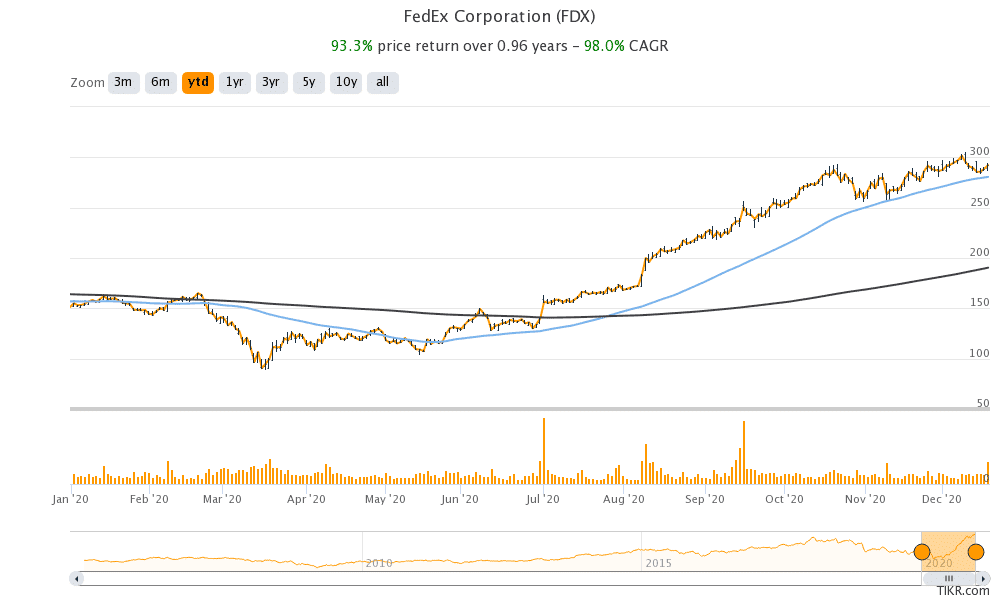 The services sector is still challenged
During FedEx's earnings call, its chief marketing officer Brie Carere said that goods shipment demand in the US has reached pre-pandemic levels. He added, "We are also seeing growth beyond the consumer as drivers of business activity are increasingly in place. Inventory restocking and a strong recovery in capital goods spending are supporting industrial production." However, he pointed to weakness in the services sector and said it "remains challenged and faces short-term uncertainty against the latest virus surge".
Sectoral breakdown
According to FedEx, international growth rebounded strongly in the calendar third quarter of 2020. As in the US, globally goods shipment demand has also been strong, while the services sector has been challenged. While China's economy has surpassed the pre-COVID-19 levels, FedEx pointed to weakness in Europe where a new wave of infections has triggered lockdowns and is hitting economic activity. Meanwhile, sounding a bullish noted, FedEx said that "While uncertainty remains high, vaccine prospects are increasing confidence in the medium-term outlook."
FedEx shares in 2020
FedEx shares are among the pandemic winners and its shares have soared over 93% so far in 2020. It is trading marginally above its 50-day SMA (simple moving average) of $280.82. However, in premarket trading today, it was down over 3.5% at $281.75. If the shares fall below its 50-day SMA it could be a bearish technical indicator.
FedEx has a median price target of $330 which is a premium of 12.8% over yesterday's closing prices. Its highest price target of $380 is almost 30% above its current prices. Of the 28 analysts tracking the shares, 21 have a buy or higher rating while six have a hold rating. Only one analyst has a sell or equivalent rating on the shares.
Should you buy FedEx shares?
Demand for FedEx's services is expected to rise further as e-commerce sales continue to surge. The company's business looks well placed even after the pandemic is over. The shares currently trade at an NTM (next-12 months) P/E multiple of 16.6x, which looks reasonable. FedEx shares could be a part of your core portfolio.