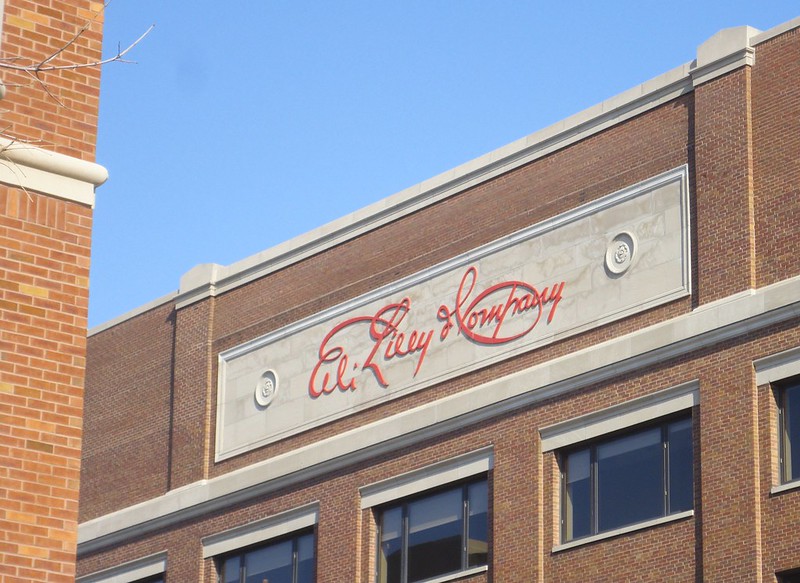 Eli Lilly shares are surging in pre-market stock trading action in New York after the company's Alzheimer experimental drug, donanemab, received the designation of "breakthrough therapy" by the US Food and Drug Administration (FDA).
According to Lilly's press release, this designation would expedite the drug's development as it would allow the pharmaceutical company to take the "accelerated approval pathway" amid the existence of preliminary clinical evidence that points to donanemab as a more effective treatment against the disease compared to other drugs that have already received approval from the FDA.
This latest nod from the regulatory agency to donanemab comes around three months after the company reported that the drug had met its primary endpoint as it demonstrated a "significant" slowing in cognitive and functional decline among patients who were part of Lilly's Phase 2 clinical trials. Moreover, the company hinted at "positive data readouts" about donanemab during its latest quarterly earnings report.
Shares of the Indiana-based drug developer are surging 8.25% in pre-market action at $217.10 per share this morning while they are already trading 7.8% higher in the German stock market.
Another study released by the New England Journal of Medicine back in March this year where donanemab was applied to a group of 257 patients who had early-stage Alzheimer's showed that individuals who received the treatment exhibited "a better composite score for cognition and for the ability to perform activities of daily living" compared to the control group.
A report from the Alzheimer's Association that cited US Census Bureau data revealed that in 2011 a total of 910,000 people aged 65 or older in the United States alone suffered from Alzheimer's and experts have forecasted that the number could double by the end of 2050. Meanwhile, Eli Lilly's press release mentions that the number of patients suffering from dementia around the world is approximately 50 million, with Alzheimer's accounting for 60% to 80% of the cases.
The report also emphasized that none of the five drugs that have currently received FDA approval for treating Alzheimer's disease have been able to slow down or stop the brain damage suffered by patients.
Apart from the possibility of fast-tracking the approval process for donanemab, the breakthrough designation received by Eli Lilly's drug would also allow the firm to receive more attention from FDA senior officials to continue moving forward.
How have Eli Lilly shares performed so far this year?
Eli Lilly shares have surged almost 30% this year ahead of the approval of donanemab as other promising drugs within the firm's pipeline have also shown positive data that could lead to their approval as feasible treatments for their respective diseases. Only a couple of days ago, Lilly received approval in Europe for Jardiance, a drug designed to treat heart failure.
Last year, the stock shot up 31% as the company was engaged in the development of multiple treatments for the COVID-19 virus including an antibody therapy called bamlanivimab.
What's next for Eli Lilly shares?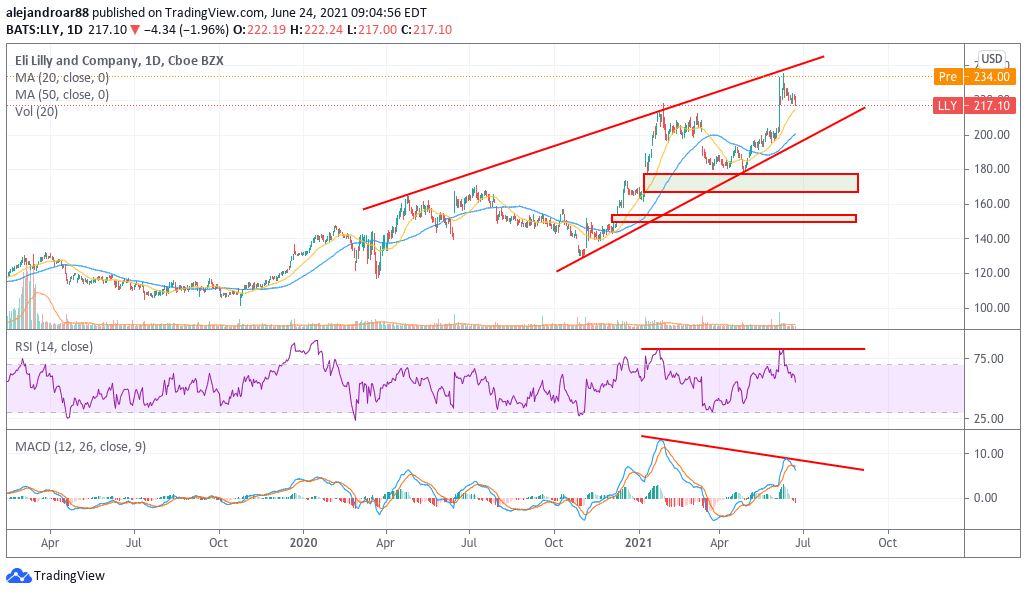 With a market capitalisation of $203.2 billion and an indicated opening price of $233 per share, Eli Lilly stock is being valued at 7.45 times the firm's forecasted 2021 sales according to data compiled by Koyfin while the stock exhibits a forward price-to-earnings (P/E) ratio of 29.
Eli Lilly sales have been surging since 2017, moving from $19.97 billion back then to $24.54 billion last year at a compounded annual growth rate of 7.24%. Meanwhile, the company has been able to swing from a $204 million loss back then to net earnings of $6.2 billion last year, partially aided by $1.4 billion in investment-related income.
The approval of donanemab would probably give Lilly a significant top-line boost as Alzheimer's is a rare and difficult to treat disease, which means that demand for the treatment will likely be high if it continues to show that it can slow down cognitive and functional deterioration.
From a technical standpoint, if the stock surges to pre-market levels once the live session starts chances are that the price action will tag the upper trend line of the price channel indicated in the chart above.
At this point, based on Lilly's decent valuation metrics alongside this latest positive development, a break above that trend line could signal the beginning of a fresh bullish cycle for the stock.
That said, momentum oscillators are exhibiting bearish divergences already. Therefore, it would be positive to see both the RSI and the MACD surging above their most recent highs to confirm that momentum has picked up for the pharmaceutical stock.