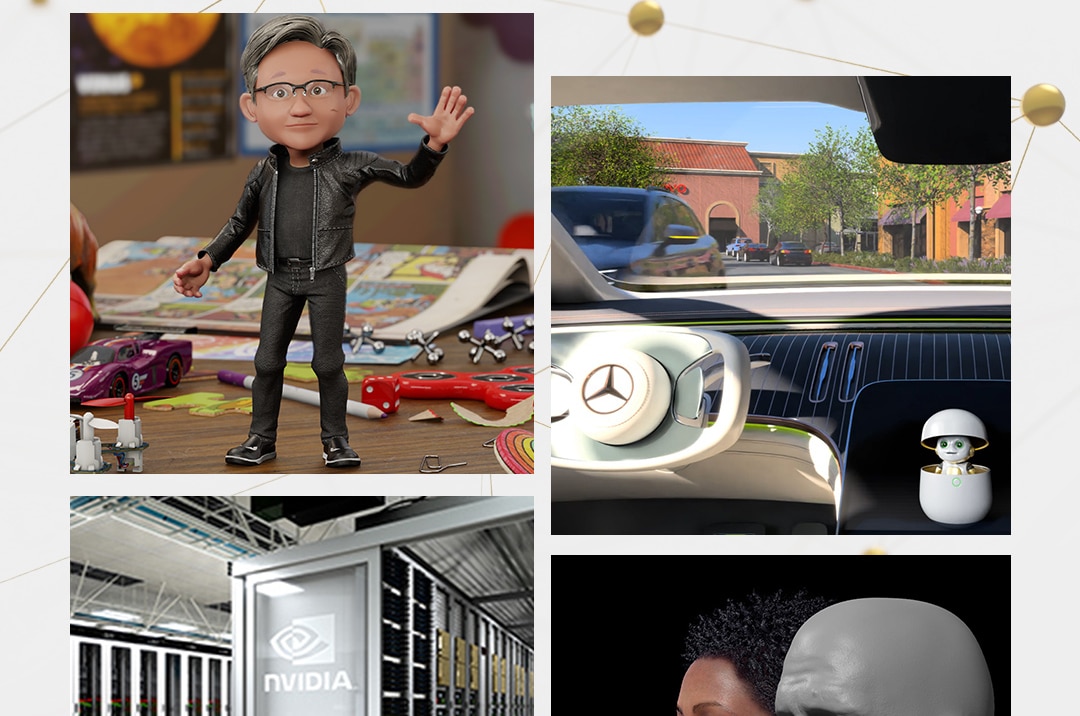 2022 has been tough for US share markets, especially the tech companies. Nvidia shares tumbled last week and are now down almost 20% for the year. The drawdown from the 52-week highs is even scary at 32%.
Nvidia is among the worst-performing S&P 500 shares in 2022. It was among the top-performing shares in both 2020 and 2021, a rarity given that stay-at-home winners which were the top gainers in 2020 sagged in 2021. The top gainers in S&P 500 last year were old economy companies and reopening plays. Also, materials and energy companies outperformed amid strong commodity prices.
Nvidia has been a wealth creator
The recent slide notwithstanding, Nvidia shares have created tremendous wealth for patient investors with a CAGR return in excess of 51% over the last decade. Many investors are wondering whether the recent slide in Nvidia shares is a good buying opportunity. Here's what Wall Street thinks.
Tech sell-off
To begin with, we should understand why Nvidia shares have lost almost a third of their value from the 2021 peaks. Firstly, there has been a broader market sell-off and tech names have been particularly hit hard. Within the tech space, companies that were "stay-at-home" winners and were trading at exorbitant valuations saw a selling spree.
As for Nvidia, its business indeed blossomed during the COVID-19 pandemic. The company reported a sales growth of 52.7% in the fiscal year ended January 2021 and 61.4% in the year ended January 2022. The growth was boosted by higher demand for its products amid the pandemic.
Meanwhile, like with other tech names, Nvidia is also witnessing a sales slowdown and analysts expect its revenue growth to be 28.5% in the current fiscal year, which is expected to fall to 16.1% in the next fiscal year.
Why have Nvidia shares been falling?
The same story is playing across all those companies which benefited from strong demand during the last two years. Some of the more prominent stay-at-home companies like Zoom Video Communications and Teladoc Health have fallen even hard, and the drawdown from the peaks is much higher when compared with Nvidia.
The crash in growth names has particularly taken a toll on Cathie Wood's flagship ARK Innovation ETF which is down 57% from the 52-week highs and hit a new 52-week low last week.
Nvidia's valuation was also a concern
At their peak, Nvidia shares were trading at quite rich valuations. As richly valued tech companies plummeted, Nvidia also felt the heat. However, the crash last week was led by its fiscal fourth-quarter earnings release. Despite most Wall Street analysts sounding bullish on the financial performance, the shares had their worst single-day fall in a year.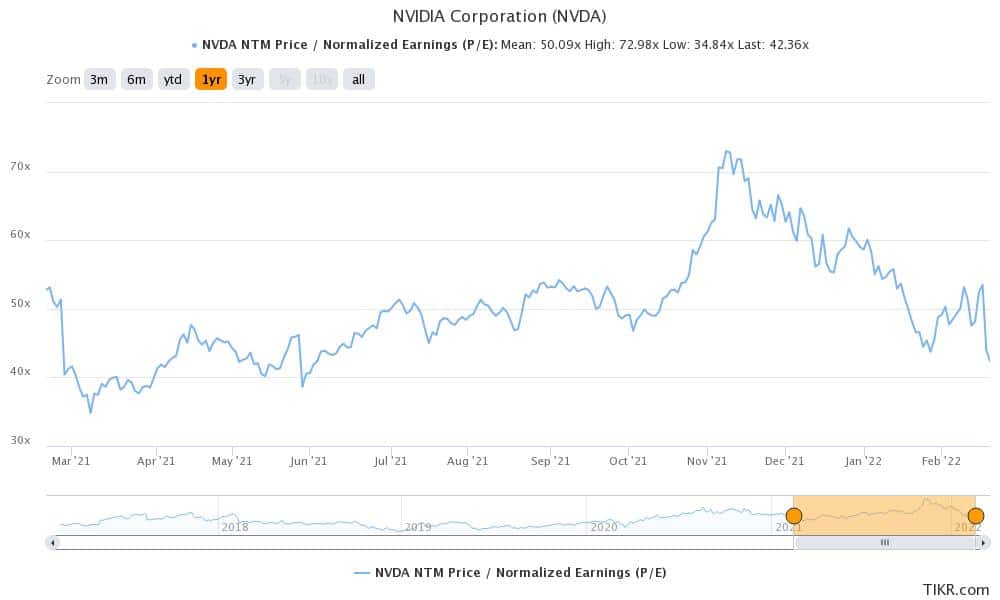 Nvidia earnings
Nvidia reported revenues of $7.64 billion in the fiscal fourth quarter. The revenues increased 53% YoY and were ahead of the $7.42 billion that analysts were expecting. The company's datacenter sales increased 71% which again looked impressive. Its adjusted EPS increased 69% YoY to $1.32 and was higher than the $1.22 that analysts were expecting.
If the earnings were already not good enough, the guidance was even better. The company said that it expects to post revenues of $8.1 billion in the current quarter which is way above the $7.42 billion that analysts were expecting.
Nvidia's CEO Jensen Huang said, "We are seeing exceptional demand for NVIDIA computing platforms." He added, "NVIDIA is propelling advances in AI, digital biology, climate sciences, gaming, creative design, autonomous vehicles and robotics – some of today's most impactful fields."
Chip shortage is easing
Huang also said that he expects the chip shortage supply situation to get incrementally better in all the quarters this fiscal year. The company also commented on the now terminated Arm Holdings acquisition. Huang said that while the company gave it a "best shot" the "headwinds were too strong."
The deal was facing stiff opposition in the UK and eventually, SoftBank and Nvidia decided to call off the deal earlier this month. Meanwhile, Nvidia would take a $1.36 billion charge to its operating earnings this year due to the deal's termination.
Wall Street was surprised
Looking at Nvidia's earnings, guidance, as well as management commentary, one would have expected the shares to surge following the earnings. However, the reverse happened and the shares crashed. You are not alone in scratching your head to decode the anomaly, most Wall Street analysts also could not attribute a reason.
Bernstein analyst Stacy Rasgon expressed his disbelief in a note aptly titled "What more can you ask for?" Rasgon said, "Once again Nvidia gives investors what they are presumably asking for, namely strong secular growth and a continued reason to dream." She added, "The company continues to benefit from two of their strongest product cycles in their history simultaneously as both their core gaming and datacenter segments overdeliver." Bernstein has an outperform rating and a $360 target price on Nvidia shares.
Analysts raised their target prices
At least six Wall Street analysts raised their target price on Nvidia after the earnings release while only one lowered it. Jefferies analyst Mark Lipacis is not too perturbed by the termination of the Arm deal. He said, "Despite the Arm deal falling through, we continue to believe that with its ecosystem of software, systems and chips, Nvidia is best positioned to capture 80% of the value of the Parallel Processing Era in the datacenter long term."
He believes that "Nvidia Enterprise, Omniverse, and Drive were highlighted as the 3 programs to drive near-term software growth." Commenting on the long-term growth drivers, he said "Future GPU consumption will be driven by Nvidia's entrance into new applications and acceleration of new workloads, which is enabled by its ecosystem."
Nvidia share price forecast
Wall Street analysts are in general bullish on Nvidia shares. According to the estimate forecasts compiled by CNN Business, Of the 44 analysts covering the shares, 35 have rated it as a buy while seven rates it as a hold or some equivalent. Two analysts have a sell rating on the shares.
It has a median price target of $350, which is a premium of 48% over current prices. Its highest price target of $400 is a premium of 69.2% over current prices, while its lowest price target of $210 is an 11.2% discount over the current share price.
Should you buy Nvidia shares?
There are several growth drivers for Nvidia including the datacenter, gaming, and autonomous cars. The company sees metaverse as a key driver going forward. Commenting on metaverse, CEO Jensen Huang said last year "It is a 3D extension of the internet that is going to be much, much bigger than the 3D physical world that we enjoy today."
He added, "the economy of the virtual world will be much, much bigger than the economy of the physical world. You're going to have more cars built and designed in virtual worlds, you'll have more buildings, more roads, more houses — more hats, more bags, more jackets." This makes Nvidia of interest as one of the top metaverse stocks to invest in.
After the crash in Nvidia shares, the valuations have also started to appear a lot more reasonable. It now trades at an NTM (next-12 months) PE multiple of 42.4x, which is way below the 73x that it hit late last year.
At these prices, Nvidia looks like a good buy. While the short term noise over rate hikes and geopolitical uncertainty can trigger volatility, the long-term growth outlook for Nvidia looks quite bullish.