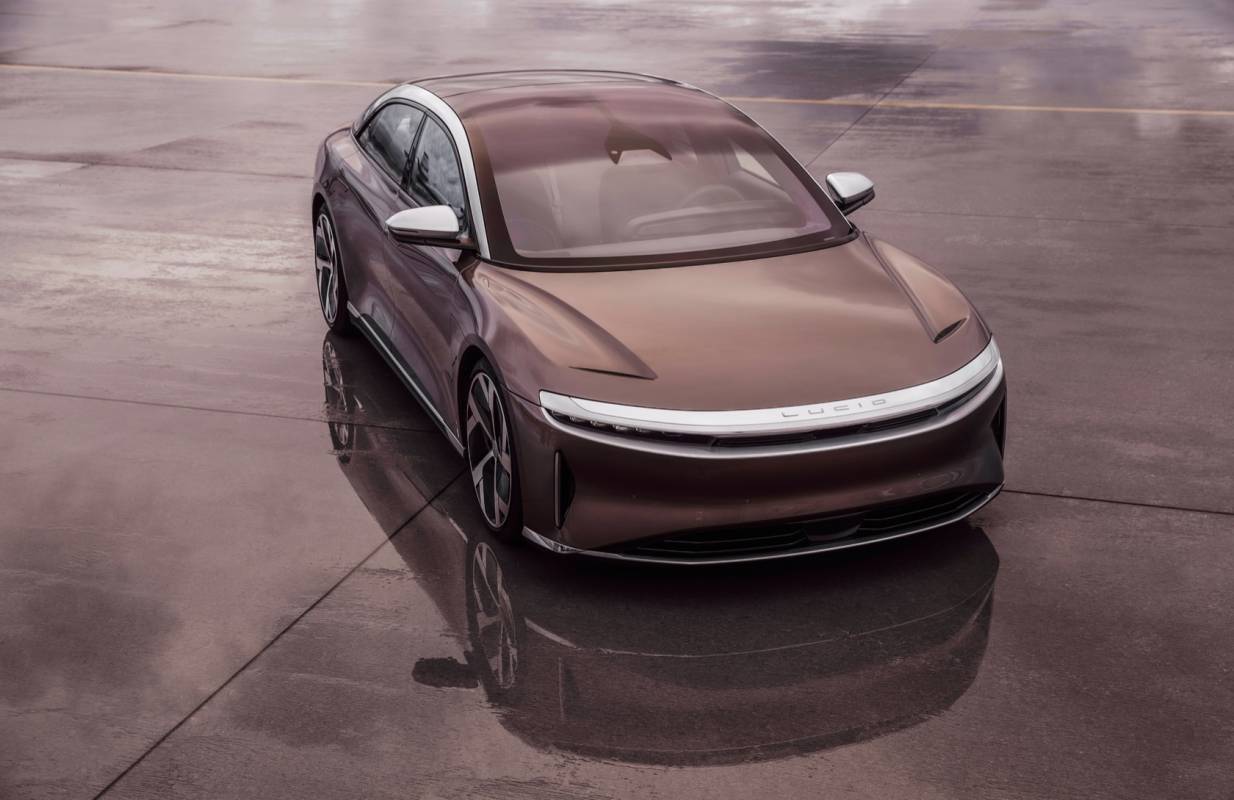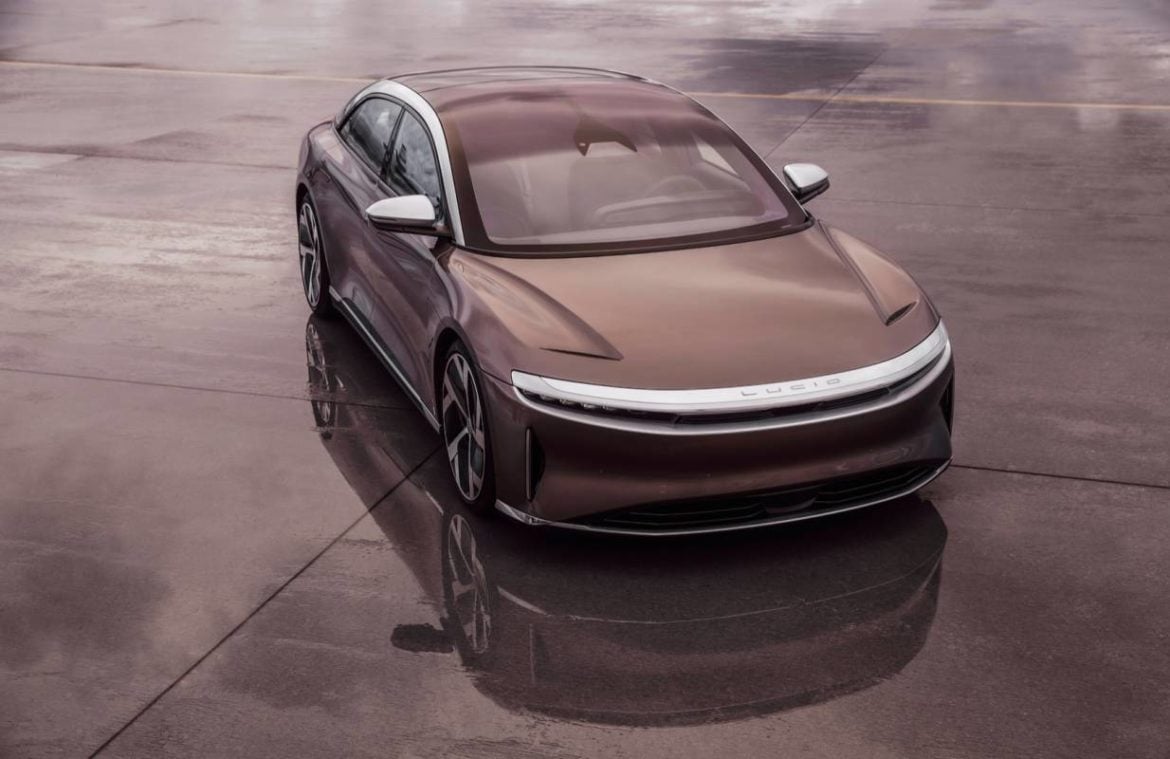 Churchill Capital Corp IV shares are nose-diving in pre-market stock trading action in New York after the special purpose acquisition company (SPAC) announced that it will be taking US-based EV vehicle maker Lucid Motors public through a merger valuing Tesla's rival at $24 billion.
For Churchill Capital, the deal consists of buying an equity stake of $11.75 billion on Lucid Motors through the issuance of 117.5 million shares at $10 per share while paying $15 per Lucid share.
Moreover, the deal would include a direct $4.6 billion cash injection to Lucid Motors from both Churchill and PIPE (private investment in public equity) investors including big institutional investors of the likes of BlackRock and Fidelity.
This additional funding would allow Lucid to keep moving forward with the launch of its Lucid Air model in 2021 which should be followed by the upcoming release of Lucid's Gravity SUV vehicle in 2023.
According to Lucid's press release, the company also aims to expand the capacity of its Arizona-based manufacturing facility in three phases over the coming years, seeking to ramp up its output to as much as 365,000 units per year.
Churchill's deal with Lucid would give the company a strong boost in the race to become a potential leader in the electric vehicle market and Tesla (TSLA) shares are reacting negatively to the news, sliding 5.6% today in pre-market action at $674 per share following yesterday's strong 8.5% downtick.
As for Churchill shares, the fact that the company valued its own stock at $10 per share to complete this transaction has resulted in a strong plunge in its share price, which is retreating 34% in pre-market action today at $37.8 after jumping 82% in the past six days.
The Churchill Capital Corp IV SPAC was launched by Michael Klein, a well-known Wall Street financier, in September last year, making this the seventh SPAC backed by Klein, who is also a former Citigroup executive.
Since 2018, Churchill Capital's SPACs have successfully taken public multiple companies including Clarivate Analytics and MultiPlan Inc., while the Churchill Capital Corp II fund – a $690 million SPAC – is still on the lookout for a plausible deal.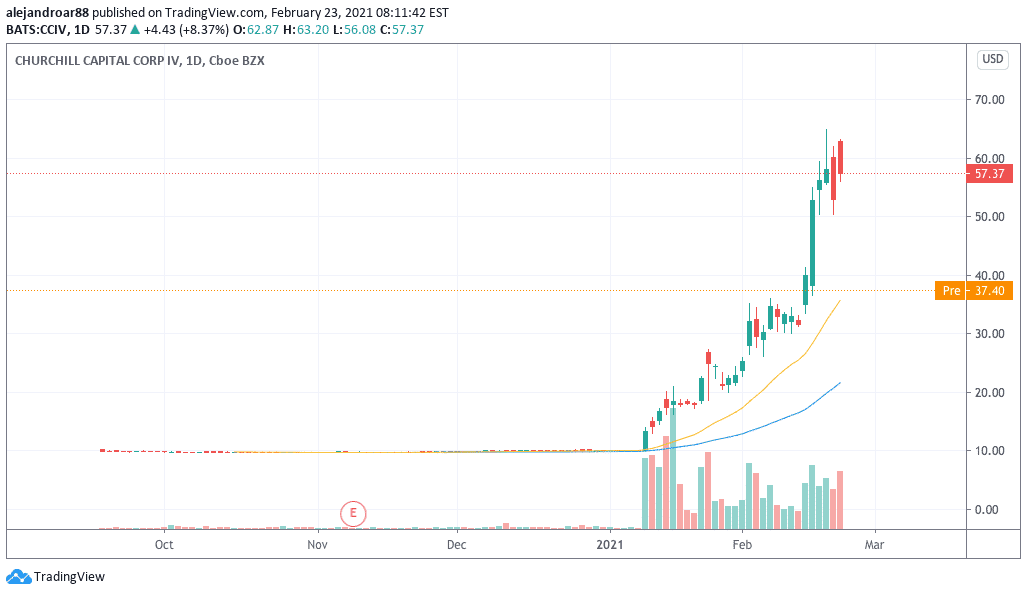 Since its inception, the Churchill Capital Corp IV SPAC has seen its stock price skyrocket from $10 per share to as much as $57 per share yesterday, as rumors of the fund possibly taking Lucid public kept circulating.
Meanwhile, today's downtick in Churchill's IV SPAC would result in a total market capitalisation of around $12 billion for the fund – including the 117.5 million shares it will issue to complete the deal.
What's next?
According to the SEC filing, the deal should be consummated before 22 October this year while the two firms have agreed on a stock lock-up applicable to all the parties involved, with participants in the PIPE deal being unable to sell their shares until September while existing investors are not allowed to exit their positions during the six months following the agreement.
As for Churchill's backer, they have committed not to sell their shares for at least 18 months.
Michael Klein, the Chairman and CEO of CCIV, stated: "Lucid's superior and proven technology backed by clear demand for a sustainable EV make Lucid a highly attractive investment for Churchill Capital Corp IV shareholders, many of whom have an increased focus on sustainability".
Meanwhile, Lucid's Chief Executive Peter Rawlinson, who is a former Tesla engineer, mentioned other benefits to the transaction including "the realization of our vision to supply Lucid's advanced EV technologies to third parties such as other automotive manufacturers as well as offer energy storage solutions in the residential, commercial and utility segments".