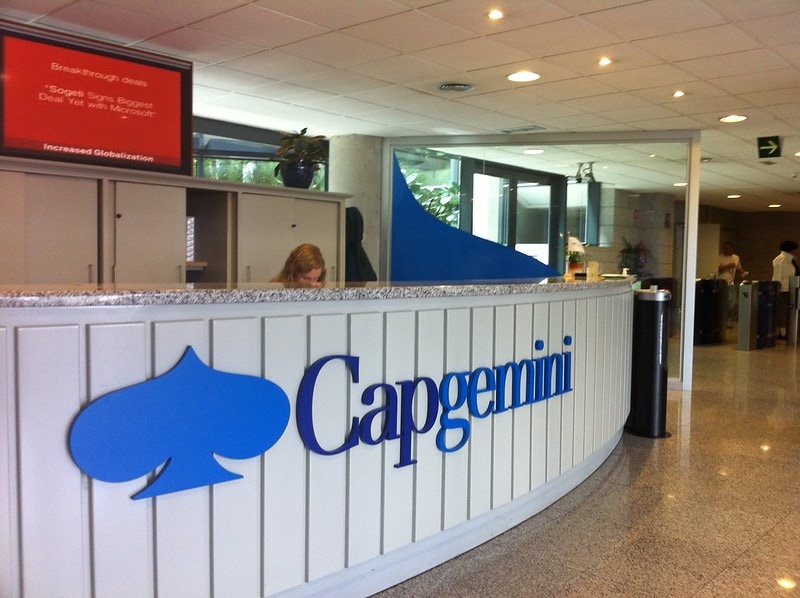 Capgemini (CAP) shares are trading 2% higher in late stock trading in Paris at €120.45 per share after releasing its financial results for the first half of 2020, which featured a double-digit revenue growth forecast for the year.
The French consulting firm saw a 7.9% growth in revenues at constant currency during the first six months of this year, generating €7.6 billion in revenues, up from the €7 billion it brought during the same period last year.
However, Capgemini saw a 3.4% decline in organic revenues – which excludes the impact of the revenues brought in by the recently-acquired Altran subsidiary.
Capgemini's revenue growth was primarily fueled by positive momentum in the digital and cloud segment of the business, as lockdown measures prompted individuals and businesses to rely on technology to perform their regular duties.
Bookings surge
Meanwhile, the Paris-based consulting company saw a 10.3% surge in bookings, which ended the first half of 2020 at €7.8 billion, pointing to the company's resilient business model and its ability to remain a valuable partner for its clients during times of economic distress.
Financial services and manufacturing companies remained the largest sectors in terms of revenue for Capgemini, although its telecom, media & tech segment saw a 36% growth in revenues compared to the same six months a year before, followed by manufacturing, which grew 19.2%.
Moreover, from a geographical standpoint, Capgemini's operations in Europe – excluding France – grew 15.1%, although the size of this market is still second to the firm's operations in North America, which accounted for 32% of the group's revenues growing by 4.2% – possibly as a result of a weaker dollar.
Finally, Capgemini's operating margin dropped 60 basis points to 10.8% compared to 11.4% the firm brought in a year ago due to a reduction of the firm's gross profit margin, which slipped 120 basis points to 25.9%, down from 27.1% the year before.
The most positive aspect of this report was the company's outlook for the rest of the year, as Capgemini anticipates strong constant-currency revenue growth ranging between 12.5% to 14% by the end of 2020, forecasting a potential 17% contribution from its recently-acquired subsidiaries – including Altran.
France approves €100 billion in economic stimulus for businesses
Earlier today the French government announced it will inject €100 billion to businesses in the country as part of a plan to counter the economic fallout caused by the pandemic.
The CAC 40 Index – France's stock market benchmark – jumped 1.9% following the news and this has contributed to lifting Capgemini's shares higher as the firm stands to benefit from this financial assistance.
What's next for Capgemini shares?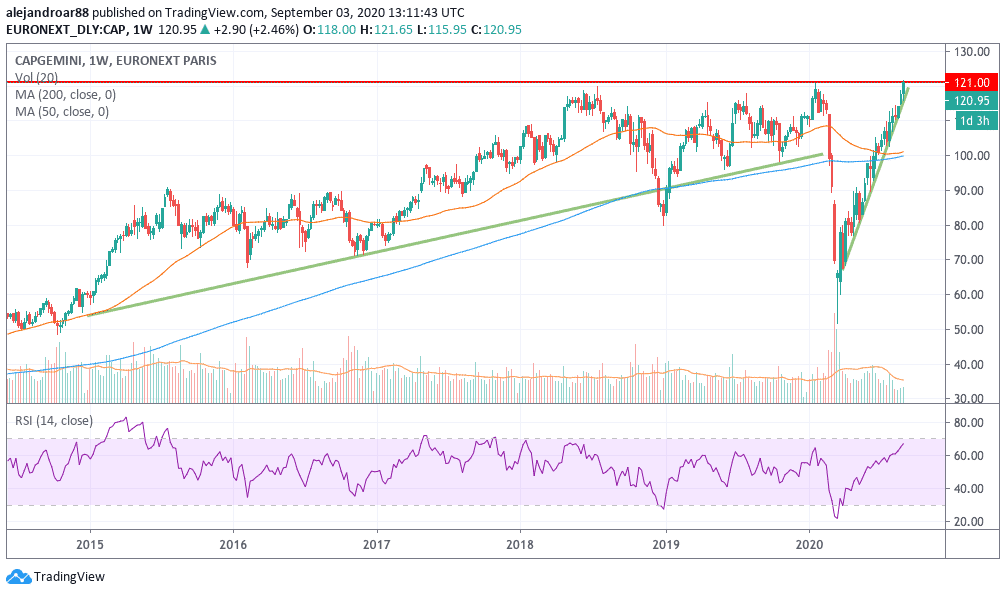 Capgemini shares have seen a V-shaped recovery since they touched bottom at €50 per share, as the firm's exposure to the tech industry has helped the business in staying afloat despite the economic fallout caused by the virus.
The weekly chart above shows how the price has been trending higher since March, with the RSI posting new highs every week, which is a positive sign of the rally's strength.
As of this morning, Capgemini is trading at a ratio of 24 times its last-twelve-months earnings and the company currently offers a 1.14% dividend yield.
Resistance test at all-time high
The price is currently approaching its all-time high of €121 per share and the price action toyed for a moment with that level earlier this morning, although it settled lower.
Failing to cross that resistance could be bad news for Capgemini shares, as that has led to a meltdown in the price of the stock in the past two attempts.
However, given the positive sentiment that seems to be following this latest earnings report, Capgemini shares could successfully break above that resistance and, if they manage to do so, the firm's shares could book fresh all-time highs in the next few sessions.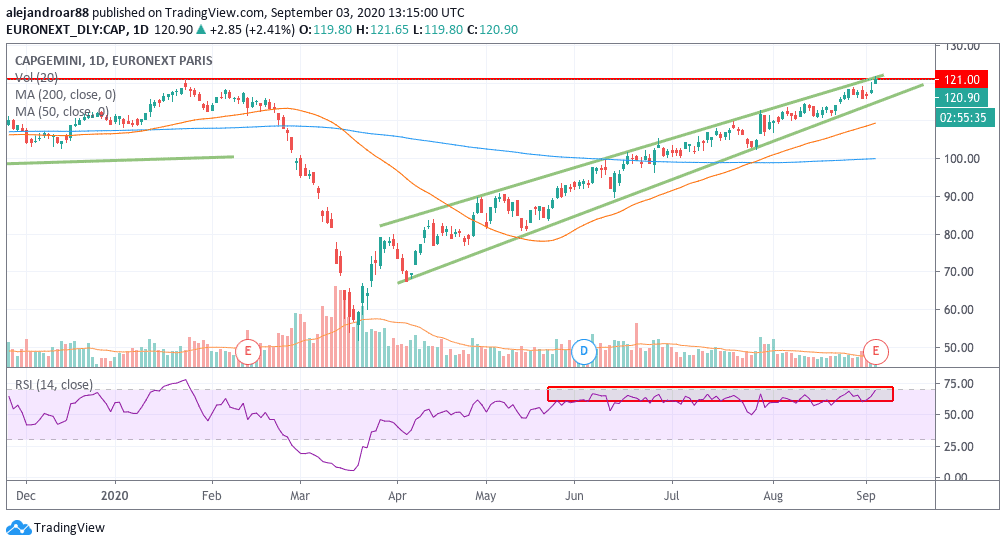 However, traders should keep an eye on Capgemini's price action, as a rising wedge has been forming since March's rebound. This formation indicates that a trend reversal may be about to kick in and any drop below the lower trend line could provide confirmation of that move.