Shares of British soft drinks maker Britvic were trading more than 2% higher in early London trading today. The company's basic earnings increased in the fiscal year 2020 for the period ended 30, September.
Britvic houses brands such as Teisseire, Tango, Fruit Shoot, and J20. It also has a bottling agreement with PepsiCo to produce, distribute, and market PepsiCo beverages including Pepsi, Mountain Dew, and 7UP in Great Britain.
Britvic's revenues tumble
Britvic's revenues in fiscal year 2020 fell 8.6% year over year to £1.41 billion. The revenues fell 6.8% in constant currency terms, which is a better indicator for companies like Britvic that have international operations also.
Britvic's adjusted EBIT (earnings before interest and taxes) fell 22.6% year over year to £165.8 million, with the adjusted EBIT margin dipping to 11.7% from 13.9% in the fiscal year 2019.
Britvic's adjusted EPS also dipped almost 28% year over year to 43.2p. However, the company's basis EPS, that does not includes adjusting items rose 16.3% year over year to 35.6p. The company reports adjusting items in its earnings for better comparison from prior periods.
Divergence between adjusted and basic numbers
The divergence between Britvic's basic earnings and adjusted earnings in the fiscal year 2020 is due to lower adjusting items in fiscal year 2020. It reported adjusting items of £35.5 million in the fiscal year 2020 as compared to £84.1 million in the previous year.
In fiscal 2019, Britvic reported higher adjusting items, as it recorded a £33 million charge related to strategic restructuring under its business capability programme and another £31.2 million under impairment on assets held for sale.
Britvic cuts dividend
Britvic announced a final dividend per share of 21.6p, which is in line with its policy of maintaining a 50% payout of its adjusted earnings. The company managed to bring down its adjusted net debt by £45.8 million in the fiscal year. Many companies have taken on debt to survive the cash burn during the COVID-19 pandemic.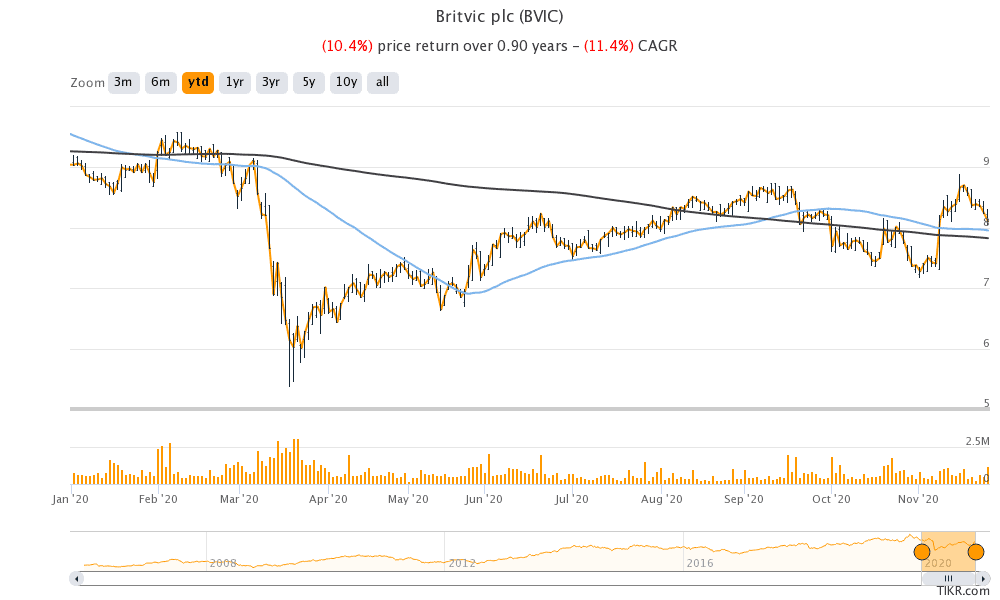 Key highlights of Britvic's performance
Last month, Britvic announced a new 20-year exclusive franchise agreement with PepsiCo to sell its products in Great Britain. The company also committed to have all plastic bottles in the country made from recycled PET by the end of 2022. With ESG (environmental, social, governance) investing gaining traction and consumer groups pushing companies with greener alternatives, many companies have been moving towards environmentally friendly alternatives when it comes to packaging.
Britvic: At-home channel did well during the pandemic
Britvic's At-home channel reported revenue growth and market share gains in Britain during the fiscal year even as the Out-of-Home channel sagged. The trend has been visible across the food industry including at giants like Nestle, PepsiCo, and Coca-Cola. Demand for products that people consume at home has risen during the pandemic while outdoor channels that include malls and restaurants have reported lower demand.
Britvic outlook clouded amid COVID-19 related restrictions
As coronavirus infections increased in Europe, we are witnessing lockdowns in several cities. Britvic sounded cautious on its outlook amid COVID-19 related restrictions.
"Looking ahead, 2021 brings both continued uncertainty and an opportunity to capitalise on the trends which have accelerated as a result of COVID-19," said the company in its earnings release. It added, "We have started the new financial year with some form of restrictions on either trading and/or the movement of people in all our markets, and this will undoubtedly continue to affect performance, especially in the first half of the financial year."
Britvic shares in 2020
Britvic shares are down over 10% so far in 2020. Looking at other beverage companies, Coca-Cola is down 3.8% while PepsiCo is up 5.4%. The COVID-19 pandemic's impact has been higher for Coca-Cola that get a higher share of revenues from beverages. PepsiCo has a much more diversified business and higher food product sales have helped the company offset the impact from lower sales of beverages.
Britvic shares trade at a NTM (next-12 months) price to earnings multiple of 17.0x which is slightly higher than its historical multiples. The shares have a 52-week trading range of 536p-994.50p and were last trading 1.3% higher at 820.50p at 11:00 AM London time today.