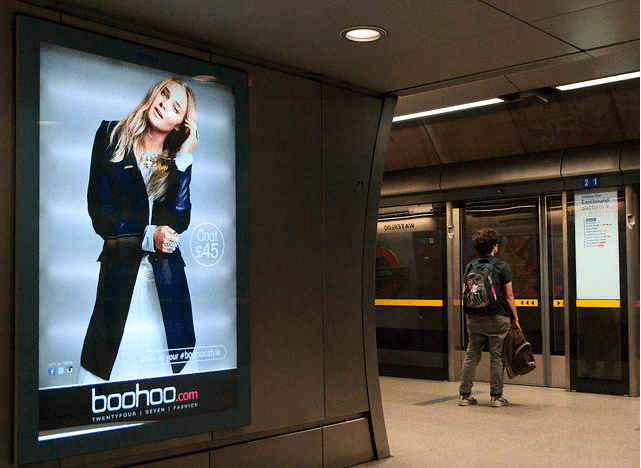 The price of Boohoo shares are plunging today after news broke that the firm could face an import ban from the United States amid allegations of slave labour.
An exclusive report published by Sky News this morning emphasised that the US Customs and Border Protection agency has already "seen enough evidence" to launch an investigation into these allegations, following a petition from advocacy group Liberty Shared, which claims that there is "compelling" evidence about Boohoo's forced labour practices.
Shares of the British online fashion retailer reacted negatively to the report, first dropping by nearly 10% in early stock trading action in London to then recover partially, now losing 4.3% at 330p per share.
The price of Boohoo shares attempted a recovery from these intraday lows after the company responded that it had been working with authorities in the UK to make sure its products comply with all required standards.
Meanwhile, the firm headed by John Lyttle stated that the company is not aware of any ongoing investigation from a US regulator about such allegations.
This is not the first time that Boohoo (BOO) has been affected by allegations concerning its suppliers' labour practices. The company faced a whirlwind of bad press after a report from The Sunday Times last July revealed that workers within a network of factories in Leicester that were part of Boohoo's supply chain were paid less than minimum wage while being forced to work in inadequate conditions.
After such reports, Boohoo went on to launch an independent review conducted by Alison Levitt QC, a partner and head of the Business Crime unit of Mishcon de Reya LLP – a firm that specializes in regulatory compliance.
In September 2020, Boohoo published Mrs. Levitt findings, which made some important observations about the firm, including the following:
Boohoo's governance processes failed to keep up with the pace of the firm's "extraordinary commercial growth".
The firm has concentrated its efforts on generating revenue but has neglected oversight of how those goals are being accomplished.
Boohoo has not acknowledged its responsibility in ensuring that working conditions in its connected Leicester factories were adequate.
Boohoo did not commit a criminal offence.
Claims of inadequate conditions in Leicester factories were "substantially true".
The firm's monitoring of its Leicester supply chain was inadequate due to weak corporate governance.
Mrs. Levitt made an interesting comment within the report in regards to the public release of her findings: "It is my view that if Boohoo publishes my report that will be the clearest evidence that it is sincere in its wish to understand the nature and extent of the problems and serious in its commitment to becoming part of the solution".
What's next for Boohoo shares?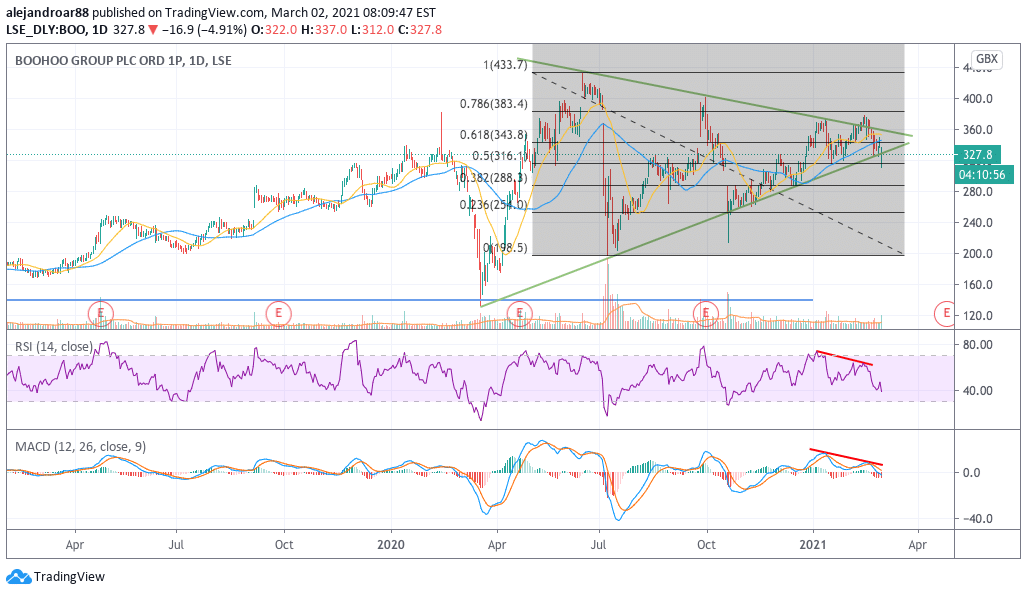 The Sky News report did not disclose the source that claimed that an investigation is currently taking place. However, if we are to assume that it is true, around a fifth of Boohoo's revenues could be affected if the US were to ban imports from the company.
From a technical standpoint, Boohoo's downtrend could accelerate in the coming days if the negative momentum continues, with both the RSI and the MACD posting bearish divergences as the price kept making new highs on lower readings in the two oscillators.
Meanwhile, the price is breaking below a symmetrical triangle formation, which is a consolidation setup that often precedes a directional decision from market participants.
At this point, market participants seem to be deciding that the price action will head downwards moving forward. A drop below the 0.382 Fibonacci scale would confirm such a decision as it will indicate an acceleration in the downtrend.