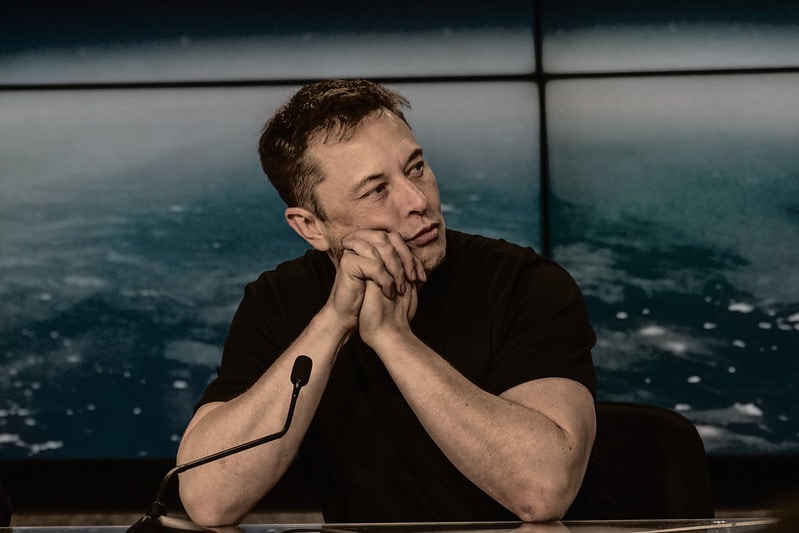 Bitcoin soared nearly 10% yesterday while it is moving higher in early cryptocurrency trading action this morning after Elon Musk commented that Tesla could once again receive the crypto asset as payment for its electric vehicles.
In a tweet that responded to a claim from the Chief Executive of the South African cybersecurity firm Sygnia, Magda Wierzycka, about alleged market manipulation, Musk stated that Tesla would once again take Bitcoin (BTC) as a mean of payment "when there's confirmation of reasonable (~50%) clean energy usage by miners with positive future trend".
Comments from Musk sent BTC soaring during Sunday's trading session, while the price of the cryptocurrency is settling 3% higher this morning at $40,300 per coin.
In early May, the founder of Tesla (TSLA) tweeted that the company would stop receiving Bitcoin as payment for its electric vehicles due to environmental concerns, referring to studies that pointed to a "rapidly increase use of fossil fuels for bitcoin mining".
However, the company did not fully back off from its cryptocurrency bet, as Tesla continues to hold a sizable amount of Bitcoin – possibly around 280 and 300 coins.
Musk's relationship with Bitcoin has been quite controversial as the corporate leader has become an influential voice for the entire cryptocurrency market with his tweets having an immediate effect, both positive and negative, on the price of multiple tokens including BTC and more recently Dogecoin (DOGE), the crypto token that first started as a joke but that has now reached a market capitalization of almost $42 billion as a result of Musk's alleged support.
During an interview with Bruce Whitfield at the Money Show, the female CEO of Sygnia said that Musk should be the subject of an investigation from the United States Securities and Exchange Commission (SEC) as she accused him of manipulating the market for his convenience.
Wierzycka commented: "What we have seen with Bitcoin is price manipulation by one very powerful and influential individual".
She added: "The [Bitcoin] volatility we have seen is an unexpected function of what I would call market manipulation by Elon Musk… If that happens to a listed company, he would be investigated and severely sanctioned by [the] SEC".
According to Musk's Sunday tweet, Tesla still retains around 90% of the coins that it bought in February this year, even though the firm reported back in April that it had sold a total of $272 million worth of "digital assets" – a transaction that most likely refers to its Bitcoin (BTC) holdings.
This sale helped the company in reporting positive bottom-line results as the transaction returned as much as $101 million in profits from the electric vehicle company – almost 25% of the firm's total net quarterly earnings for the period.
Back in February, rumors started to circulate about an alleged investigation from the SEC in regards to Musk's involvement in pumping the price of Dogecoin although the agency did not confirm those allegations at the time.
In September 2018, Musk was formally charged with securities fraud by the institution for issuing "false and misleading tweets" about having enough resources to take Tesla private even though there was no evidence that such a deal was actually taking place or that Musk had the resources to pull that off.
A few days later, the Chief Executive of Tesla settled the case in exchange for a $40 million penalty, $20 million paid by him and the remaining $20 million by Tesla, although he did not admit his guiltiness in regards to the claim made by the regulatory body.
What's next for Bitcoin (BTC)?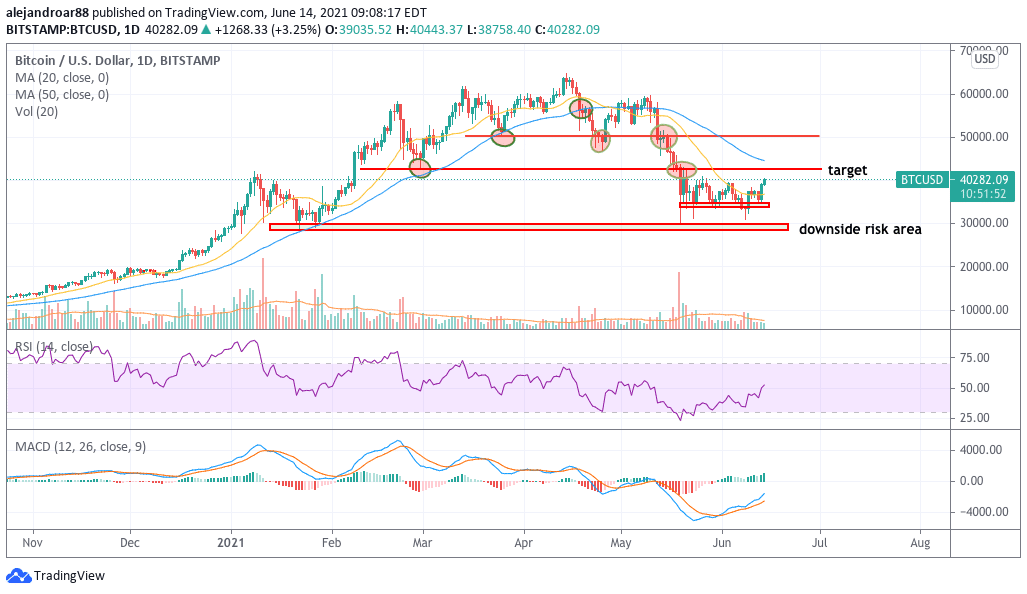 The price of Bitcoin has been finding strong support at the $33,000 level while Musk's tweet yesterday had pushed the price near the coin's early June highs.
The current technical setup seems to indicate that the cryptocurrency might have found a floor after its late-May meltdown – a situation that could support a bullish move toward the $42,800 level in the short run.
Momentum oscillators are backing this view as the RSI is surging above the 50 level for the first time since early May while the MACD has already sent a buy signal on growing positive momentum readings.
That said, the latest weakness in the crypto token should not be ignored and the $33,000 remains a key support to watch. If that threshold is broken, the token could drop to $28,500 shortly afterwards for a 29% downside risk based on today's price.