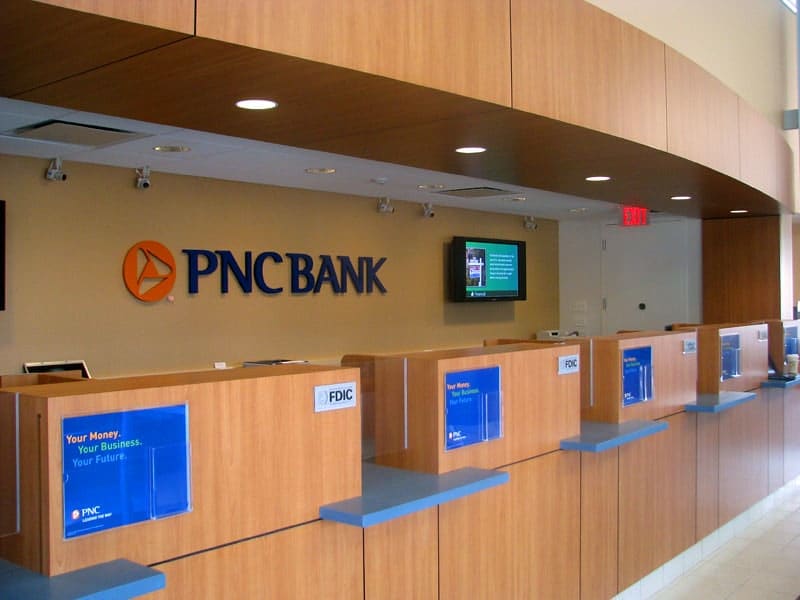 BBVA shares are surging almost 19% today at €3.77 in late stock trading activity on Spain's IBEX stock index, after the bank announced the sale of its US operations to PNC Financial Services for a total of €9.7 billion ($11.6 billion).
BBVA USA Bancshares, the bank's US unit, currently holds a total of $102 billion in assets and it is headquartered in Houston, providing its services to clients in multiple West and East Coast states including Texas, Alabama, Arizona, Colorado, Florida, and California through a network of 637 branches.
The deal will be paid in cash and it excludes two of the bank's subsidiaries in the North American country – Propel Ventures and BBVA Securities, valued at $400 million – which will continue to operate under BBVA's control.
At $11.6 billion, the transaction values BBVA's US unit at 19.7 times the firm's 2019 full-year earnings and 1.34 times its tangible book value – a metric that is commonly used to assess financial services providers.
A portion of the proceeds from the transaction will be used by BBVA to repurchase shares at their currently attractive prices as the pandemic have plunged bank shares to their lowest levels since the financial crisis due to the low-interest-rate environment in which Europe – and the global economy for that matter – is currently submerged in.
The firm will also take advantage of this excess liquidity to further expand its operations and strengthen its competitive position in other markets.
Expanding PNC footprint in the US
Meanwhile, PNC aims to expand its footprint in the US by incorporating branches in new states, with both sides of the transaction satisfied with both the conditions and expected outcome of the deal.
"Our acquisition of BBVA USA will accelerate our growth trajectory and drive long-term shareholder value through a strategic deployment of the proceeds from the sale of our BlackRock investment", said PNC's Chairman William S. Demchak.
Meanwhile, BBVA Group Executive Chairman Carlos Torre Vila said: "This is a very positive transaction for all sides. PNC has recognized the great value of our unique client franchise and of our great team in the U.S., who will be part of a leading financial services group in the country".
The deal is expected to be closed by the first quarter of 2021 after completing customary due diligence and upon receiving regulatory approval. All BBVA operations will be merged with those of PNC Bank and customers will be migrated to PNC's platform once the deal is concluded.
PNC Financial is being advised by Bank of America and Citigroup, while BBVA is receiving counseling from JP Morgan Securities and Sullivan & Cromwell LLP. PNC shares are also trading 2.6% higher at $126 per share in pre-market action on Wall Street.
How have BBVA shares performed so far this year?
BBVA shares have lost almost 38% so far this year prior to today's announcement, although they had already trimmed some of the losses seen after the pandemic in recent days on the back of positive vaccine news from American drugmaker Pfizer (PFE).
Now, including today's uptick, shares are only 24% below their closing price on 31 December, as the prospect of upcoming share buybacks and even a potential special dividend are lifting the price of the stock.
A consolidation in the banking sector has been anticipated by analysts as financial institutions as institutions cope with  lower profitability resulting from the low-interest-rate environment.
Analysts from ING Group are forecasting a busy 2021 for banks in Europe. Major financial institutions could move to acquire smaller firms and reduce the number of branches, while taking advantage of economies of scale to improve their bottom-line.
"We think domestic deals will continue to take the lead and consider in-market transactions to be more likely in certain areas", said the Dutch banking group in a report released on 30 October.
What's next for BBVA shares?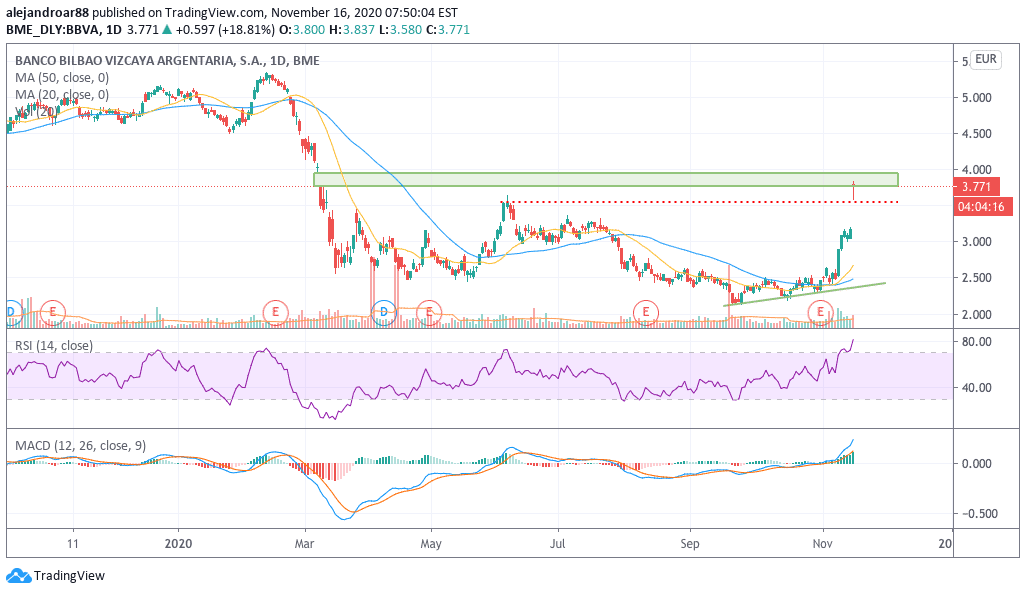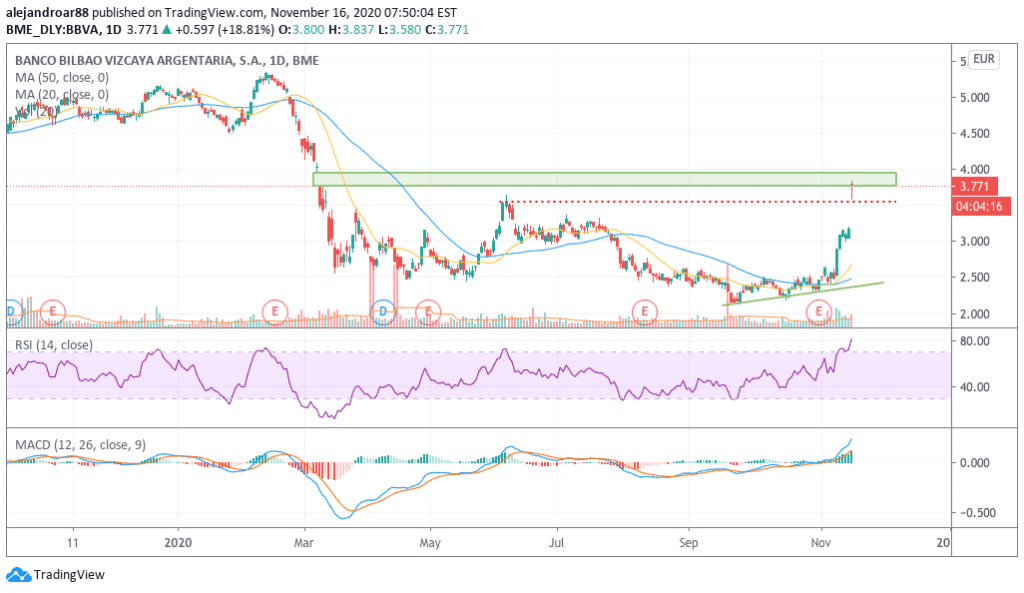 BBVA shares are attempting to close a bearish gap they left behind during the February – March sell-off and could move in that direction over the next few weeks as the combination of positive news on the vaccine front along with today's deal are likely to lift the share price closer to its pre-pandemic levels.
That said, profitability concerns are likely to continue capping the performance of bank shares over the coming months, as central banks around the world have not showed any willingness to modify their increasingly accommodative monetary policies while the virus situation persists.
If the price action were to advance to close the gap shown in the chart, there is a 6% immediate upside ahead for traders. On the other hand, stock could take a breather in short notice as the 9 November vaccine-related bull run has pushed most indicators to overbought levels already.
A key level to watch that could serve as support for BBVA right after today's move is the stock's €3.55 June high, a previous resistance that could now serve as a floor for any further jumps.