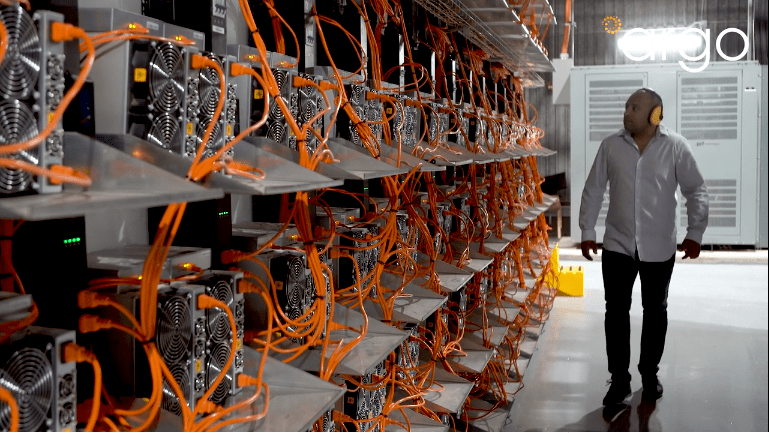 Argo Blockchain shares are soaring this morning for a fourth consecutive day as the British cryptocurrency mining company keeps benefitting from a seemingly unstoppable rally in the price of Bitcoin (BTC).
Argo's operational update published on 5 January indicated that the firm effectively mined 96 Bitcoin or Bitcoin Equivalent during December – which represents a slowdown compared to the 115 Bitcoin the company extracted during November.
However, given the latest steady rise in cryptocurrency valuations, the firm managed to produce a total of £1.63 million in revenue during the period, which represents a 10% monthly jump compared to the £1.48 million it brought in during November.
Moreover, Argo announced that its lease agreement with Celsius Network to deliver 4,500 Bitmain Antminer equipment is on schedule. This lease will expand the company's mining capacity by 430 petahash.
Argo Blockchain (ARB) claims that it has a current 645 petahash capacity derived from a total of 16,000 machines currently in operation.
"The Bitcoin market has entered 2021 on a roll, and we are very optimistic this year will continue to see an increasing mainstream adoption of cryptocurrency", said Argo's Chief Executive Peter Wall in regards to the company's performance during December.
Meanwhile, one of the firms covering Argo Blockchain shares, Align Research, changed its recommendation for the stock just yesterday from Conviction Buy to Take Profits after the company's shares nearly quadrupled Align's 12-month target of 21.14p per share.
Align's buy recommendation for Argo was first brought up by the research firm in late November, featuring a forecast of 2.05p per share in earnings for the company's 2021 fiscal year.
The firm emphasised that a price-to-earnings multiple of 8 seemed "reasonable" for Argo's shares, which resulted in their 21.14p price target. Moreover, it is important to note that these estimates have already priced in the impact of the incorporation of this recently leased equipment to the firm's crypto mining capacity.
What's next for Argo Blockchain shares?
Back when we first wrote about Argo Blockchain, the company was hitting a fresh all-time high of 36p per share after it applied to list its shares in the US OTCQB Venture Market.
Now, with the price surpassing the 100p level, a closer look at Argo's valuation seems plausible as market players could be feeling very optimistic about the future of the mining company in an environment shaped by higher cryptocurrency prices.

The financial model provided by Align Research forecasts that Argo Blockchain's revenues will land at £30.1 million by the end of this year, which represents a total of 813 Bitcoin based on today's price of $37,000 per coin.
During 2020, the firm managed to mine a total of 2,465 BTC and it would be plausible to think that its mining capacity could be increased by around 60% at least once the additional 430 petahash are added to their infrastructure.
If mining difficulty remains unchanged during 2021, that would boost the company's annual output to at least 3,900 Bitcoin and Bitcoin Equivalents during the year, of which the company effectively keeps 60% according to its December average monthly mining margin.
Using those numbers, we could model different profitability scenarios for Argo using Bitcoin's price as follows:
Worst-case scenario (BTC @ $20,000 per coin) – Total earnings: $46.8 million (£34.4m)
Base-case scenario (BTC @ $30,000 per coin) – Total earnings: $70.2 million (£51.6m)
Best-case scenario (BTC @ $50,000 per coin) – Total earnings: $117 million (£86m)
Based on the current market capitalisation of the firm and assuming that the impact of its operating expenses will probably be fairly small in relation to its bottom line, it could be argued that the firm is valued in a range between 2 and 5 times its potential 2021 earnings.
That said, there are several factors that could affect the share price during that period including the incorporation of additional mining equipment, wild fluctuations in the price of cryptocurrencies that fall outside the scenarios outlined above, a sudden increase in the firm's operating expenditures, and changes in the regulatory framework for cryptocurrencies in the United Kingdom and overseas – among many others.
However, if the base case scenario for Bitcoin were to hold, chances are that Argo is currently undervalued at a P/E ratio of 3.