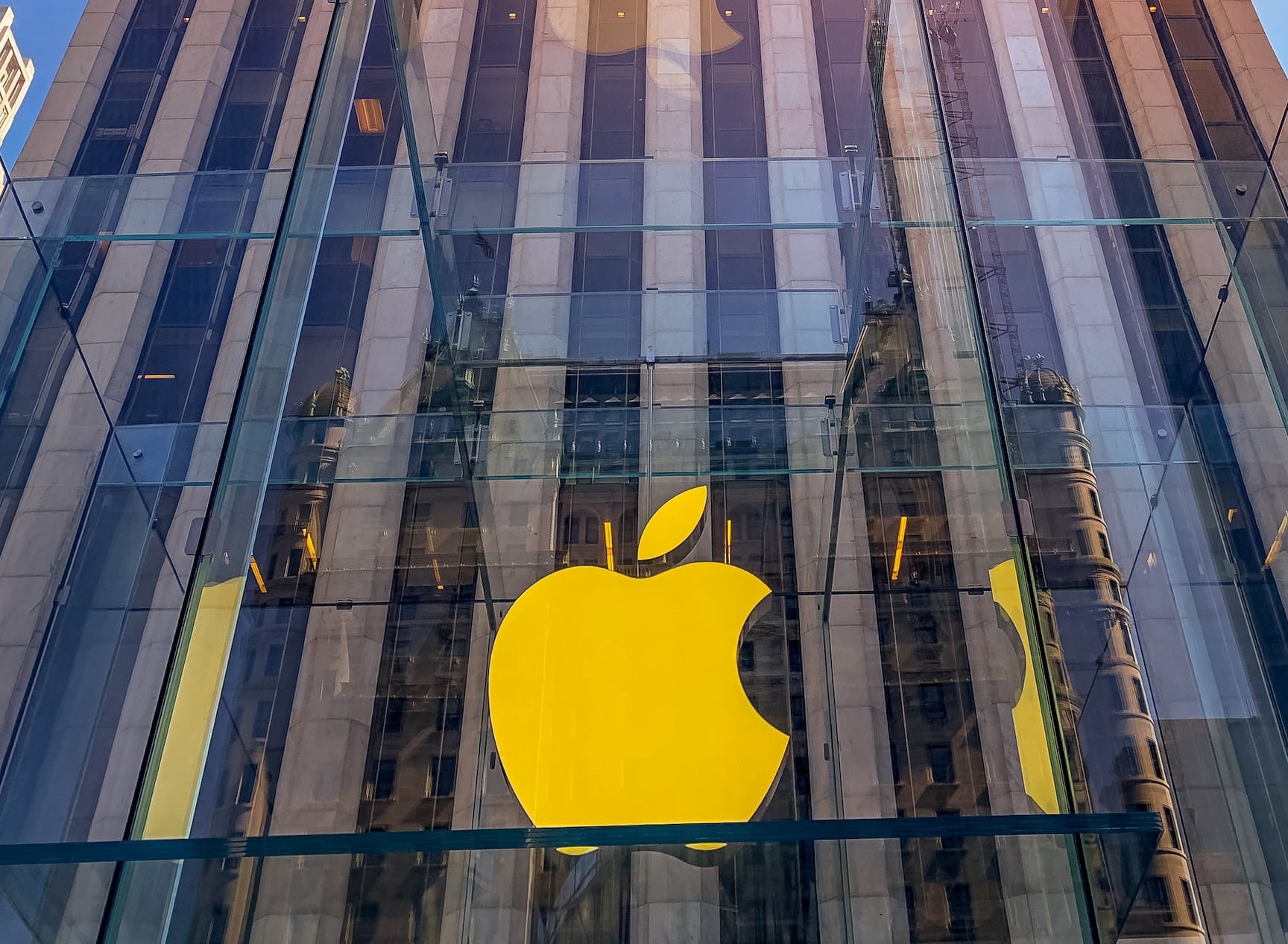 Apple shares (NYSE: AAPL) crashed on Friday and had the worst single-day fall since September 2022 even as the company posted better-than-expected earnings for its fiscal third quarter of 2023. Here are the key takeaways from the report and a breakdown of how analysts reacted to the iPhone maker's earnings.
Apple reported revenues of $81.8 billion in the fiscal third quarter that ended on July 1 which was 1% lower YoY. The company's revenue was slightly ahead of the $81.69 billion that analysts expected and higher than the company's own internal expectations. It posted an EPS of $1.26 which was ahead of the $1.19 that analysts expected and the gross margin of 44.5% was also higher than the 44.2% that analysts were expecting.
iPhone revenues fell 2% in the quarter
Apple iPhone revenues were $39.67 billion in the quarter – which was 2% lower than the corresponding quarter last year – and below the $39.91 billion that analysts expected. iPad revenues also fell 7% YoY and came in at $5.79 billion which trailed analysts' estimate of $6.62 billion.
Mac revenues also fell 7% YoY to $6.84 billion but were ahead of the $6.62 billion that analysts expected. The company's other product revenue rose 2% YoY and reached $8.28 billion but came in below the $8.39 billion that analysts were expecting.
One bright spot in Apple's Q3 earnings was the Services segment which reported revenues of $21.21 billion – up 8% YoY and well ahead of the $20.76 billion that analysts were expecting.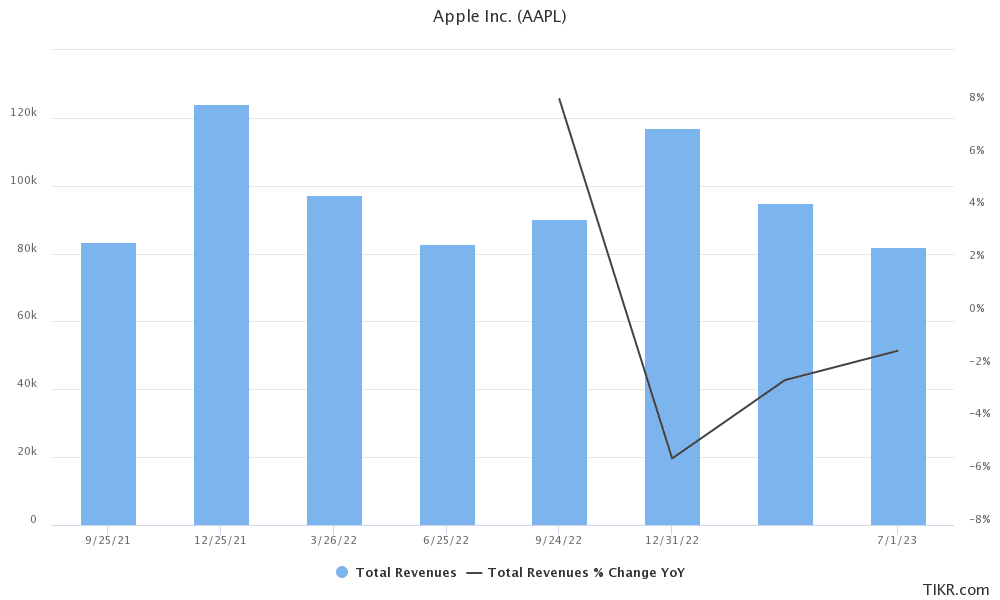 Apple was upbeat about its Services business
Apple meanwhile sounded upbeat on the performance of its Services business and highlighted fits well into the overall ecosystem.
Apple's CFO Luca Maestri pointed to the installed base of over 2 billion devices and said "it establishes a solid foundation for the future expansion of our ecosystem."
She added, "we see increased customer engagement with our services. Both our transacting accounts and paid accounts grew double digits year-over-year, each reaching a new all-time high. Third, our paid subscriptions showed strong growth."
Maestri pointed out that Apple now has over 1 billion paid subscriptions and added 150 million of these in the past 12 months only.
She summed up, "And finally, we continue to improve the breadth and the quality of our current services. From 20 new games on Apple Arcade, to brand-new content on Apple TV+, to the launch of our high-yield savings account with Apple Card, our customers are loving these enhanced offerings."
AAPL expects revenues to fall in the fiscal fourth quarter
Apple's revenues have fallen YoY for the last three consecutive quarters and the company expects them to fall in the current quarter also saying it expects the revenue performance to be "similar" to Q3 where its revenues fell 1%.
The company stopped providing hard guidance since early 2020 but provides some directionality. Providing more colour on the Q4 outlook, Maestri said, "We expect iPhone and Services year-over-year performance to accelerate from the June quarter. Also, we expect the revenue for both Mac and iPad to decline by double digits year-over-year due to difficult compares, particularly on the Mac."
She added, "For both products, we experienced supply disruptions from factory shutdowns in the June quarter a year ago and were able to fulfill significant pent-up demand in the year ago September quarter."
Tim Cook on the opportunity in India
In response to an analyst question on the opportunity in India – which is now a top-five market for Apple – Tim Cook sounded quite optimistic.
He said, "We did hit a June quarter revenue record in India, and we grew strong double digits. We also opened our first 2 retail stores during the quarter. And it's — of course, it's early going currently, but they're currently beating our expectation in terms of how they're doing."
Apple talked about its AI strategy
Notably, while the word "AI" has featured prominently in earnings calls of other tech companies, it has been either missing or only appeared briefly in Apple's earnings.
In response to an analyst question on Apple's AI strategy, Cook said that AI and machine learning are "integral to virtually every product that we build."
Pointing to the features like Personal Voice and Live Voicemail, Cook said that none of the features and many more that Apple is working on "would be possible without AI and machine learning. And so, it's absolutely critical to us."
He stressed, "And of course, we've been doing research across a wide range of AI technologies, including generative AI for years. We're going to continue investing and innovating and responsibly advancing our products with these technologies with the goal of enriching people's lives. And so that's what it's all about for us. And as you know, we tend to announce things as they come to market, and that's our MO, and I'd like to stick to that."
How analysts reacted to AAPL's earnings
After Apple's earnings release, Morgan Stanley's Erik Woodring maintained his overweight rating on Apple but lowered the target price by $5 to $215. Woodring said, "Where we largely got the September quarter guide wrong was over-estimating iPad and Mac revenue, both of which face challenging Y/Y compares in the September quarter, in addition to continued postCOVID demand digestion. Otherwise, the September quarter guide was solid, as Apple continues to see strength in the right places."
Citi's Atif Malik seemed impressed with Apple'e earnings and opened a positive catalyst watch on the shares. "With both iPhone and services sales expected to accelerate Y/Y [year-over-year] in the Sep-Q, we maintain our view that Apple is more focused on maximizing gross profit per unit of iPhone from migration to premium phones and related services than volume," said Malik in his note.
Rosenblat downgraded Apple to a neutral
Not everybody was as impressed though and Rosenblat downgraded the shares from a buy to neutral and said, "After a mixed F3Q23 that highlights the slowdown phase in which Apple now sits, we downgrade the stock to NEUTRAL from BUY, and keep our price target at $198."
The brokerage however upgraded Amazon from a neutral to a buy after the company not only shattered analysts' estimates in the second quarter but also provided a rosy outlook for the third quarter.
Unsurprisingly, while Apple shares fell almost 5% on Friday, Amazon soared over 8% and cemented its position as the second-best-performing FAANG share of 2023.
If you're looking for the most comprehensive stock data, indicators, and alerts, we recommend checking out AltIndex.com.