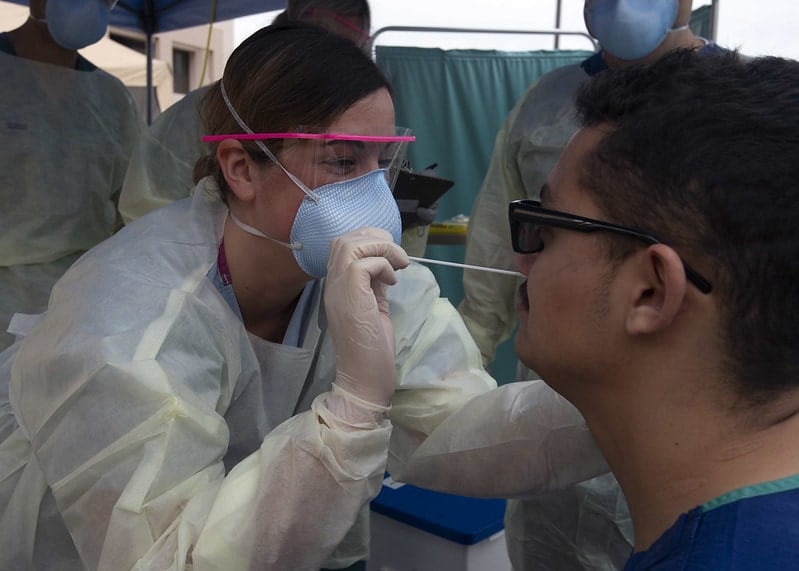 Abbott (ABT) shares are pointing to a higher open during today's pre-market stock trading activity after the US government granted the pharmaceutical firm a $760 million contract for its recently-launched 15-minute COVID-19 test.
The contract – issued by the US Health and Human Services (HHS) – would secure the purchase of 150 million tests from Abbott for a price of $5 per unit, representing the company's full-year output.
This diagnostic tool just received the approval for emergency use by the US Food and Drugs Administration (FDA) as part of an effort to fight the virus outbreak in the North American country by increasing its testing and early-detection capabilities.
"Early data for ABT's test demonstrated sensitivity and specificity of 97.1%/98.5% when used within the first seven days of symptom onset", said Max Masucci, an analyst from Canaccord Genuity.
The deal, although big news for Abbott in its race to become an important player in mankind's effort to contain the pandemic, represents only 2% of the company's sales over the last 12 months.
That said, this could be a brand new revenue stream for Abbott over the long term and also in a shorter period if the company manages to produce higher volumes, as most countries are likely to follow the US in buying large volumes of the test.
What could come next for Abbott shares?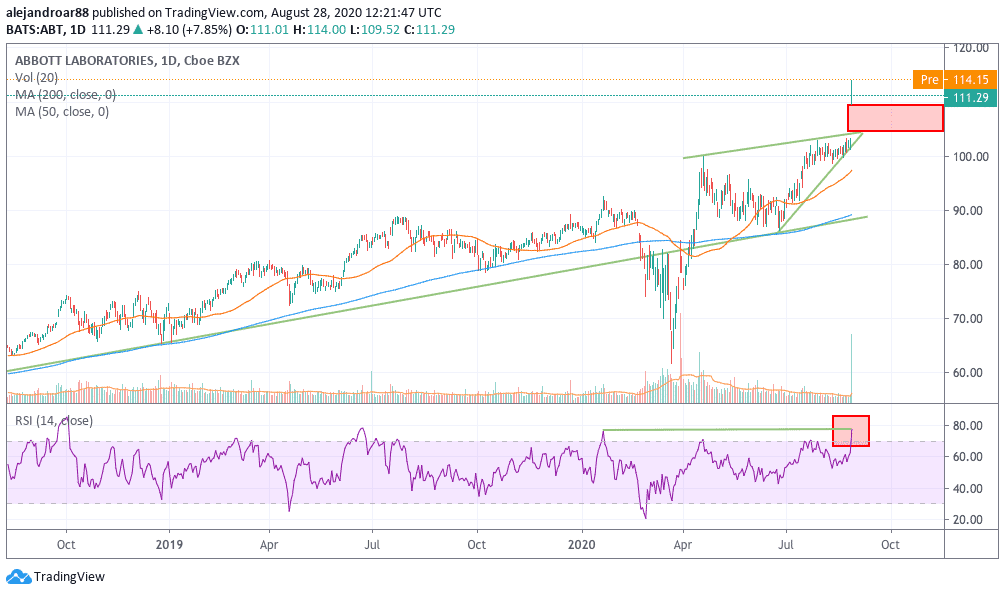 Abbott shares closed yesterday's session in Wall Street at $111.29 per share, up 8%, after news of the treatment's approval broke.
Meanwhile, the stock is pointing to a higher open as they are gaining more than 2% during today's pre-market activity, which would be Abbott's third consecutive day of gains if the stock manages to close in positive territory today as well.
One weak spot in yesterday's rally was a big price gap at the $104.5 level, which poses a threat to the stability of this surge in the short run.
Although the momentum at this point will probably push the stock higher for a while, it is highly likely that the stock price will go down to fill that gap at some point.
At this point, the RSI is in overbought territory and it is likely to go higher into it if the stock closes in the green zone today, which has also been a bearish signal for Abbot shares, at least based on its price action over the past 12 months.
While this news represent a tailwind for the Illinois-based health care company, traders should be cautious in taking long positions at these levels due to the technical weaknesses outlined above.
In fact, Abbot's latest price action has been forming a rising wedge, a bearish price action signal, which was overturned by this positive announcement – at least temporarily.