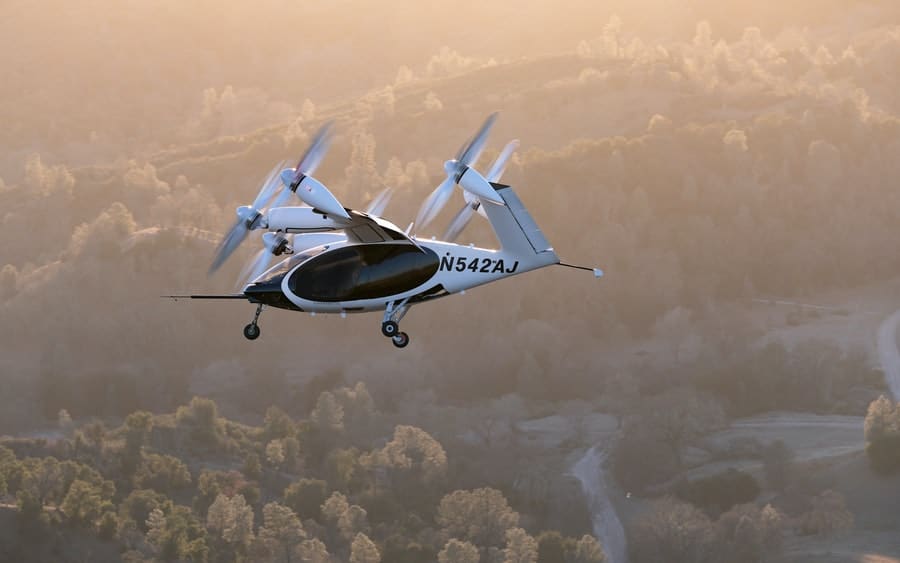 The price of Joby Aviation stock surged yesterday during a high-volume stock trading session that saw almost 9 million shares exchanging hands as investors were drawn to the company's ambitious business model.
Joby successfully listed its shares by merging with Reinvent Technology Partners, formerly listed as RTP, which was a special purpose acquisition company (SPAC) founded by Reid Hoffman, the mind behind the popular professional social media platform LinkedIn, and Mark Pincus, the founder of Zynga.
Joby Aviation, a company that is in the process of developing and deploying the first air taxi in the world, raised approximately $835 million in capital from third-party, sponsors, and Joby PIPE investors resulting in a $4.5 pre-IPO valuation.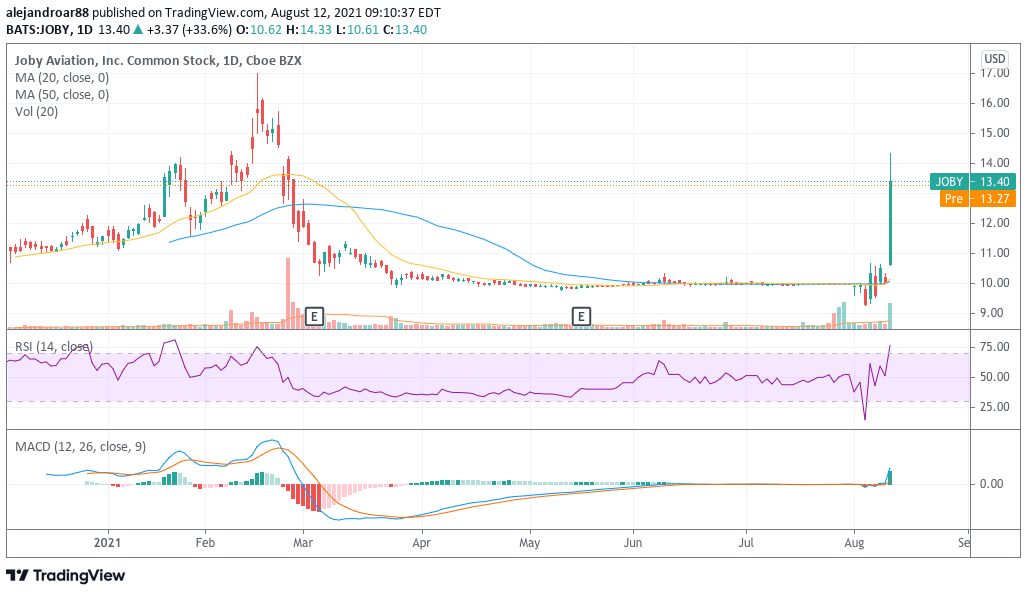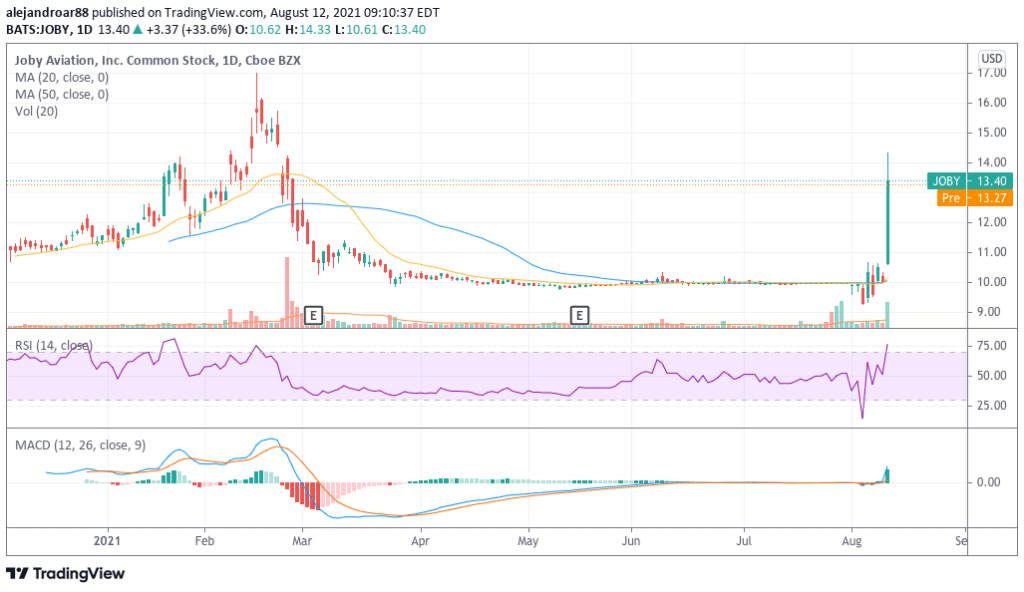 According to the prospectus filed with the US Securities and Exchange Commission (SEC), Joby's mission is to provide a transportation alternative to passengers through all-electric flying vehicles capable of performing vertical take-offs and landings.
The initial vehicles being developed by the firm will carry a pilot and up to four passengers and are expected to travel at a speed of 200mph to a maximum distance of 150 miles.
The company has reportedly operated a total of 1,000 successful test flights but has not yet received approval from the Federal Aviation Administration (FAA) to offer commercial flights.
Joby will be trading under the ticker JOBY moving forward. Shares of the commercial aviation company surged 33.6% yesterday during their first trading session under this ticker symbol, settling at $13.4 per share while hitting an intraday high of $14.3 at some point.
More details on Joby's business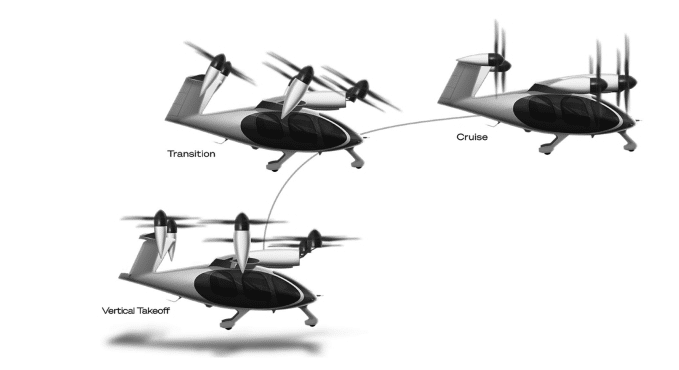 Since the company's aircraft is still in the testing phase, Joby is considered a pre-revenue business. This means that the firm has generated losses every single year since it was incorporated.
In 2019, Joby generated a net loss of $110.35 million while in 2020 losses accelerated to $114.16 million. Most of the company's expenditures are associated with research and development activities including the performance of test flights on its eVTOL prototype.
Upon completing its listing in the New York Stock Exchange (NYSE), the company's total cash as reflected on the balance sheet rose to $1.6 billion, a figure that accounts for a bit more than a third of the company's implied valuation of $4.5 billion.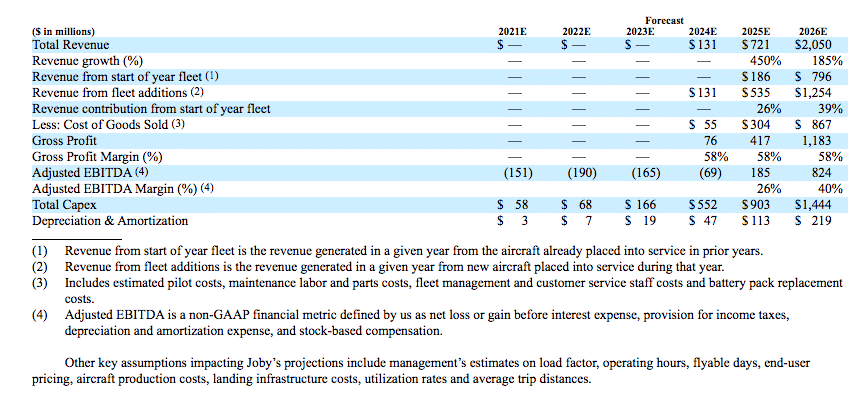 According to the firm's plans, Joby expects to generate revenue for the first time in 2024, with the company forecasting $141 million in top-line results for that year and a negative adjusted EBITDA of $69 million.
Moving forward, the company plans to grow its revenues to $721 million in 2025 and $2.05 billion in 2026 while reporting a positive adjusted EBITDA of $185 and $824 million each year respectively.
This would be accomplished by progressively growing its fleet from 2 aircraft it expects to own by the end of this year to around 963 vessels by the end of 2026 while serving a total of 3 cities by the end of that period. Based on these numbers, revenues per aircraft for 2024 are expected to be $929,000 and they are expected to go up to $2.13 million by the end of 2026. This would result in an initial estimate of $77,000 per month per vessel and $2,580 per day for 2024.
The company expects to operate similarly to Uber Technologies (UBER), one of its major backers, with the prospectus indicating that ride-sharing services will be booked by customers through a mobile app.
Joby Aviation's ownership details and top backers
The company recently acquired Uber's Elevate unit, a company that had a similar mission. This deal included a $75 million investment made by Uber Technologies on the company to further support its goal of deploying air flying taxies while Joby disbursed a total of 2,581,285 million Series C redeemable convertible preferred shares to settle the acquisition.
These pre-IPO shares were converted into 7,690,169 million of Joby Aviation common stock as per information obtained from the prospectus, resulting in a price tag of around $77 million paid by the company for Uber's Elevate division based on the $10 per share IPO price of JOBY stock.
Moreover, Joby has also received around $400 million in capital from Toyota Motors, making the Japanese automaker the company's largest external investor and its most important partner.
Joby stated that Toyota will become a key manufacturing partner as it eyes production volumes that are more closely aligned to the capabilities of the automotive industry than those of the traditional aircraft manufacturing sector.
By the end of the first quarter of 2021, Joby had 950 full-time employees including 500 professional engineers. The company is headed by JoeBen Bevirt, its Chief Executive Officer while Paul Sciarra is the firm's Executive Chairman of the Board of Directors.
Mr. Bevirt is the founder of the company and he has been at the helm since 2009. In 1999, He co-founded a company called Velocity11 that developed high-performance laboratory robots. The company was acquired by Agilent Technologies years later. He holds a Bachelor's in Sciences in Mechanical Engineering from the University of California and a Master's in Science in Mechanical Engineering from Stanford University.
According to the prospectus, these are the largest shareholders of Joby Aviation assuming full redemption of all outstanding stock options, warrants, and other derivatives:
JoeBen Bevirt – 16.9%
Toyota Motors and affiliates – 13.5%
James Kuffner – 13.5%
Sciarra Management Trust – 8.5%
Intel Corporation and affiliates – 7.9%
Capricorn Investment Group – 6.4%
In total, Joby Aviation insiders including its directors and officers own 50.3% of the company.