With the recent explosion of Gamestop, more and more people are becoming aware of investing money online to earn a return. Online investing has become more accessible than ever; whether it's stocks, bonds, or other assets, the ability to invest your cash and generate a profit is becoming increasingly popular. But where should you start?
This guide will explain how to invest £500 UK in the most efficient and practical manner. We'll touch on various aspects of the investing process, such as choosing the right asset and determining which broker to use so that you can make the most informed decisions. By the end of this post, you'll have all the tools you need to begin investing today!
How to Invest £500 UK – Best Investments 2021
Deciding how best to invest £500 UK can be difficult. The list below highlights ten of the best investments to consider in 2021. We will discuss each investment in more detail in the following section.
S&P 500 Index – Best Way to Invest £500 in 2021 – Invest Now
FTSE 100 Index – Best Way to Gain Exposure to the UK Stock Market – Invest Now
Gold – Best Investment for Hedging Against Market Shocks – Invest Now
Bitcoin – Best Cryptocurrency Investment in 2021
Tech Sector – Best Method for Generating Above Average Returns
ISA – Invest Money and Earn a Tax-Free Return
Apple – Best Tech Stock to invest £500 in
Treasury Bonds – Safest Way to Earn a Return
Zoom – Stock That Has Incredible Potential for Growth in 2021
Emerging Markets ETF – Best Investment for Diversification in 2021
Best Ways to Invest £500 UK
The above list highlights ten different ways that you can invest £500 in the UK. This list offers various investment types, from short-term to long-term, across the entire range of the risk/reward spectrum.
Each investment ultimately depends on personal preference. If you are the type of person that prefers a more passive and safe approach, check out an ISA or a government bond. If you are more risk-seeking and like the idea of larger returns, then perhaps an individual stock or a tech ETF broker is best for you.
In the following paragraphs, we delve deeper into each of these potential investments, helping you decide how to invest £500 UK.
1. S&P 500 Index – Best Way to Invest £500 in 2021
When people ask what is the best way to invest £500, the S&P 500 index invariably gets mentioned. S&P 500 index funds are one of the most popular methods to earn a passive income. Many financial advisers recommend that index funds such as these are included in your investment portfolio, as they help compensate for fluctuations in other assets.They work by tracking the performance and movements of the S&P 500 index, which is one of the best representations of the US stock market as a whole.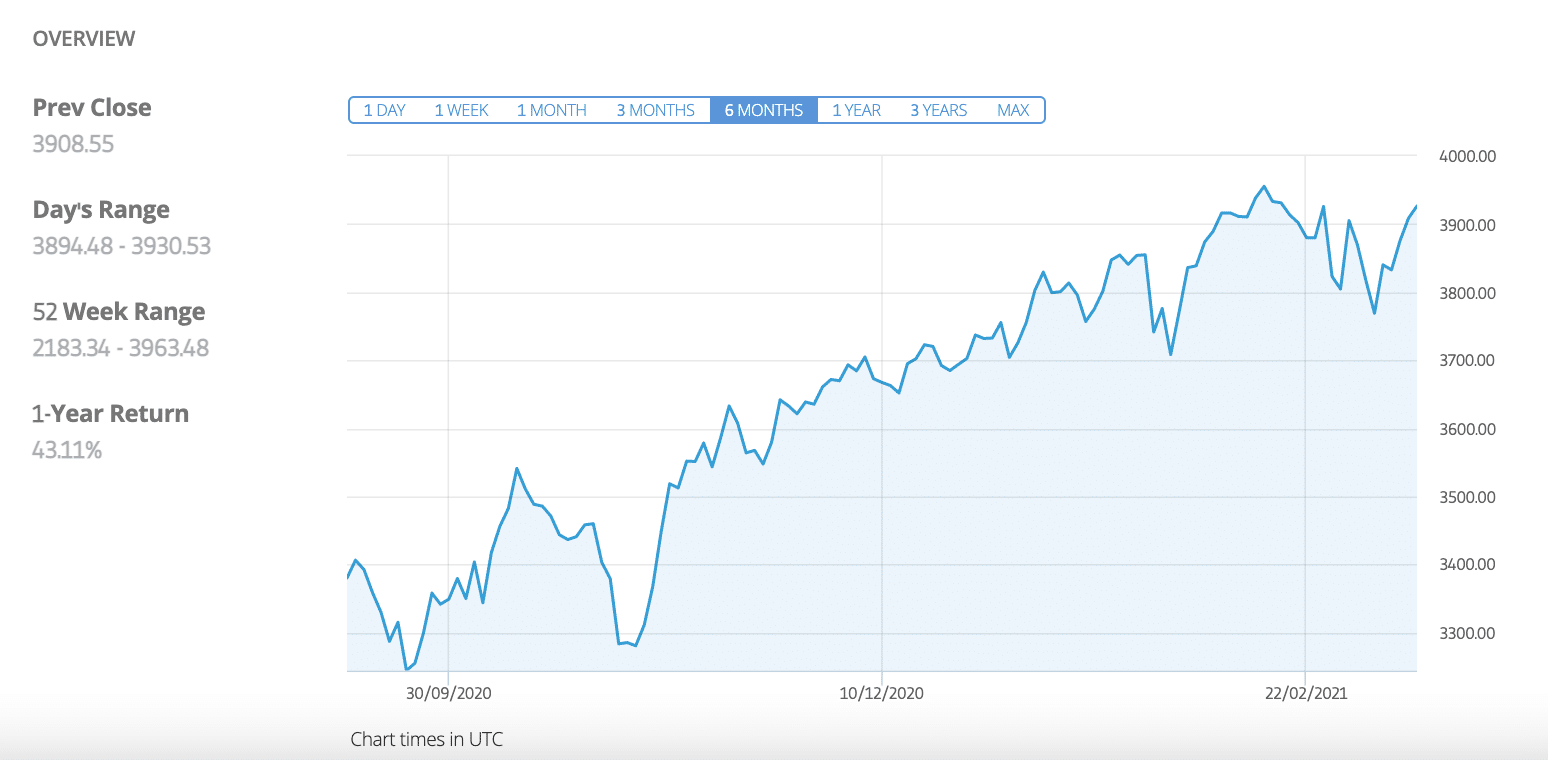 One of the best reasons for investing in an S&P 500 index fund is due to the instant portfolio diversification that it provides. When you place £500 into a fund like this, you essentially buy shares of 500 companies operating in a large number of sectors. This means that if a few of the companies experience a downturn, the chances are that some of the other ones will experience an upturn, negating any losses you may have sustained.
Since its inception, the S&P 500 index has been known to showcase consistent positive annual returns, making an average annualised return of 10%. Thus, investing in one of these index funds provides a good chance of generating a passive income.
Your capital is at risk.
2. FTSE 100 Index – Best Way to Gain Exposure to the UK Stock Market
Another method of how to invest £500 is in the FTSE 100 index. Much like the S&P 500, the FTSE index provides a good representation of the UK stock market. Comprising of the 100 firms listed on the London Stock Exchange with the highest market capitalisation, the FTSE is another very popular method to gain exposure to the stock market.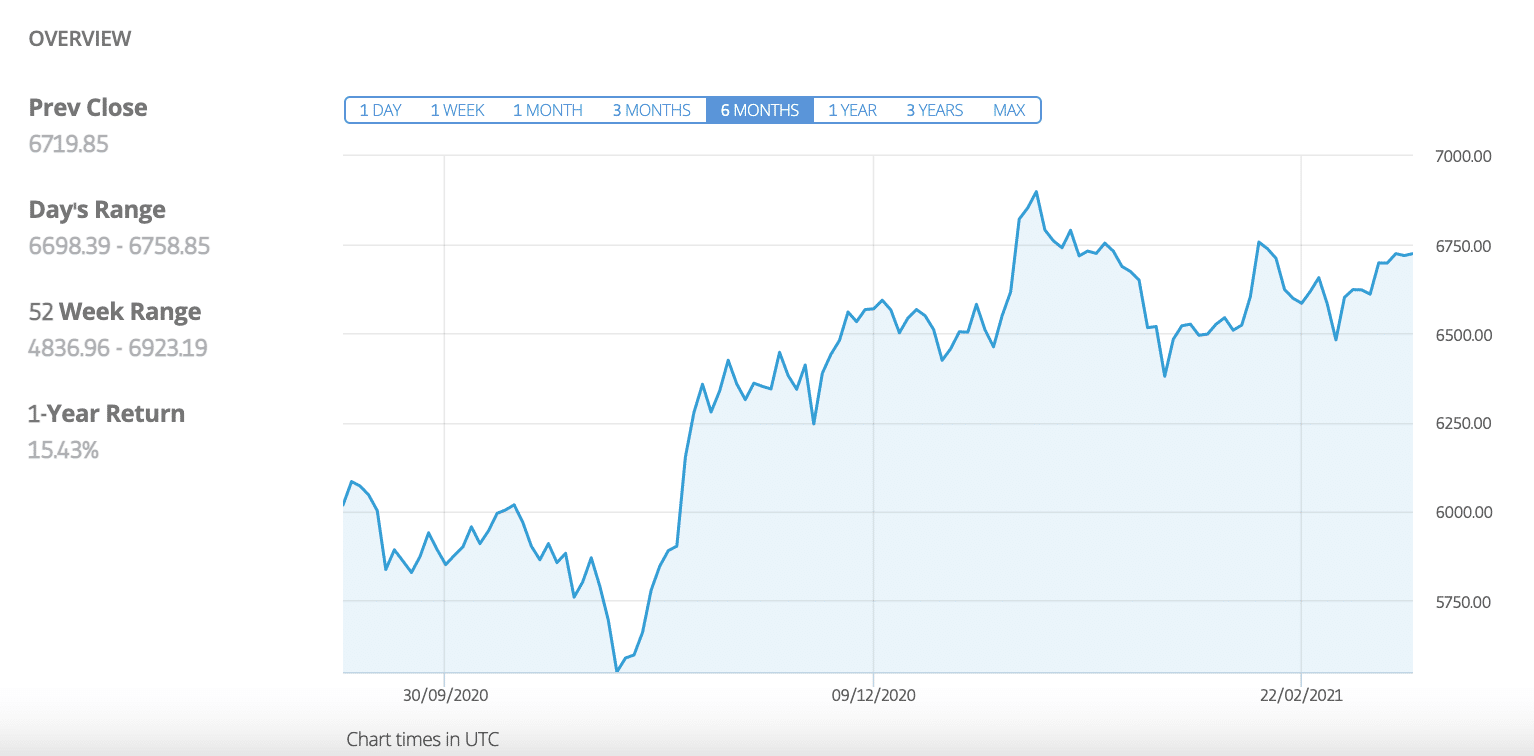 Much like the S&P 500, the FTSE 100 is known for generating positive yearly returns consistently. Over the past 25 years, the index has produced an average annualised return of 6.47%.
If you are interested in passive investing and want to gain exposure to both the UK and US markets, you could create a portfolio of both these index funds with your £500. You could then weigh it however you want; for example, £300 in the S&P 500 and £200 in the FTSE 100, so you gain a little more exposure to US equities.
Your capital is at risk.
3. Gold – Best Investment for Hedging Against Market Shocks
Gold is one of the most trusted assets globally, having been used as a store of value since ancient times. In the 1800s, many nations adopted what is known as the 'Gold Standard', which meant fixing the price of their currency to the cost of gold. Most countries abolished this in the late 20th century, but it highlights the importance that nations place on the commodity.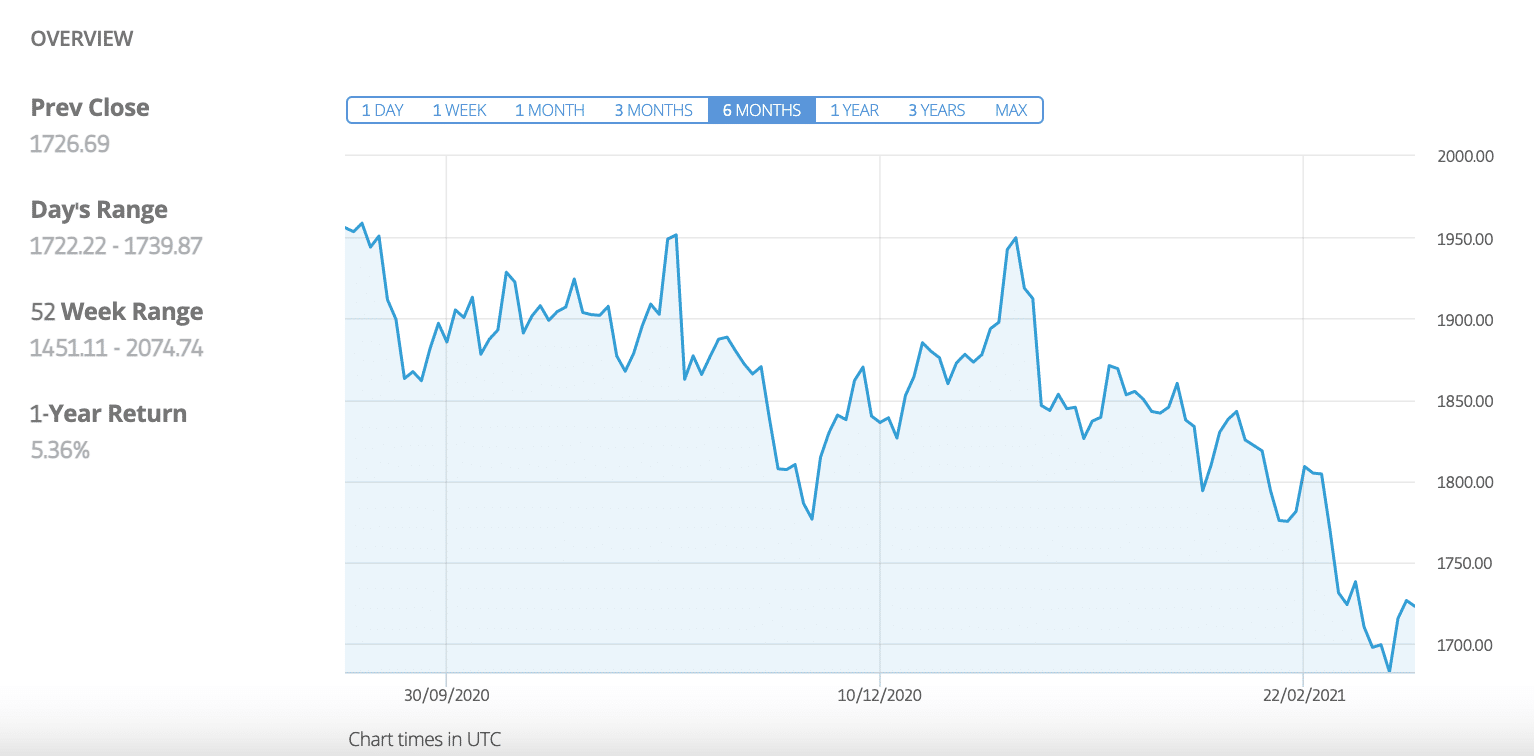 These days, gold could be a great place to invest £500 if you would like to hedge against market shocks. Exchange rates rarely influence the price of gold, and its price often appreciates alongside inflation rates. Also, in times of worry (such as the Coronavirus pandemic), people often flock to gold as a value holder, further boosting its price.
An excellent way to invest in gold is through a CFD. This saves you from buying the physical gold (by buying coins or gold bars) and all the hassle that would accompany storing it. Gold CFDs are offered by both eToro and Libertex.
Your capital is at risk.
4. Bitcoin – Best Cryptocurrency Investment in 2021
Everyone has heard of Bitcoin. Over the past decade, the cryptocurrency has skyrocketed in price, leading many people to experience over 1000% returns from when they first purchased it.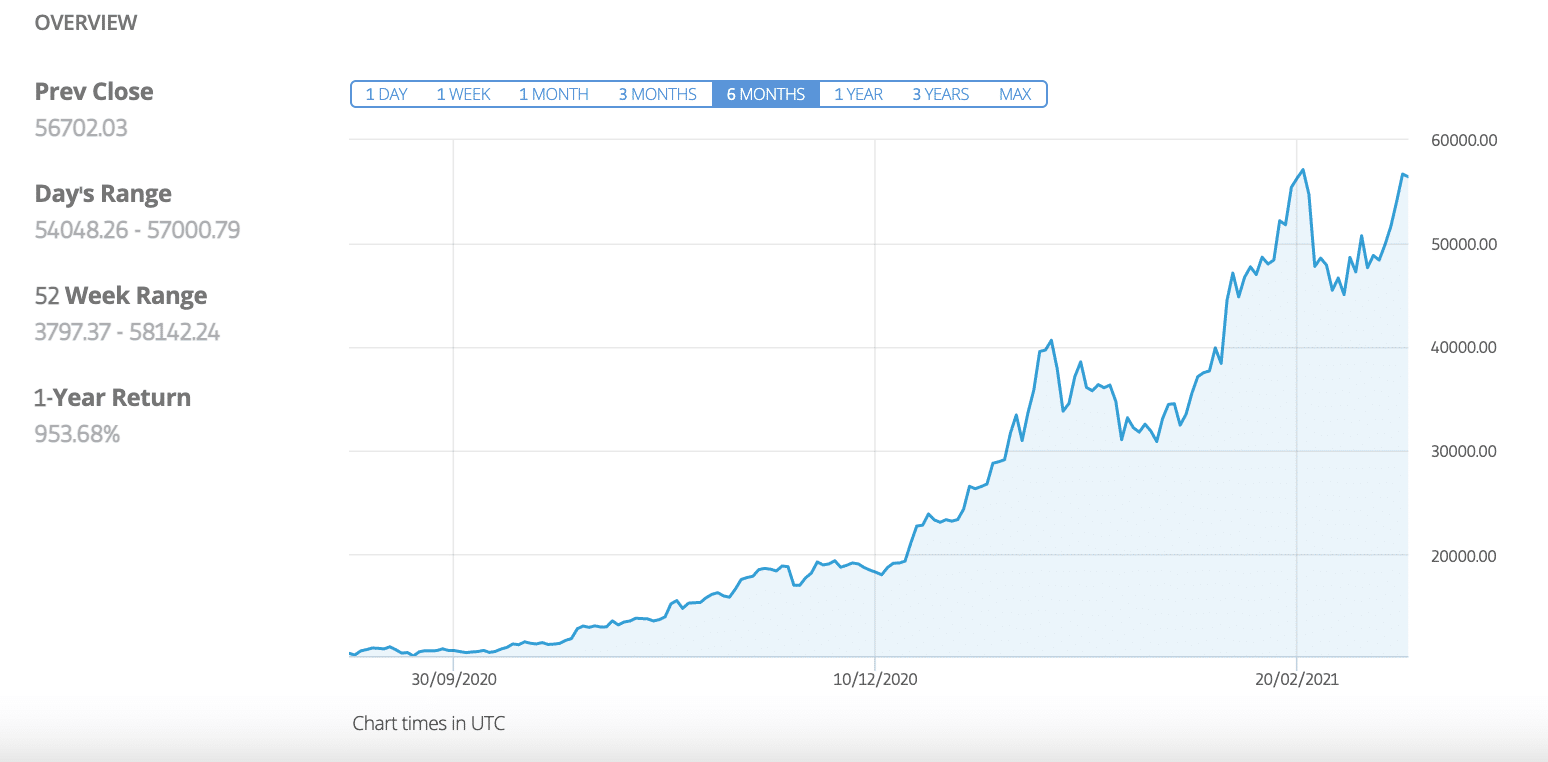 Bitcoin is popular due to the enormous returns that investors have experienced; however, it is incredibly volatile. It is not uncommon to see prices swing by 20% in each direction on a particular day, meaning investing in this cryptocurrency is not for the faint-hearted.
eToro allows you to trade Bitcoin from the comfort of your own home. Simply open an account, make a deposit, and you're ready to go. You can invest as little as $25 in Bitcoin, meaning you gain some exposure without breaking the bank.
Your capital is at risk.
5. Tech Sector – Best Method for Generating Above Average Returns
As technological innovation accelerates and more companies become aware of the need for digital processes, tech companies are poised to continue their growth and increase their market share. The tech sector is the largest industry in the US, holding over 25% of the entire market.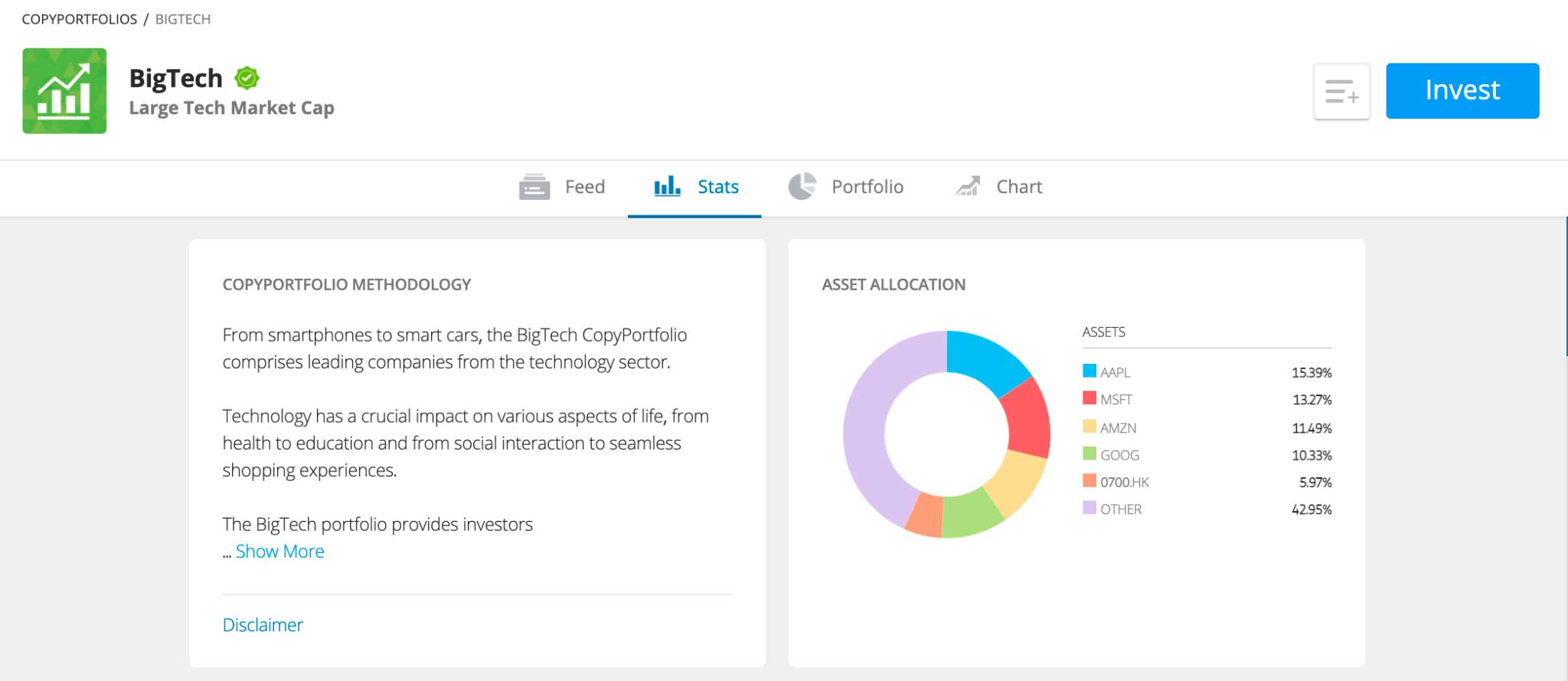 Many people invest in the tech sector, either directly or through Exchange Traded Funds (ETF), to generate a positive return. This sector includes large companies such as Apple, Netflix, Facebook and more, meaning there is a good possibility that investments in this sector could make a profit.
A fantastic way to invest £500 UK in the tech sector is through eToro's BigTech copy portfolio. This feature requires a minimum deposit of $1000. Still, it will enable you to gain exposure to 25 of the world's leading tech companies, giving you a solid chance of generating a passive return.
Your capital is at risk.
6. ISA – Invest Money and Earn a Tax-Free Return
If you're looking for the best way to invest £500 per month, utilising an ISA could be your best bet. ISA stands for Individual Savings Account, and many retail banks offer these types of accounts. A lot of people place a lump sum into an ISA and leave it over the long term. The good thing about an ISA is that your return is pretty much guaranteed, although rates are historically low.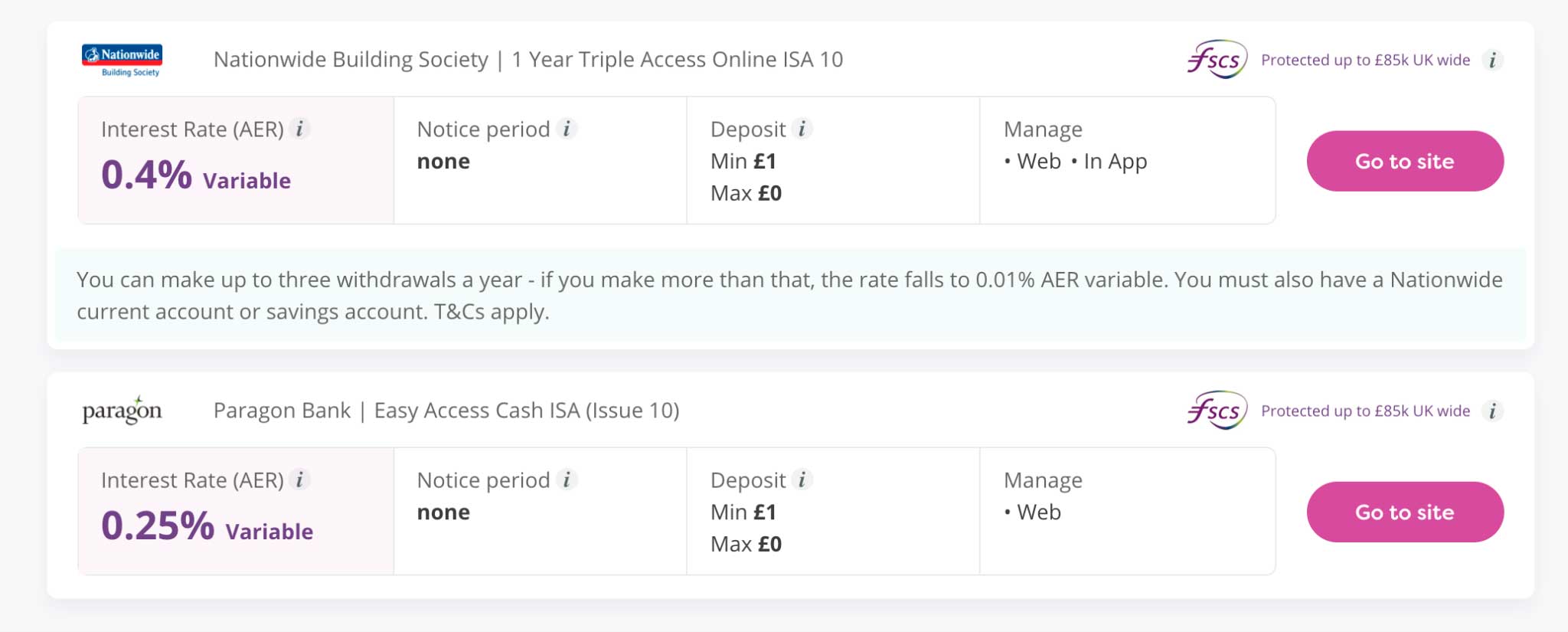 People say that ISAs are the best way to invest £500 per month because any interest you make is not subject to income tax. So if you invested a lump sum of £500 at the start of the year, at an interest rate on the ISA of 2%, you would receive £10 in profit. Again, a lot of people will think this is a meagre return, and it is – however, it is compensated by the fact that the return is basically guaranteed.
There are many companies that offer ISAs, such as Vanguard and other retail banks. Also, as a disclaimer, there is a legal cap on the amount you can invest in an ISA each year; this is known as the ISA allowance and is usually £20,000 annually. Finally, before investing in an ISA, make sure you get the best rate available; due to the returns being low, you want to ensure you take heed of financial advice and maximise your profit potential.
Your capital is at risk.
7. Apple – Best Tech Stock to invest £500 in
If you are happy to take on more risk and accept the fact that there is potential to lose your money, it could be worth investing in the stock market. There are so many options to choose from, but, as mentioned earlier, the tech sector is one of the fastest-growing and most profitable industry investors. Within this sector, there are thousands of investment opportunities, but Apple stands ahead of the pack.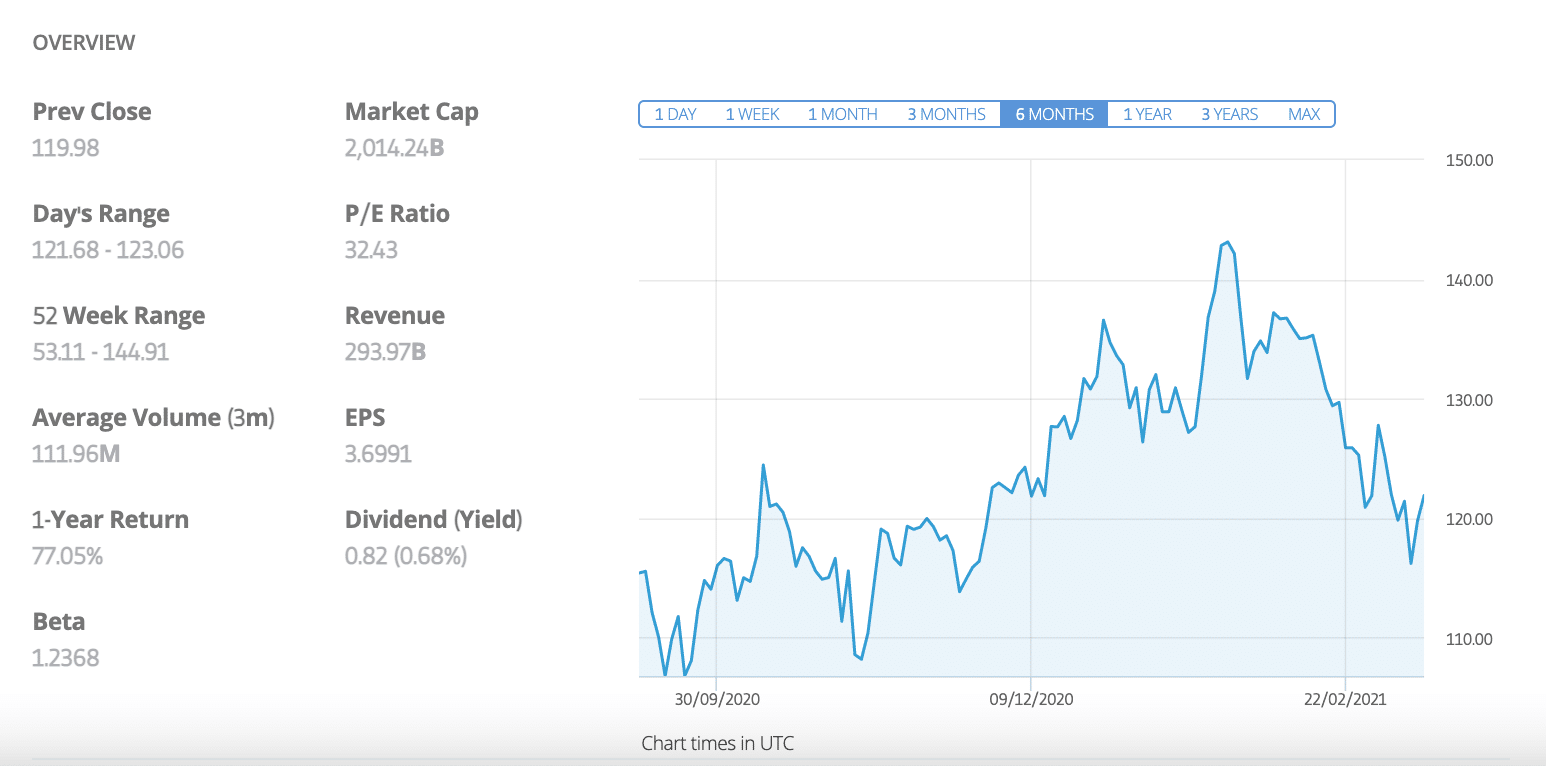 The recent release of the 5G-enabled iPhone 12 led to a boost in revenues for Apple – they now have over 1.6 billion devices in use worldwide. Furthermore, Apple's sheer brand power means that any products they bring out are sure to be a hit. With rumours of an Apple Car in the works, there is good reason to invest £500 in the stock. With their stock up 167% from the previous year, it might be worth considering Apple for your investment portfolio.
Your capital is at risk.
8. Treasury Bonds – Safest Way to Earn a Return on £500 UK
Thanks to the Coronavirus pandemic, many investors began flocking to assets that provided a safer return than the equity market. As economies crashed and the stock market tanked, investments such as treasury bonds became more attractive. If you'd like a different investment than equities and are looking to invest £500 UK in an extremely safe manner, treasury bonds might be worth your consideration.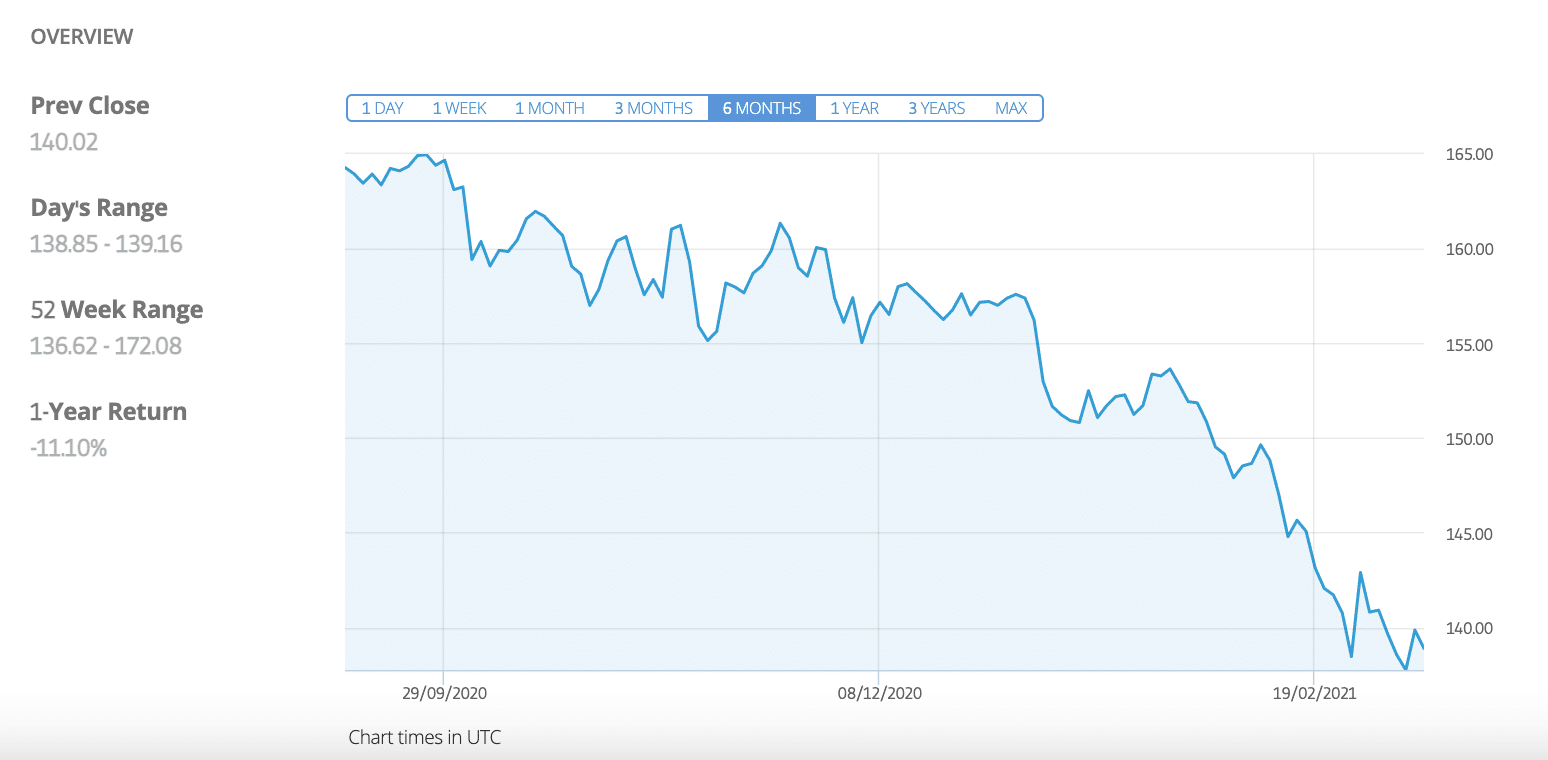 Treasury bonds are considered safe because the government backs them. So, for example, US treasury bonds are supported by the US government – what this means is that the only way these bonds could default is if the government fell, which is pretty much guaranteed not to happen. Due to these bonds' low-risk nature, the yield is relatively low; for example, the yield on 20-yr US bonds is only 2.18%, meaning that if you invested £500, you would receive £510.90 after a year.
One way to gain exposure to treasury bonds is through the iShares ETF that eToro offers. They require a minimum investment of $1000, after which this ETF will track the performance of US 20-yr bonds, allowing you to gain a passive income over the longer term.
Your capital is at risk.
9. Zoom – Stock That Has Incredible Potential for Growth in 2021
During the Coronavirus pandemic, everyone was talking about Zoom. The ability to communicate whilst being physically present was no longer an option, so companies had to find a technology that allowed them to conduct meetings and interviews digitally. This is where Zoom came in.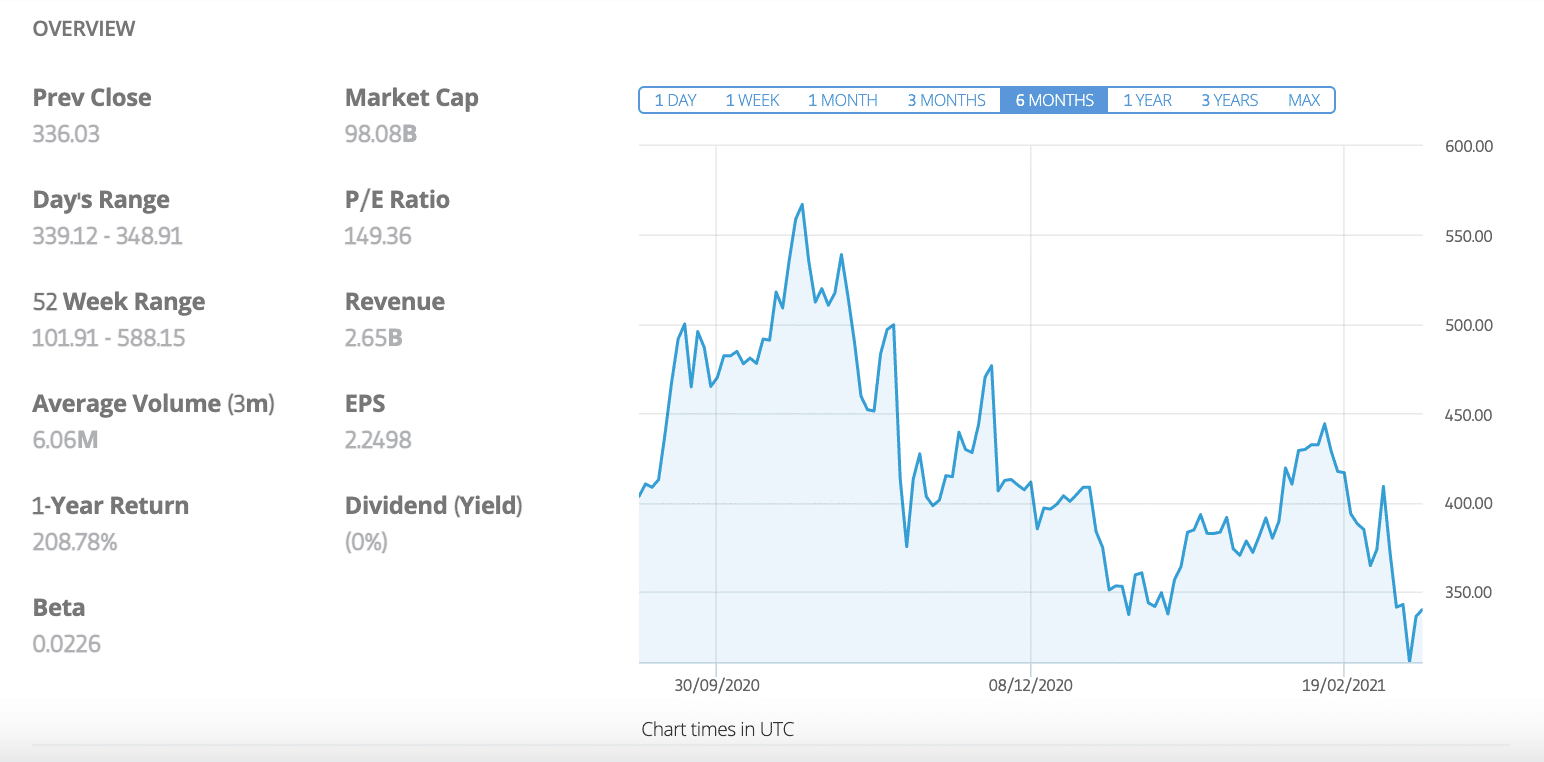 Zoom technology allows people to communicate through live video and audio and exploded in popularity across 2020. In the first nine months of 2020, Zoom's revenues skyrocketed 307% from the previous year, totalling over $1.77 billion. What's more, during the height of the Coronavirus pandemic last year, Zoom execs said they were hosting over 300 million active users per day.
Going forward, investing £500 in Zoom could be a wise move if you believe that their technology will become the norm. With increasing brand power, Zoom has the potential to stay ahead of the curve with its upcoming innovations. Again, investing £500 in a single equity is risky, so if you wanted to protect yourself, you could invest £250 in the stock and another £250 in an S&P 500 index fund to help diversify your portfolio.
Your capital is at risk.
10. Emerging Markets ETF – Best Investment for Diversification in 2021
The final suggestion for how to invest £500 UK is in an emerging markets  ETF. Emerging markets refer to countries such as China, Brazil, and South Africa, which are beginning to accelerate economic growth and global power. As such, the equities based in these countries are poised to see some good growth over the longer term. The fund manager in charge of the ETF has the responsibility of determining the weighting of individual stocks within the ETF.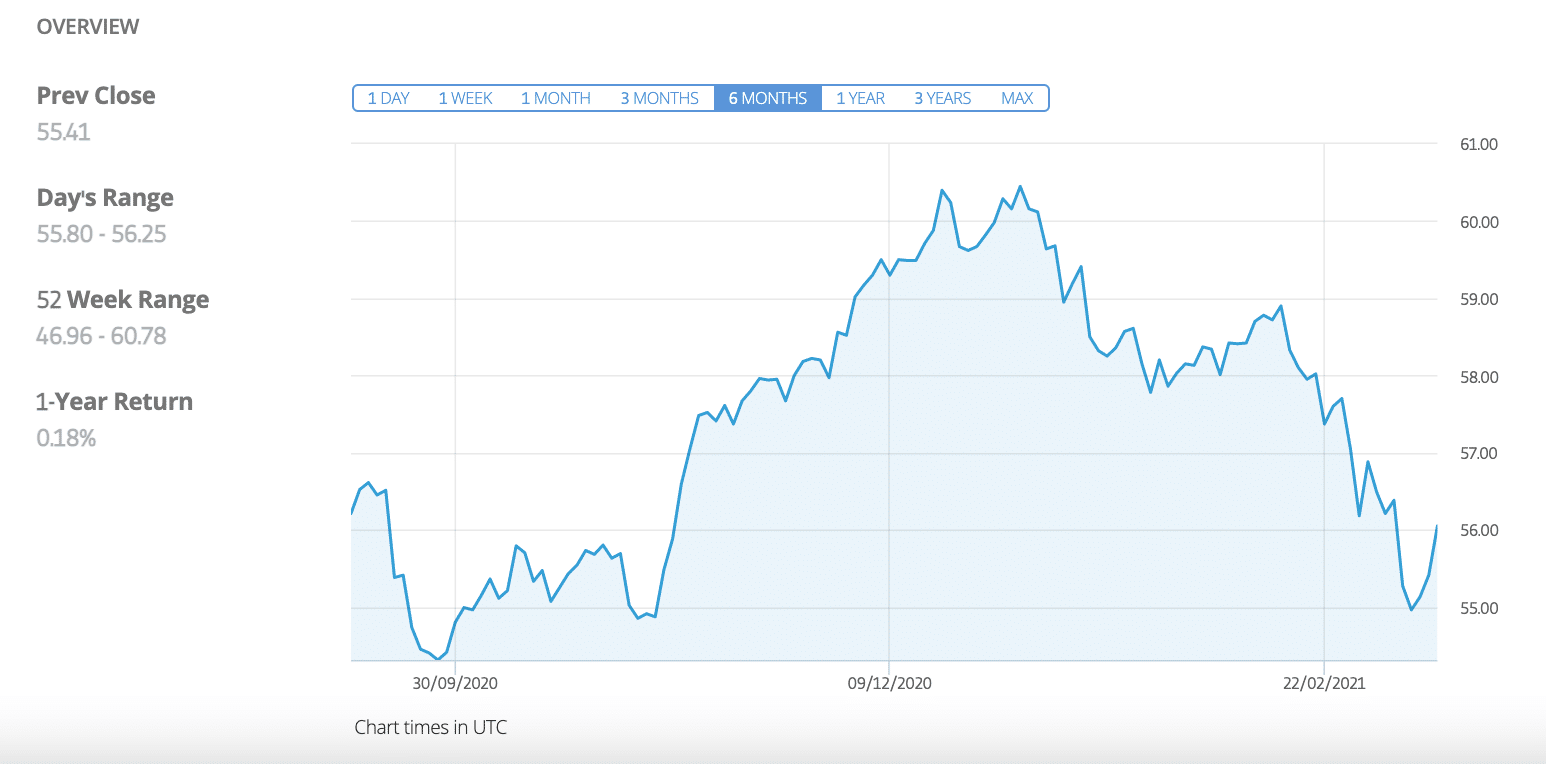 Investing £500 in an emerging markets ETF enables you to diversify across many different countries, gaining exposure to their equities. These emerging markets are usually less correlated with the UK market, so their diversification benefits are fantastic if you are looking to reduce your portfolio's risk. Furthermore, ETFs are consistently low-cost, ensuring you are able to keep more of your capital gains.
One possible way to structure your portfolio is by placing £300 in a FTSE 100 index fund and then £200 in an emerging markets ETF. This setup will allow you to get slightly more exposure to the UK market whilst also providing you with the diversification benefits of emerging market equities.
Your capital is at risk.
How to Choose Smart £500 Investments
As mentioned, there are so many different ways to invest £500 in the UK that it could seem overwhelming. Thus, it is critical to determine the factors that you will evaluate before making any investment decision. These factors will ultimately come down to personal preference, but this guide will detail three of the most important below, giving you the information you need to conduct your investment analysis.
Risk
One of the most important things you should evaluate before making any investment is its risk. When thinking about how to invest £500 UK, it is imperative that you analyse what your potential losses could be and how these relate to your risk/reward tolerance.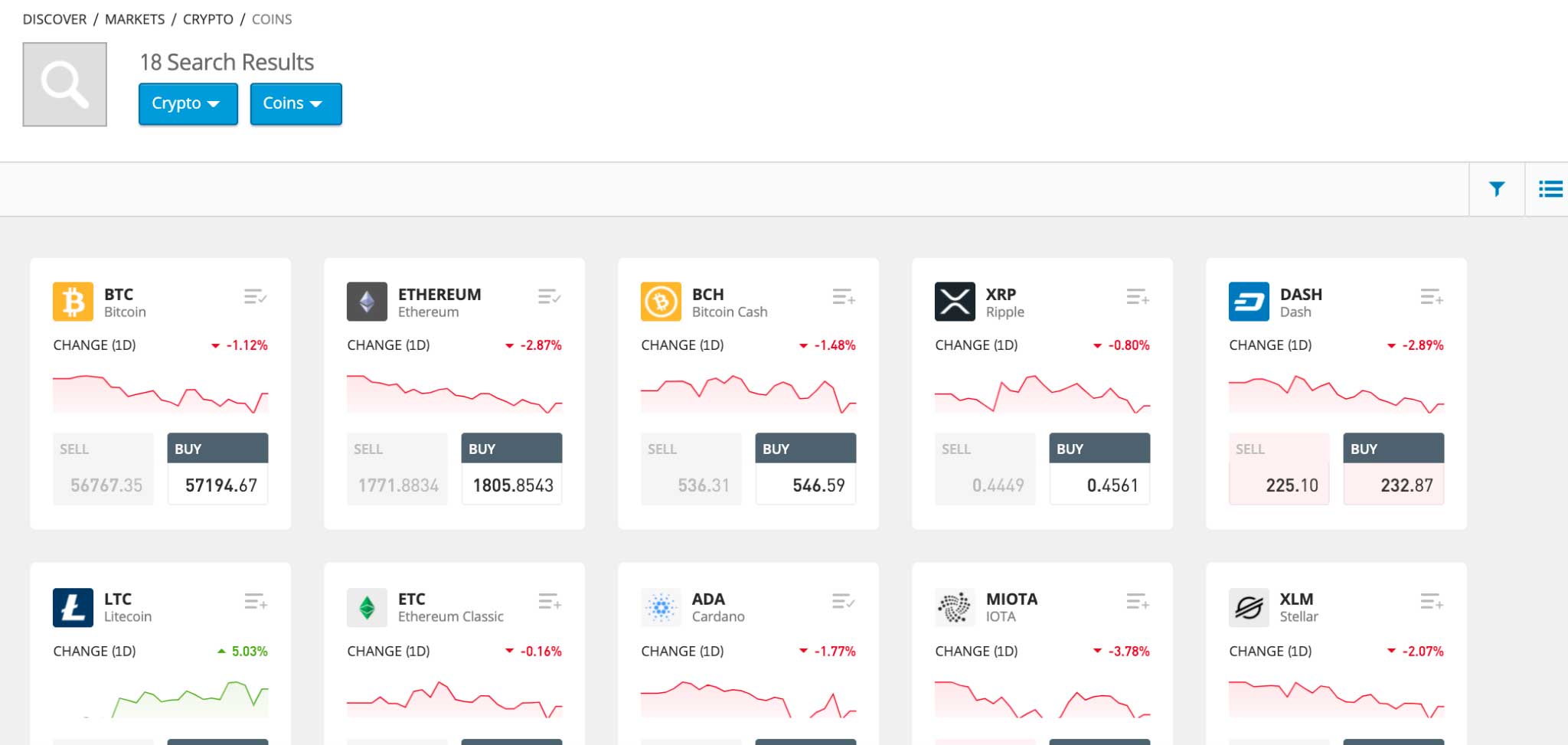 Different assets have different risk levels; for example, cryptocurrency is inherently riskier than a government bond due to its volatile nature. However, on the flip side, the potential for returns by investing in crypto is astronomically higher than if you were to invest in bonds. So, again, make sure the asset(s) that you decide to invest £500 in are suitable for you.
Potential returns
The second thing you should consider is the potential returns you could make by investing in a particular asset. As mentioned, cryptocurrency returns would be far higher than those generated by bonds, yet this is accompanied by a much larger degree of risk.
One thing you should consider is the potential for compound returns. This refers to the passive return you generate monthly or yearly by steadily compounding your investment; you essentially earn a return on your return.
An example of this could be if you invested £500 in the FTSE 100 index. If the index generated a return of 10% that year, you would make a profit of £10, giving you a total of £110. However, if the FTSE 100 index again generated a 10% return in year two, you'd make a profit of £11 this time, giving you a total of £121. Over a more extended period, this can turn into a snowball effect and exponentially increase your money.
Diversification
The third thing you should consider is how well diversified your investments are when investing £500 in the UK. This ties into the element of risk and refers to the correlation between the securities you hold. For example, if you invested the whole £500 in one stock, if that stock crashed, you would lose a lot (if not all) of your money as you are not diversified at all.
If, however, you invested £250 in that stock and then another £250 in a stock that operates in a different sector, this would gain you a level of diversification. If these stocks are negatively correlated, it means that if one goes down, then the other would go up, offsetting any risk you may have incurred. With large portfolios, this diversification increases significantly, which in turn will decrease the level of risk.
Best Brokers to Invest £500 UK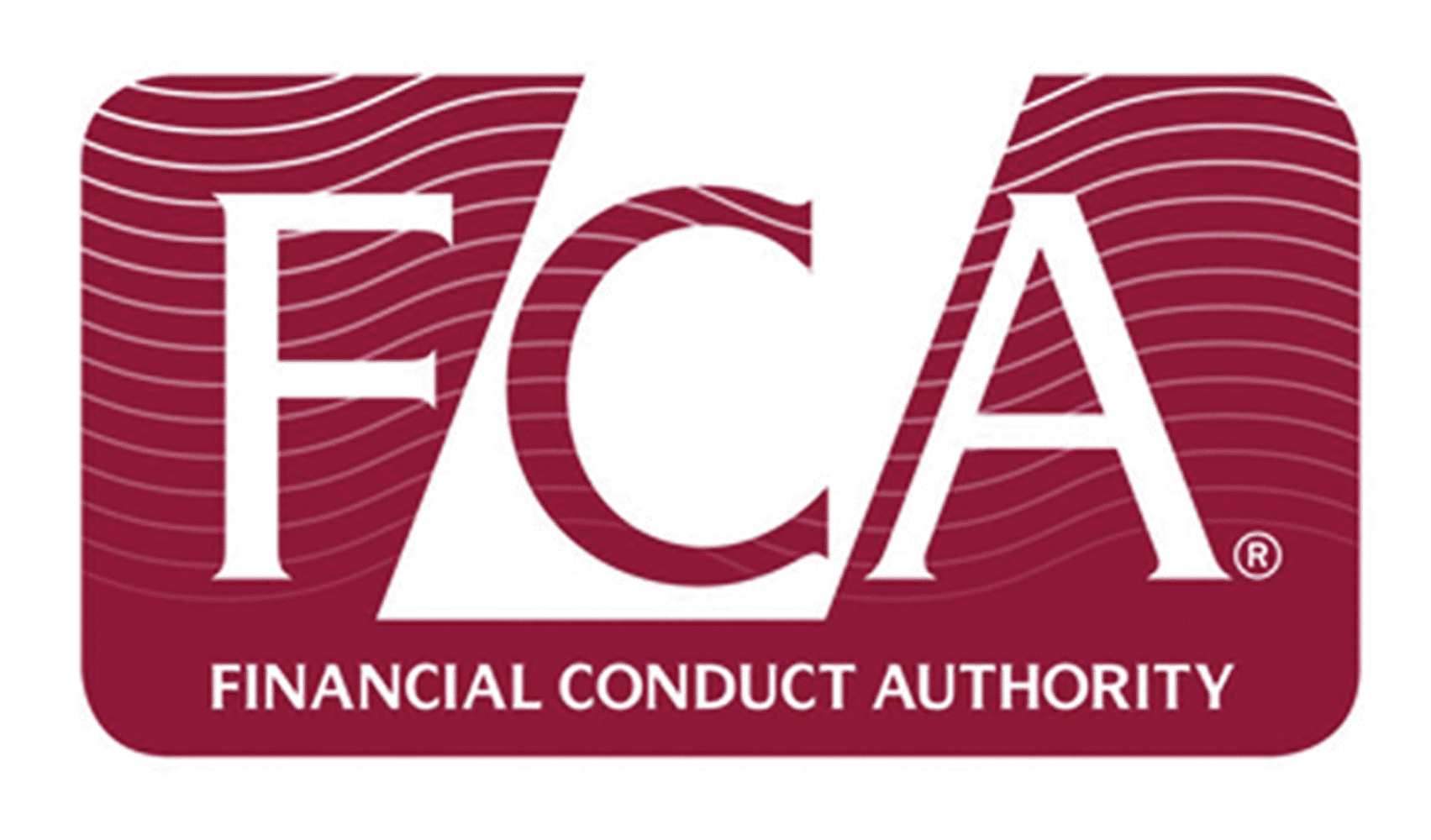 Now that we have discussed various potential investments for your £500, it's time to focus on how exactly to make your chosen investment. You will need an online stock broker to allow you to invest £500 in the UK – this broker acts as a middleman and will facilitate the transaction for you.
There are many different brokers out there, each with its features and selling points. However, it's vital to check they are regulated by the FCA and partnered with the FSCS to ensure you have a level of protection.
Found below are two of the best brokers in the UK to use when investing £500 online.
1.   eToro – Best UK Broker to Invest £500 – 0% Commission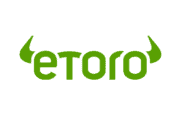 Throughout this how-to invest £500 UK guide, we have mentioned eToro, which is down to them being our favoured broker for investing in the UK. eToro is an FCA-regulated broker and has partnered with the FSCS, which protects your deposit up to a total of £50,000.
eToro has recently surpassed 20 million users worldwide, which is an incredible achievement, given they have only been in operation for just over 13 years. They hold a vast range of potential assets, including stocks, bonds, ETFs, Cryptocurrencies, FX, and more. The only investment in the list mentioned earlier that eToro does not offer is an ISA – every other investment can be traded easily using eToro's platform.
One of the best things about eToro is its fee structure. They charge zero commission on your trades, meaning you get to keep more of the profit than you would with other brokers. Also, eToro does not charge a monthly account fee, a deposit fee, or a withdrawal fee.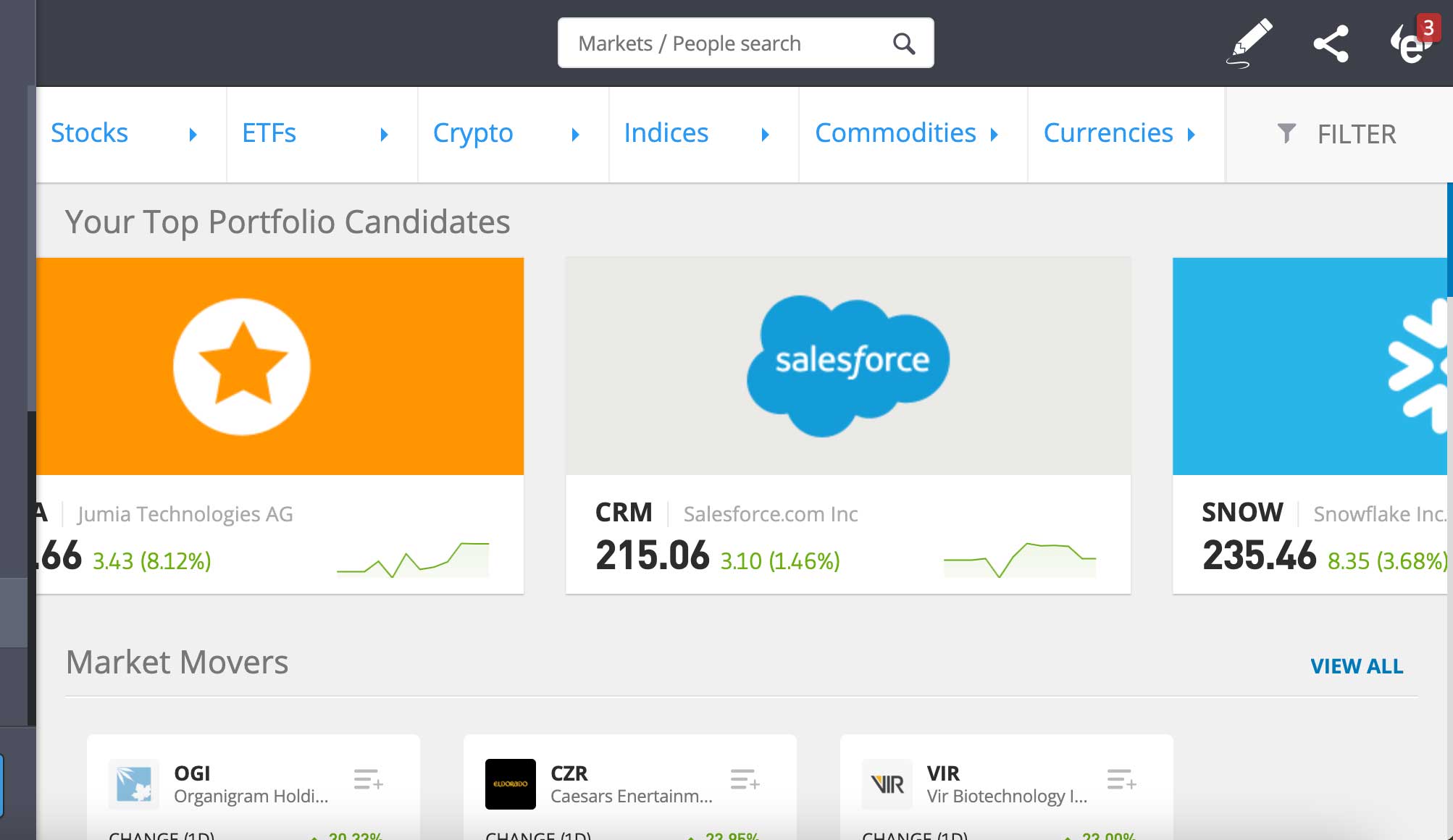 Another great benefit of using eToro is the fact that they offer fractional ownership. This means you can buy fractions of shares, rather than having to buy a whole share. Fractional shares are beneficial for more expensive stocks, such as Apple; if their stock was priced at $120, you could essentially buy half of a share if you didn't want to purchase the full thing.
Finally, eToro offers a CopyTrader feature which allows you to view and automatically copy what other traders are doing. This is a fantastic feature for beginner traders, as it will enable them to copy the trades that more experienced traders are making, increasing their profit potential.
All you need to do to get started with eToro is sign up using their quick and easy account opening process. Once this is done, simply deposit into your account, and you're ready to begin investing.
Pros
0% commission broker
No stamp duty tax on UK shares
Over 2,400 global shares and 250 ETFs
CFD markets also offered
Social network with copy trading
Regulated by the FCA
FSCS partnered
Cons
Withdrawal and inactivity fees
67% of retail investor accounts lose money when trading CFDs with this provider.
2.   Libertex – Invest £500 in CFDs with ZERO Spread and Leverage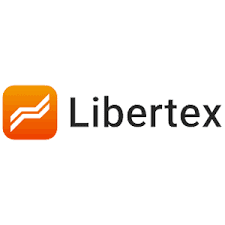 Our second favourite broker is Libertex. Founded in 1997, Libertex has more than 20 years of financial market and online trading experience. Also, Libertex has approximately 2.2 million users, hailing from over 170 countries worldwide.
Notably, Libertex is a CFD broker and stock app; this means that you will not own the actual security when you trade with them. Instead, you will own a contract based on the price of the underlying asset. This contract pays out the difference between what you open your position at and what you close at. CFDs are a great way to speculate on the price of a stock, ETF, cryptocurrency, bond, or any other financial instrument.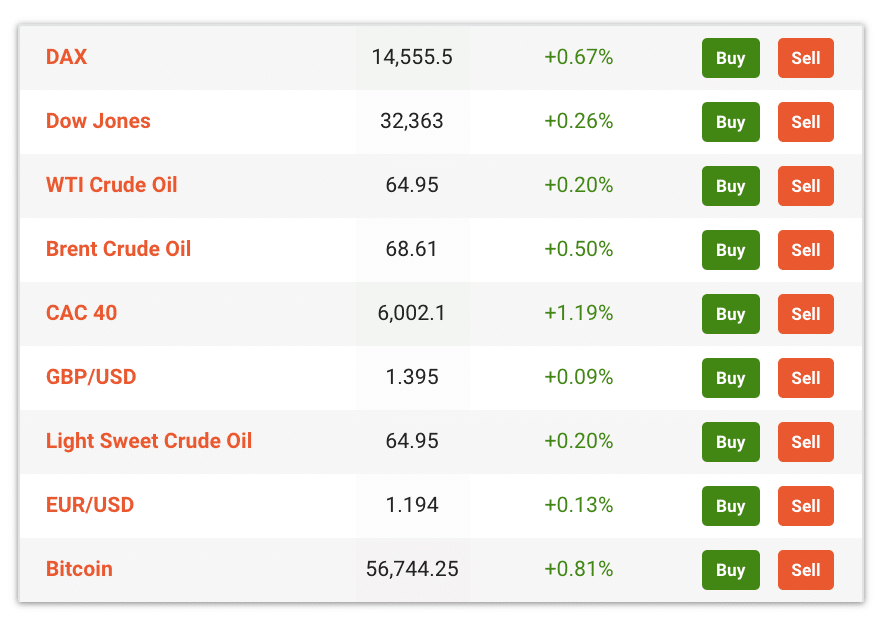 In terms of their CFD range, Libertex offers many different securities that you can invest £500 in. These include stocks, forex, metals (such as gold), ETFs, and more. With Libertex, you are sure to find a CFD that interests you.
A central selling point for Libertex is that they do not charge a spread on their CFD offerings. This spread refers to the difference in price that Libertex buy and sell at; brokers will charge a lower price to repurchase an asset of you than they would sell that same asset. This difference in offered prices is called the spread and is how many brokers make their money.
As Libertex offers zero-spread investing, this can save you money when investing, particularly if you are trading actively. However, Libertex does charge a commission when placing an order; this commission can vary depending on the security, so make sure to double-check before making a trade.
Finally, opening an account at Libertex is simple and can be completed online. They require a minimum deposit of €100; users can do this through various methods, such as bank transfer or credit/debit card. They do not charge any deposit or withdrawal fees, and as soon as your account is funded, you are free to invest in the CFDs that Libertex offers.
Pros:
Zero spread CFD trading
Very competitive commissions
Good educational resources
Long established broker
Trade stocks and indices like the Dow Jones
Compatible with MT4
Great choice of markets
Cons:
83% of retail investors lose money trading CFDs at this site.
Conclusion
To wrap up, this guide has covered everything you need to know about how to invest £500 UK. We have discussed a wide variety of investments, ranging from individual stocks to ETFs, to provide a comprehensive overview of your potential options.
Although we have offered many suggestions throughout this guide, the final decision ultimately rests with you. You must take into consideration your risk tolerance, along with the level of returns you would ideally like to make. Having these two factors determined beforehand can ensure your chosen investment is right for you.
And lastly, if you want to invest £500 from home, you'll need a reliable broker regulated by the FCA. Our favourite broker is eToro; they offer thousands of potential investment options, all of which can be traded completely commission-free!
eToro – Best Broker to Invest £500 UK – 0% commission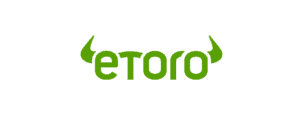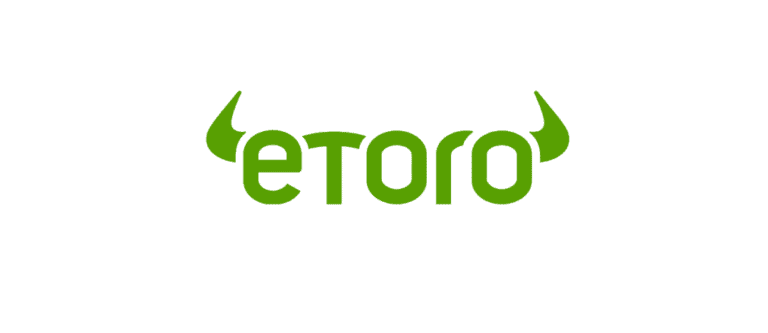 67% of retail investor accounts lose money when trading CFDs with this provider.
FAQs
Where to invest £500 per month?

What can I invest £500 in?