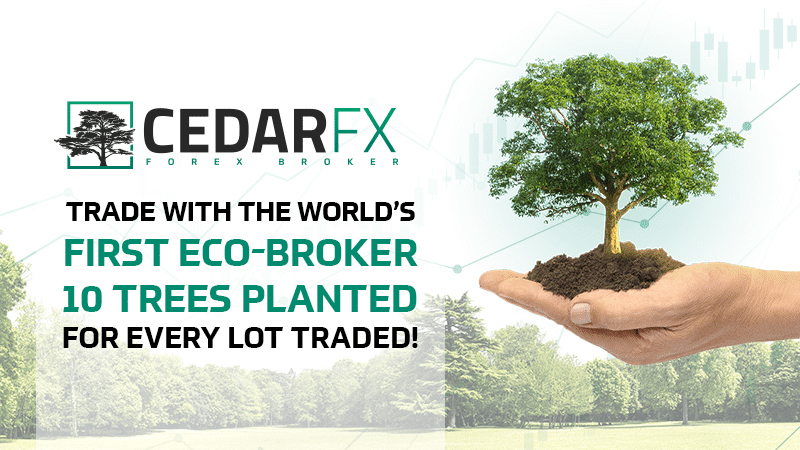 The climate change issue has become one of the most important problems of our times and according to many experts, this issue must be solved as soon as possible with innovation and care from individuals as well as businesses. And, while the financial industry is often linked to damaging the earth on the account of making more profits, one new company that has taken another approach is CedarFX, a CFD brokerage firm that is offering an online eco-conscious trading account.
Apart from offering users to contribute to a more sustainable future, CedarFX is also offering investors access to more than 180 assets with plenty of features and tools to maximize the probability of a successful trading portfolio.
The Eco Account
CedarFX offers the Eco Account that gives its clients the power to make a small but significant change in probably one of the most discussed topics in recent years. As such, every investor that chooses to trade with the Eco account will be charged with a $1 commission for every lot traded. For those who are not familiar with the term, a standard lot in the forex market is the equivalent of 100,000 units of the base currency. Then, at the end of each calendar month, CedarFX will collect the funds (commissions) from the investor's account and transfer them to Ecologi, which is a group in charge of donating the funds to planting trees and reducing carbon pollution in various projects across the globe.
According to CedarFX, investors' contributions since the broker's foundation helped to broker to support tree-planting projects in various countries that include Madagascar, Mozambique, and Nicaragua. Moreover, the broker has transferred the collected funds to a wide range of carbon reduction projects.
CedarFX Key Features
As a new brokerage firm in a very competitive industry, CedarFX efforts to attract new clients. Thus, CedarFX has developed a platform with these key features: Low spreads, zero-commission trading, high leverage, and Bitcoin-friendly platform.
First and foremost, CedarFX offers ultra-low spread when compared to the majority of fixed-spread brokers. The broker operates as an ECN broker or STP broker, meaning that spreads on this platform are variable/floating and varies depending on underlying market volatility.  This enables the broker to offer very tight spreads though the spreads might be widening during hours of low volatility. Nonetheless, the broker charges some of the lowest spreads in the industry with the spread on the EUR/USD, for example, starts from 0.7 pips.
Then, CedarFX offers the 0% Commission Account that allows its clients to trade on a wide range of assets without having to pay any trading commission or hidden fees. The selection of assets on this platform includes FX currency pair, global stock indices, metals and energy commodities, stocks from the US and European exchanges, and cryptocurrencies. As for the leverage ratio, CedarFX offers a 500:1 leverage for forex and metals, 200:1 for indices and commodities, 100:1 for all cryptocurrency pairs, and 20:1 leverage for stocks.
Finally, CedarFX fully supports bitcoin as a payment method and provides an extensive and unique selection of cryptocurrency pairs.
All things considered, CedarFX is a solid pick for any trader that wants to get a top-notch trading experience and at the same time, make a contribution to eco-sustainable development.
Your capital is at risk.