IMPT Price Prediction 2023 – 2030: Top Green Crypto Project
Fact Checked
Everything you read on our site is provided by expert writers who have many years of experience in the financial markets and have written for other top financial publications. Every piece of information here is fact-checked.
Disclosure
Please note that we are not authorised to provide any investment advice. The information on this page should be construed for information purposes only. We may earn commissions from the products mentioned on this site.
The IMPT token is one of the latest entrants in the crypto industry. While it's relatively new, the unique concept of the token has already made it a matter of discussion among tech-savvy investors. The token has introduced itself as one of the few green crypto projects focused on reducing carbon emissions via carbon credit marketing. It is developed on Blockchain technology and focuses on environmental sustainability. 
Its unique concept, among other added functionalities, has left users speculating about the future of the token. Many investors are keen to know the IMPT crypto price prediction or whether will IMPT go up in the future. 
To help you understand the project's different aspects, we've developed a complete guide for investing in IMPT. Continue reading as we explore the different sides of the token.
Your capital is at risk.
IMPT Price Prediction – Overview
Want to know how much IMPT will be worth in the next few years? Here is a quick overview of the current price prediction for the IMPT token.
IMPT Price Prediction 2023
The roadmap for IMPT indicates that the project will be fully underway in 2023. The initiative will establish a lot of new relationships, grow the community, and list additional exchanges in Q1. 
Users will be able to collect their carbon credits in Q2 when the mobile app is launched. Many long-term investors anticipate a price hike throughout the year as a result.
The IMPT token presale ended at the very end of 2022, which sets 2023 up to be an exciting year regarding price movement. As with any new coin, there is always some volatility when it is launched on exchanges. IMPT has bee launched on LBANK and UniSwap already and there are a number of other platforms lined up for 2023.
If the exchange listings go well, some investors believe that the token has the potential to reach $1 by the end of the year! On the lower side, investors could see the price of the token settle at around $0.02. However, the project is still in early stages which means that there is huge room for growth! There is definitely an uptrend in sight for IMPT in 2023.
IMPT Price Prediction 2025
2025 is expected to be the year of change for the crypto market, and considering eco-existence would be a big factor then, it could be a great year for the project. Our projections suggest that IMPT will be highly adaptive by 2025. 
The native token will thus be in high demand. As a result, it is possible to forecast that IMPT's price will continue to grow and may even reach $5 if it continues with a bullish trend.
By 2025, the Impt.io platform will be fully developed and used by millions across the globe. This will push up demand for the IMPT token, increasing its price and rarity. The crypto market as a whole is expected to be up by 2025, as more and more people start using cryptocurrency to pay for goods as an alternative to traditional finance.
Tokens such as IMPT tend to follow general market trends. As a result, the gradual adoption for crypto will lead to profits fro early IMPT investors.
IMPT Price Prediction 2030
More individuals are anticipated to utilize the IMPT platform to earn incentives for their environmentally friendly choices. The decade's end would mark the significance of making sustainable choices, making them more widely recognized. 
Additionally, we're optimistic about strong future use cases for the IMPT project. This would ensure that there is continued demand for the token. Unfortunately, this may cause the price to rise much higher and go over $10 by 2030. This would be great news for early investors but less sportive for those who missed the opportunity yo invest whilst prices were still low at early stages of development. 
Note: All the prices and figures are estimated movements for the token. There's no guarantee of the actual market. 
Here's an overview table to give you a better idea of the price movement over the years:
| | | |
| --- | --- | --- |
| Year | Low | High |
| End of 2022 | $0.05 | $0.075 |
| End of 2023 | $0.5 | $1 |
| End of 2025 | $3.5 | $5 |
| End of 2030 | $7.5 | $10 |
Your capital is at risk.
The Best Alternative Tokens To Invest in With Positive Predictions
Similar to IMPT, there are many underrated crypto projects with high potential. These projects are mostly anonymous until they've made a significant name for themselves. So to give you an early investment opportunity, we've covered a few of these top tokens in the market. Let's check them out:
FGHT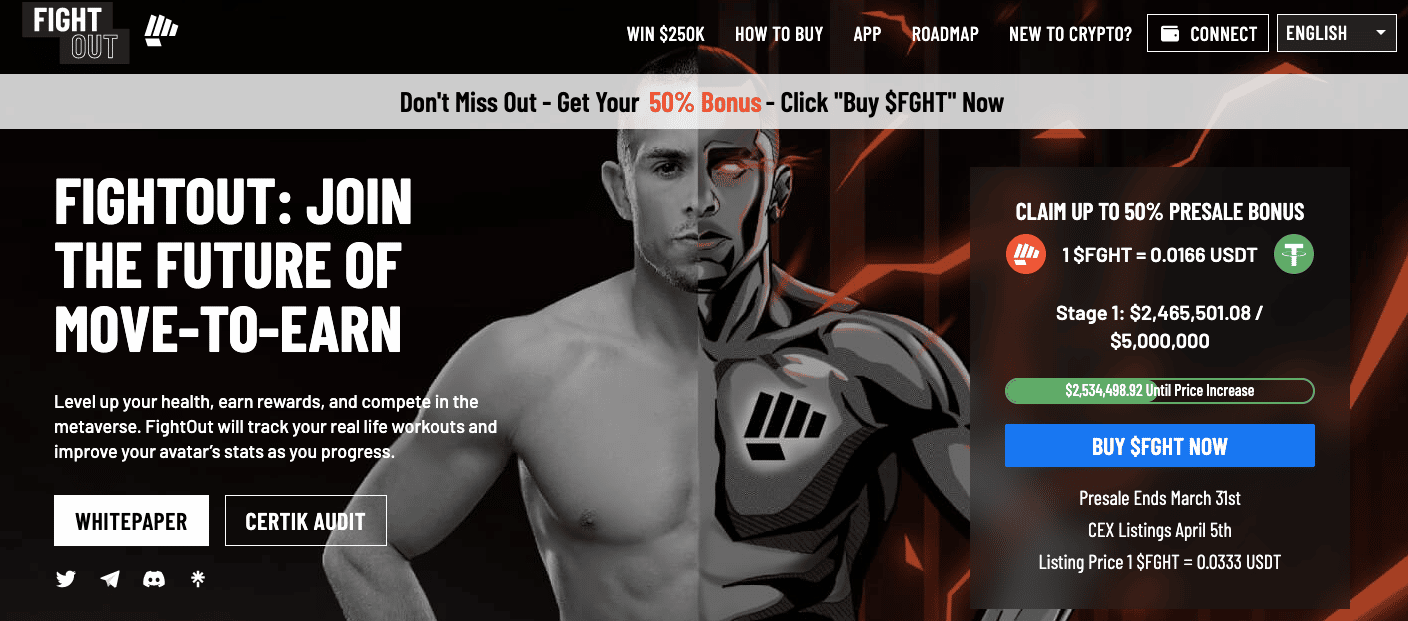 First on our list of alternative picks is Fight Out, one of the latest additions to the Move-to-Earn (M2E) genre. This platform rewards its users with REPS tokens every time they stay active or participate in some form of exercise. The platform aims at motivating people to change their habits and take some time out of their busy lifestyles to focus on their health and improve overall well-being. 
So every time a user exercises through the platform or completes challenges and workouts, their strength is transferred to their avatars. This process is further continued every time the users do something to enhance the community's strength or earn badges. This way, the avatars can participate in fights and win more REPS tokens which can later be converted into the platform's native FGHT tokens. 
Users also have the option to convert these in-app REPS into merchandise or get consultations from a remote trainer. Or, you can also mint these tokens into NFTs that would act as a source of value.
Coming to its presale, Fight Out recently entered its presale a few weeks ago. Since then, the token has raised over $2 million in the initial stages. But, interestingly, that's not all. The best bit about these $FGHT tokens is that they are currently priced at their lowest ($0.016) during the 1st stage of their presale. 
The token has a limited supply of 10 billion tokens, out of which 90% will be available for presale. Additionally, it would continue to remain the same throughout the lifespan of the presale. Investors will also be entitled to receive bonus tokens, depending on the vesting and investment period. 
| | |
| --- | --- |
| Presale Started | December 14th |
| Blockchain  | Ethereum  |
| Purchase Methods | ETH, USDT, Transak |
| Minimum Investment | N/A |
| Maximum Investment | N/A |
Your capital is at risk.
D2T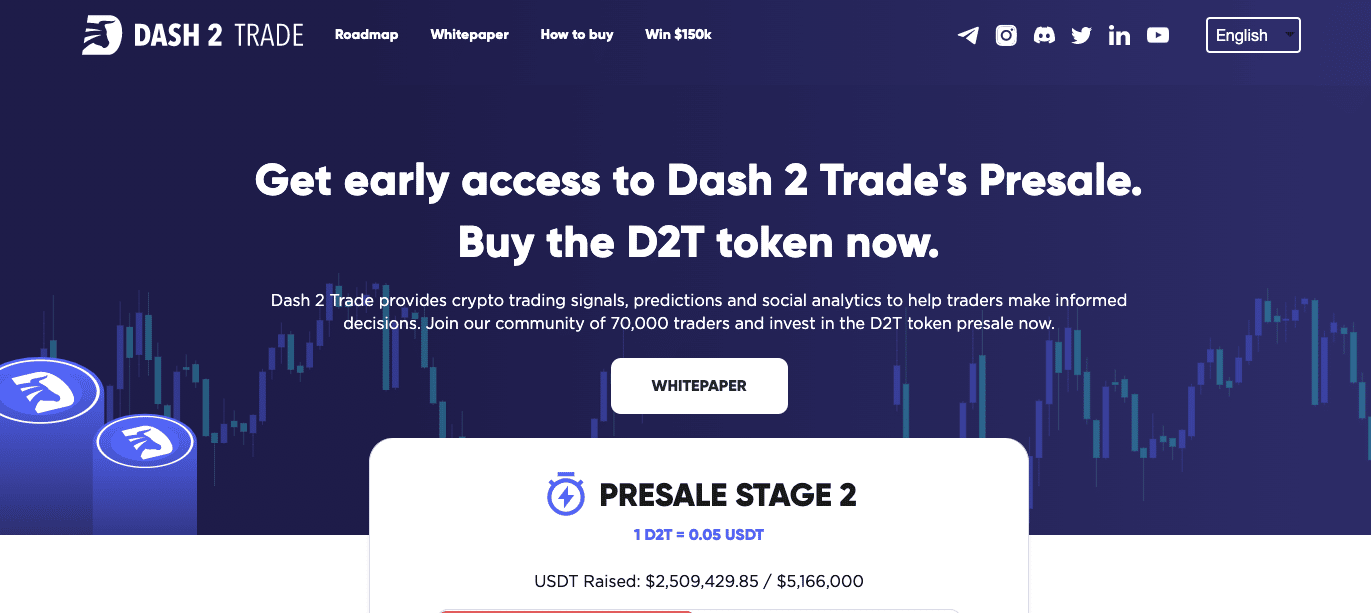 Next on our list of best altcoins, you could be investing in is the Dash 2 Trade. Preferably one of the unique options to invest in, D2T is unlike any other platform on the list. It's a unique trading console designed by analysts for investors and traders. 
This dashboard is designed to simplify the concepts of crypto trading for beginners while providing professionals with all the expertise they need around trading. Its intuitive dashboard comes with numerous user-friendly options that leverage a range of insights and data points to help users in their everyday trade. 
Dash 2 Trade also provides trading signals to help users understand the best time to purchase into a position or book profits. The platform also tracks on-chain behaviour and social sentiment to allow users to hop onto early trends. 
Coming to the presale, Dash2Trade is offering its native token D2T and has planned the event in over nine different phases, allocating a total of 665 million D2T tokens to the users. The presale was launched recently and has witnessed a great response from investors and traders, boosting sales efficiently. 
Interestingly, the rising hype of the investors has left the team behind the project to cut their initial nine-phase plans to just four drastically. The event commenced earlier this year (mid-October) and sold 262.5 million tokens. At its initial stages, D2T experienced sales worth $500,000 in the first 24 hours. 
Currently, D2T is a $7.5 million funded project with tokens available for sale at $0.0513. However, its price will soon increase to $0.0533 during the final stages of the presale once it has reached a hard cap of $13.5 million. 
| | |
| --- | --- |
| Presale Started | October 19 |
| Blockchain  | Ethereum  |
| Purchase Methods | ETH, USDT, Transak |
| Minimum Investment | 1,000 USDT |
| Maximum Investment | – |
Your capital is at risk.
$ RIA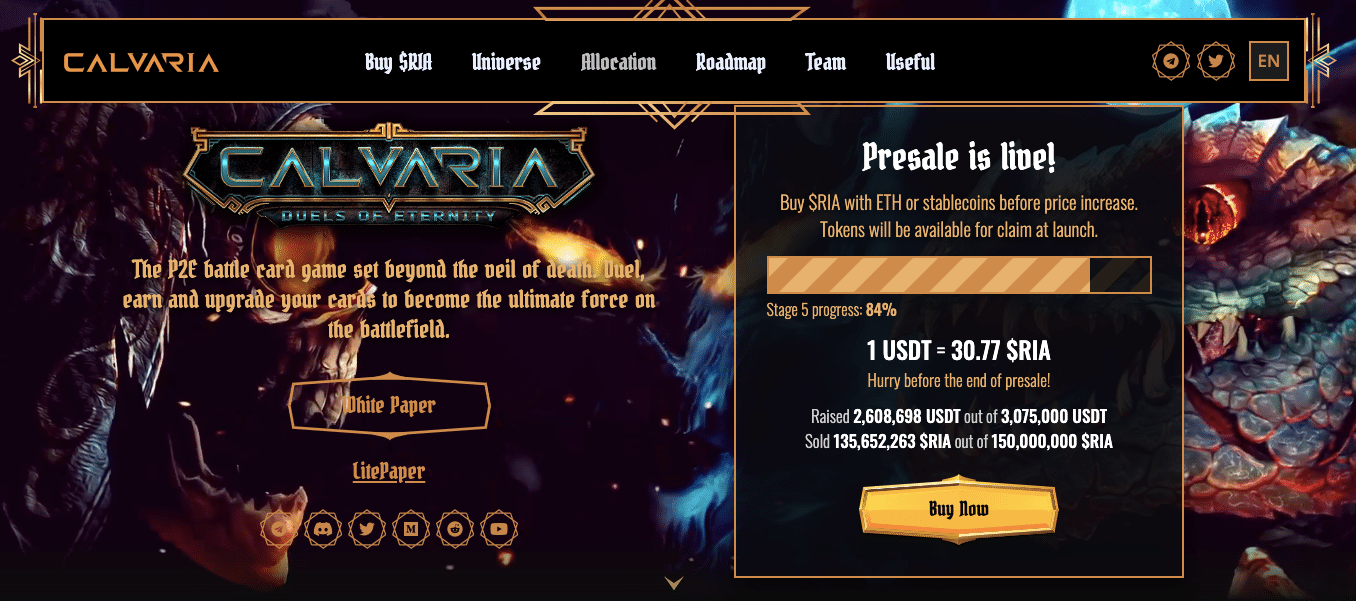 Last on our list of the best alternative tokens is RIA from the gaming ecosystem Calvaria. Interestingly, the project distinguishes itself from most other Blockchains by offering two altcoins as reward tokens: RIA and eRIA. 
Both tokens are backed by multiple functionalities, as they can be used for collecting prizes and in-game purchases. However, they're also different in a number of ways. The RIA token is mainly employed for governance, allowing investors to support the upkeep and operation of the ecosystem. 
In addition, both coins give investors many advantages that let them control the platform's growth and earn incentives. Token owners also have the opportunity to vote on important issues that will affect the ecosystem's future. Each voter's weight is assigned by the platform based on the number of tokens they possess.
However, that's not the end of the functionality of these tokens. Another way investors might profit from this platform is through staking. As a long-term investment, token holders can lock them in and get regular payouts. According to its whitepaper, Calvari gives investors access to that kind of passive income stream.
But to reach such a stage, players must amass NFT cards, which they may combine to purchase higher-level cards using eRIA tokens. 
Now, talking of the investment aspect, the token has a fixed supply of 1 billion, of which the program has dedicated only 15% of its total supply. 
RIA is currently at the fourth stage of its presale, available for $0.25. Once the token reaches its fifth and final round, it will be sold for $0.0325, marking a 225% gain from its initial stage and a 30% increment from its current price. Interestingly, the token debuted at $0.01.
| | |
| --- | --- |
| Presale Started | October 14 |
| Blockchain  | Ethereum |
| Purchase Methods | ETH, USDT |
| Minimum Investment | 1,000 RIA |
| Maximum Investment | – |
Your capital is at risk.
IMPT.io (IMPT) – A Closer Look
There are multiple aspects involved in determining IMPT crypto price prediction accurately. You can only predict a token's future movements by first understanding the IMPT.io project itself. 
So continue reading as we explore the different aspects of the project and its tokenomics and understand more about its presale. This way, we'll have a better insight into the price prediction of the token in the long term. 
What is IMPT.io (IMPT)?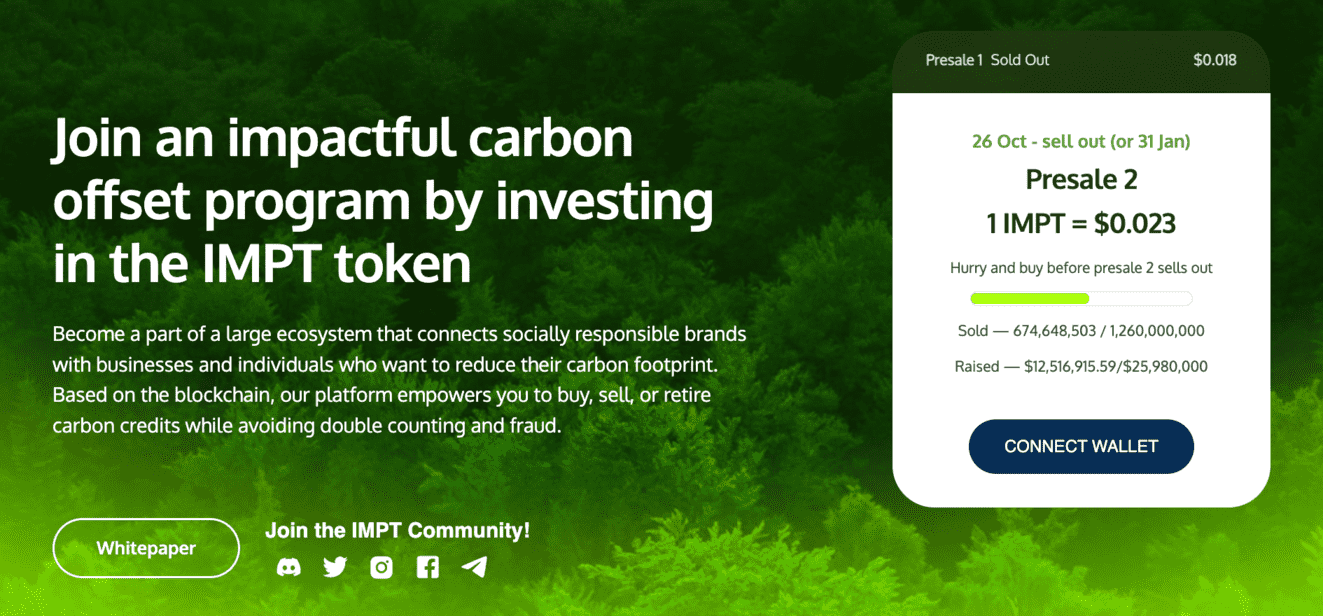 IMPT.io is a new-age crypto project developed for a more environmentally aware community. The platform aims at innovating global carbon footprints by revolutionising the carbon credit market via its IMPT token. 
Developed using the Ethereum Blockchain technology, IMPT, as a project, focuses on ensuring a reliable and stable ecosystem. It is primarily focused on resolving environmental problems but in a more effective, technical manner. 
IMPT.io has an inbuilt mechanism developed to encourage users of every size (businesses or individuals) to accumulate and burn their carbon credit for unique NFTs that can be used as a store of value. The platform ranks users on a unique IMPT.io score, which increases every time a user shops from their collaborated brand and accumulates the IMPT tokens. 
They also can gain carbon credits every time they get or retire carbon credits or refer new users to the platform. Business owners also have a chance to integrate the IMPT.io platform into their eCommerce stores, adding to their overall carbon credit score.
The project has actively tied up with over hundreds of environmental projects to choose from. Additionally, every project listed on the carbon exchange program is audited to prevent fraudulent activities of any type. 
However, IMPT.io is more than an ordinary carbon credit marketplace. The project aims at incentivising consumers and engaging them in 'responsible shopping' with environmentally-conscious brands. 
So while this gives you an idea of the IMPT.io crypto exchange program, you must pay attention to other aspects of the platform to make a sound financial decision. So let's check them out in the following sections of the blog. 
Your capital is at risk.
What Is A Carbon Credit Exchange?
A 'Carbon Credit Exchange' is a relatively fresh initiative that has been in the works for several years. Many organisations have tried coming up with a possible approach to subside their carbon footprints. 
However, it wasn't until the IMPT.io project that the concept of carbon credit was introduced over the Blockchain. As per the definition, a Carbon Credit Exchange is a platform that supports carbon credit trading via a digital carbon offsetting exchange. It is a platform where businesses and individuals collaborate to purchase and sell their carbon credits. It is a reliant alternative to regular fiat or stock exchange platforms.

What Existing Problems Will IMPT.io Solve?
As a platform, IMPT already addresses one of the most significant concerns of the industry, reducing carbon footprints. IMPT acts as a project that works as an intermediary between organisations and individuals who are into reducing carbon footprints by purchasing carbon credits. 
This is one of the core reasons why IMPT.io has gained such immense popularity quickly. However, that's not all. There are several other reasons why IMPT.io has gained such immense popularity in the sector. Let's check it out: 
Leverage Different Characteristics Of The Traditional Blockchain Mechanism
IMPT.io is among the unique projects that we have today. Thanks to its decentralised mechanism, the platform allows users to trade, purchase, and retire carbon credits. 
Once the users sign up and purchase products from brands (who are a part of the collaboration), they are offered carbon credits. These credits are further converted into NFTs, which serve as a store of value and prevent fraud of any type. This way, the Blockchain will provide a more transparent, reliable, and open environment.
Assists Businesses In Avoiding Fraud & Duplicate Counting
As a Blockchain, IMPT avoids the leading double-counting fraud. It is a common tactic used by businesses to reduce carbon emissions. Since IMPT is based on a decentralised Blockchain, every business will be able to profit from a streamlined counting experience. 
Here, the IMPT Blockchain leverages a distributed ledger where all the users over the network cooperate to complete a task. It also prevents users from spending more than their balance or double what they have.
Presence Of Carbon Assets
Once the project has gained prominence among public users, the sector will benefit immensely from different income-generating activities. Additionally, once the project moves public and establishes itself as a trustworthy record, the carbon assets have better chances of being tokenized. 
Once done, businesses and other professional groups can receive official certifications that serve as verifiable evidence of their carbon offset operations. Sitting at the top of this would be an unbending Blockchain transaction that cannot be tampered with. 
Introducing Reform Into The Carbon Credit Trading Sector
The entire theory around exchanging and purchasing carbon credits is still in its infancy. The whole procedure and its operations are opaque and can be challenging for business owners. 
Such difficulties in exchanging or trading them could challenge the trading sector in using them for trade. In addition, such difficulties might also cause inefficiencies in the market. However, since IMPTs NFT could be traded over its Blockchain, it would initiate a seamless flow of operations for business owners due to its autonomous operations over the Blockchain. 
What Is A Green Crypto?
As the name suggests, green crypto is like an eco-friendly approach to the decentralised Blockchain network. It focuses on resolving one of the most challenging aspects of operations over Blockchain, the environmental consciousness. 
Currently, IMPT is among the leading green crypto initiatives, with over 25,000 ESG-friendly companies that have collaborated with the initiative. In addition, the brands and the project together have come up to offer eco-friendly purchases via the IMPT affiliate program. Here, users receive some amount of IMPT tokens for their transactions. 
Overall, IMPT.io is a revolutionised approach to the crypto industry, adding to its value as a potential investment.
Your capital is at risk. 
IMPT Tokenomics
It's hard to have complete knowledge of IMPT coin price prediction without first having an idea of the tokenomics that make the project unique. Now that we have an idea of the project and the different factors that make it unique, let's delve into the project's tokenomics. 
Currently, IMPT has a limited supply of 3 billion tokens. However, as per the whitepaper of this ecosystem-based project, the first round of the presale has already sold over 300,000,000 IMPT tokens.
Once the users have signed up and allotted the token, they'll be entitled to participate in the eco-shopping experiences with over 10,000 brands. So every time a user purchases an item from the brand, they'll be allocated a purchase margin into their account in the form of IMPT tokens. 
As the tokens accumulate, users can unlock a specific amount of carbon credit. Here's an overview of the structure behind the scenes:
1: Brands allocate a specific % of their sales margin to the project (2%, for instance).
2: A user spends a total of $7000 on groceries annually.
3: The user gets IMPT tokens worth $140 every year.
4: The tokens are further converted to a minimum of 14 carbon credits annually which they can sell, hold, or retire.
Now that you have an idea of the IMPT token, here's an overview of the distribution: 
1st Presale – 20% IMPT Tokens
2nd Presale – 22% IMPT Tokens
3rd Presale – 18% IMPT Tokens
Ecosystem – 15% IMPT Tokens
Marketing – 10% IMPT Tokens
Early Adopters – 10% IMPT Tokens
Team – 5% IMPT Tokens
Currently, it's been 17 days since the token's last presale ended. Considering the token's overall market demand and price movements, now could be a great time to invest in IMPT tokens. 
Your capital is at risk.
IMPT NFTs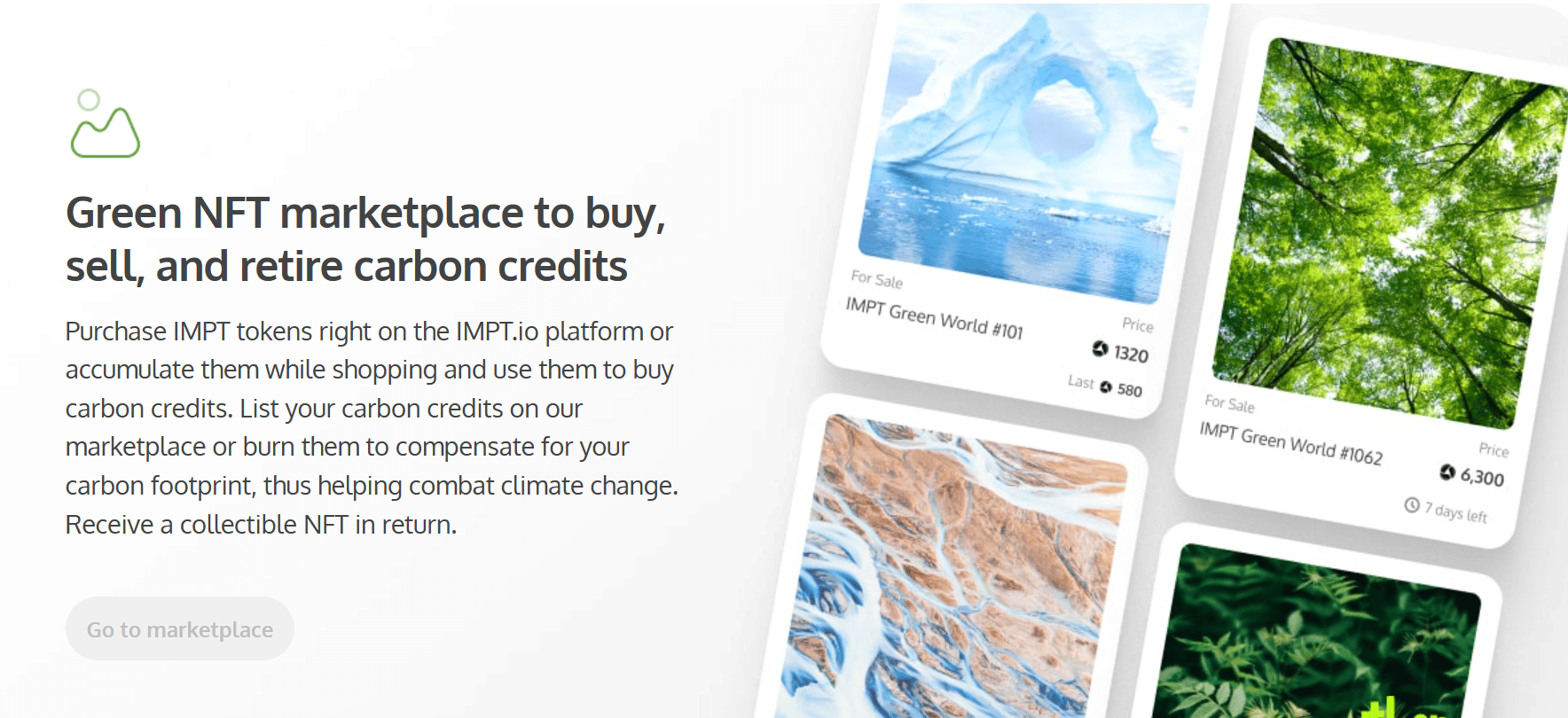 Until now, carbon credits have been a foreign concept for the average user. It has mostly been a theory where users would be rewarded for their efforts in reducing carbon emissions. However, to convert the theory into a reality, IMPT decided to leverage NFTs and spread awareness among investors and traders. 
Here's an overview of the process – Users buy carbon credit NFTs through IMPT, select an environmental project to sponsor, and then take the NFTs out of circulation to reduce their carbon footprints.
If you want to avoid destroying the NFTs, you can keep them as a long-term investment or sell them on secondary markets for a profit.
The platform, however, promotes retiring the NFTs since doing so enables you to have some influence on climate change and global warming, even if it is a little one. Once done, you'll get another form of NFT with amazing artwork that can be bought or sold online.
Later, users have the option to destroy a portion of their carbon credits which are rewarded in NFTs, which also serve as a store of value. This way, the ecosystem burns tokens while continually increasing their value over time. 
Who Is The Team Behind IMPT.io?
IMPT.io's core team comprises five socially-responsible founders with different project roles. Here's an overview of the different profiles and their roles: 
Denis Creighton:

The CEO heading the project, Denis is an entrepreneur who has over three decades of experience in IT, Financial Services, and Telecommunications.

Mike English:

The C.T.O, Managing Director, and Program Manager, English is another core member of the team. He has worked with different companies like Google and Oracle as a tech creator for their Web 3.0 decentralised and centralised applications.

Hugh Phelan:

Next, we have Phelan, IMPT.io's Legal Advisor, who holds expertise in Blockchain technology. His expertise lies around smart contracts revolving around compliance policies that have added immense value to the company.

Gudmundur Sigbergsson:

Sigbergsson is the Carbon Credit Advisor for IMPT.io. As the head of the project, he has experience as the founder of an international carbon registry. 

Mark Creighton:

Next, we have Creighton, the company's Compliance Advisor, who holds expertise in business process outsourcing, strategic planning, financial operations, and risk management, among factors.
Other core members of the team include Jamie Helly (Brand Advisor), Frederik Lund (Compliance Expert and Blockchain Legal), and Lorna Mason (the CFO), among others. 
IMPT Use Cases
Many investors think IMPT has only one primary purpose, promoting environmental stability. However, that's not all. The token has multiple use cases to help investors understand its future value of the token. 
Here's an overview of the different aspects of the project: 
Payment Service
The IMPT Token is used to streamline transactions over the IMPT.io carbon marketplace. Users can leverage the tokens to purchase NTF carbon credits and access different products or goodies from brands that have collaborated with the project. 
Unlocking potentials
Users have an advantage over other clients thanks to IMPT Token. It enables customers to access the platform's premier features and even trade the tokens and other NFT collectables effortlessly.
Fee Discounts 
The tokens can be used as a measure of fee discounts for its users. Once signed up, you can access some form of discount over retail platforms. This way, users are entitled to receive a better sales margin on individual purchases. 
DAO Participation
DAO Participation will serve as the foundation for the IMPT.io platform's future, ensuring that users actively vote for governance. The ultimate objective is an entirely decentralised system.
Your capital is at risk.
Where Can You Buy IMPT In The UK?
Purchasing IMPT tokens is easier than you think. If you're reading this while the presale is still active, all you need to do is log into their website. Once done, connect your crypto wallet to the project and purchase IMPT tokens in exchange for USDT or ETH. 
However, if you're trying to buy IMPT tokens post the presale, you can buy them via LBANK or sign up for established crypto exchanges like UniSwap to purchase these tokens. 
IMPT (IMPT) Price History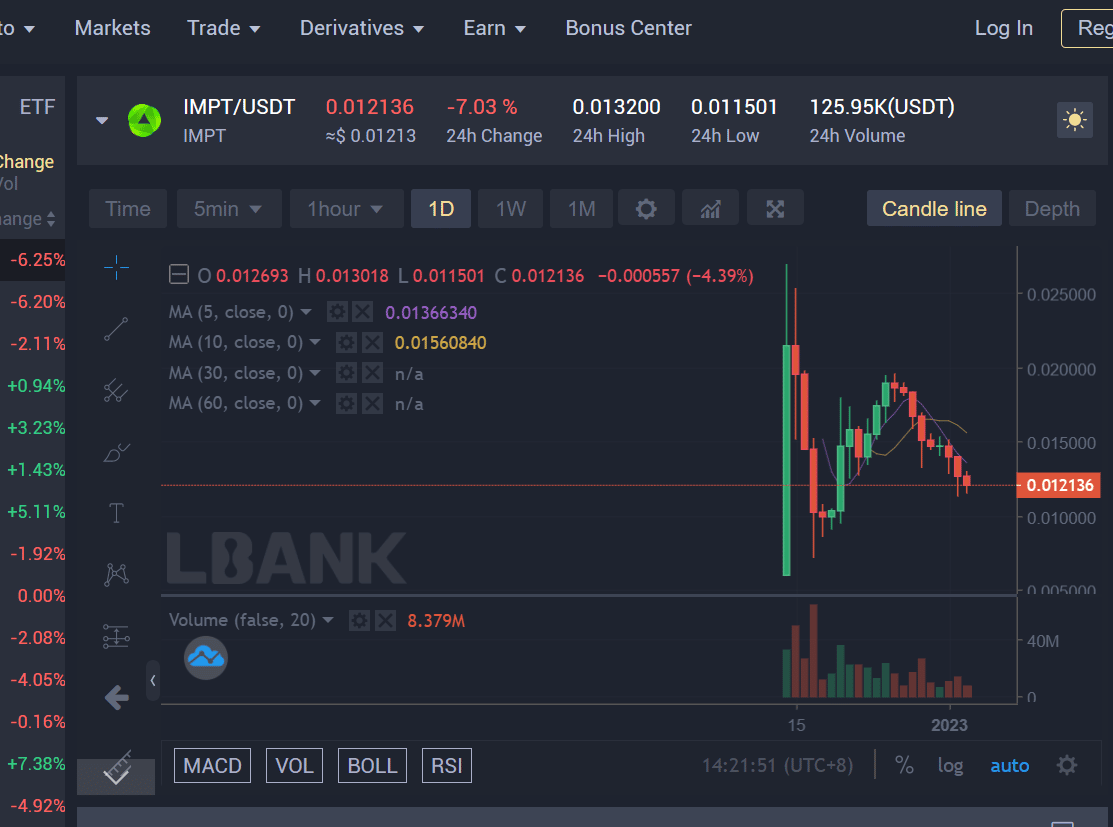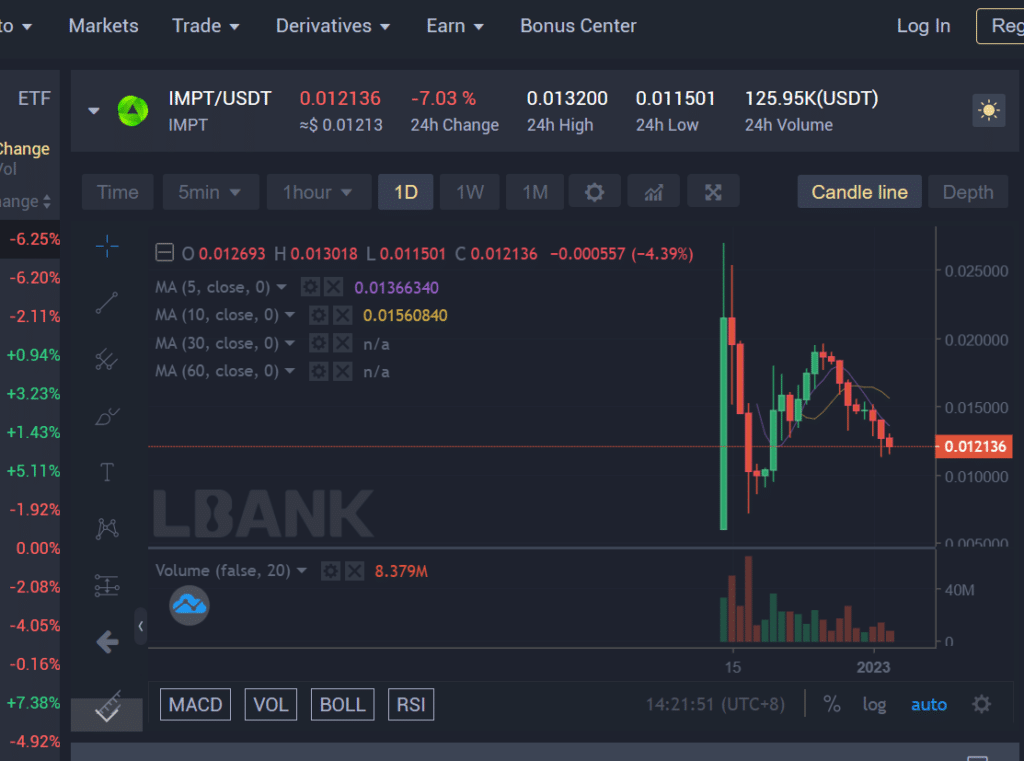 Investors of all sizes have found themselves with one similar question, 'will IMPT go up post its presale?.' While it might be difficult to predict otherwise, it's easier to anticipate the token's future movement if we look at the price history from its initial stages. 
The price of IMPT is $0.016948 at the time of writing. Since its previous day's trading volume, the token has increased by 248%. Currently, the token has a liquidity of $50,128,865, which is expected to increase as it reduces its supply via the burning method. 
Overall, although the price is now less than $1, the market is fairly optimistic about IMPT token price in the future. Once the presale period has ended, the token might eventually reach the $1 mark.
What Is The Current Price of IMPT (IMPT)
The current trading price of the IMPT token is $0.016703. It currently has a 24-hour trading volume of $1,327,982. While there is no live market cap of the token, its current ranking is #2692. Additionally, there is no accessible circulating supply, and the token has a fixed supply of 3,000,000,000 IMPT coins.
Will IMPT Recover in 2023?
Looking at the token's current market movement, we're confident about the token's positive movement for the remainder of 2022. The project is still very new which means that there is a lot of room for growth. It is normal for tokens to experience volatility when they are first listed on exchanges, the current downward trend is only temporary. 
Will IMPT Ever Reach $1?
Solid fundamentals and reliable community backing back the IMPT token. Looking at these two factors alone, we're confident that the token will go up in the future. However, the token might take some time to reach the $1 target.
Pros and Cons Of Investing In IMPT 
There are different pros and cons of investing in the IMPT token. Here's an overview of the pros and cons to give you a better idea. 
Pros
IMPT is a completely carbon-neutral project
The project is relatively new and has room for growth
The project has a large community backing
IMPT.io is led by a team of reputable industry experts
The need for sustainable projects is growing
Cons
IMPT is a new project which means that it is prone to volatility
IMPT saw a drop in price after launch
IMPT is not yet listed on centralized exchanges
How To Buy IMPT In The UK (UniSwap)
The IMPT token is currently available to buy through LBANK, GATE and Uniswap. Here is how to purchase the token through UniSwap. First, you will need to purchase crytpo tokens that can be exchanged for IMPT. ETH is a good choice.
For the sake of simplicity, we're using the eToro crypto exchange to complete the purchase. This platform's straightforward UI and cost-effective trading costs are the primary advantages of preferring the exchange. Once signed up, you can expect the best price for buying cryptocurrencies. 
Now that you have an idea of the different fundamentals that make the concept unique let's check out the steps involved in purchasing IMPT tokens in this section. 
Buy Crypto from eToro
The first step of buying IMPT crypto requires you to sign up for eToro to initiate the purchase. Let's have a detailed look at the steps: 
Create an eToro account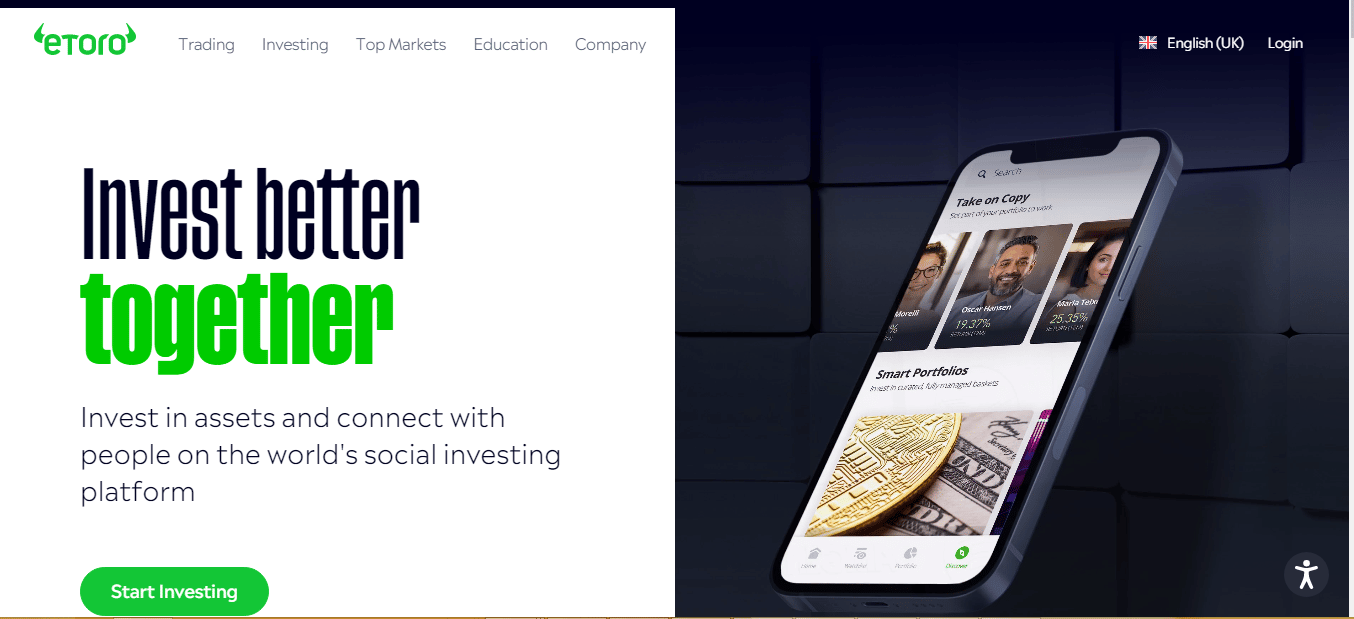 The first step in purchasing IMPT tokens is to create an eToro account. You may do that by going to the eToro website or by downloading the mobile app from Google Play or App Store. Then, click "Start Investing" on the home page when the website or app has opened. 
A page asking for a password, email address, and other basic information appears. Accept the terms and conditions after completing the form, then click the "Create Account" option to continue.
Verify ID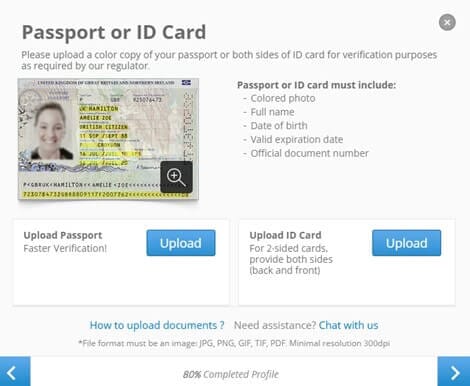 The next step after creating an eToro account is to verify your identity. It is a crucial technique to safeguard user information and stop fraud. Entering a complete government name, trading reasons, and trading history are all required by the KYC procedure for ID verification. 
Another requirement is that the user presents a form of identities, such as a driver's license or a passport from another country. Remember, it takes eToro a few days to respond after processing the submitted data.
Deposit funds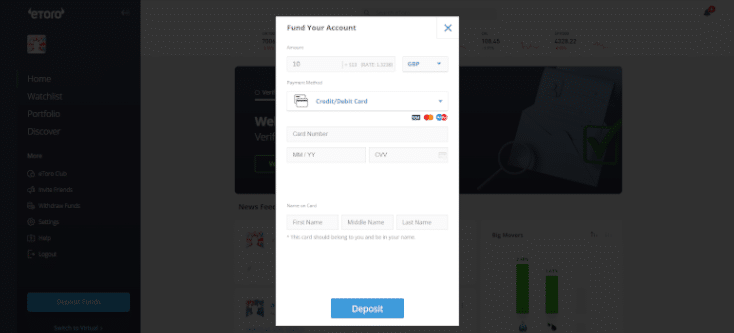 After ID verification, the next step is to put money into your eToro wallet. After that, you may pay for it using any of the available payment options, including debit or credit cards, Skrill, and PayPal, among others.
Here, users must be aware that there is a minimum deposit when making a cash deposit. For instance, the UK requires a $10 deposit from new signees (or GBP equivalent). The number of Ethereums a person may purchase greatly depends on the quantity of money invested. Put down as much money as you can to buy many.
Search for ETH
The next step is to look up ETH in the search box on the website or app after adding money to the eToro wallet. Once located, select "Trade."
Place an order
The following step is to order the quantity of ETH to be purchased. Next, type the maximum amount of ETH the available money may purchase. Accepting the terms and conditions brings the procedure to a close. Next, wait a little while for ETH to appear in the eToro wallet.
Transfer crypto to MetaMask
The next step is moving the Ethereum (ETH) from the eToro wallet into a MetaMask wallet. Download the app from the App Store or Google Play Store and follow the instructions to set it up. 
The specific wallet address may be copied and pasted to transfer money from eToro once the account is ready. Wait a few while for the ETH to appear in your MetaMask balance.
Connect MetaMask wallet to UniSwap exchange
The next step is to add your MetaMask wallet to the UniSwap exchange. Here, all you need to link the two platforms. 
Swap ETH for IMPT
Three alternatives are provided after MetaMask is linked to the Impt.io website: purchase ETH with a card, buy IMPT with ETH, and buy IMPT with USDT. The second choice is the best one since there is Ether in the MetaMask wallet.
Enter the desired IMPT purchase amount and press the "Convert ETH" button to exchange ETH for IMPT. Next, the wallet provider asks for transaction confirmation and shows the gas cost.
Move IMPT into the crypto wallet
Once all the steps are followed, your wallet will have the IMPT tokens, which you can then shift to the crypto wallet. 
Your capital is at risk
IMPT Price Prediction 2022 - 2030- Conclusion
This brings us to the end of our detailed blog on IMPT crypto price prediction. With this, we hope you now have a detailed idea of the project, its roadmap, and the different aspects that make it unique. 
Remember, the IMPT token is among the very few green-initiate projects about to change the industry's future. Therefore, now would be a good time to invest in the project as it will be available at a low price. 
Don't miss out on this unique presale opportunity! Invest in IMPT today.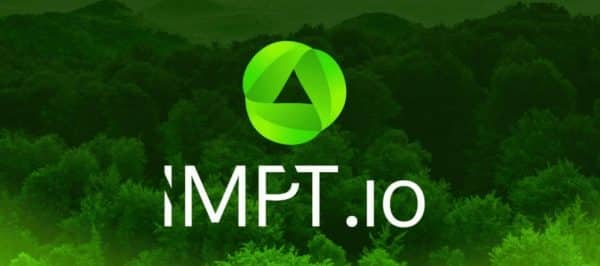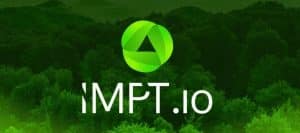 Your capital is at risk
FAQs
Is IMPT sustainable crypto?
Is IMPT a good alternative to Bitcoin?
Why did IMPT drop after the presale?
Will IMPT explode next year?
How much will IMPT be worth in 5 years?
Will IMPT Reach $1 Next Year?