Best Crypto Wallet UK 2023 – Reviewed
Fact Checked
Everything you read on our site is provided by expert writers who have many years of experience in the financial markets and have written for other top financial publications. Every piece of information here is fact-checked.
Disclosure
Please note that we are not authorised to provide any investment advice. The information on this page should be construed for information purposes only. We may earn commissions from the products mentioned on this site.
Buying crypto in the UK is relatively straight forward. However, choosing the best crypto wallet to store your digital assets can be a little more tricky. The fact that there are so many options, all with different features, makes it hard to determine which crypto wallet is best. 
Therefore, if your search for the best crypto wallets in UK has been in vain till now, this could be the guide you need. So continue reading as we walk you through the top-rated crypto wallets to use in the UK 2023. 
Best Crypto Wallets UK 2023 – List
eToro Money

:
Great option for beginner investors
MetaMask

:
Flexible and convenient crypto wallet
OKX

:
The most innovative wallet in the UK
Coinbase

:
Market leader in terms of its cryptocurrencies
Trust Wallet

:
The go-to option for seasoned professionals 
Don't invest in crypto assets unless you're prepared to lose all the money you invest.
Best Cryptocurrency Wallets UK 2023 – Reviewed 
eToro Money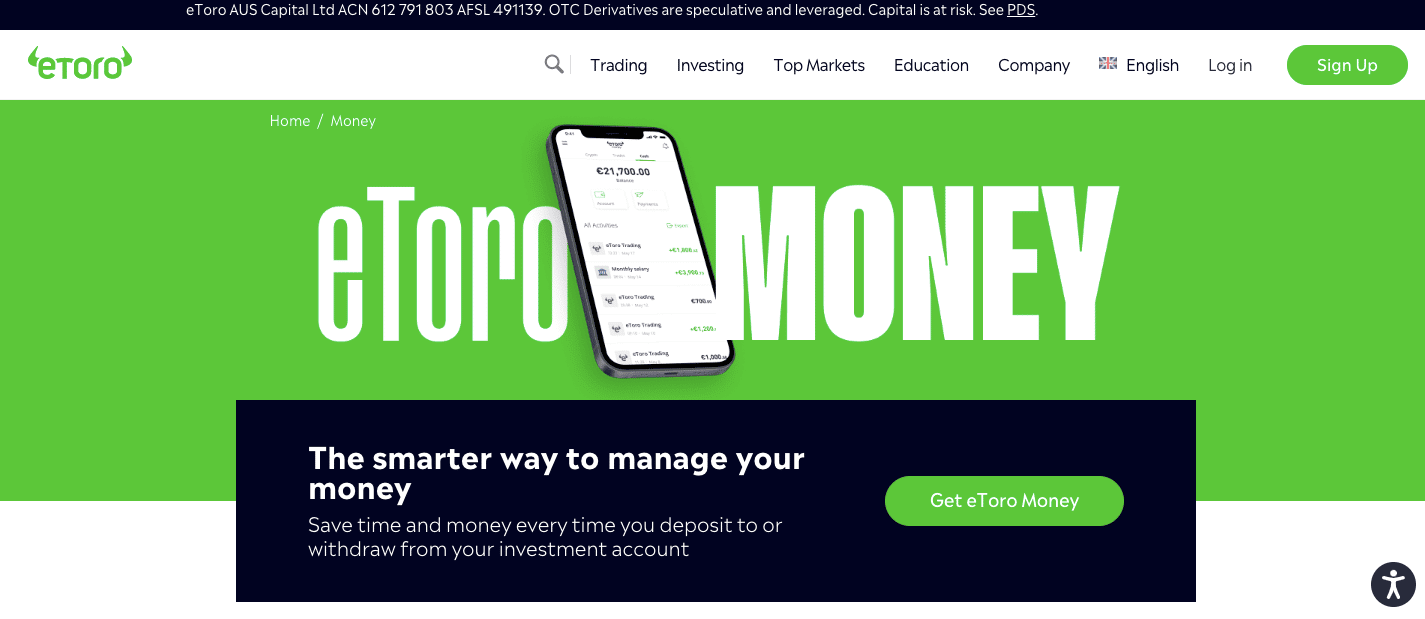 Starting our list of the best crypto wallets in the UK is eToro Money, a reliable crypto wallet backed by eToro. Upon signing up, eToro provides users with two different wallet options to choose from. The first is the eToro web wallet, which is available on desktop devices. The second option is eToro money, a separate wallet mobile app that you must install and manually transfer your assets into.
Authorised and regulated by the Financial Conduct Authority, this platform supports a custodian wallet where eToro is responsible for the safety of all your digital assets. Through the wallet, users are able to transfer funds to and from the eToro trading platform for a seamless trading experience. It is also possible to transfer funds from the eToro wallet to other wallets or crypto exchanges.
The eToro Money cryptocurrency wallet app works on both iOS and Android devices. The eToro Money wallet provides you with complete control of your assets so is considered to be the more secure option. However, eToro Money users must keep their pass phrases safe or risk losing all of their funds. This is because the platform cannot access the eToro Money wallet on your behalf if you forget your private keys. 
Overall, the eToro Money app is one of the top cryptocurrency wallets in the UK because it supports more than 500 trading pairs, quick customer service, and reliable volatility. You can also go through our detailed eToro review to know more about the wallet and trading platform.
| | |
| --- | --- |
| Number Of Coins Supported | 78 |
| Type Of Wallet | Custodial & Web |
| Mobile App | Yes |
| Authorisation in the UK | Financial Conduct Authority |
Pros:
The platform is regulated under the Financial Conduct Authority for users in the UK as well as a number of other regulatory bodies around the globe.
Wallet users can seamlessly access the eToro exchange.
Crypto trading commission is set at 1%.
Clean UI makes it a beginner-friendly platform.
Excellent customer support available.
Cons
Seasoned traders might look for more advanced tools.
Requires KYC to initiate operations.
Don't invest in crypto assets unless you're prepared to lose all the money you invest.
MetaMask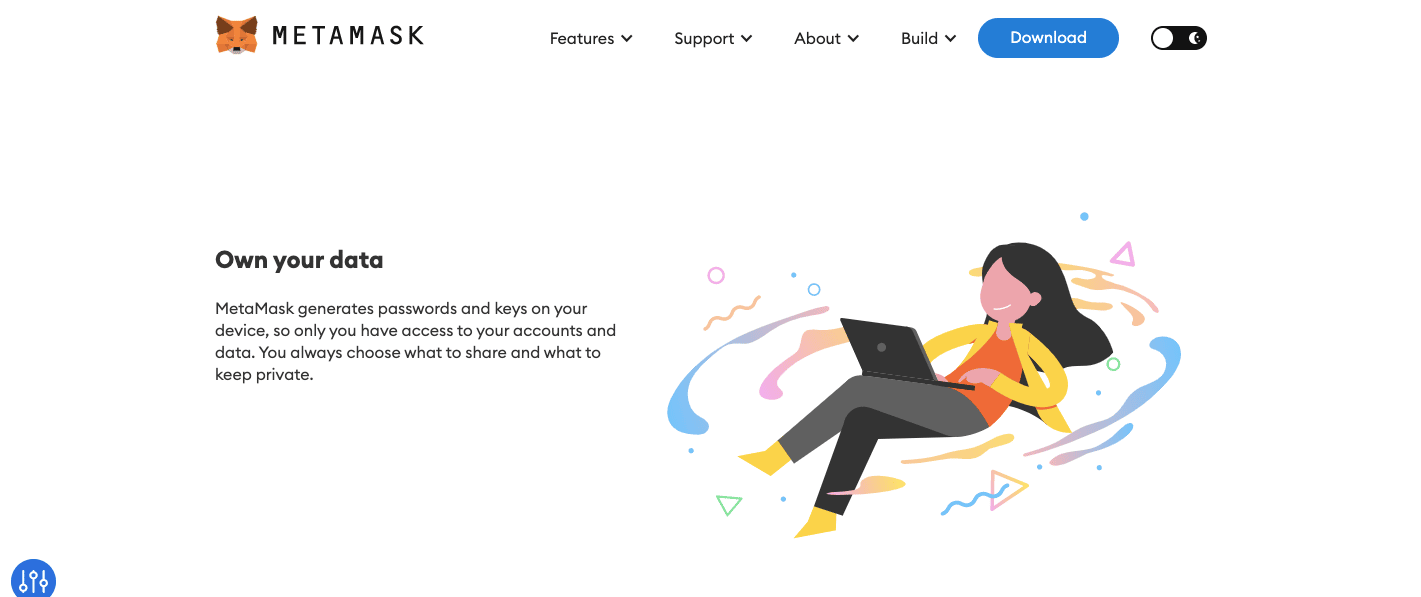 Next, we have MetaMask, another crypto wallet that many beginner and intermediate investors may choose to use. With over 30 million active monthly users, MetaMask is a popular wallet available on desktop and mobile devices, allowing you to connect to various dApps and store digital assets and NFTs. 
In addition, this decentralised platform was the first to offer a non-custodial storage wallet to its users. Once signed up, you also have the option to trade your digital assets across several blockchain networks and interactive with a number of web3 applications.
One of the notable features of the MetaMask wallet app is that it allows users to initiate transactions without providing personal information. All you need to do is install this Web 3.0 wallet and get started by trading across different DeFi exchanges.
Overall, the fact that there is no markup on outgoing transactions or fees to download this Web 3.0 wallet makes it reliable to store your digital assets. 
| | |
| --- | --- |
| Number Of Coins Supported | All ERC-20 + Manually imported tokens |
| Type Of Wallet | Non-custodial Browser Extension & Mobile Wallet |
| Mobile App | Yes |
| Authorisation in the UK | N/A |
Pros
Easy to install and get started.
Requires no personal identification.
No fees for downloading the wallet.
Supports multiple Blockchains and all Ethereum based tokens.
Cons
Doesn't support Bitcoin.
Can be risky for beginner investors.
Transaction fees change depending on token and blockchain network.
Crypto assets are unregulated in some parts of the UK. Invest wisely.
OKX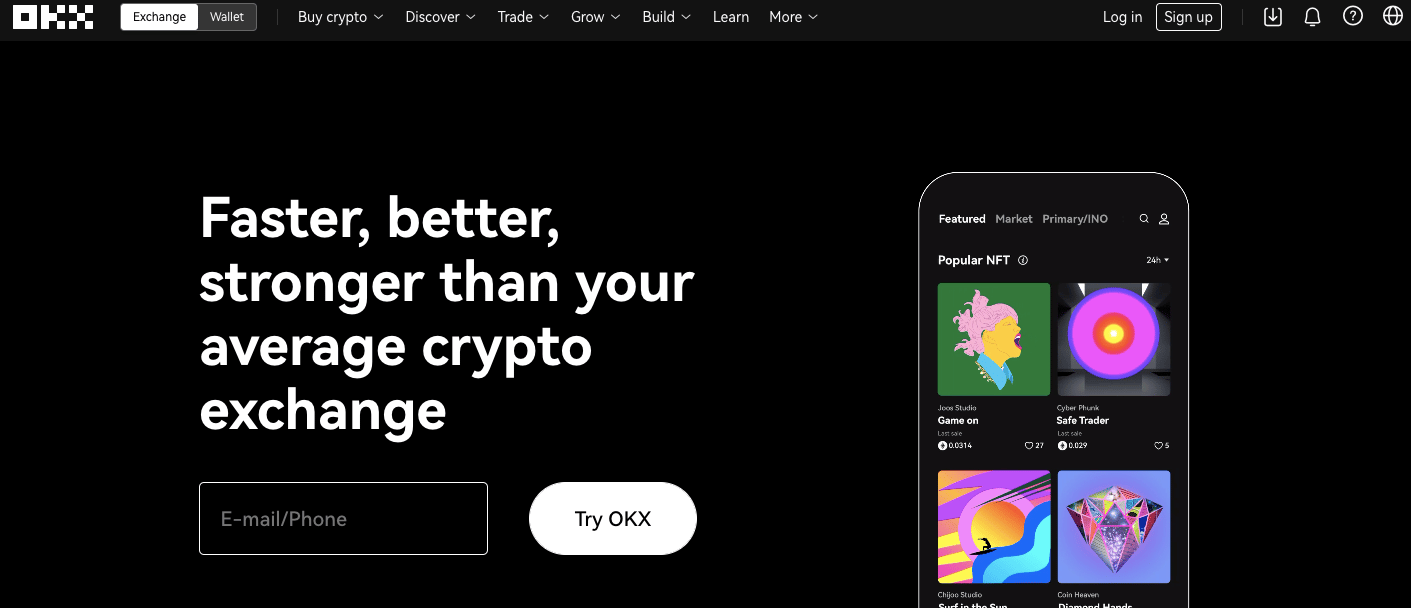 When looking for the best crypto wallet to use in the UK, you can't miss out on OKX. While it is known for its globally acclaimed crypto exchange, the platform also offers users a reliable, proprietary crypto wallet. Users can install it across both web and mobile devices as an extension or application from their dedicated iOS and Android stores. 
Aside from being free to use, what makes this wallet different is that it has many features that both investors and traders can use to optimize their trading. First, the OKX wallet is compatible with almost every major blockchain program, allowing an easy swap of tokens between the projects. This way, it prevents the loss of users as new projects are introduced to the market. 
Second, the OKX wallet works well with the OKX exchange. This makes it cheaper for investors and traders to trade tokens. Adding more to it is the wallet's development program. Lastly, the fact that it has a marketplace built in is a big plus for fans, who can now store all of their digital assets and cryptos in the same wallet. 
OKX is an excellent wallet option for users who want to invest in crypto, NFTs, and other DeFi projects in 2023.
| | |
| --- | --- |
| Number Of Coins Supported | 350+ |
| Type Of Wallet | Non-custodial decentralised wallet |
| Mobile App | Yes |
| Authorisation | Virtual Financial Assets Act (VFAA)- Malta |
Pros
Active presence of 20+ million users globally.
Availability of over 350+ cryptocurrencies.
Can be downloaded across desktops, Android, and iOS.
Comes with a built-in NFT marketplace.
Cons
Requires identity verification.
Can be complex for beginners.
Crypto assets are unregulated in some parts of the UK. Invest wisely
Coinbase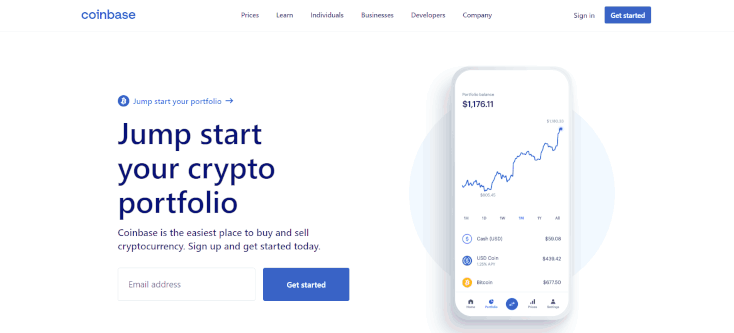 Next on our list of the best crypto wallets in the UK, is Coinbase, another primary crypto exchange that offers crypto wallets to its users. As part of its wallet service, Coinbase gives users two different ways to store their assets. 
The first option is a non-custodial, application-based Coinbase wallet app that can be downloaded via Google Play or the iOS App Store. However, before you sign up, you must understand that the platform won't hold any personal information, making you responsible for your backup passphrase and private keys. Or, users could instead sign up for Coinbase's custodial wallet which does not offer as much autonomy but can be accessed by the platform if you forget your passphrase.
The Coinbase platform is a good choice because it is easy to use thanks to its user-friendly interface and low account minimums. Adding to it, the convenient storage option and a wide range of security protocols like device whitelisting, cold storage, and 2FA (two-factor authentication) make Coinbase a reliable alternative to get started.  
Number Of Coins Supported

100+

Type Of Wallet

Custodial - Web & Mobile 

Non-custodial - DeFi App

Mobile App

Yes

Authorisation in the UK

Financial Conduct Authoriy
Pros
Options to choose between a custodial and non-custodial wallet.
Stringent security features.
Offer great flexibility at the time of payment.
Suitable for beginner investors. 
Cons
Limited number of tokens.
Custom support is lousy.
Crypto assets are unregulated in some parts of the UK. Invest wisely
Trust Wallet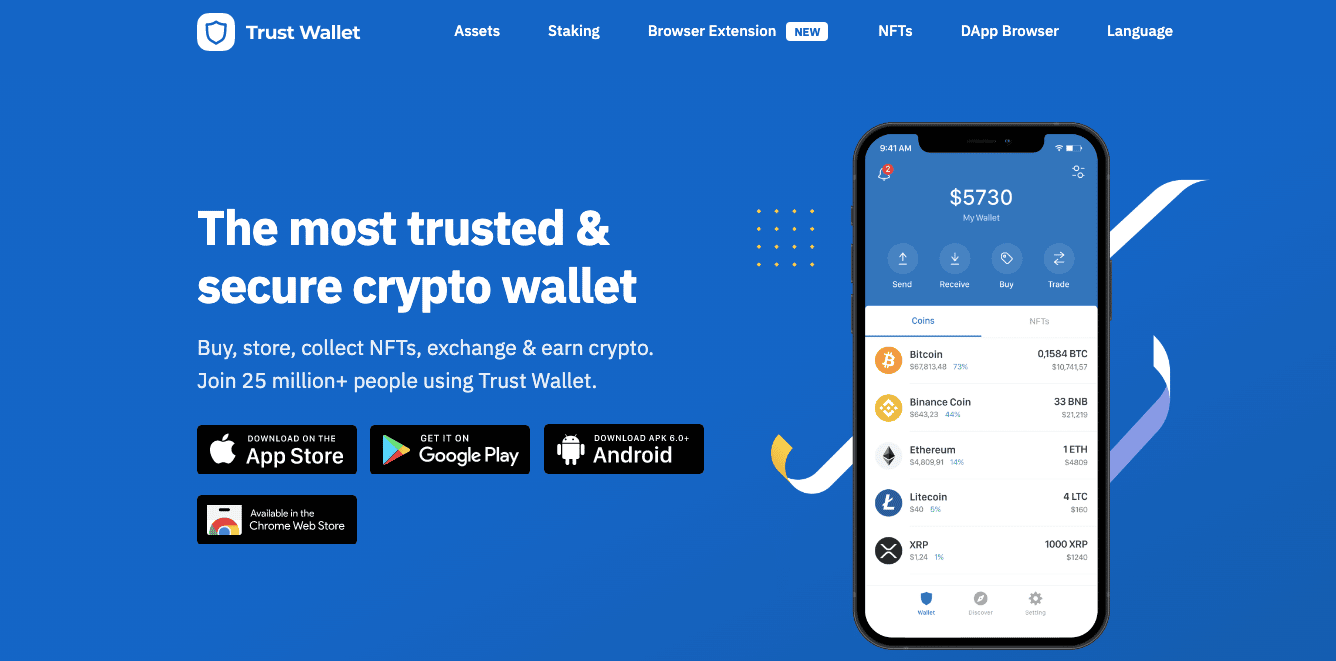 Concluding our list of the best crypto wallets in the UK is Trust Wallet. This platform supports digital assets and tokens from over 65+ blockchains, saving its users the hassle of signing up for new platforms to invest in different projects. 
Furthermore, you can import and store coins on this free-to-install platform using this non-custodial wallet storage. However, the primary highlight of the wallet is its intuitive user interface and access to in-wallet DeFi services. After you sign up, you can also use features like staking to earn interest on tokens that aren't being used. 
What's more? Trust Wallet also supports NFTs of the ERC-721 and ERC-1155 standards. Users should be aware that, while the platform is decentralised, it has integrated support from a third-party payment processor, which influences the overall charges for your transactions. 
| | |
| --- | --- |
| Number Of Coins | 4.5+ million digital assets |
| Type Of Wallet | Non-custodial  |
| Mobile App | Yes |
| Authorisation | Internal Revenue Service |
Pros
Has an in-built decentralised exchange.
Option to stake cryptos from your wallet.
Supports Bitcoin transfers.
Supports NFTs.
Cons
Poor customer support.
Influence from third-party integrations.
Crypto assets are unregulated in some parts of the UK. Invest wisely.
What Is A Crypto Wallet?
As crypto enthusiasts, we know that cryptocurrencies aren't physical or tangible investments. So while we invest in these digital assets, it's impossible to store them physically. Instead, tokens are stored over blockchain networks or on the web.
As the name suggests, crypto wallets are a form of a 'digital wallet' where users can hold or save their tokens for future use. However, that's not all the functionality these wallets serve. Crypto wallets are designed to send and receive tokens securely via a public address and protect assets from scammers.
Interestingly, crypto wallets are divided into two types, namely:
Custodial crypto wallet:

As the name suggests, these wallets are 'custodial' in nature. The exchanges offering them have access to the private keys, providing you with a way to recover your wallet in case you forget your password. 
Non-custodial crypto wallet:

Next, we have non-custodial wallets. As the name suggests, these wallets are 'non-custodial,' i.e., no exchange holds the right to these wallets. Therefore, any user opting for a non-custodial wallet is responsible for maintaining their private keys. 
Users can also choose between hardware and software wallets. Hardware wallets are not connected to the internet whilst software wallets are. Each type of crypto wallet available has unique pros and cons and investors must take time to consider which is best for them before transferring their funds.
4 Reasons to Store Your Crypto in a Wallet
Crypto wallets are a necessity for investors and traders. These online storage options aren't only meant to provide security but also add more features to your trading experience. 
Don't you believe us? Let's check out why enthusiasts must store their crypto in a wallet. 
Decentralisation 
The entire concept of cryptocurrencies revolves around having an alternative to fiat money. Keeping that thought in mind, it is important that crypto assets are not controlled by third-party governing body in order to maintain the decentralized nature of the space. Interestingly, this is where the concept of crypto wallets appeals to investors. 
Once signed up with a crypto wallet, there's no central body (exchanges in this case) to affect your investments. So once you avoid a central authority, you increase your token's security level, avoiding random lock-in time periods (in case of insolvency) or corruption among the exchange's founders. 
Non-custodial wallets provide the most autonomy and cannot be accessed by anyone but the person who created the wallet. Custodial wallets on the other hand can be accessed by the governing platform in the case that users lose their private keys.
Security & Privacy
Ever since its boom in 2021, the crypto industry has been a hot spot for scammers who opt for new and unique ways to loot investors of their crypto savings. To date, there have been scams worth millions of dollars. Most of these stolen funds were never found again, though, because security was not very good and third-party vendors were used. 
When you move your crypto tokens to a wallet, this is an interesting point where you can get more security and privacy. On top of that, most of these best crypto wallet apps are known to update their security protocols regularly to stop these kinds of thefts. 
So, once you move your tokens to these wallets, hackers and scammers won't be able to get in because of all the layers of security. This will save your investments. Besides, such wallets are also known to protect your public key, which, when falling into the wrong hands, can be linked to real-world identities via digital forensics. 
Staking Rewards
People are keen to invest in cryptocurrency, primarily for the multiplied returns that some investments can recieve. When chosen wisely and via proper analysis, most of these tokens are known to give over 1,000 percent growth in a short span. However, what if we told you that you could earn way beyond the actual returns on your investments via crypto wallets?
Much like adding interest to your total savings in a bank account, most crypto wallets offer staking rewards to their users. When you decide to stake your investments, you allow these wallets to secure a portion of your investments and lock them for a set period of time. Once the maturity period is realised, they provide bonus tokens as interest for tokens that have been staked. 
This way, moving your funds to a crypto wallet is a great way to build your portfolio and grow your capital, ultimately getting you a better return on your savings. However, only some crypto wallets in the market offer such utility. So, when looking at the different kinds of crypto wallets, look for ones that offer staking. 
Protection From Exchange Problems
The crypto industry has been largely infamous for its volatility. Over the years, we've seen the markets overturn in minutes, turning millions into mere thousands of dollars' worth of investment. Don't forget that the market has also seen many promising crypto projects fail and go out of business. 
So while the market still struggles to gain stability, what if we told you that moving your funds to a crypto wallet can safeguard you against such volatility? Yes, it's true. Looking at the most recent example, one of the most potent crypto exchanges, FTX, withheld the savings of its users worth millions of dollars. The events followed a 95% drop in its market value and FTX declaring itself bankrupt in a few days. 
While such incidents are unavoidable, ultimately, it's the investors who suffer. However, by transferring your cryptos to a dedicated wallet, you protect your funds from any exchange authorisation. It helps secure your funds and gives you the authority to use them at your disposal. 
What Makes A Good Crypto Wallet? 
Security


Security is the most compelling aspect of a good crypto wallet. Since your funds are involved, most individuals search for the best cryptocurrency wallet that is safe. After all, you should feel confident securing your crypto tokens with any wallet.
Therefore, when looking at the different options, try to settle on a wallet that ensures the safety of your money from online hackers. In addition, it would be helpful if your chosen wallet is backed by any form of insurance that assures the redemption of your funds in the event of a possible hack. 
Adding to it, you must always look for a crypto wallet backed by several levels of encryption and with a strong firewall in place. Remember that the best crypto wallet apps are always updating their security systems to make sure that their users' money is completely safe. 
However, looking at all the top cryptocurrency wallets, you would look for a specific measure to select the safest wallet. So once you've finalised your options, compare their EAL (Evaluation Assurance Level). These ratings give you a better idea of a safe crypto wallet. The safest wallets rank five or higher on a scale from one to seven. 
Regulation
Once you've familiarized yourself with the security aspects of your crypto wallet, you might want to look into the regulation that backs the software. As per the standard definition, regulations are approvals from regulatory bodies that assure the protection of the assets of any wallet. So, if your wallet has a governing body, it is accounted for, and the governing body makes sure that users can trust the wallet with their digital assets. 
However, only some regulatory bodies are located inside your country. Furthermore, since most of the crypto wallets operate globally, they are backed by some regulatory body, which might not match the standards of your city or country. Therefore, while researching the top cryptocurrency wallets, figure out whether your chosen exchange serves customers in your country and state. 
Adding to it, some exchanges also offer country-specific web addresses. So, for instance, users in the United States might need to go to "exchange.us" rather than "exchange.com." Here, the wallet's jurisdiction reflects its ideal service locations and target market, in which they are legally permitted to operate.
Remember, there are a lot of rules and regulations that come into play in the case of crypto wallets. Therefore, always ensure that your chosen crypto wallet serves your best interests. 
Token Compatibility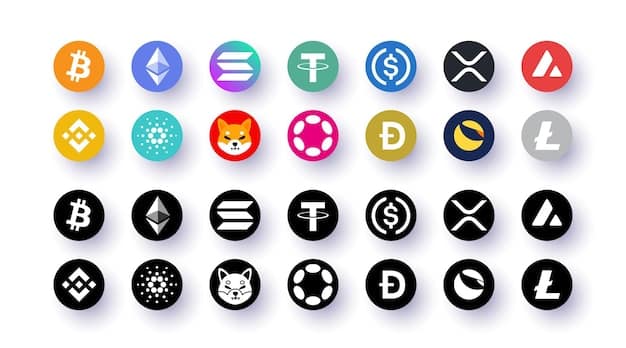 The crypto market is ever-adapting! You can't invest in a small number of tokens and be sure that your portfolio will do well. Additionally, new tokens backed by unique concepts are introduced to the blockchain every week. While not all of these newly introduced assets make it to the list of top cryptocurrencies in the market, most of them do. 
 So, when looking at the best cryptocurrency wallets, make sure to choose an option that allows you to diversify your holdings and take advantage of different projects. 
Choosing a wallet that offers a variety of tokens from the start will reduce the hassle of making multiple wallets and remembering multiple pass-phrases.
Lastly, another reason to look into token compatibility is to get access to several coins under one roof. This way, you can diversify your portfolio and increase returns over time.  
Access To Crypto Marketplace
Having a crypto wallet that limits you from exploring the different aspects of the industry can make it difficult to execute trades. So, when looking for the best cryptocurrency wallets, make sure they can connect to the cryptocurrency market. These marketplaces give you real-time access to the different tokens and their live data, giving you the maximum chance to enter a trade. 
However, when you sign up for a wallet with limited functionality, you can only save and transfer tokens. Such limited convenience can affect your portfolio and your chances of expanding it over the long term. 
Crypto Staking
When signing up for the best cryptocurrency wallet, you can't overlook the possibilities of staking. Crypto staking, like the return on your savings account, introduces you to the possibility of increasing the value of your savings without putting them at risk in the volatile market. 
Crypto staking is one of the unique features of modern crypto wallets. It allows you to lock in a specific amount of money for the period mentioned above (six months or a year). 
During this agreed-upon period, investors won't be able to access the funds in their wallets. However, once the lock-in period is over and the stakes are mature, investors get a specific percentage of interest on their locked-in funds. To sum up, this concept is more like a fixed deposit where you invest a certain sum for a specified period and get improved returns after maturity. 
Customer Support
There's no ignoring customer support when choosing a crypto wallet to use in the UK. Thebest customer support services provide access to real-time support so that you can solve any problems that you may have and ask questions. 
Besides, while it might not always be necessary, prompt customer service is smart, as it may be urgently required if your money is on the line. Since fast-moving cryptocurrency markets make it risky to wait days for a response from customer service. If your wallet's customer service is poor, you are more likely to lose your investment and any potential returns. 
So while you're at it, always look for crypto wallets that have 24/7 assistance or have a dedicated hotline to reach out to. Lastly, it would also help if you opted for a crypto exchange with a head office in your locality. 
Ease Of Use
The overall user experience has to be a deciding factor in selecting the best crypto wallet in the UK. This is because developers often need to remember that they are ultimately developing an application for users without any technical features when designing a crypto wallet. 
The app's user experience should be prioritised while choosing a crypto wallet. You should find it easy and comfortable to use the features of a crypto wallet. You need to have these tools to maximise it. Therefore, when selecting a crypto wallet, ensure that the application has a neat appearance, comes with simple-to-follow instructions, and has a user guide. 
Or you could also review user testimonials from other customers who have already signed up with the crypto wallet. They can give you an insight into its performance and other features. Therefore, sign up for a wallet only once you've analysed its user interface. While simple and easily navigable aspects exist, remember that the wallet should allow integration with other crypto projects and exchanges.
Hunting for the best crypto wallets can be intimidating. However, it'll only get easier once you categorise the wallets based on the factors mentioned above. All the best!
Don't invest in crypto assets unless you're prepared to lose all the money you invest.
What Is The Best Crypto Wallet For Beginners?
Choosing the best crypto wallet for beginners isn't easy; after all, every wallet advertises itself as the best in the market. However, for UK investors we recommend choosing an option that is regulated by the Financial Conduct Authority. eToro is an excellent example that is regulated, user-friendly and offers easy access to the crypto market. 
How To Open an eToro Money Wallet UK 2023
Step 1: Sign up for eToro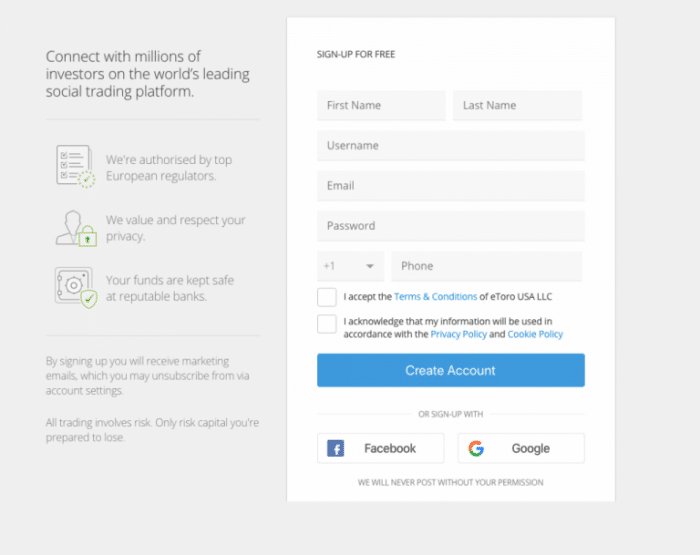 To get started with the eToro Money wallet, you'll need to sign up with eToro.com. 
So once you're on the website, click the "Start Investing" button that takes you to a new webpage. Once there, enter some basic personal information along with your mobile number and email address. 
Step 2: Verify your ID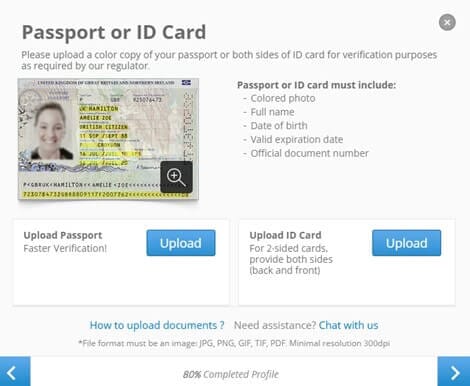 You'll need to verify your eToro ID to start depositing funds in the second step. So once you've received an email and registered your account with the platform, the eToro wallet team calls you for further verification. 
Here, you'll need to upload a copy of your passport or driver's license to verify your account. Post-completion, the account is generally verified within minutes.
Step 3: Deposit funds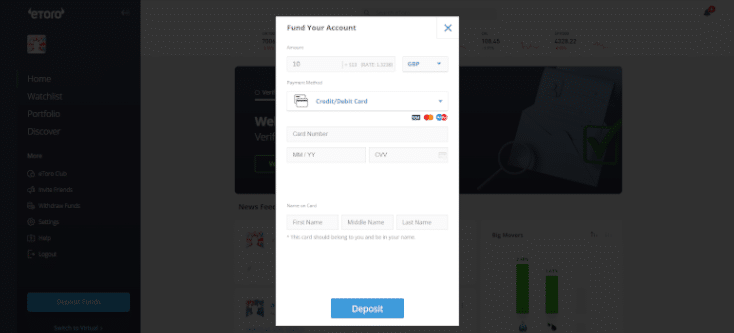 In the third step, you need to deposit your funds to get started with the trading process. Next, move to your profile's wallet section and start by inputting your bank or card details. 
Following this, choose the tokens you'd like to convert the tokens into, followed by a purchase button. Once done, you should have your funds highlighted in your wallet in no time (depending on the type of wallet). 
Step 4: Purchase cryptocurrencies
In the fourth step, you need to move to eToro's marketplace. Once you're there, select the crypto token that you'd like to invest in by entering its name. For instance, Dogecoin = DOGE. 
After you've found your token, enter the amount of tokens you'd like to purchase, followed by a click on the "buy" button. Congratulations! Your purchase was successful! 
Step 5: Download eToro Money app
This step requires you to download the eToro Money app. So go to the App Store or Play Store and search for the application to get started. 
Step 6: Sign into the app
Once the app is installed, you can sign in to the eToro platform using the email address and phone number you already have. Once done, the team sends you an SMS code, which you need to verify to get started. 
Step 7: Transfer tokens from your trading account to eToro Money
The final step is to transfer your money from your trading account to your eToro Money wallet. Thanks to the clean UI, you can start the process in a matter of clicks. All you need to do is link your wallet to your eToro trading account to finalise the transfer. 
Once you've followed the steps mentioned above, it's only a matter of time until you've moved your exchange purchases to your wallet.
Don't invest in crypto assets unless you're prepared to lose all the money you invest.
Are Crypto Wallets Safe To Use In The UK?
Using a  crypto wallet is the best way to ensure the safety of your funds. However, even the best wallets can be miss-used and funds can become lost. 
While the underlying blockchain technology behind these wallets is generally developed to ensure safe and secure crypto transactions, this doesn't ensure that funds are safe with any wallet. 
Furthermore, it is not always the technology that is at fault, but rather the users who make use of it. For example, you could be a victim of crypto piracy if you share your public keys publicly or if you get your private key and public key mixed up and share both. 
As previously stated, various types of crypto wallets protect their users in various ways. For example, we have "cold wallets," which are hardware drives that store crypto assets offline, making them the safest option. 
However, it doesn't imply that online crypto wallets are unsafe. On the contrary, several online crypto wallets are more active and take countless measures to ensure the safety of their user's funds. So overall, while your crypto investments are safe in your wallets, you need to be updated with the latest security measures to avoid any loss of funds.
To use a crypto wallet safely:
Always use a secure internet connection.
Keep your private keys private.
Double check your wallet address before transferring funds.
Check website URLs before depositing any funds.
Software Vs. Hardware Wallets: What Is The Difference? 
When choosing between crypto wallets, most beginners need clarification on software and hardware wallets. So to help you understand better, we have highlighted the key differences between software and hardware wallets to give you a better insight into the two options. 
Software Wallets
As the name suggests, a software wallet is a program that stores and trades crypto assets. These wallets are easily accessible on your desktop or mobile devices and allow easy access to dApps. These wallets are convenient, free, and offer the following features:
Stringent security using a PIN, lock screen password, and fingerprint to secure your smartphone or tablet device

Offers instant access to your

cryptocurrency wallet

via the internet, adding to its flexibility

Allows real-time alerts when money is sent or received

Offers intuitive UI that is appropriate for users of all types

Allows seamless trading of cryptocurrencies
But because most people think it's the least safe option, many investors choose hardware wallets instead. So, let us take a look at that.
Hardware Wallets
Hardware wallets, also called physical wallets, are the easiest way for investors to keep their crypto funds safe. These offline wallets are designed to ensure complete safety while concluding crypto transactions. Adding to that, they're almost impossible to hack or damage. 
Interestingly, when choosing this wallet option, the only method to transmit money is by manually entering a PIN onto the device. This way, even if your smartphone was stolen, no one could access your money without knowing your PIN. 
Additionally, even if your wallet falls into the wrong hands and they try to guess your PIN, the timelock feature would double for every bad guess. What's more? Users can even locate their hardware wallets. All they need to do is input the backup passphrase on an external device.
However, these definitions are only enough to give you an insight into these two wallets. To understand them better, let's look at the different factors that differentiate them. 
Hardware Vs. Software Crypto Wallet
Mode of storage:

Although hardware and software wallets are designed to safeguard crypto funds, their storage method varies. A software wallet secures its user's funds on a computer; on the contrary, a hardware wallet uses a physical means to store assets offline. 

Level of security:

As mentioned earlier, both hardware and software wallets have varying levels of security. When it comes to software wallets, they are backed by several layers of stringent security, firewalls, and other added layers of security. On the other hand, the hardware wallet is completely disconnected from the internet, making it very secure and resistant to hackers.

Overall price:

Cost is one of the primary factors differentiating hardware from software crypto wallets. While software wallets are mostly free, the costs associated with a hardware wallet depend on the level of security they offer. Overall, the costs make it a deciding element for most individuals.

Accessibility:

The distinction between hardware and software wallets in terms of accessibility is clear. When it comes to accessibility, things are more convenient over software wallets as you can operate them from anywhere. On the contrary, hardware wallets can only be used manually.
Looking at their features and functionality, it becomes challenging for users to settle with any individual wallet. However, most users settle for a software-based cryptocurrency wallet thanks to its convenience. On the other hand, hardware wallets are a good choice for experienced investors because they have more security features. 
However, if you're a beginner and confused by the two options, we suggest choosing the software wallets, as they're more convenient and easy to operate. 
Top Tips For Using A Crypto Wallet Safely 
Given that the number of crypto hacks is going up and that thieves are coming up with new ways to do them, it's only a matter of time before they find a way to attack wallets directly. Keeping this in mind, it's only wise to adapt a few thumb rules to ensure proper and safe use of your crypto wallet. 
So, to assist you further, we've listed a few tips that may help secure how you use your cryptocurrency wallets. Let's check them out. 
Never Share Your Pass Phrase
Your passphrase is the key to your crypto wallet. Always refrain from sharing it with any individual on the internet, as once they gain access to it, they can steal your funds.
Always Use A Private WiFi Connection
Public wifi connections are similar to open data hotspots. These moderately safe firewalls have the highest chance of spilling data, which hackers can leverage. For crypto-related transactions, you should never use public wifi and should always switch to a private connection. 
Avoid Connecting Your Wallet To Dodgy Websites
One of the most sophisticated scams in the industry is investing less and getting richer websites. Scammers design websites that draw your attention by presenting great investment opportunities with massive returns. However, this is where you need to beware! Once you connect your crypto wallets to such websites, it's only a matter of time until all your funds are drained.
Double Check Your Wallet Address Before Sending Funds
Given the length and complexity of characters involved, confusing your wallet address is a common issue. Therefore, much like bank accounts, consider it a rule of thumb to recheck your wallet address before entering any transaction.
Best Crypto Wallets In UK 2023- Conclusion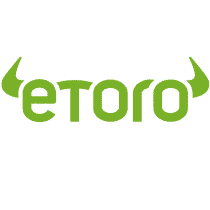 This brings us to the end of our blog on the best crypto wallets in the UK. The above options are just a few of the possibilities that are available to use in the UK. As always your money is at risk and it is important to conduct thorough research before choosing a wallet provider. 
Our top recommended wallet, eToro Money, offers a great range of resources on the website that can help you to learn more about the market and how to invest in crypto safely.
Don't invest in crypto assets unless you're prepared to lose all the money you invest.
FAQs
What is the best crypto wallet to use in the UK?
Which crypto wallet is best for Bitcoin?
Which crypto wallet is good for crypto staking?
What crypto wallets are regulated in the UK?
Are crypto wallets safe for beginners?