Clorox shares dropped precipitously during yesterday's stock trading action after the company shared weaker than expected guidance for its 2022 fiscal year as part of its fourth-quarter earnings release.
The Oakland-based supplier of cleaning products reported revenues of $1.8 billion for the fiscal quarter ended on June 2021, resulting in a 9% drop compared to the same period a year ago primarily caused by a 17% slide in the Health and Wellness segment. Meanwhile, this top-line figure came in 5% below the consensus estimate as compiled by Capital IQ.
The household segment, which includes the company's disinfectants and wipes – two highly demanded staples during the pandemic – experienced an 8% retreat as well with sales slipping from $612 million last year to $560 million by the end of these last three months.
Meanwhile, Clorox's gross margin experienced a severe deterioration during the quarter as it dropped 980 basis points to 37% compared to a year ago amid rising commodity prices. This resulted in a sharp drop in Clorox's bottom-line profitability as earnings before taxes fell from $395 million reported in the fourth quarter of last year to $101 million this year.
"Gross margin performance was driven by higher manufacturing and logistics costs, increased commodity costs due to significant cost inflation, decreasing sales resulting in lower manufacturing fixed-cost absorption and unfavorable price mix, partially offset by the benefits of cost savings initiatives", the management explained.
As for its profitability, the manufacturer reported adjusted earnings per share of $0.95, down from a previous $2.41 figure it reported a year ago while also missing analysts' forecast of $1.31 for the period by 27.5%.
As a result of a fading pandemic tailwind, the company is expecting to see its sales slipping in a range between 2% and 6% while adjusted earnings per share are expected to land between $5.4 and $5.7 by the end of its 2022 fiscal year.
On average, analysts surveyed by Seeking Alpha were expecting a slighter decline in the firm's top-line results of around 1% while earnings per share were expecting to land somewhere between $5.7 and $7.6 per share.
This weaker-than-expected guidance resulted in a sharp drop in Clorox shares as they slid 9.5% yesterday at $164 per share.
How have Clorox shares performed so far this year?
Since the year started, Clorox shares have dropped 17% including yesterday's pronounced downtick. This performance reflects that investors seem to have already been preparing for the impact of a fading pandemic tailwind.
Meanwhile, yesterday's sharp drop is plunging the stock only 5.5% away from its pre-pandemic levels while Clorox shares are currently trading more than 30% below their 52-week high of $240 per share seen back in August 2020.
The surprisingly weak guidance provided by the company during this latest earnings call may prompt analysts to revise their recommendations for Clorox, even though ratings are already fairly bearish with 6 out of 18 analysts currently holding a sell recommendation for the company while the consensus price target currently stands at $186 per share, with the lowest estimate sitting at $130 and the highest at $230 as per data compiled by Seeking Alpha.
What's next for Clorox shares?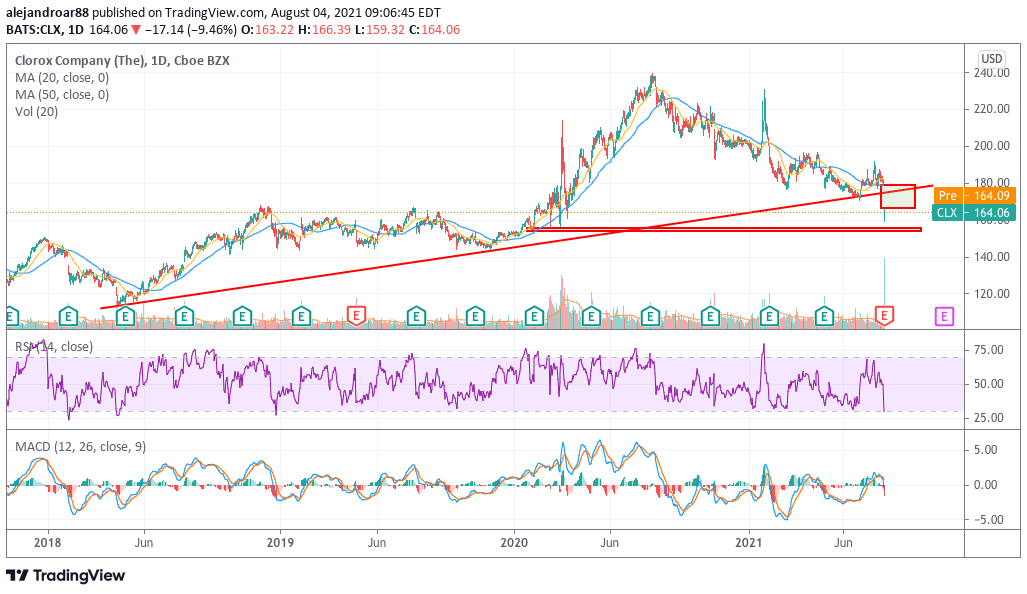 Yesterday's plunge in Clorox shares has resulted in a break of a long-dated trend line while the price action left behind a sizable bearish price gap that should now act as resistance.
Momentum oscillators show the extent of the negative sentiment the stock is experiencing, as the Relative Strength Index (RSI) is sitting near overbought levels while the MACD has plunged to negative territory already as well.
Meanwhile, yesterday's trading volumes were quite high as more than 9.8 million shares exchanged hands following this disappointing earnings report – a figure that exceeded the 10-day average by more than 5 times.
Based on the management's earnings guidance for 2022, Clorox is currently trading at around 28 times its forward EPS. Even though this multiple seems relatively attractive, the fact that the business saw its gross margins deteriorate so much due to rising commodity costs is a cause for concern as that could contribute to further plunging Clorox's bottom-line profitability moving forward.
Historically, the company has reported gross margins above the 43% level and this historical trend makes this 37% quarterly gross margin look quite ugly and it could be a sign of the times as companies across multiple industries continue to struggle with inflationary pressures and supply-side bottlenecks.
If analysts start to revise their outlook for Clorox in the following days, chances are that the stock could experience a much more pronounced pullback on the back of lower earnings estimates.
For now, the next support to watch would be the $153 and $156 area. A rebound off this area could result in a short-term uptick for the stock while an eventual break below this price range could lead to a more pronounced downside risk of around 13% based on the next support level that can be identified within the chart.