Best Reddit Stocks to Buy UK
Fact Checked
Everything you read on our site is provided by expert writers who have many years of experience in the financial markets and have written for other top financial publications. Every piece of information here is fact-checked.
Disclosure
Please note that we are not authorised to provide any investment advice. The information on this page should be construed for information purposes only. We may earn commissions from the products mentioned on this site.
Reddit stocks have produced some of the biggest moves in publicly traded companies over the past few years.  Investors have never been keener to try and tap into the stock market moves driven by social media and retail traders banding together to move them. 
Read on to discover the best Reddit stocks to buy now and how to buy Reddit stocks 100% commission-free!
Key points on Reddit Stocks
There are various forums on Reddit, known as Subreddits, that are devoted to discussing the stock market.
These groups, particularly Wallstreebets, gained attention in 2021 when they caused the price of Gamestop and AMC stocks to surge in response to large hedgefunds shorting them, creating a short squeeze.
Some stocks currently being promoted on Reddit are Tesla, Rivian, NVIDIA, Lucid Group and Tilray.
You can invest in top stocks using our recommended UK stock broker eToro, which allows you to buy stocks with 0% commission.
Best Reddit Stocks List 2021
If you're looking for the best Reddit stocks to watch this year then look no further!
Tesla – The Ultimate $1 Trillion Electric Vehicle Play – Invest now
Rivian – A Blockbuster Electric Vehicle IPO Stock – Invest now
NVIDIA – A Chipmaker Stock Involved in Everything – Invest now
Lucid Group – A SPAC Listed Stock Making Waves in EV
Tilray – A Long-Term Diversified Cannabis Stock
Advanced Micro Devices – A Well-Positioned Chipmaker Stock
Disney – A Well-Diversified Streaming Stock 
Nokia – A Stock Set to Capitalise on the 5G Rollout
Palantir – A Big Data Analytics Stock
Apple – The Most Popular Hedge Fund Stock
You can sign up to eToro to buy these stop Reddit stocks and more with zero commssion.
A Closer Look at the Best Reddit Stocks to Buy
In the Reddit stocks forum, you'll find the stocks above the most commonly searched for and discussed. Below we profile each stock and why they are interesting to the Reddit stocks crowd right now. 
1. Tesla – The Ultimate $1 Trillion Electric Vehicle Play
You probably need no introduction to Tesla. Founded by maverick entrepreneur Elon Musk, the stock is a Reddit favourite. The world has gone crazy for electric vehicle stocks as governments try to transition to greener technologies. 
Tesla has long been the play for electric vehicle enthusiasts. But now, serious investors are trying to tap into the electric vehicle sector. Tesla currently has around 60% market share in the United States and 20% globally. 
While the sector is becoming much more competitive with VW and Ford entering the space, Tesla has maintained its status as the leader. The stock recently surpassed the $1,000 price level and has continued to maintain its $1 trillion market cap.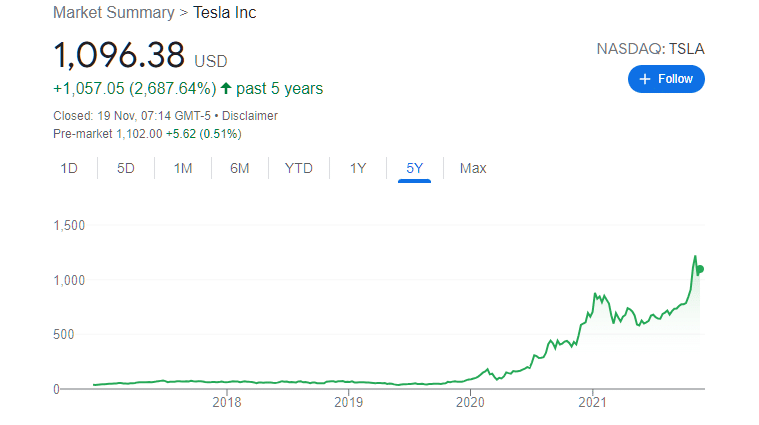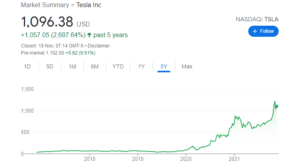 Even Elon Musk has ridden the wave higher and has banked some profits to pay off his huge tax bill. Tesla is a Reddit stocks fan favourite and is a must watch!
Your capital is at risk. Other fees apply. For more information, visit etoro.com/trading/fees. 
2. Rivian – A Blockbuster Electric Vehicle IPO Stock
Rivian is another American electric vehicle automaker. It was founded in 2009 but went public through an initial public offering (IPO) on 12 November 2021. Rivian priced its IPO at $78. The first trade on the stock was at $106.75 for 10.3 million shares. 
The Rivian IPO was the largest of the year and the seventh-largest IPO by offer size in more than 30 years – highlighting just how keen investors are. The company's backers include Amazon, Ford and T.Rowe Price and specialises in electric vehicle SUVs and pick-up trucks. 
The company also plans to build electric delivery vans for Amazon and create its own charging network. Investors have taken notice. After its IPO the stock gained a total market value of $150 billion. This is more than Ford and General Motors combined and above the market cap of Volkswagen.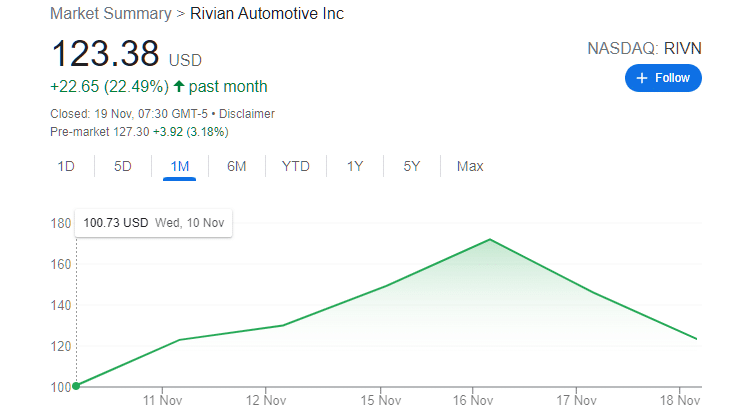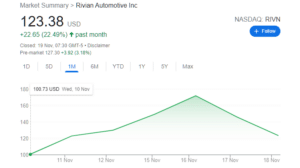 Since the Rivian IPO, the stock has been trading lower as the shorter-term investors bank gains early on. For longer-term investors, Rivian stock is definitely one to watch and fan favourite of the Reddit stocks forum. 
Your capital is at risk. Other fees apply. For more information, visit etoro.com/trading/fees. 
3. NVIDIA – A Chipmaker Stock Involved in Everything
NVIDIA is a powerhouse technology company that creates world-class graphic processing units for the gaming and crypto mining community, as well as individual chips for mobile devices and autonomous vehicles.
In NVIDIA's latest earnings report, the shares surged more than 10% higher after the company beat earnings and sales expectations. The stock is now up more nearly 150% year to date and its market cap has exceeded $800 billion. 
Many are now calling for NVIDIA to be the next $1 trillion stock. The company has benefited from a global chip shortage due to the pandemic. The supply of chips is only set to get back to normal levels in mid-2022 which could prove to be a tailwind for NVIDIA shares.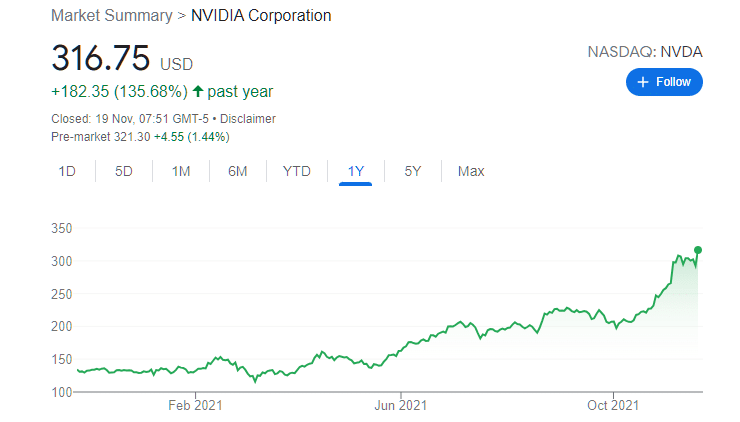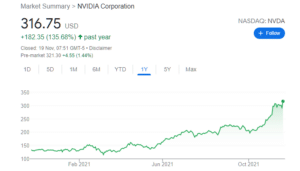 While NVIDIA may not be classed as one of the Reddit penny stocks, the stock price is far cheaper than Tesla or Amazon. This is why it is still a favourite for Reddit stock traders. 
Your capital is at risk. Other fees apply. For more information, visit etoro.com/trading/fees. 
4. Lucid Group – A SPAC Listed Stock Making Waves in EV
Lucid Group is another electric vehicle maker stock. The way the company debuted on the stock market was different to other companies. The startup merged with a shell company that was already listed on the stock exchange. 
Lucid merged with the special purpose acquisition company (SPAC) Churchill Capital IV Corp on 19 November 2020. The Saudi Arabia sovereign wealth fund is currently the largest shareholder. Investors have also taken note of the fact the Air Dream Edition electric vehicle clocked a range of 520 miles which beat Tesla's Model S vehicle by more than 100 miles. 
The company is planning to deliver more than 90,000 vehicles by 2023 and already has $1.3 billion of reservations for its vehicles. While this is well below some of its bigger rivals such as Tesla, Rivian or NIO, investors do like the fact they build their own batteries and powertrains in-house.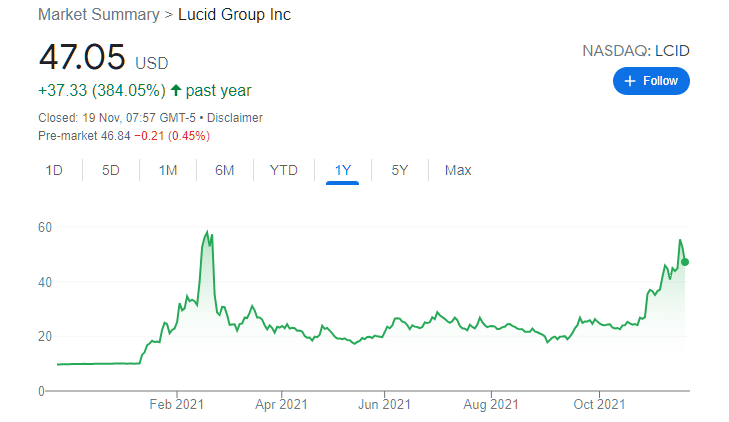 The penny stocks Reddit traders have Lucid Group in their sights. While not below the traditional $5 price level for penny stocks, it is one of the cheapest electric vehicle stocks around (Tesla is north of $1,000 and Rivian $120). This is definitely a stock to put on your Reddit penny stocks watchlist. 
Your capital is at risk. Other fees apply. For more information, visit etoro.com/trading/fees. 
5. Tilray – A Long-Term Diversified Cannabis Stock
Tilray is a Canadian pharmaceutical and cannabis company. Cannabis stocks are a fan favourite for Reddit traders. Tilray is also a stock that is high on Reddit penny stocks lists as the share price is trading around $10. 
Cannabis stocks are still relatively new to the market. While many cities are starting to legalise the use of marijuana it is not mainstream just yet. However, that hasn't stopped larger institutional investors who are looking for long term investments. 
As Tilray is UK penny stocks Reddit favourite, its daily moves can be quite wild. The cheaper stock price action tends to lead to more volatile moves with the stock up or down 6% to 10% on some days.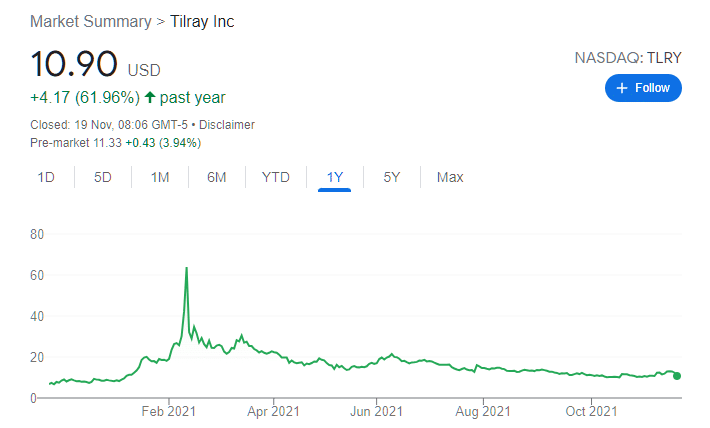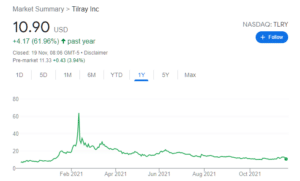 Tilray has been on an acquisition spree this year and many analysts believe this trend could continue. While this may weigh on the company's share price in the short-term, it's designed to benefit the long-term investors making this a stock to watch. 
Your capital is at risk. Other fees apply. For more information, visit etoro.com/trading/fees. 
6. Advanced Micro Devices – A Well-Positioned Chipmaker Stock
Advanced Micro Devices (AMD) is an American semiconductor company. The stock has been on a record run higher due to the global chip shortage. The company's most recent quarterly earnings report sent the stock surging to new record highs. 
AMD has also gained on the woes of Intel – its largest rival – after Apple stopped using its chips preferring to use their own. There have also been other issues with Intel that has helped AMD to gain a larger market share in the industry, especially among PC and server products.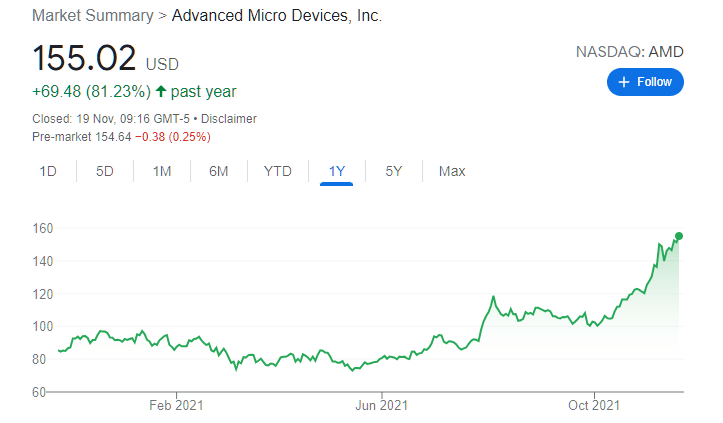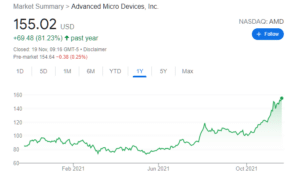 The product pipeline at AMD has also excited investors. New specialised processors are being built for data centres with Meta Platforms, Facebook's parent company, a client. The company is also going through a share buyback programme of around $4 billion which has helped lift the stock price. 
Your capital is at risk. Other fees apply. For more information, visit etoro.com/trading/fees. 
7. Disney – A Well-Diversified Streaming Stock 
Disney is currently undergoing a huge shift in its business model. Over the past several years, they have acquired a range of assets to make them the biggest entertainment provider in the world. This includes the buying of the Marvel and Lucasfilm franchises. 
More recently, Disney acquired a range of assets from Fox to solidify its entertainment mega status. What has investors most excited is Disney+, the streaming service set to rival Netflix. So far, the streaming service has been a success but mainly due to its offering being geared towards younger crowds under the PG rating.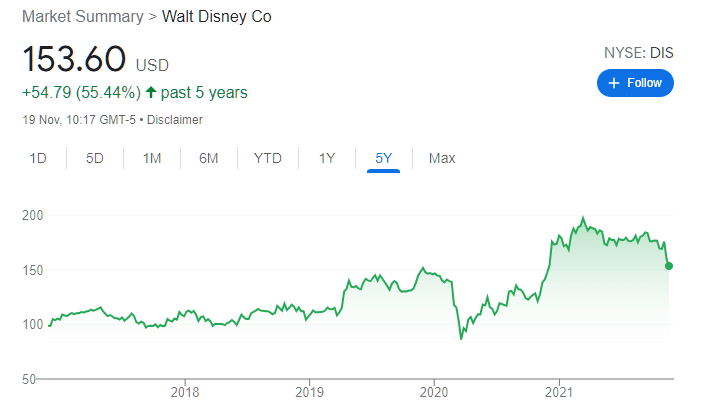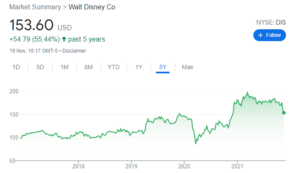 While the Disney+ streaming service is losing some ground to its rivals Netflix, Apple+ and Amazon Prime Video, investors are excited about new plans for the company. This includes creating content that will appeal to an older audience base. More Marvel films and TV series are set for production but have been impacted by the pandemic. 
Your capital is at risk. Other fees apply. For more information, visit etoro.com/trading/fees. 
8. Nokia – A Stock Set to Capitalise on the 5G Rollout
Nokia is a Finnish telecommunications and electronics company. They were once a leader in the mobile phone industry, controlling 50% of the smartphone industry. The stock became a meme target in early January and has been the focus of Reddit stocks traders since. 
The most recent quarterly earnings report shows a very healthy trend for the company's fundamentals. Profits were up more than 30% compared to the prior year. What has investors most excited are the 5G contracts the company has won. It is now a front runner in the 5G space.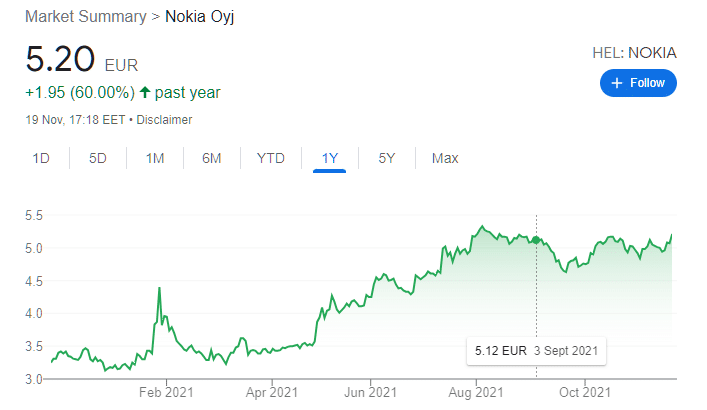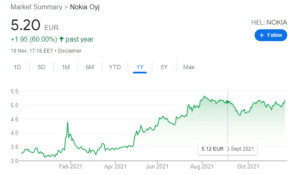 In its most recent earnings report, Nokia also highlighted that it believes it will continue to grow its top and bottom lines at a pace much stronger than its competitors. 
Your capital is at risk. Other fees apply. For more information, visit etoro.com/trading/fees. 
9. Palantir – A Big Data Analytics Stock
Palantir Technologies is an American company that specialises in big data analytics. The company is a leader in the data-analytics service industry. However, the company's lofty valuation has caused the stock to move very little since its initial public offering. 
Of course, a company that counts the CIA and FBI among its clients isn't likely to stay quiet for very long. Reddit stocks traders are waiting for the trigger point that could send the stock soaring. It also helps that Peter Thiel, the founder of PayPal, is the brains behind Palantir Technologies.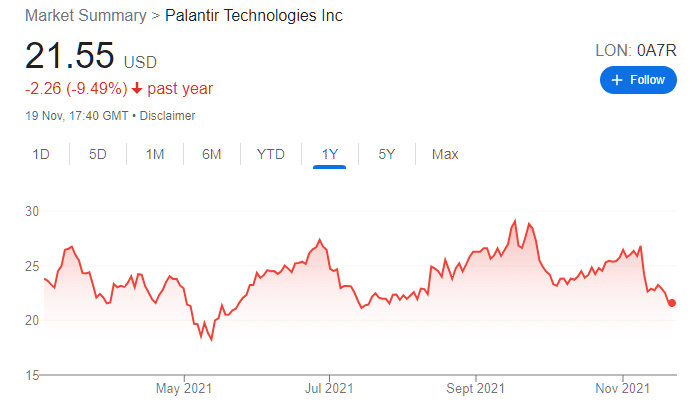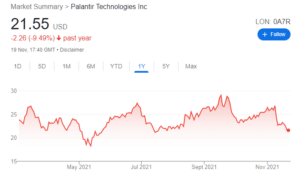 On Palantir's initial public offering in March 2021, the share price started trading at $23.29. Towards the end of the year, the share price was still trading around $21.55. If the share price can break above $30, then the Reddit traders may jump on causing a frenzy in price. It's one to watch. 
Your capital is at risk. Other fees apply. For more information, visit etoro.com/trading/fees. 
10. Apple – The Most Popular Hedge Fund Stock
Apple is another stock that needs no introduction. It is one of the most popular stocks for retail traders, hedge funds and, of course, the Reddit crowd. While Apple has pretty much cornered the smartphone and personal computing market, it is now entering the autonomous car market. 
On the announcement Apple was entering this sector, the stock surged higher to new record highs. Traders continue to love the innovation Apple brings. This year they have released new models of the iPhone, iPad, Apple Watch, Apple TV and Air Pods.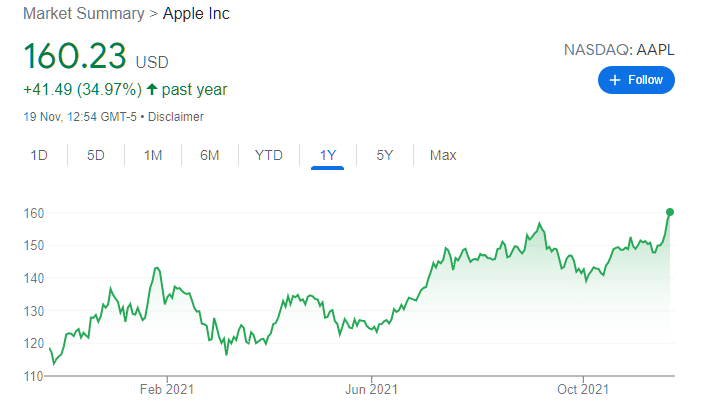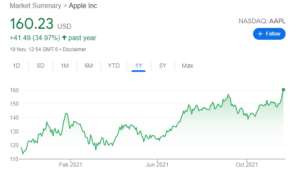 With Apple shares trading at record highs, it's definitely a stock to watch. As the stock has a market cap of around $2.6 trillion it heavily impacts the S&P 500 stock market index which is used as a benchmark for fund managers. This provides good liquidity to the stock and is a fan favourite of Reddit forums. 
Your capital is at risk. Other fees apply. For more information, visit etoro.com/trading/fees. 
What Are Reddit Stocks?
Reddit is a social media and discussion platform. Members can submit content to the site which is made up of different forums and communities. This network of communities is now a trading hub for many retail stock traders. 
Reddit stocks simply refer to the stocks being talked about the most on the Reddit platform and in its network of communities and forums. These stocks are interesting to traders as they are discussed a lot which can increase the trading volume of the given stock. Stocks that move based on activity from social media platforms are also known as meme stocks. 
History of Reddit Stocks
You don't have to go very far to see just how powerful trading Reddit stocks are. The Reddit stocks group has been around for a while but only became well known in 2020/2021. This is largely due to the huge price swings seen in stocks that hardly anyone knew about or were long forgotten. 
For example, movie theatre chain AMC Entertainment's stock price surged 3,000% higher in the first quarter of the year. Shares in consumer electronics retailer Gamestop (GME) surged 48,000% higher in less than two months at the beginning of 2021. 
Both of these stocks went from penny stock status to multi-billion dollar companies in a very short period of time, not on fundamentals but on positioning from the traders in Reddit forums creating a short squeeze. Shares in Blackberry, Virgin Galactic and Nokia also experienced huge moves in 2021 due to the discussions among Reddit stocks traders. 
Reddit Meme Stocks 
Meme stocks represent companies whose share price has experienced a huge increase in volatility and swing in share price due to viral activity from social media platforms. As these platforms can reach thousands, if not millions of people at once, the collective has the ability to move stock prices in significant ways. 
Some of the most popular meme stocks in 2021 were publicly traded companies that had a heavy short interest. These are stocks that are shorted by large hedge funds as they bet on the decline of the company's stock price. 
Reddit traders bought the stock in their droves, forcing the hedge funds to liquidate the short positions and buy them back in the market, causing the stock prices to surge higher in what is known as a short squeeze. This was heavily covered by CNBC, Reuters, Bloomberg, etc.  
Some meme stocks on Reddit to focus on now include Amazon, Clover Health, Alibaba, SoFi and Virgin Galactic. 
Reddit Penny Stocks
Penny stocks represent companies with a share price below $5 in the US and £1 in the UK/EU. Reddit penny stocks are discussed in a variety of communities on the Reddit platform. As these stocks are priced cheaply they can often move very quickly and in a big way, attracting the interest of retail traders. 
Some of the Reddit penny stocks currently being discussed include:
Iamgold (IAG) – Canadian mining company with three gold mines. 
Cinedigm (CIDM) – Online video streaming content platform. 
Vinco Ventures (BBIG) – Manufactures toys, electronics and other products. 
eMagin Corp (EMAN) – Develops organic light-emitting diode displays. 
These stocks and many others are discussed actively on the Reddit penny stocks community. Some of the stocks have already exhibited 200%+ moves in the last year. It's worthwhile remembering penny stocks are extremely volatile so be sure to exercise good risk management. 
Best Stock Trading Subreddits
The Reddit website has communities called subreddits. Some of the most popular online investing communities are subreddits and are highlighted below. 
1. r/wallstreetbets
The Wallstreetbets Reddit community currently has 11.2 million members. While originally launched in 2012, Wallstreetbets became famous in 2021 as the birthplace for meme stocks. 
The subreddit community has its own slang, with hundreds of thousands of users active at one point in time. The focus is for short term movements in the market to 'bet' on rather than invest in. 
2. r/stocks
The Reddit stocks community is the second-largest subreddit focused on investing. There are currently 3.3 million members in the community discussing stocks all day, every day. 
This community is regarded to be more serious and has less hype than Wallstreetbets. Community posts tend to focus on company analysis and fundamentals, as well as finding the best dividend stocks Reddit approved.
3. r/pennystocks
The penny stocks subreddit community is purely focused on finding small companies that could grow into big companies, or as the community says 'will go to the moon.' You're unlikely to find blue-chip names discussed in this community. 
Currently, the community has 1.8 million members or 'astronauts' as they're called in the forum. 
4. r/investing
The investing subreddit community has 2 million members discussing all things investing. Topics are mainly focused on the macro picture and what is going in the world economy rather than company fundamentals (this is covered more in the stocks subreddit community). 
5. r/robinhood 
The Robinhood subreddit community currently has 948,000 members. The focus is for those who are using the Robinhood online platform and includes general advice and troubleshooting of the platform. 
Best Brokers to Buy Reddit Stocks
If you're interested in buying Reddit stocks then you need a top-quality broker to do so. Here are two of the best from our research. 
1. eToro – Overall Best Broker to Buy Reddit Stocks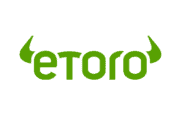 eToro is by far the best brokerage platform to buy Reddit stocks. You can invest in more than 2,500+ instruments covering stocks from all over the world and some that are heavily discussed among the Reddit community. 
Why is eToro considered the best? Because you can invest in stocks 100% commission-free which means more profits in your back pocket. Furthermore, eToro is heavily regulated by the FCA, ASIC, CySEC and FINRA providing a high level of safety and security of your funds. 


One reason eToro is used by more than 20 million people around the world is because of its Copy Trader and CopyPortfolio social trading features. You can view the performance of thousands of traders and have their exact trades copied onto your own account at the click of a button. 
The eToro investment management committee has also created ready-made portfolios for you to invest in. These cover different market themes such as drone technology, cyber security, cryptocurrency such as Bitcoin, retail stocks, ETFs and more.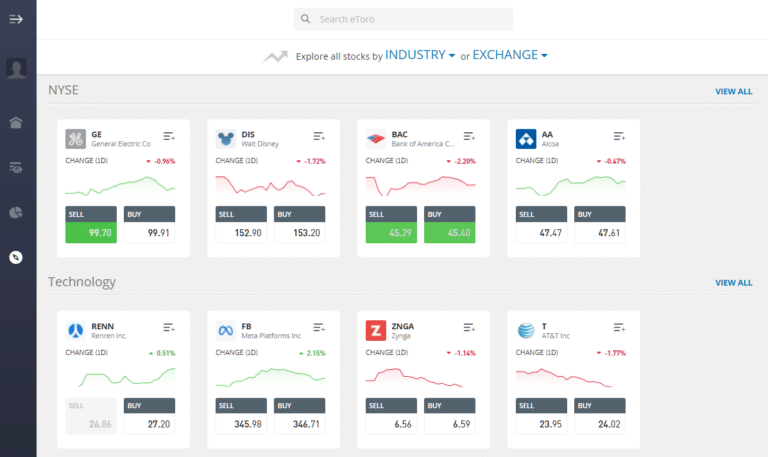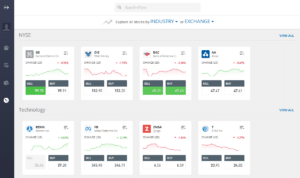 Pros:
FCA, CySEC, ASIC regulated
Trade on 2,500+ global markets
Copy profitable traders via CopyTrader
Invest in ready-made baskets via CopyPortfolio
Fee-free deposits via bank transfer, debit cards, PayPal
100% commission-free stock trading!
Cons:
Limited technical analysis tools
Your capital is at risk. Other fees apply. For more information, visit etoro.com/trading/fees. 
How to Buy Reddit Stocks
To start buying Reddit stocks follow this four-step guide using fully regulated and 100% commission-free broker eToro. 
1. Create Your Account
Open an eToro account by filling in some personal details in the application form. This only takes a few minutes.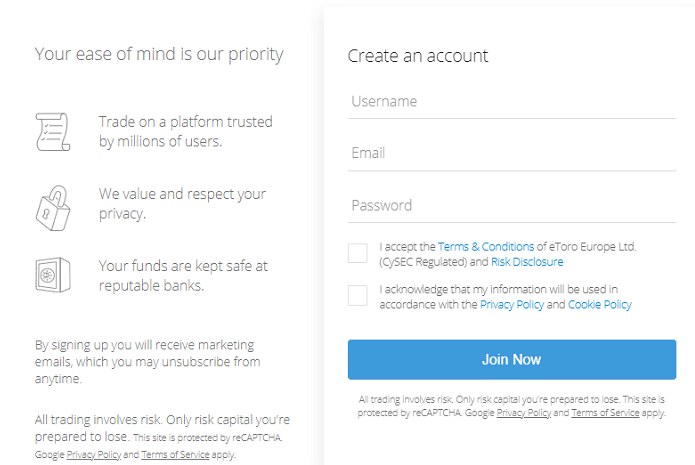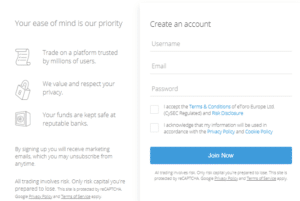 2. Verify Your ID
eToro is heavily regulated and abides by regulatory safeguards to keep your capital safe. Therefore, you will need to verify your identity and address. 
The two verification documents you will need are:
A valid passport or driver's licence
A utility bill or bank account statement issued within the last three months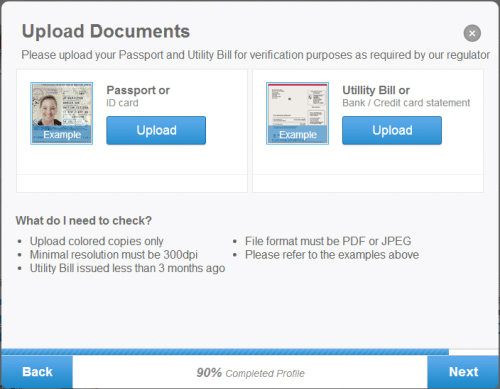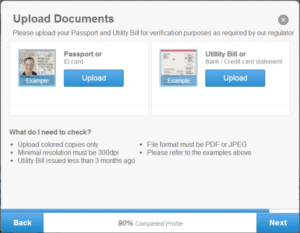 3. Deposit Funds
To start buying Reddit stocks you need to deposit funds into your account. Deposit methods are fee-free and include:
Debit/credit card
Bank wire transfer
PayPal
Neteller
Skrill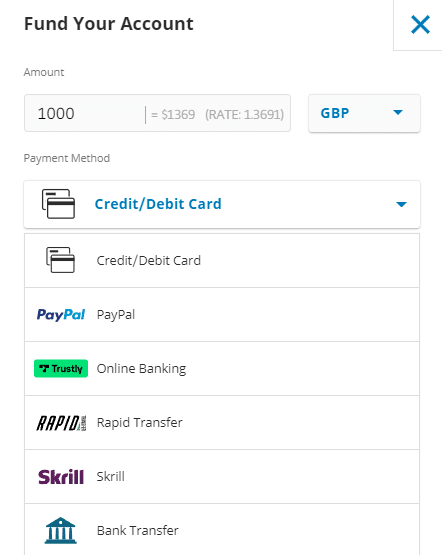 4. Start Investing!
To start investing, simply type in the name of the stock you want to buy in the search box at the top of the eToro platform. Click the Trade icon to open a trading ticket.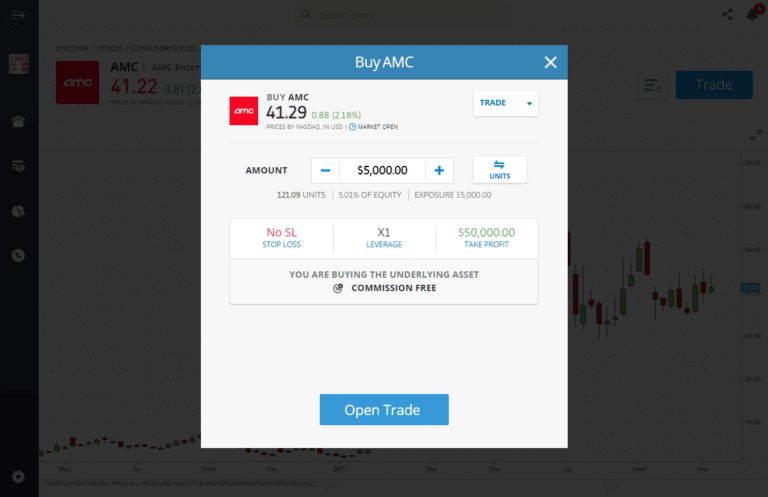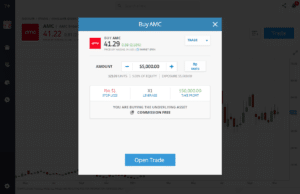 The trading ticket will allow you to input how much you want to buy ($50 minimum when using eToro) and if there are any commissions to pay which in this case is zero!
eToro – Best Broker to Buy Reddit Stocks
It may come as no surprise that many analysts are forecasting the Reddit stocks frenzy to continue. As more and more retail investors trade the stock market, social media platforms and investing communities will only grow their member base. 
To start capitalising on this growing trend, you need to set yourself up with the right broker. eToro is by far the best broker to buy Reddit stocks. Not only can you buy stocks 100% commission-free but the broker is fully regulated making sure your capital is safe. 
You can open a free eToro account in just a few minutes and see all the features for yourself.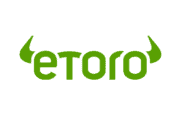 Your capital is at risk. Other fees apply. For more information, visit etoro.com/trading/fees. 
Frequently Asked Questions on Reddit Stocks
What stocks are Reddit users buying?
What are the best Reddit stocks?
Is Reddit on the stock market?
How did Reddit crash the stock market?