Best Bitcoin Stocks UK – Invest with 0% Commission
Fact Checked
Everything you read on our site is provided by expert writers who have many years of experience in the financial markets and have written for other top financial publications. Every piece of information here is fact-checked.
Disclosure
Please note that we are not authorised to provide any investment advice. The information on this page should be construed for information purposes only. We may earn commissions from the products mentioned on this site.
Dubbed by many as the Gold 2.0, Bitcoin certainly is the largest and most significant event that occurred in recent financial history.
You might be thinking that now is the best time to invest a part of your portfolio, especially to buy Bitcoin and cryptocurrency, as the asset class has received a lot of love last year after several years of falling out of favour. But did you know that owning a BTC via a crypto exchange is not the only way that you go if you want to have exposure to Bitcoin?
In this article, we will analyze the best Bitcoin stocks that you can buy in the UK, and cover in-dept the best platforms that allow you to invest in them without having to pay any commission. So let's begin first with the full review of each investment candidate.
Best Bitcoin Stocks UK List
If you are looking at which are the best bitcoin stocks UK, today's rich universe of financial markets provides you with multiple angles from which you can invest in the movement of Bitcoin. It also gives you plenty of other ways how you can handsomely profit from the underlying theme of Bitcoin and the whole cryptocurrency/blockchain theme.
Below are our top 10 picks and reasons why you should consider owning their shares:
1. Riot Blockchain Inc – Overall Best Cryptocurrency Mining Stock – Invest now
2. 500.com Ltd – Chinese High-aspiring Miner – Invest now
3. Marathon Digital Holdings – Fastest growing Bitcoin Miner  – Invest now
4. Square – Fintech pioneer in Bitcoin ecosystem
5. PayPal – Extending Bitcoin reach globally
6. Tesla – Bringing Bitcoin to everyday transactions
7. CrowdStrike – Best Cybersecurity company
8. Palo Alto Networks – Cybersecurity solutions for Bitcoin holders
9. Grayscale Bitcoin Trust – Institutions choice for Bitcoin exposure
10. Grayscale Ethereum Trust – Institutions choice for Ethereum exposure
Best Bitcoin Stocks UK Reviewed
1. Riot Blockchain Inc – Overall Best Cryptocurrency Mining Stock
This US-based cryptocurrency mining company is one of the best ways that you can gain exposure to the Bitcoin theme via stocks. Riot Blockchain far outpaced the rise in the price of BTC itself in 2020 with a close to 1500% increase, and the momentum continued this year as well with the price up around 250% at the time of the writing.
However, investors should also be wary about violent corrections like the one from mid-February to the beginning of March when the price suffered a 58% correction!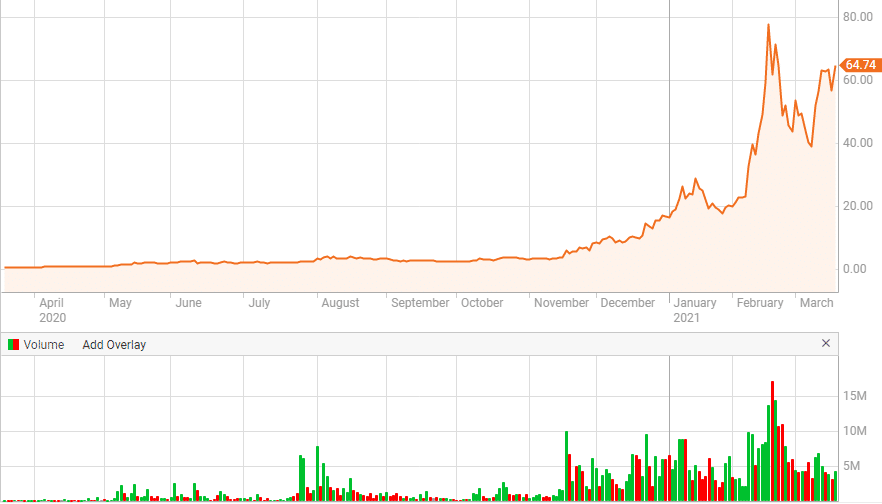 Your capital is at risk.
With the expected earnings growth of 20% and revenue growth of 200% for its next earnings release, the company seems to be on track to continue the path of strong financial results, backed by its month-to-month increases of 23% and 43% newly mined BTC in the last 3 months. With the already agreed purchase of additional 26 900 new miners for 2021, scheduled to be received during 2021, Riot will be able to achieve a significantly higher bitcoin mining hash rate capacity.
Another profit stream for Riot Blockchain is the 13% interest that the company has in Canadian digital currency exchange Coinsquaire Ltd, which would be expected to continue adding to the bottom line as the Bitcoin and whole cryptocurrency universe continue expanding.
2. 500.Com Ltd – Chinese High-aspiring Miner
This Chinese online sports lottery service provider represents a more high-risk investment, speculative name, but with big growth potential. The company pivoted to the cryptocurrency mining business in December last year after several years of declining business results and plummeting share price, with the intention of becoming one of the largest mining operators in the future.
The decision to acquire a controlling stake in Loto Interactive Limited as well as the entire mining business, domain, and wallet of Bitdeer Technologies Holding Company sent the stock surging to almost 1000% by mid-February and 650% at the time of the writing.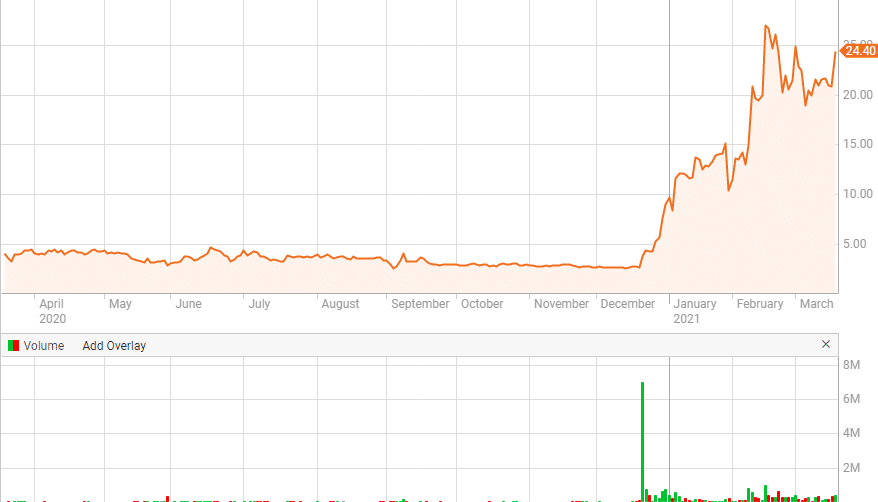 Your capital is at risk.
As per the purchase agreement, 500.Com will have the right to repurchase or issue a certain additional amount of Class A ordinary shares at par value depending on the business result of BTC.com Pool Business in 2021. Longer-term holders will need to factor in this information as it will affect the share price around the time of this operation.
With the company's financials still looking shaky, investors should note the extreme volatility with these stocks, not only on the way up but also down, and position size, and manage their positions accordingly.
That being said, with the extremely ambitious plans that 500.Com is exhibiting, and with its growing cryptocurrency mining operations well on the way, it could represent a good option for gaining exposure to the cryptocurrency investing universe, with the potential of outpacing the gains from holding BTC directly.
3. Marathon Digital Holdings – Fastest growing Bitcoin Miner
One of the largest enterprise Bitcoin self-mining companies in North America, Marathon Digital continued increasing the number of mining units and achieving the 1.4 EH/s (exahash per second), outpacing the 1.06 EH/s rate that Riot blockchain achieves, with the plans to reach almost 10x that amount by the first quarter of 2022.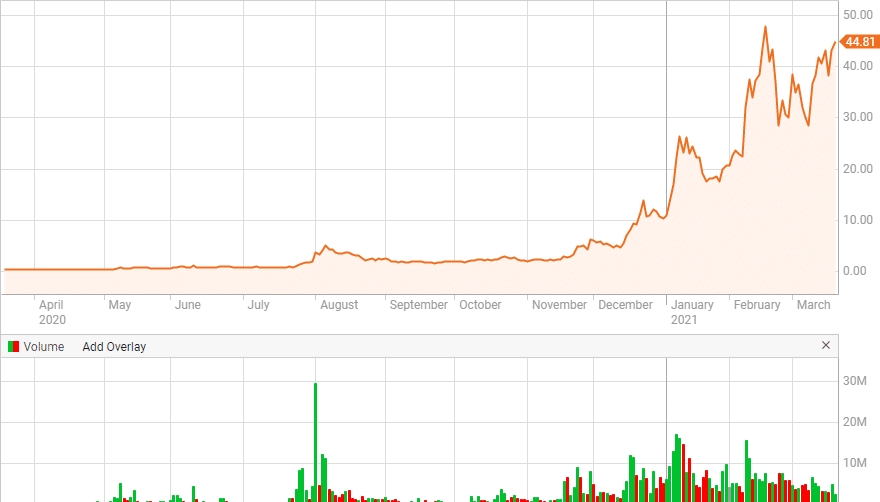 Your capital is at risk.
The company has also significantly improved its financial result compared to 2019 with an 854% increase in revenue and net loss from $0.17 to $0.10 per diluted share, although achieving profitability still remains elusive. Besides the price of BTC itself, another important factor to look for is the ability of the company to keep the operating costs down and move to profitability and expand its profit margins, as that is required in order to sustain the growth trajectory going forward.
The EH/s metric remains the most important one when trying to gauge the future potential of Bitcoin-mining companies, so investors should study the trend of each individual name and compare it to what other competitors are achieving.
4. Square – Fintech pioneer in Bitcoin adoption 
Square is one of the first big fintech companies that saw the potential of and actively took part in the Bitcoin ecosystem, and it does so in two ways; one is the revenue creation process through the markup that it earns by buying BTC and then selling it later on to its Cash App users; the other one is balance sheet allocation of close to close to 5% in cryptocurrencies.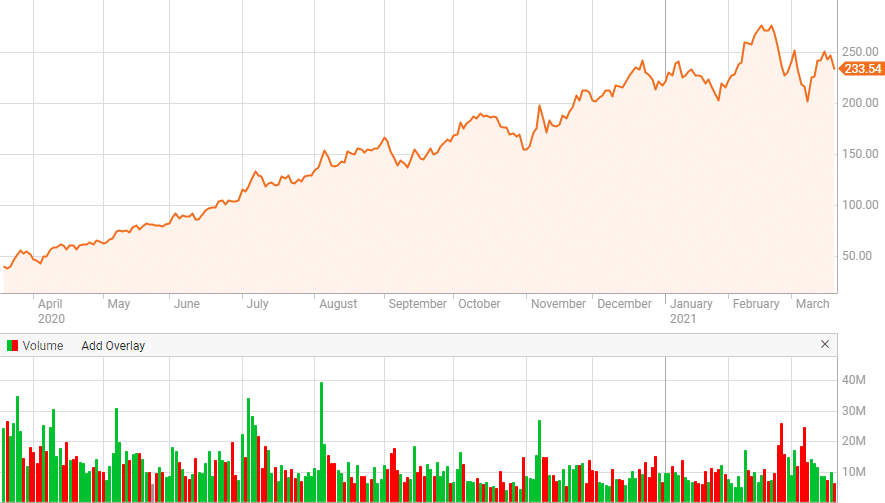 Your capital is at risk.
Another feature of the fast-growing Cash App is the ability to send and receive BTC without any transaction or additional fees, which will likely increase the adaptation among its merchants and customers. Besides the regular Cash App, Square has launched the Cash App Invest as a platform for investing in stocks and bitcoin, thus progressing even further on a way to create a one-stop-shop for its users. With a planned roll-out of "geographically targeted, time base promotions" that Square disclosed in the patent application last year, opportunities for cross-selling and advertising are large.
The tactics are working perfectly so far as evidenced by the company's consistently strong double-digit earnings and sales growth, expanding margins, and share price. Current stock market correction among high-flying growth stocks could present a good opportunity for investors to get onboard this secular growth story.
5. PayPal – Extending Bitcoin reach globally
One of the most popular alternative electronic payment methods provider, and a major competitor to Square, Paypal benefited handsomely from the pandemic-induced restrictions which increased digital payment adoption and the number of users around the world.
The earnings growth of 31% in 2020 is projected to continue by 18% in 2021, followed by 26% in 2022. With the strong pipeline of new products and services set to continue even more aggressively in 2021, according to its recent quarterly earnings call, and the entrance into the credit-providing arena (via unveiled buy now-pay later option), core business operations remain strong.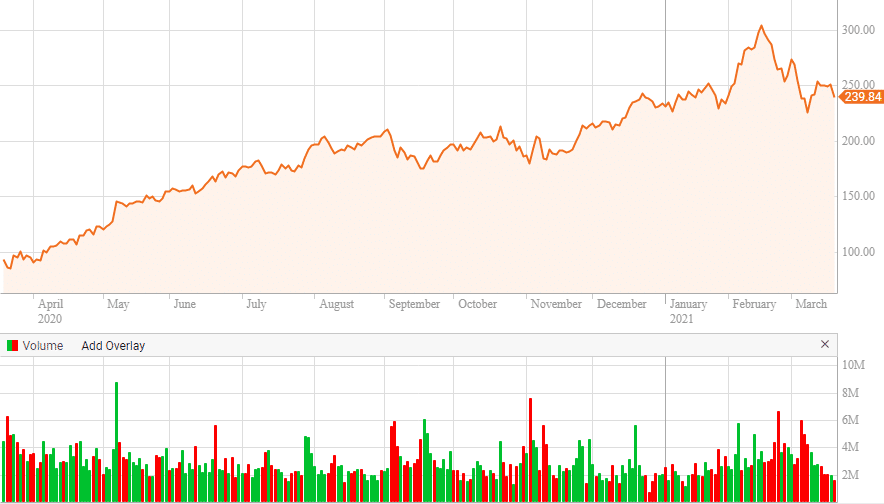 Your capital is at risk.
On the bitcoin-related side of things, the acquisition of a Tel Aviv-based provider of cloud-based infrastructure for digital asset security, Curv, clearly shows that the company is fully confident that the expansion and adoption of cryptocurrencies will continue in the future.
In a similar way to Square, PayPal also allows its U.S-based users to get discounts, pay in installments, and trade cryptocurrencies via Venmo App. It is however behind Square when it comes to the stock trading program, but this feature is expected to start in 2021 along with the option of using cryptocurrencies to shop at the 28 million merchants currently present on its network.
6. Tesla – Bringing Bitcoin to everyday transactions
Now this one might come as a surprise to some investors, after all, Tesla is a car company, not a Bitcoin-related one, right? Well, actually no. Ever since the company announced in its public filing report that it purchased $1.5 billion worth of BTC in January, and will allow car purchases to be made in the cryptocurrency in the future, which represents a major step in the push for the digital asset to be utilized in everyday, ordinary transactions, people started paying attention to the link between the two.
However, as the comparison chart between Tesla's share price and Bitcoin clearly shows, its shares have been used to some extent for the past year as an angle to participate in the Bitcoin theme as well.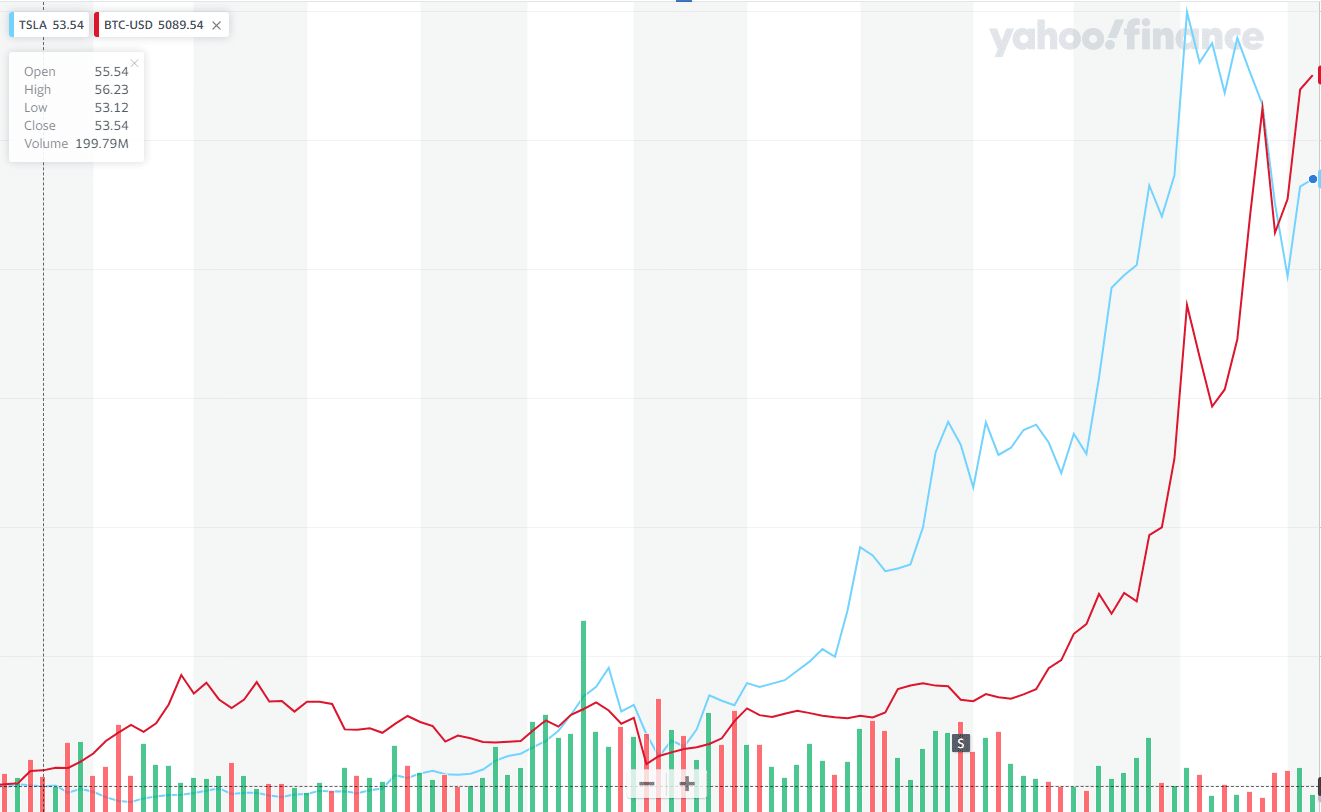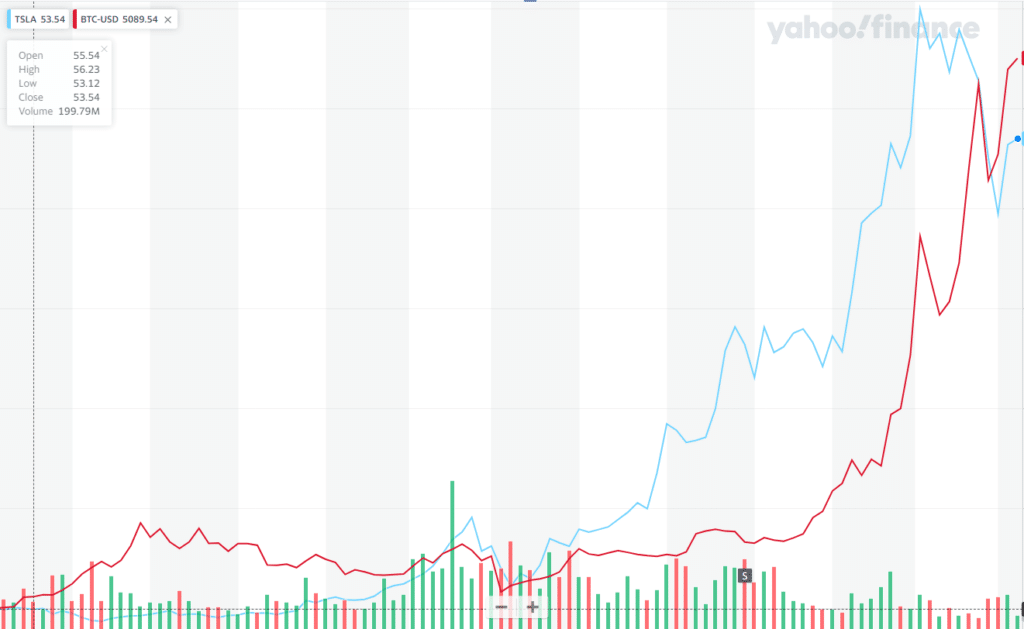 Together with the fundamental reasons why Tesla still represents a potential buy candidate from the renewable energy investing theme that we covered in this article, investors should also have an open mind about the impact that the BTC price movement can have on Tesla's balance sheet and subsequently its share price due to the volatility of this crypto asset.
This is quite visible if you consider that the company made more money on its BTC investment than it earned from actual car sales in the entire 2020. which was by far its most successful year thus far!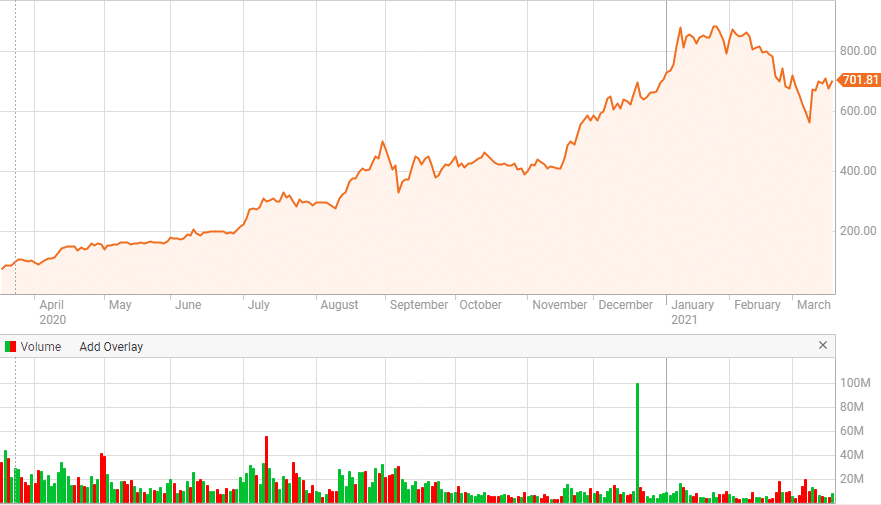 Your capital is at risk.
Another important implication of investor psychology to keep in mind is the fact that Elon Musk is perceived as a rebel against the traditional system, especially amongst the younger tech-savvy generation, and this investing cohort is still heavily bullish on future prospects of both Tesla and BTC.
7. CrowdStrike – Best Cybersecurity company
This fast-growing and innovative cybersecurity company does not have a direct link to Bitcoin and other digital assets as of yet but is nonetheless a leader in an industry which will surely cross paths to cryptocurrency space soon as the expansion of crypto inevitably leads to more and more concerns about the security of assets held from hacker attacks.
As Crowdstrike already boasts 58 of the Fortune 100 companies as its clients, it would be a logical place for companies and institutions to turn to for online protection of their holdings.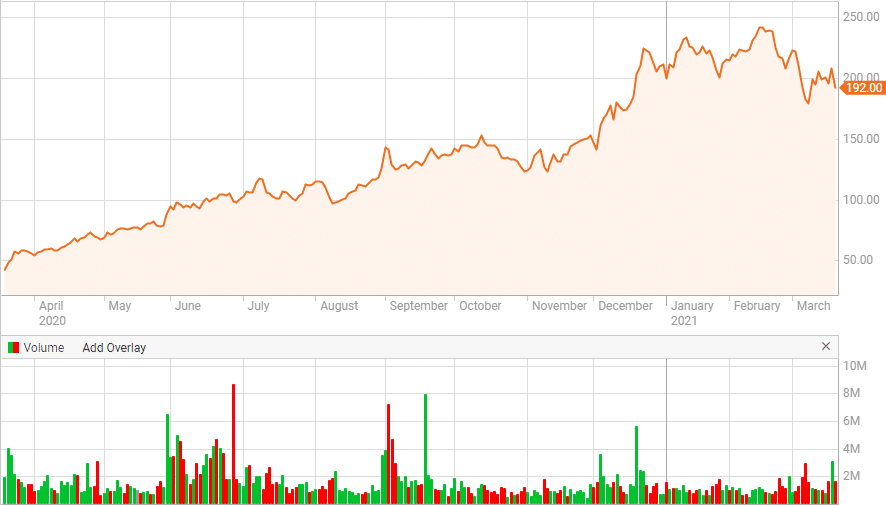 Your capital is at risk.
In the most recent earnings call, the company once again dazzled investors with subscription revenue up 77% year over year, a beat on both top and bottom line, 70% increase in subscription customers year over year, more than 50% higher earnings per share than street expected ($0.13 vs $0.08), and a set of products aimed at not only large customers but also small and medium-sized enterprises.
After more than 400% run in 2020, the current correction of the stock is welcomed as it will shake out weaker holders and allow shrewd investors to start accumulating shares as the valuations come down and make it more sustainable for long-term growth to continue.
8. Palo Alto Networks – Cybersecurity solutions for Bitcoin holders
A more mature company, Palo Alto represents a well familiar name in the cybersecurity defense industry worldwide. The California-based company posted consistent high-double digit growth in earnings and sales growth in the 30% region, which is a trademark of high-quality names.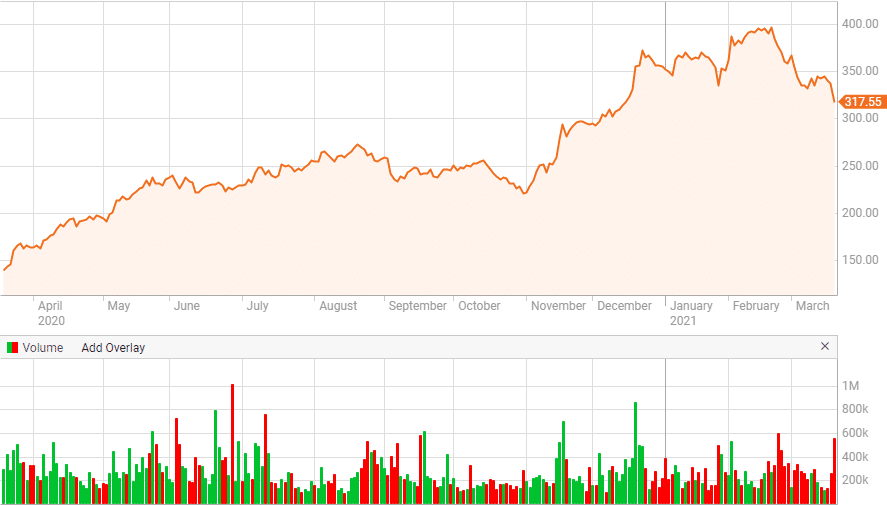 Your capital is at risk.
With an ongoing program of creating a broad, cloud-based platform named "Prisma" and backed by the top end intelligence and research group "Unit 42" that helped uncover and several cybercrime cases and hacking groups, Palo Alto Networks represent another option for investors that want to gain indirect exposure to bitcoin ecosystem in the future.
9. Grayscale Bitcoin Trust – Institutions choice for Bitcoin exposure
Grayscale Bitcoin Trust, or GBTC, was launched in 2013 and currently represents the largest digital asset management firm in the world. Part of the appeal to the investors is the fact that GBTC is the first of its kind to be registered with the US Securities and Exchange Commission (SEC) thus making it uniquely well-positioned to attract institutional money flow that wants to gain access to Bitcoin, as large scale investors are unable to use services of digital currency exchanges like Coinbase.
It is estimated that around % of the total Bitcoins in circulation is owned by Greyscale Bitcoin Trust.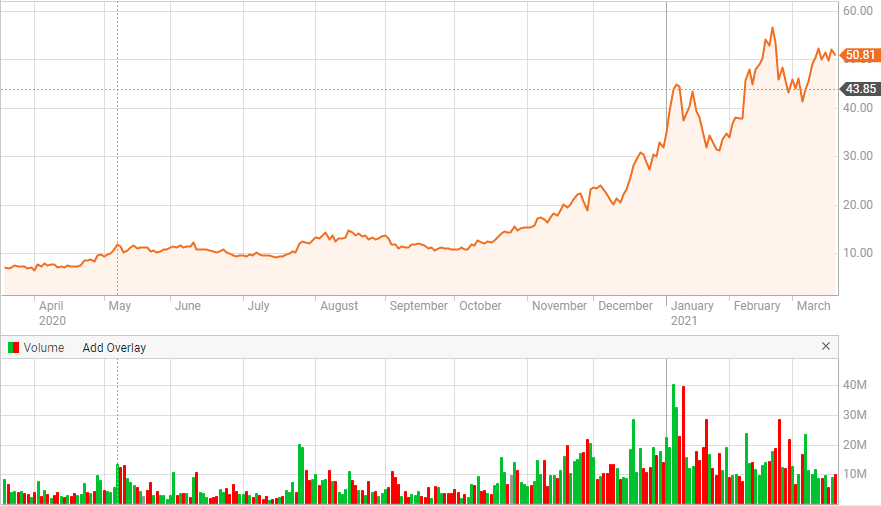 Your capital is at risk.
The fund saw more than 10 times increase in its assets in 2020, from $2 billion to over $20 billion, as the demands from hedge funds, pension funds, and other endowments spiked on the back of massive monetary stimulus, falling dollar, and inflation fears.
Investors should note that shares of GBTC often trade with a premium (while recently also reversing and trading at a discount to NAV), so the price moves of GBTC often don't correlate perfectly with those of BTC.
10. Grayscale Ethereum Trust – Institutions ETF choice for Ethereum exposure
Another one from the Grayscale family of investment vehicles, ETHE seeks to provide investors with exposure to Ethereum price movements.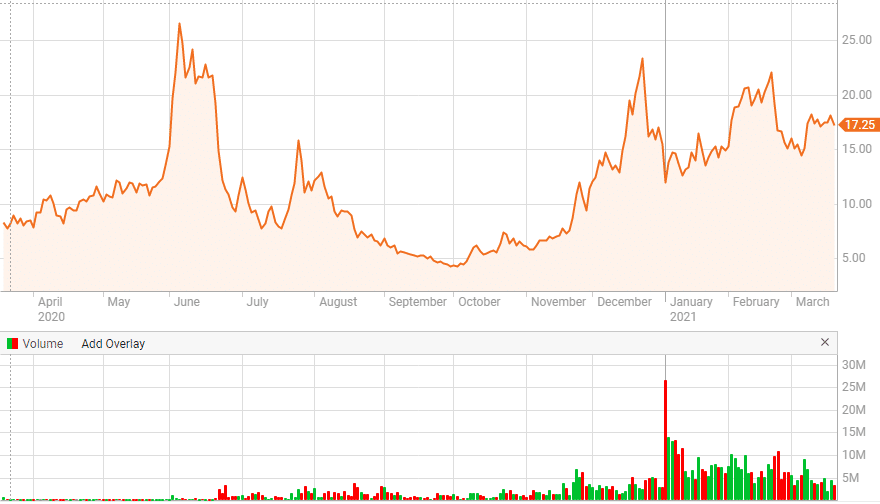 Your capital is at risk.
However, unlike the GBTC, premiums that ETHE has over the underlying asset are often much higher, which coupled with the 2.5% fee that Grayscale takes, make this one a bit questionable option for investors to use. These anomalies should however recede once other large ETF providers like Van Eck get their crypto-oriented products approved by the Securities and Exchange Commission.
Although additional competition would increase pressure on Grayscale funds, its first movers advantage could enable ETHE fund to continue to attract capital and correlate more closely to the price of Ethereum at the same time, providing investors with a good alternative to owning the ETC directly.
Are Bitcoin Stocks a Good Investment?
If you are looking to invest your capital into high-growth potential stocks and industry themes, and have the stomach to digest large price swings that will inevitably occur down the road, then you should definitely consider adding some of the Bitcoin stocks that we have mentioned above.
As the big institutional investors are warming up to the idea of using Bitcoin as a long-term inflation hedge (Skybridge Capital, MassMutual, and Guggenheim all have significant investments), along with noticeable hedge funds legends like Paul Tudor Jones and Stanley Druckenmiller already voicing out in public their own investments in the space, it wouldn't take much of the inflow to push the price of BTC substantially higher, and if the history is any guide, all of the bitcoin-related stocks along with it at an even higher pace.
Remember that the supply of BTC is capped from the beginning, which is naturally creating supply-demand imbalance and pushing the price up. On a near-term horizon, a significant amount of new U.S. stimulus package is expected to be invested into stocks and cryptocurrencies, and that represents another catalyst for the price increase.
While the possibility of a nation-wide ban on digital assets is always present, the growing size, usage, and resilience of the crypto space are likely too powerful at this point to be suppressed. The impending roll-out of Central Bank-issued digital national currencies won't stop the rise of truly decentralized digital assets, as this decentralization and transparency is precisely what sets them apart.
Either way, the benefit that you get by investing in the Bitcoin-related stocks and not the asset itself is more potential upside if the price continues to rise while having more protection in the case of large price decline as stocks like Square, Paypal, Crowdstrike, Tesla and Palo Alto all have strong core business models outside the Bitcoin space, and would provide good and much less volatile investment.
To help you find the best broker, we have listed our top recommended brokers and stock apps to invest in below.
Best Stock Brokers to Buy Bitcoin Stocks
1. eToro – Buy ETFs with 0% Commission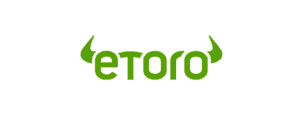 eToro is one of the most popular brokerage sites in the UK, with a global client base of more than 17 million traders, and the ability to trade stocks, cryptocurrencies like you can buy bitcoin UK, forex, and commodity trading.
As it requires a minimum investment of $50, investors have the chance to allocate the funds and diversify in several Bitcoin stocks without the need to commit large sums of capital from the start.
With more than 800 US shares and close to 2,000 shares from international stock markets along with the option to trade 15 of the most popular cryptocurrencies, eToro can satisfy the needs of most investors and is our top recommended broker to buy bitcoin stocks UK.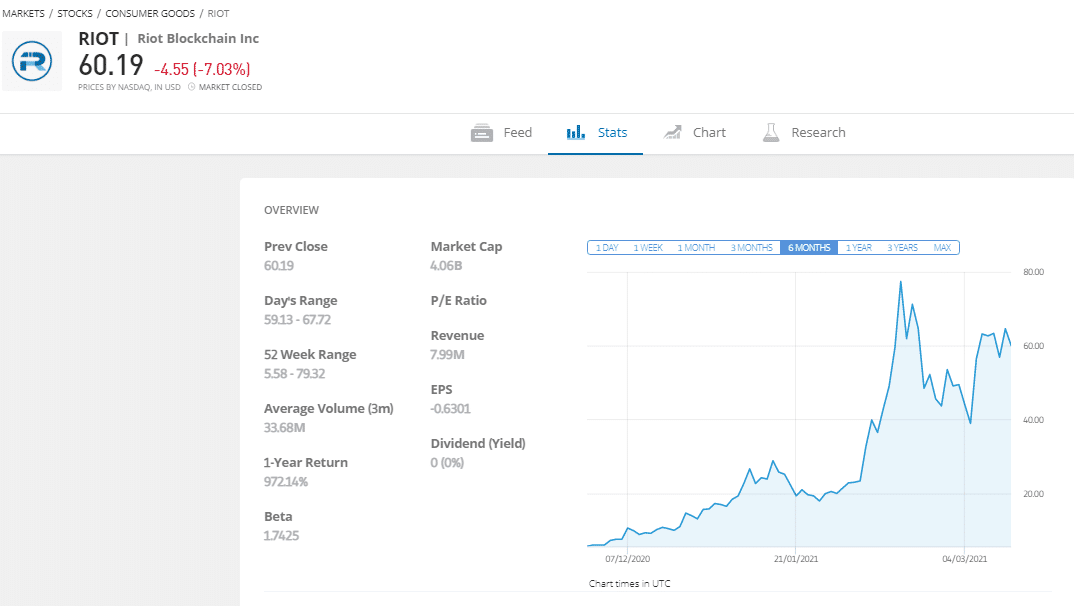 We also like the charting and research capabilities that eToro platform offers, which is much more user-friendly than found in many other traditional brokers. Investors would also make a good use of its social trading network and premade portfolio selection which simplifies investing in a Bitcoin focused theme even further.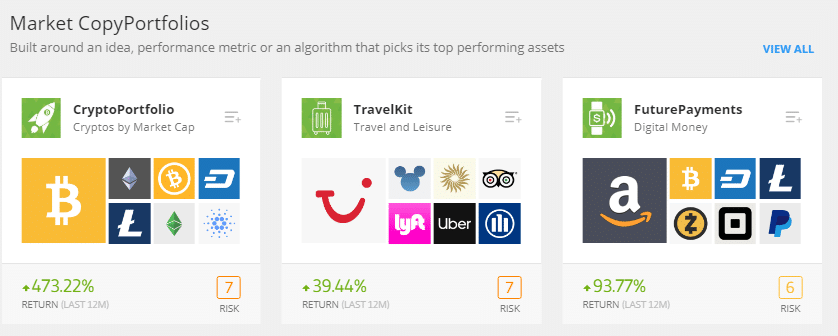 Another major selling point of eToro is that it allows users to choose between buying shares outright or trading stock CFDs, on a no commission-free structure in both cases. This broker is authorized and regulated by the Financial Conduct Authority and your trading capital is protected by the FSCS.
Pros
Wide variety of US shares
100% commission-free trading
Technical charting with 100+ indicators
Built-in social trading network
24/5 customer support
Cons
Inactivity fee after one year
Withdrawal fee (£4 per transaction)
67% of retail investors lose money when trading CFDs with this provider.
2. Libertex – Best CFD Trading Platform to Trade Renewable Energy Stocks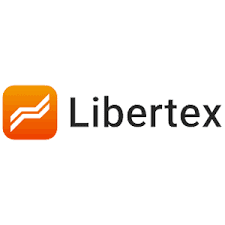 Unlike eToro, Libertex is not a traditional stock broker. This is because this trading platform specializes exclusively in CFDs (contracts-for-differences), which are tradable instruments offered by brokers that track the real-time price of the respective asset. Should the underlying asset increase/decrease by 1%, so would the CFD that is tracking it.
With that said, CFD brokers like Libertex do offer the benefit of leverage and short selling, that you won't find at some conventional share dealing platforms.
Applying leverage means that you can trade shares with more money than you have in your Libertex account. As per FCA regulations, this is capped at a 1:5 ratio – a £100 balance would allow for a £500 trading position. However, always be aware that leverage is a double-edged sword so approach it carefully.
Regarding the short-selling option, this means that you can enter a position on the desired stock if you want to bet that it will fall in value. If it does, you will make a profit as you will be able to repurchase it later on at a lower price than you have paid for. Libertex also stands out among other platforms with its policy to not charge any spread, but only a small trading commission on each position, as well as being the best MT4 broker UK.
In terms of payments, Libertex allows you to deposit funds with a debit/credit card, bank wire, or e-wallet. Additionally, the minimum deposit is just £10, which is great if you want to try stock CFDs for the first time. When it comes to safety, Libertex has been offering CFD trading services since the late 1990s. It is also regulated by CySEC.
Pros:
Zero spread CFD trading
Good educational resources
Long established broker
Compatible with MT4
Competive spreads
Cons:
83% of retail investors lose money trading CFDs at this site
How to Invest in Bitcoin Stocks in the UK
If you want to buy shares in one of the companies from the list, you will need to use an online stock broker. For most beginner investors eToro fits the bill for the following reasons:
Zero commission policy on buying and selling of financial instruments
You can buy shares from just $50 per trade
Multiple deposit options including a debit/credit card, UK bank account, e-wallet
Ease of use which suits investors with little or no experience of buying shares online
FCA regulated broker
In order to buy shares on eToro platform, follow these steps:
Step 1: Open an Account
Visit eToro website and click on "create account". You will now be asked to fill in your personal information – such as your full name, home address, date of birth, and contact details, You'll also need to choose a username and a strong password.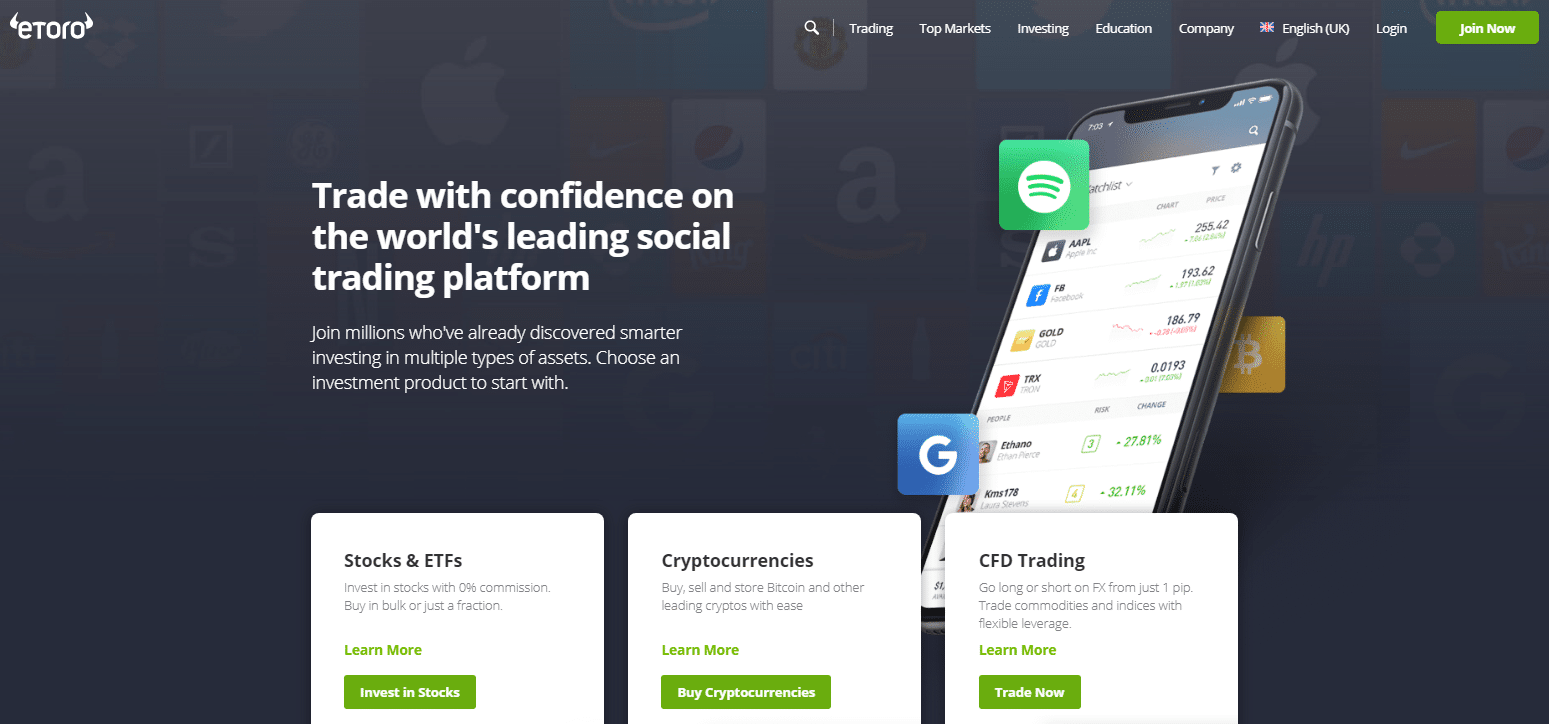 Step 2: Upload ID
On top of the Financial Conduct Authority (FCA), eToro is also regulated by ASIC (Australia) and CySEC (Cyprus). As such, it is required to identify each and every user that opens an account. For this reason, you will need to upload a copy of your UK passport or driver's license, followed by a utility bill or bank account statement.
Step 3: Deposit Funds
Now you can make your first deposit by choosing some of the options bellow:
Debit Card
Credit Card
UK Bank Transfer
Paypal
Skrill
Neteller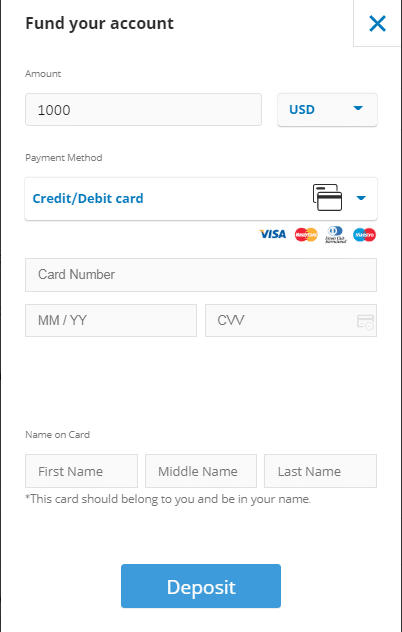 You will need to meet a minimum deposit amount of $200 (about £160). Your GBP deposit will be converted to USD (0.5% conversion fee), as this allows you to access both UK and international markets at the click of a button.
Step 4: Buy Shares
Once your account has been funded, you can then buy your desired shares by simply typing its ticker symbol in the search box at the top of the screen, and then clicking on the 'TRADE' button.

You will then see an order box that asks you to enter the amount that you wish to buy. This is in US dollars and not the number of individual shares. As we noted earlier, you can buy from just $50 (£40) worth of shares at eToro, so there is no requirement to buy a whole stock.
Finally, click on the 'OPEN TRADE' button to complete the share investment process!
Best Bitcoin Stocks UK – Conclusion
In this article, we presented you with viable candidates from several industry groups that could be used as a proxy to outright Bitcoin investment.  With so many blockchain shares and bitcoin stocks to buy, it can be hard to know which companies are really using this technology to its full potential and which are just scratching the surface. To make it easier for you to create a custom portfolio of blockchain shares, we've picked out 8 of the best bitcoin stocks UK that you can invest in today.
If you feel ready to purchase bitcoin shares in the UK, consider using eToro as a safe and easy broker to start your investing journey. With its fast registration process, user-friendly platform, and no commission policy, eToro rightfully finds its place on our list of Best UK Stock Brokers.
Click the link below to get started!
eToro – Buy Bitcoin Stocks with 0% Commission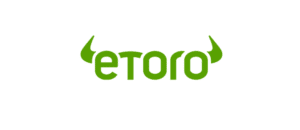 67% of retail investor accounts lose money when trading CFDs with this provider.
FAQs
Can the Grayscale ETHE be used as a proxy for ETH price?
Yes, but investors should be mindful that its premium can vary widely, which in turn affects its correlation to the underlying asset. Historically, premiums of more than 150%-300% to NAV have led to ETHE underperforming ETH.
Are there any other Bitcoin-related ETFs?
For investors that want to have diverse exposure to some of the listed miners and other companies in the Bitcoin and blockchain space, Amplify Transformational Data Sharing ETF (BLOK) would be a good match as it combines Bitcoin mining companies with well-known tech and semiconductor names to provide a less volatile investment than individual names.
Are Bitcoin Stock speculative?
As with any stocks, investing in them can be considered speculative. Having said that, Bitcoin is still a relatively new technology and not yet widely understood and accepted, which in turn adds to the increased risk of investing in it. The stocks that are more closely liked to it like mining companies tend to have larger price swings in both directions, so investors should pay close attention to the risk and not only to potential returns.
Can you bet on the fall in Bitcoin Stocks?
Yes. Like any other publicly traded securities, investors expecting the fall in the price of Bitcoin or any of the mentioned Top bitcoin stocks can sell the stocks or ETFs short, thereby profiting from the drop.
Is buy and hold best strategy for Bitcoin Stocks if one is a long term bullish on Bitcoin itself?
The answer depends on your investing style, conviction, and risk appetite. While a person can be bullish on the underlying asset, investing in individual companies also carries risks that are connected with those entities along with the risk of the asset itself. For example, any one of the above mentioned companies can fall victim to competitor pressures, poor execution of operational plans and goals, etc. which could harm their share price despite the potential rise of Bitcoin itself.