If you're looking to buy and sell shares on a short-term basis, this would fall under the umbrella of 'stock trading'. That is to say, you will be aiming to make smaller profits – but on a much more frequent basis.
In fact, many share traders in the UK will keep hold of a stock for just a few days or hours – and in some cases, minutes.
Keen to explore how stock trading in the UK actually works? In this guide, not only do we unravel the ins and outs of what stock trading is and what the investment process entails – but we also explore which UK brokers allow you to do this from the comfort of your home.
What is Stock Trading?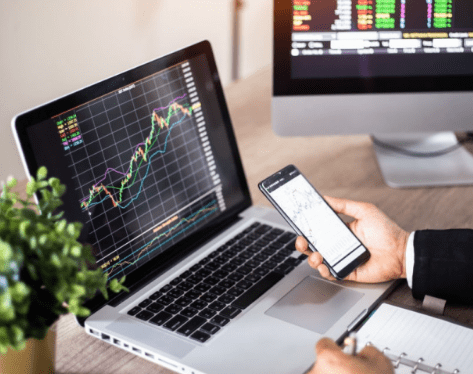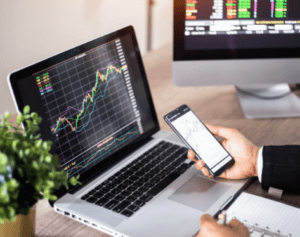 In its most basic form, stock trading is the process of buying and selling shares on a short-term basis. Although this might sound like a traditional stock investment, this isn't actually the case. For example, when you 'invest' in stocks, you are buying shares in the traditional sense.
You might hold on to the shares for several months or years, and you will be entitled to dividends. Crucially, you can keep hold of your shares until you decide to sell them back to pounds and pence.
When it comes to stock trading, you will be taking a much more active role. In other words, you will be buying and selling stocks on a daily basis – hoping to make small profits when the value of the company goes up and down.
In order to do this, you will need to have a firm understanding of how to read charts. This will give you the best chance possible of predicting which way a particular stock is likely to move in the markets. If you speculate correctly – you make money based on the amount you stake against that of your percentage gains. If you speculate incorrectly – you lose money.
Stock Trading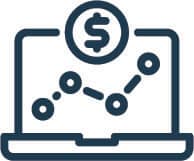 You will be trading stocks in the form of CFDs
You will have access to dozens of stock markets
You will be able to apply leverage to your trades
You will have the option of short-selling a company
You will benefit from tight spreads and in some cases – zero-commissions
You won't own the underlying asset
You won't be entitled to dividends
Not suitable for long-term investments
Buying Shares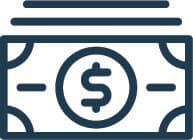 You will be buying shares – meaning you own a stake in the respective company
You will be entitled to dividends at an amount proportionate to the number of shares you own
You will have the legal right to vote in shareholder meetings
You can hold on the shares for as long as you wish without needing to worry about fees
You can transfer your shares to another broker
You can raise capital against the valuer of your stock portfolio
Not suitable for short-term investing
Spreads are typically higher than CFDs
Limited access to emerging markets
How Does Stock Trading in the UK Work?
First and foremost, stock trading will often see the investor place dozens, if not hundreds of buy and sell orders throughout the week. Ordinarily, this would cost you a fortune in share dealing charges if you went through the traditional route. As a result, investors will utilize a financial instrument known as 'CFDs'.
In a nutshell, contracts-for-differences – or simply CFDs – are financial instruments created by regulated brokerage firms. Their primary goal is to track the real-world price of an asset. For example, if the value of Facebook shares goes up by 3.4%, as will a CFD that is tasked with tracking it. Similarly, if Royal Mail finishes the trading day 1.02% in the red – as will its respective CFD.
Confused? Below we list a real-world example of how a CFD stock trade would work in practice.
You believe that over the course of the next few days, the value of Royal Mail shares will go up
In order to benefit from tight spreads and low commissions, you decide to trade stocks CFDs
As you think the value of the shares will go up – you place a buy order at a stake of £750
Royal Mail shares are listed on the London Stock Exchange at 180p – which is the same price that your CFD order was matched at
Two days later, the price of Royal Mail shares increases to 190p
You decide to lock in your profits by closing the CFD position
As per the above example, the value of Royal Mail shares went from 180p to 190p on the London Stock Exchange in the space of two days – representing a 5.5% increase. This means that on a £750 stake you made gains of £41.25. With that being said, you were able to profit from your prediction on Royal Mail without actually owning the shares. Instead, you simply placed a stock trade via CFDs.
What are the Benefits of Stock Trading UK?
As we are about to discuss in more detail – there are both advantages and disadvantages when opting for share trading over a traditional stock investment.
In terms of the benefits – this includes:
You can short-sell a company
One of the main benefits of stock trading is that you can short-sell a company. In Layman's terms, this means that you will be speculating on the value of the company going down. Under normal circumstances, you would only buy shares in a company if you thought it would increase in value. However – this won't always be the case – so it is notable that there is now a way to profit from the downfall of a stock – CFDs.
The way it works is as follows:
You think that the price of BP shares will go down
You set up a 'sell order' – which indicates that you think the stocks will lose value
You stake a total of £500 on the sell order
A few days later, BP shares are now priced 3.7% lower
On a stake of £500, this amounts to gains of £18.50
Ultimately, with UK share trading platforms like eToro, Plus500, and IG collectively listing thousands of companies – you now have the opportunity to speculate on a stock going down in value. Once again, this is only possible when you trade CFDs – and not traditional shares.
You can trade with more than you have in your brokerage account
As there is no underlying asset backing a stock CFD – this allows you to apply leverage. For those unaware, this means that you have the capacity to trade with a higher stake than you have in your brokerage account. The amount of leverage that you apply is expressed as a multiple – such as 2x, 3x, 5x, and so on.
For example:
Let's suppose that you are trading Tesco stocks
You want to place a buy order – and you have £100 in your brokerage account
You are confident in the trade, so you decide to apply leverage of 4x
A few days later, Tesco stocks are priced 7% higher
Ordinarily, you would have made a profit of £7 (£100 x 7%)
However, as you applied leverage of 4x, you actually made £28 (£7 x 4)
It is important to note that leverage can also amplify your losses. For example, had your trade resulted in a £7 loss – you would have actually lost £28. This is because you applied leverage of 4x, so both profits and losses must be multiplied by this figure.
We should also note that you will be capped with the amount of leverage that you can apply when trading shares. As per ESMA regulations – this stands at 5x. With the UK no longer part of the European Union, this could well change in the near future.
Access stock trading markets that would otherwise be difficult to reach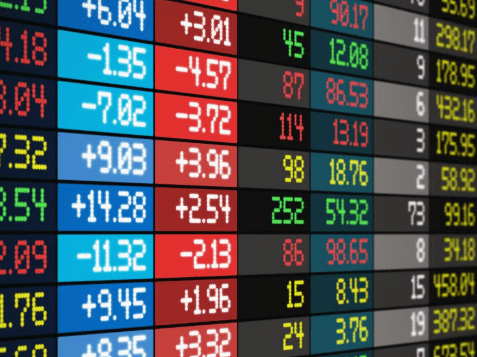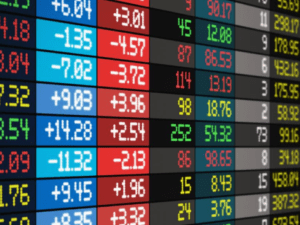 When you use a traditional share dealing platform to buy stocks, the broker in question will need to purchase the equities with its own resources.
For example, the provider might purchase £100,000 worth of HSBC shares from the primary market – and then sell them individually to clients that have an account with the platform.
While this is a win-win situation for both the broker and you as a retail client – there is a limit to the number of times the provider can do this. As such, this is why you will often find it difficult to trade less popular stocks.
These might be companies listed on the UK's Alternative Investment Market (AIM), or firms based in emerging markets like South Africa, Singapore, and France.
With that said, stock trading sites typically give you access to thousands of CFD shares. This is because the broker is not required to personally obtain the equities. Instead, the CFDs will simply track the price of the shares – which you can then trade at the click of a button.
You can often trade stocks without paying any commissions
As you can imagine, CFDs are only tasked with tracking the stock price of a company, so the underlying set-up costs for brokers are relatively low. This subsequently allows stock trading platforms to pass these savings on to their clients. At the forefront of this is being able to trade stocks on a commission-free basis. The broker will make its money via the spread – which again, is often super-competitive when trading stock CFDs.
What are the Disadvantages of Stock Trading UK?
While stock trading does come with a number of benefits, there are several drawbacks that also need to be taken into account. This includes:
Passive Income Isn't an Option
When you invest in traditional shares, the process is relatively passive. That is to say, once you choose a company to invest in and subsequently buy some stocks – there is nothing else to do until you decide to sell them. This is why some people in the UK buy shares and simply sit on them for several years.
However, this is in stark contrast to how stock trading works. After all, you will be actively buying and selling stocks throughout the week – so you need to dedicate lots of time to your investment endeavours. This might be problematic for those of you that do not have the time to perform in-depth technical and fundamental research.
You will be missing out on dividends
As we have covered throughout our guide, by trading stocks you will not be buying the underlying asset. As a result – you are not a shareholder in the company, so you won't be entitled to dividends. Although some companies do not pay dividends anyway – many do. As such, you need to factor in the costs of missing out.
You will need to pay overnight financing fees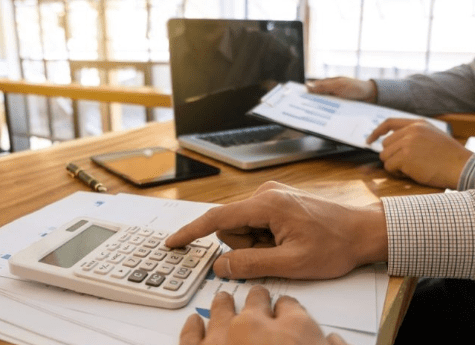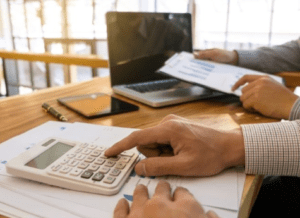 CFDs are referred to as 'leveraged financial instruments' in the online investment space. In plain English, this means that you will always need to a pay fee – even if you do not apply leverage.
Known as 'overnight financing' – you will be charged an amount of interest for each day that you keep your position open.
This normally kicks in when the respective stock market closes for the day. If you keep the position open over the weekend, the fees are often much higher.
Ultimately, this makes it difficult to treat stock trading as a long-term investment. If this is something you are looking for, you'll need to invest in traditional shares.
How to Start Trading Stocks Today
Like the sound of stock trading and wish to get started today? If so, we are now going to explain what steps you need to take to get the ball rolling.
Step 1: Join a UK Stock Trading Platform
If you want to trade stocks online, you will need to open an account with a brokerage firm that offers CFDs. There are hundreds of such platforms active in the UK space, so finding a broker that meets your needs can be challenging.
To help you along the way, below we have listed some of the questions that you should be asking of the stock trading broker.
Is the UK stocking trading site regulated by the Financial Conduct Authority (FCA)?
What is the minimum deposit requirement?
What UK payment methods does the stock trading site support?
Is the platform competitive in the fees, commissions, and spreads department?
What stock markets does the broker give me access to?
Does the broker offer top-notch customer support?
If you don't have time to research the ins and outs of a UK stock broker – below you will find a selection of the most popular platforms currently in the market.
1. eToro – Best All-Round UK Stock Trading Broker
If you are just starting out in the world of stock trading and CFDs – it might be wise to consider eToro. The platform – which now boasts over 12 million users, allows you to buy and sell more than 800 equities. This includes PLCs based in the UK – as well as international markets like the US, Japan, and Singapore.
You won't pay any trading commissions with eToro – although overnight financing fees remain in place. You can view what this amounts to before placing the trade, albeit, in most cases this is competitive. All of your stock trading endeavours can be facilitated via the eToro website – so there is no requirement to download any software. It is also worth exploring the CopyTrading feature at eToro, as this allows you to mirror the buy and sell orders of other investors.
This is ideal if you want to trade stocks in a passive manner. You can open an account with eToro by uploading a copy of your ID, and then meeting a $50 minimum deposit (about £160). Supported payment methods include a debit/credit card, e-wallet, or bank account.
Deposits are free, although you will be charged a 0.5% conversion fee as eToro converts all account balance into US dollars. Withdrawals cost just $5, which is great. In terms of regulation, eToro is licensed with the FCA. It also holds licenses with regulators in Australia and Cyprus. Leverage is available on all stock CFDs at the broker, which is capped to 5:1.
Pros:
Super user-friendly online stock broker
Buy stocks without paying any commission or share dealing charges
800+ stocks listed on several international markets
Deposit funds with a debit/credit card, e-wallet, or UK bank account
Ability to copy the trades of other users
Cons:
Not suitable for advanced traders that like to perform technical analysis
67% of retail investor accounts lose money when trading CFDs
2. Plus500 – Commission-Free CFD Stock Trading Platform
Launched in 2008 and now listed on the London Stock Exchange as a PLC – Plus500 is a global CFD provider. It currently offers more than 2,000 stock CFDs across heaps of UK and international exchanges. Plus500UK Ltd is authorized & regulated by the FCA (#509909) – you should have no concerns regarding safety.
Plus500 does not charge trading commissions – so it's just the spread and overnight financing fees that you need to look out for. You will have the option of trading via the Plus500 website or via a native mobile app.
Leverage is supported – again, within the limits imposed by ESMA. Minimum deposits start at £100 – which you can fund with your debit/credit card, bank account, or through Paypal. All transactions are fee-free, and customer support can be reached via live chat or email.
Pros:
Commission-free CFD platform – only pay the spread
Thousands of financial instruments across heaps of markets
Retail clients can trade stock CFDs with leverage of up to 1:5
You can buy or sell a stock CFD if you think its value will go down or up
Takes just minutes to open an account and deposit funds
Cons:
CFDs only
More suitable for experienced traders
72% of retail investors lose money trading CFDs at this site.
3. IG – Trusted UK Stock and CFD Trading Platform With Competitive-Fees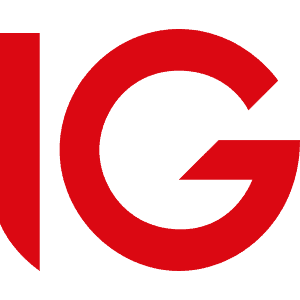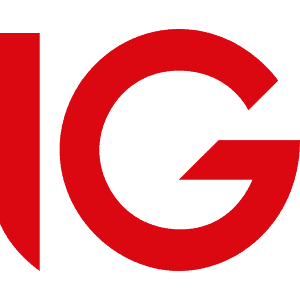 IG allows you to trade stocks via two key methods – through its CFD platform or its spread betting facility. Both mediums come packed with over 10,000 stocks – which covers multiple international markets. If you opt for its spread betting facility, all of your stock trading profits will be exempt from capital gains tax.
This isn't, however, the case with conventional CFDs -which is liable for tax. We should also note that IG offers traditional share dealing services – which might come in handy if you want to place a long-term trade. IG gives you two options when it comes to trading. You can either trade via third-party platform MT4 – or its own native web-trading suite.
Leverage and short-selling are available on all of its CFDs, and you can trade instruments on the move via its mobile app. Much like eToro and Plus500, IG is regulated on several fronts – including the FCA. Finally, fees and commissions are generally competitive, although a minimum per-trade charge might work out costly if you are planning to stake smaller amounts.
Pros:
Trusted UK broker with a long-standing reputation
Good value share dealing services
Leverage and short-selling also available
Spread betting and CFD products
Access to over 10,000 stocks
Great research department
Cons:
A minimum deposit of £250
US stocks have a $15 minimum commission
Your capital is at risk
Step 2: Open an Account, Upload ID, and Deposit Funds
Once you have decided which UK stock trading site you want to go with, you will need to open an account, upload some ID, and then make a deposit. Our walkthrough below is based on eToro – although most other platforms utilize the same steps.
Open an Account
Visit the eToro home page and click on the 'CREATE ACCOUNT' button. As is the case with all regulated stock trading sites, you will now need to enter some personal information.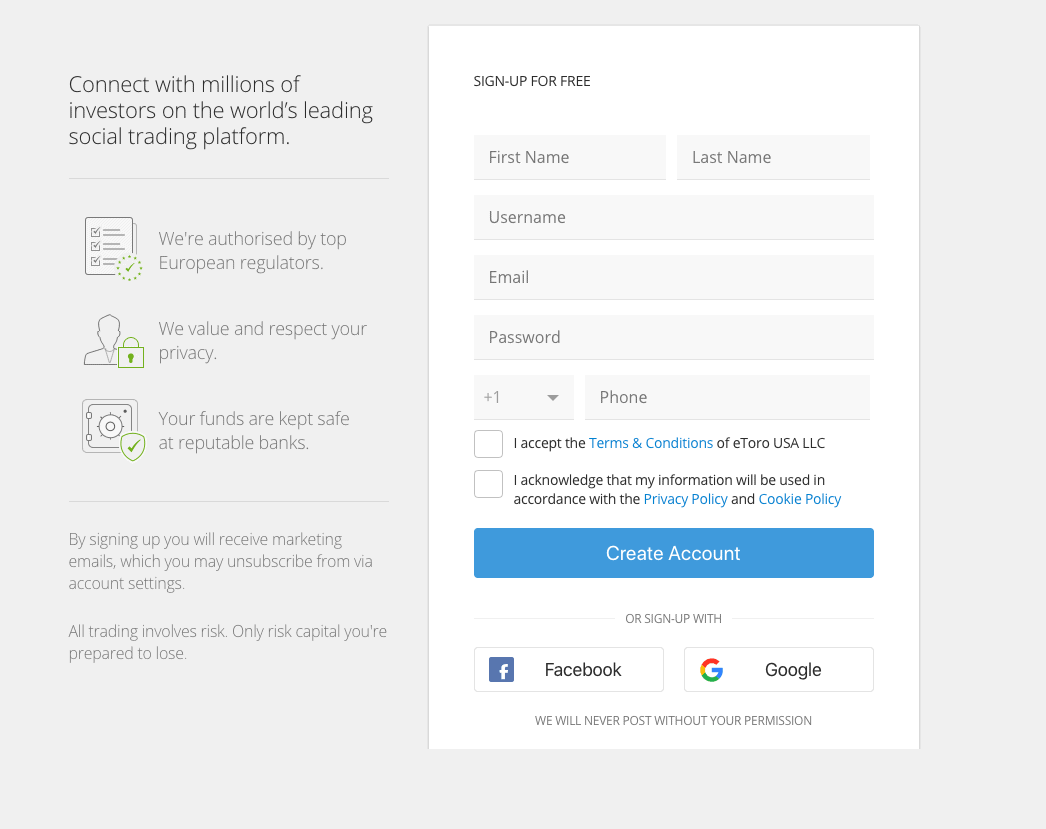 67% of retail investor accounts lose money when trading CFDs
This includes your:
Full Name
Home Address
Date of Birth
National Insurance Number
Email Address
Phone Number
Verify Your Identity
In-line with UK anti-money laundering laws – as well as the FCA's code of practice, eToro is required to ask you for some ID.
This includes:
A clear copy of your passport or driver's license
A recent copy of a bank account statement or utility bill (dated within the last three months)
Deposit Funds
You will now need to deposit some funds into your newly created brokerage account.
Supported payment methods include:
Debit Card
Credit Card
Paypal
Skrill
Neteller
UK Bank Transfer
You'll need to ensure that you deposit at least $50 – which is approximately £160.
Step 3: Start Stock Trading
Now that you have a verified and funded eToro account, you start trading stocks straight away, If you know which company you wish to trade, enter it into the search box at the top of the page.
67% of retail investor accounts lose money when trading CFDs
If not, you can browse through the eToro stock library by:
Clicking on 'Trade Markets'
Followed by 'Stocks'
Choose the stock exchange from the drop-down list to load up the respective list of companies
Click on 'Trade'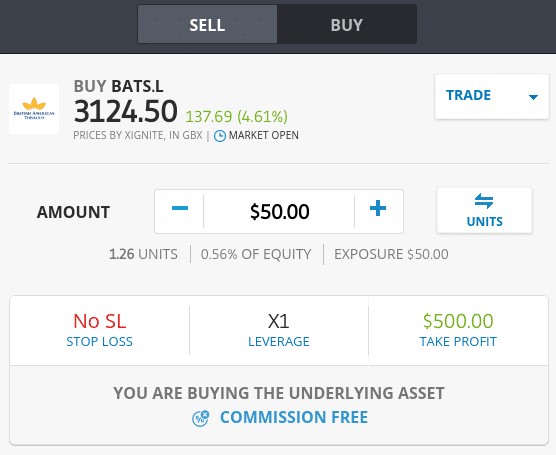 Once you click on the 'trade' button, you will need to set up a buy or sell order.
It's really important that you understand how a stock trading order works, so review the explainers listed below.
Buy/Sell Order: A 'buy order' is required when you think the stock will increase in value, and a 'sell order' if you think it will decrease
Set Rate: It's best to change this to a limit order, as you will get to specify the exact price that your stock trade is matched at. If you are happy to taker the next available price, leave this as it is.
Stake: Enter the total amount you wish to stake on the trade, and not the number of shares. Remember, everything at eToro is priced in US dollars.
Leverage: If you want to apply leverage, enter your preferred multiple
Stop-Loss: This allows you to close your stock trade automatically when it goes against you a certain amount
Take-Profit: Enter the price that you want the stock trade closed at when you are in profit.
Finally, click on the 'OPEN TRADE' button to complete your stock trading order.
The Verdict
By reading our guide in full, it is hoped that you now have a firm understanding of the difference between 'stock trading' and 'investing in stocks'. Each investment stream will suit a different type of trader, so have a think about what your long-term investing goals are.
That is to say if you are planning to actively trade stocks and make consistent gains – as opposed to simply buying shares and selling them years later – stock trading is likely up your street. As always, just make sure that you understand the risks before parting with your money.
eToro – Best Stock Trading Platform in the UK
FAQs
Which stock trading site is best for beginners?
Can I trade stocks on my mobile phone?
What UK stocks can I trade online?
How much does it cost to trade international stocks?
How do I trade stocks with real money?