TD Direct Investing UK Review – Features, Fees, Pros and Cons Revealed
Fact Checked
Everything you read on our site is provided by expert writers who have many years of experience in the financial markets and have written for other top financial publications. Every piece of information here is fact-checked.
Disclosure
Please note that we are not authorised to provide any investment advice. The information on this page should be construed for information purposes only. We may earn commissions from the products mentioned on this site.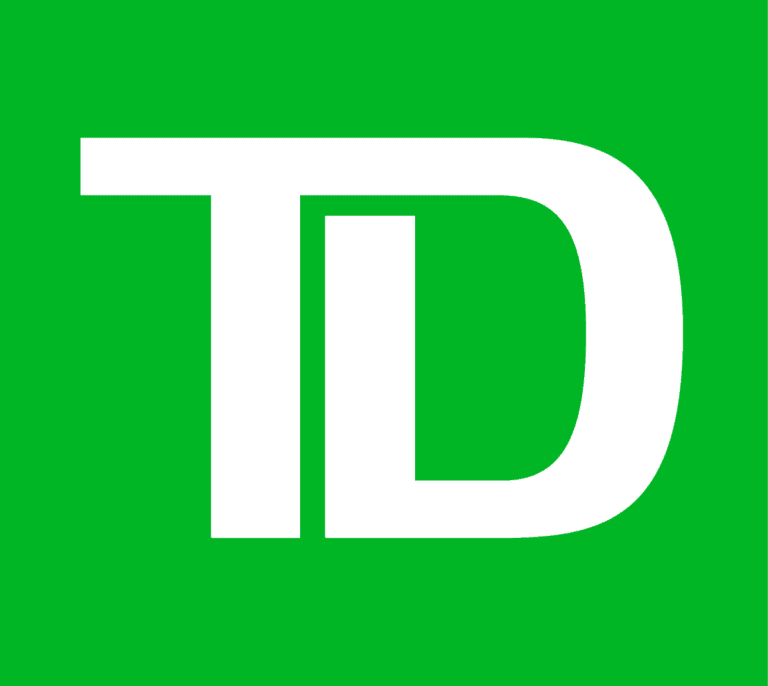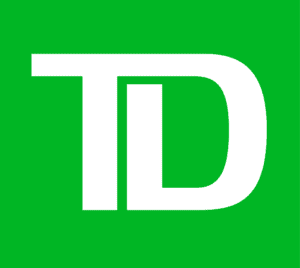 Canada's largest online brokerage, TD Direct Investing is a bank-based investment platform aimed primarily at the North American market (the European business was acquired by Interactive Investor in 2016).
Nonetheless, TD Direct Investing will accept clients from other countries so UK investors looking to explore their options shouldn't necessarily disregard this popular Canadian brokerage without exploring its offering.
This TD Direct Investing review will take a close look at all the everything you need to know about this broker, including the types of investments you can make, fees and commissions, trading tools, payment methods, ease-of-use, regulation, and more.
What is TD Direct Investing?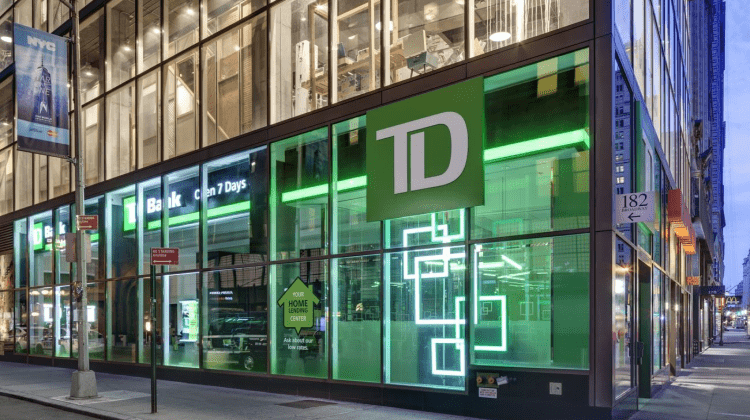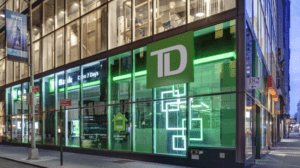 Toronto-Dominion Bank (commonly known as TD Bank) can trace its roots back to 1955, when it was formed by a merger of the Bank of Toronto and The Dominion Bank (founded in 1855 and 1869, respectively). But it wasn't until 1984 that the Canadian banking giant established its original discount brokerage service, Greenline Investor Services. It went on to become the first Canadian bank to purchase seats on the Toronto, Montreal, Vancouver and Alberta stock exchanges.
The bank's British, Canadian and U.S. brokerage activities were later rebranded as TD Waterhouse before, finally, changing its name to TD Direct Investing in 2012. While UK-based European subsidiary of TD Direct Investing was sold to Interactive Investor in 2016, TD Ameritrade, the bank's US broker, remains a Toronto Bank company, although its acquisition, by Charles Schwab Corporation, is seemingly imminent.
What Investments Can You Make with TD Direct Investing UK?
Provided you're happy to limit your investments to North America, TD Direct Investing offers a comprehensive choice of investments, including stocks, ETFs, options, bonds and mutual funds and an expansive range of accounts that should include something to suit most types of investor. Indeed, the website lists no less than nine accounts, including margin accounts – that should suit advanced traders who want access to short selling and option trades – and cash accounts that are a better match for beginners.
Here's a full list of TD Direct Investing account types. Each is geared towards a different type of investor.
Margin Accounts
Cash Accounts
Self-Directed Tax-Free Savings Account (TFSA)
Registered Retirement Savings Plan (RSP)
Registered Education Savings Plan (RESP)
Self-Directed Retirement Income Fund (RIF)
Self-Directed Locked-In Retirement Accounts (LIRA)
Self-Directed Life Income Fund (LIF) and Locked-In Retirement Income Funds (LRIF)*
Self-Directed Registered Disability Savings Plan (RDSP)
TD Direct Investing Fees and Commissions
TD Direct Investing claims that its pricing is simple, fair and transparent, which looks about right to us. If you're buying shares, you'll be charged a flat rate commission of $9.95, however big or small the trade is. This keeps things nice and simple but ensures that the commission fee is better value the bigger the trade, so there is some incentive to make larger stock orders. Buy $100 of stock and the commission will be equivalent to 10%. Buy $10,000 of stock and you'll pay a meagre 0.1% in commission.
Discounts are available to high volume traders. If you make more than 150 trades per quarter you'll be granted "Active Trader" status, which means commission is reduced to $7 per order.
TD Direct Investing UK also charges a maintenance fee of $25 per quarter if your account balance falls below $15,000. Another small disincentive for investors who don't plan on trading large sums.
How do TD Direct Investing fees stack up against similar brokerages? It's certainly not the cheapest but nor is it the most expensive. The following table compares TD Direct's share dealing prices to other leading Canadian stock brokers and a few of the UK's most popular platforms, including eToro, Hargreaves Lansdown and AJ Bell.
| | | |
| --- | --- | --- |
| Stock broker | Fee per order | Discount free per order |
| TD Direct Investing | $9.99 | $7.00 (150 trades per quarter) |
| CIBC Investor's Edge | $6.95 | $4.95 (150 trades per quarter) |
| BMO InvestorLine | $9.95 | N/A |
| Hargreaves Lansdown | £11.95 | £5.95 (20+ share deals per month) |
| AJ Bell Youinvest | £9.95 | £4.95 (20+ share deals per month) |
| eToro | £0 | £0 |
TD Direct Share Dealing Platform
Our TD Direct review found that, including the mobile app, there are no less than four platforms available to TD Direct investors. Like much of the TD Direct UK experience, this variety of options is designed to cater to a broad base of clients, spanning both beginners, who should appreciate a straightforward, accessible platform, and experienced traders, who know their way around a trading platform and demand an array of advanced analytical tools.
The WebBroker platform provides accessible functionality and smooth, intuitive navigation, as well as plenty of market research features. Whether you're a beginner or a seasoned investor, it's an appealing, well thought-out platform that covers all the bases.
The Advanced Dashboard presents a more dynamic, in-depth trading environment that allows more experienced traders to customise their trading environment and utilise an sophisticated toolkit that includes advanced charting, technical and probability analytics, analysis aggregation tools, heat maps and loads of indicators.
A further highly advanced platform – thinkorswim – is available to 'on top of your game' US options traders.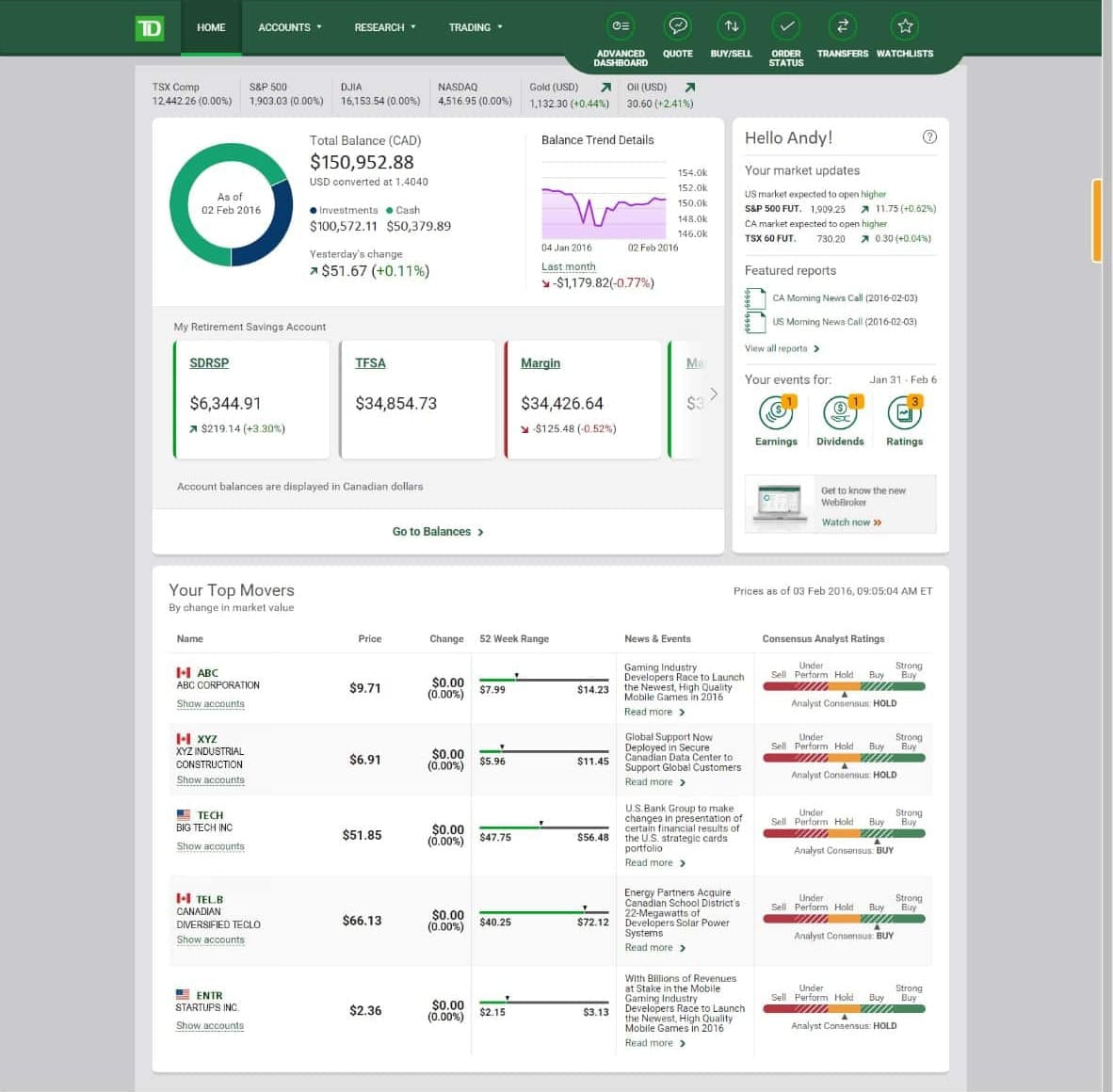 Research and Education on TD Direct Investing UK
While TD Direct's pricing structure seems to favour confident, well-practices traders, its educational resources are extensive and should provide beginners with plenty of useful knowledge and insights. Educational content includes curated videos and learning tools, easy to follow explainers, webinars and daily live masterclasses. If you're new to investing, you'll find plenty of unique inhouse content that covers all the basics and shows you how to navigate the platform. Everything is accessibly presented and easy to digest.
More advanced traders will also find plenty to chew on in the TD Direct share dealing educational resources and the array of analytical tools available across four platforms can be tailored to suit every level of expertise.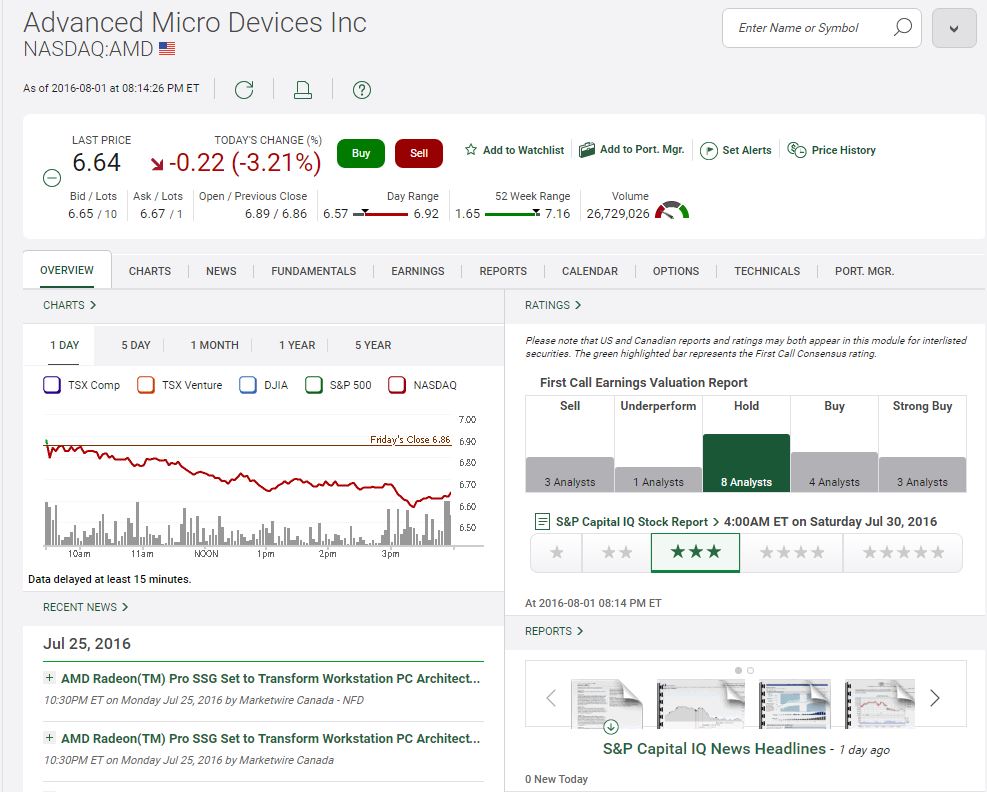 TD Direct Investing App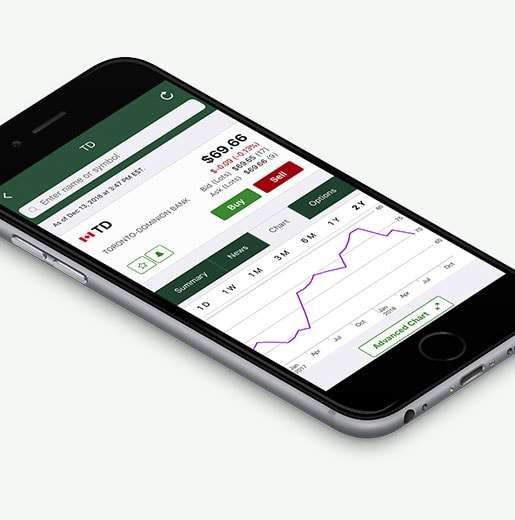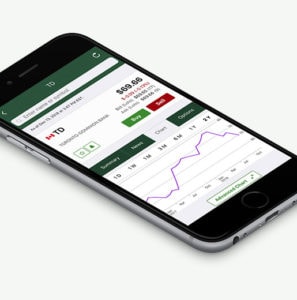 Every bank or brokerage needs to offer a mobile investment app these days, but apps don't always provide a faithful recreation of the desktop trading experience. Happily, TD Direct Investing has done a decent job of transposing the desktop experience into a user-friendly mobile format, without sacrificing much functionality.
While the TD Direct Investing app – available for both iOS and Android – is not a substitute for the advanced trading platform, it gives you access to plenty of research and analysis, including useful charts for metrics like profit and loss and implied volatility. You can also enable real-time alerts and action multi-leg options strategies.
Payments at TD Direct Investing UK
Our TD Direct review found that the broker doesn't charge withdrawal or deposit fees but be aware that you'll be charged $125 if you empty your TD Direct Investing account. You'll also be charged $75 to transfer to another broker. Bank transfers are pretty straightforward, especially if you're moving money between TD Direct accounts.
TD Direct Investing UK doesn't have a minimum account balance, so you can deposit as little as you like when you're setting up your account, which is helpful if you like to get a feel for the platform before committing any money.
TD Direct Contact and Customer Service
As we've pointed out, since Interactive Investor acquired the UK business, TD Direct Investing has focused on the North American market, which means there isn't a UK customer service number. You can contact them using their Canadian number of course, but keep in mind that it will be operating 7 am – 6 pm Eastern Time (ET), which is 5 hours behind GMT.
Alternatively you can seek support by contacting TD Direct Investing through one of its social media channels, including Twitter (7-days a week from 6am – 11pm ET), Facebook and LinkedIn. We also found plenty of useful content on the TD Direct YouTube channel.
Customer service is helpful but can be slow to respond. MoneySense reported an average waiting time of 26 hours to non-login digital service enquiries.
TD Direct Investing contact UK number:  0345 607 6001
TD Direct Investing contact page: https://www.td.com/ca/en/investing/contact-us/
TD Direct Investing address: 55 King St W, Toronto, ON M5K 1A2, Canada
Is TD Direct Investing Safe?
Given that TD Direct Investing is owned and operated by one of the Canada's biggest banks, you can rest assured that you're dealing with a well-established, thoroughly regulated brokerage. TD Bank is a member of the Investment Industry Regulatory Organization of Canada (IIROC) and the Canadian Investor Protection Fund (CIPF).
How to Get Started on TD Direct Investing UK
Like the look of TD Direct Investing UK? You can get started with a stock investing account today, just follow the steps below.
Step 1: Open a TD Direct Investing Account
First, you will need to visit the TD Direct Investing login page and open an account.
Click the Open Account button on the homepage then select which type of account you'd like to open (Margin Account, Cash Account etc).
As with any regulated investing platform, TD Direct will require some personal details. This will include your name, home address, date of birth, and contact details. You will also need to supply your national insurance number and have a some government issued ID handy.
The next page will give you a chance to confirm which account you want to apply for. If you're applying for a trading account you will need to specify whether you want to open a Direct Trading (margin) or Cash account. You can also select additional features including Options Trading and Short Selling.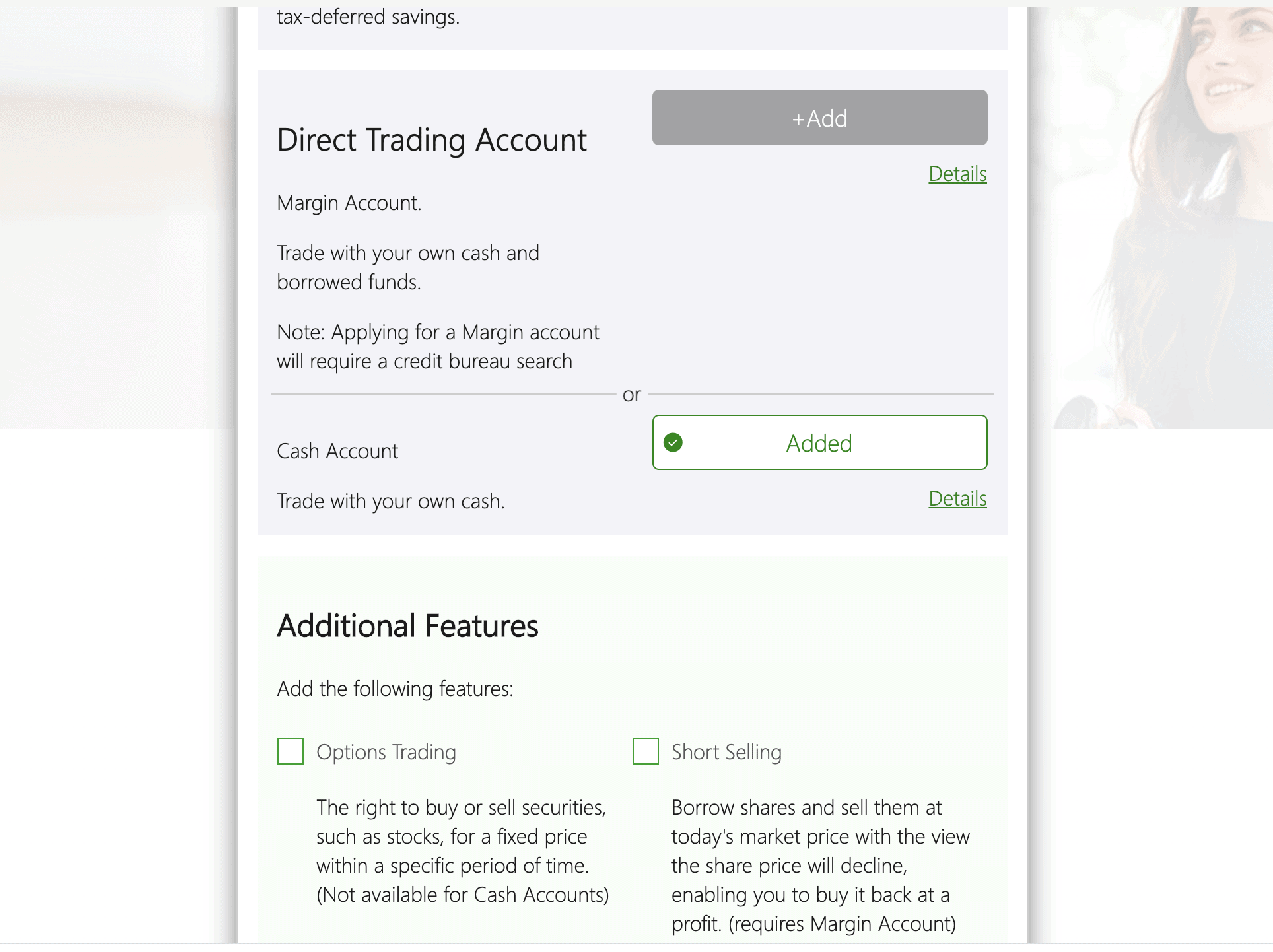 Step 2: Place a Trade
Placing a trade is easy, whether you're using the desktop trading platform or the mobile app.
Look up the stock you want to invest in by typing its name or ticker symbol into the search box.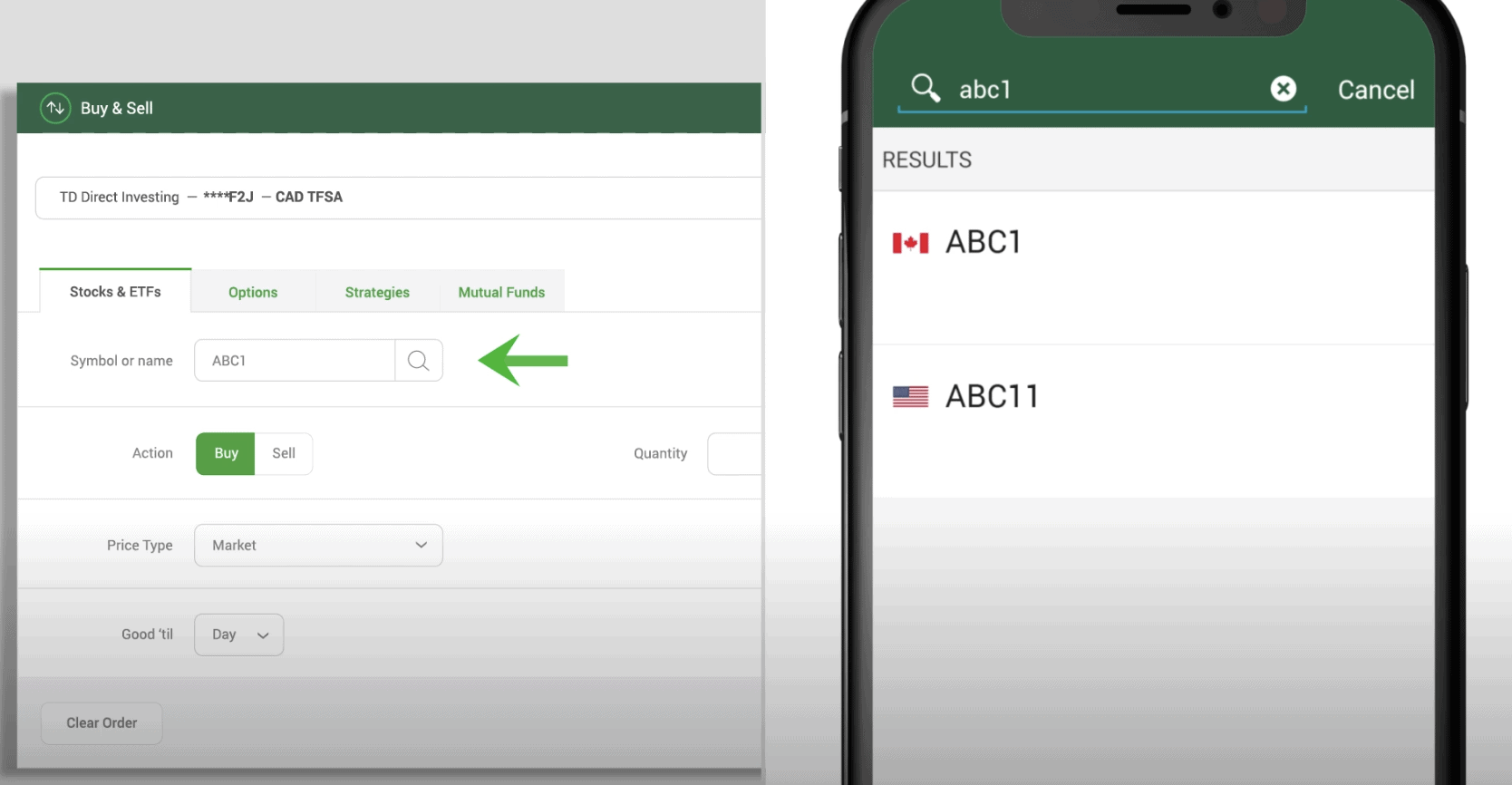 2. If you're ready to place a trade select Buy or Sell. In this case we'll opt to buy shares.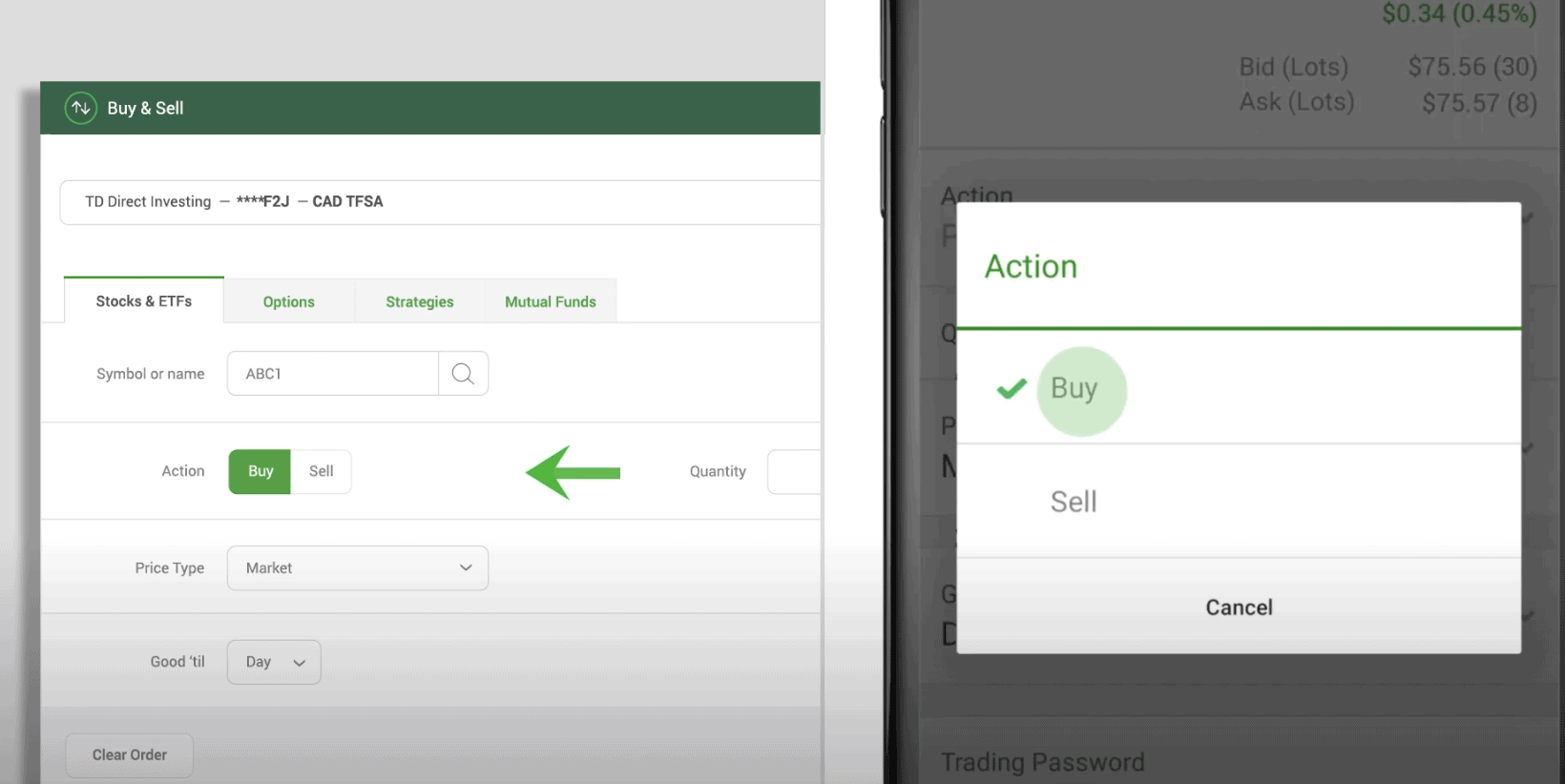 3. Next, you'll need to select your order type. Your options include Market orders, which entails buying the stock immediately at the current market price, and Limit order, which specifies you maximum buy price.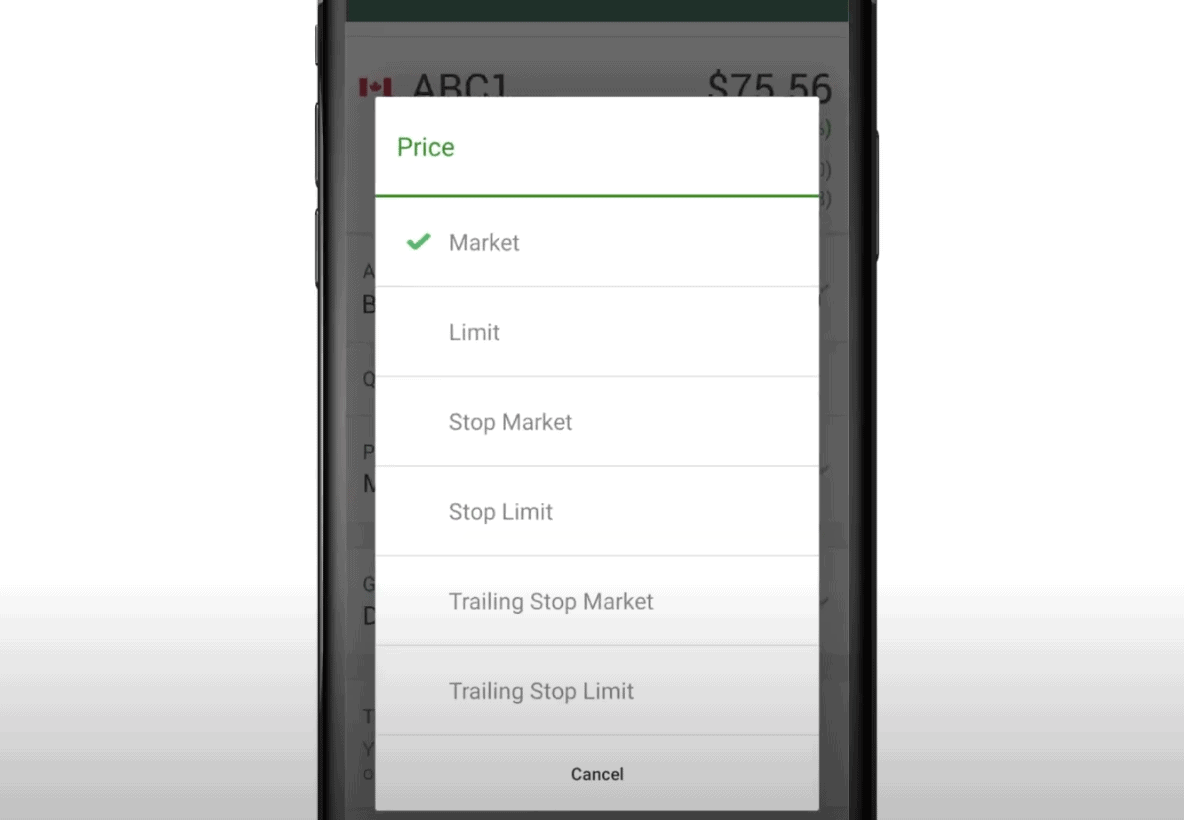 4. Fill-in the remaining fields then confirm your order. Job done!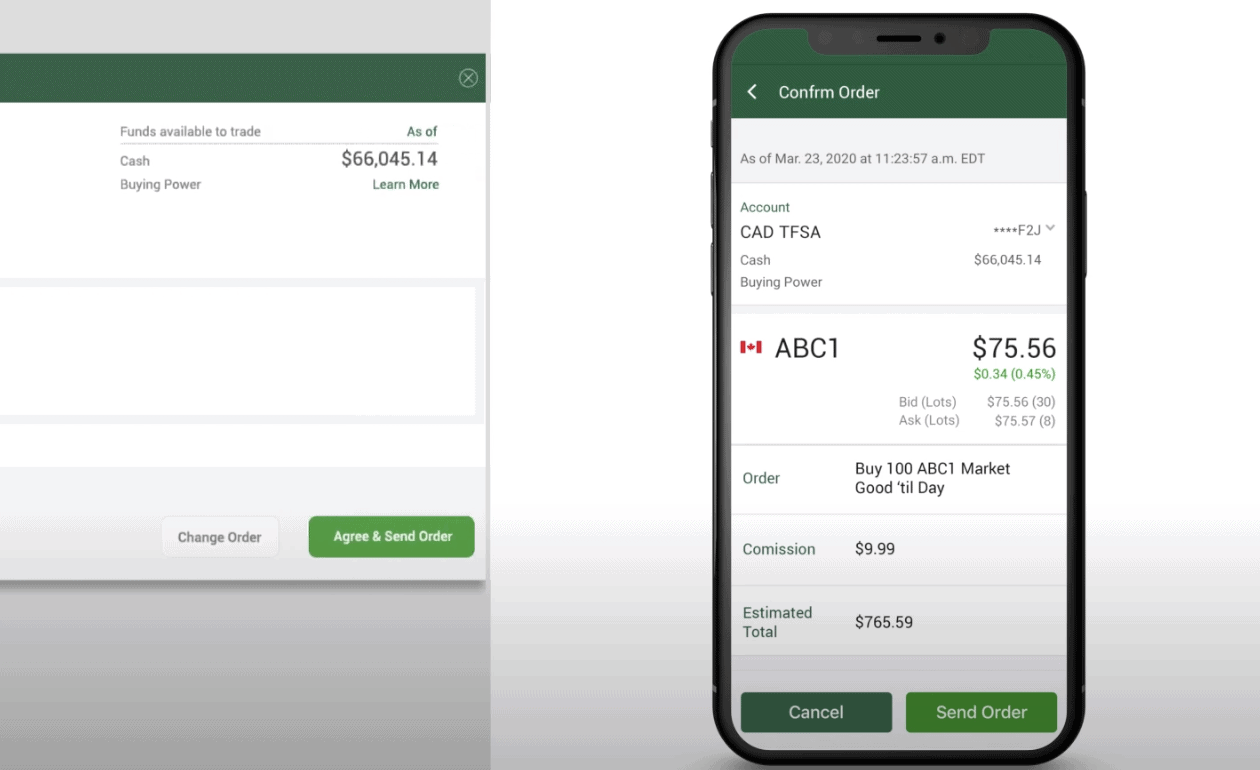 TD Direct Investing UK Pros and Cons
Pros
New platform is smartly designed and user friendly
TD Direct fees are transparent and reasonable
High volume investors can save on fees
Extensive, well-presented educational resources
Well-established as Canada's largest online brokerage
No minimum account size
Cons
'Maintenance fee' punishes cautious investors
Exclusively North American trading may not appeal to UK investors
Fees are not the cheapest, especially if you have a limited budget
No demo account
TD Direct vs. eToro
TD Direct has made improvements to its interface in recent years and now offers a slicker, more modern stock trading experience over a variety of platforms, including a very useable mobile app. It also does a good job of keeping its fees and commissions reasonably straightforward and transparent, which is another tick in the plus column as far as we're concerned.
But, for all these plus points, we're not convinced that TD Direct Investing international can compete with our top-rated broker, eToro. For one thing, while a standard commission rate of $9.99 isn't extortionate when measured against other traditional brokerages, it looks like a significant expense compared to eToro's zero commission offering. Simply put, eToro is a cheaper option, even if you're a high-volume trader and able to take advantage of TD Direct's discounted active investor rate.
| | | | | |
| --- | --- | --- | --- | --- |
| Stock broker | Fee per trade | Annual fee | Inactivity fee | Deposit / withdrawal fees |
| TD Direct Investing | $9.99 ($7.00 for 'active investors') | £0 | $25 per quarter if your account balance falls below $15,000 | £0 |
| eToro | £0 | £0 | £10 per month (after one year) | $5 |
Both platforms offer a smooth, intuitive trading experience that can be geared to suit both beginners and advanced traders but eToro's social trading environment and unique features like Copy Trader (which allows users to duplicate other traders positions) give it the edge from a usability point of view.
It's also worth noting that TD Direct Investing is only worth considering if you're focused on the North American markets. Anyone with a more global outlook will be better served by eToro, which grants access to 17 international stock markets, albeit in most cases you can only trade a proportion of the most popular stocks.
Given that TD Direct Investing is really aimed at the Canadian market we'd hesitate to recommend it to UK investors unless they have a particular interest in North American trading and favour a local brokerage.
The Verdict
If you're in the market for a Canadian broker you could certainly do worse than TD Direct Investing UK. Up until quite recently, TD Direct's brokerage has lagged behind smaller, more nimble online trading platforms, but a recent design update has done a great job of improving the look and feel of the platform. It now feels modern, accessible and smart.
Pricing is consistent with similar brokerages but considerably more expensive than 0% commission platforms like eToro. Ultimately the best commission fees are available to high-volume traders, as you'd expect, but it's a shame that TD Direct hits anyone with less than $15,000 in their account with a substantial maintenance fee. For all the well-produced educational resources on the platform, it's hard not to conclude that TD Direct share dealing is better suited to high-volume traders than beginners.
eToro – Buy Shares With No Commission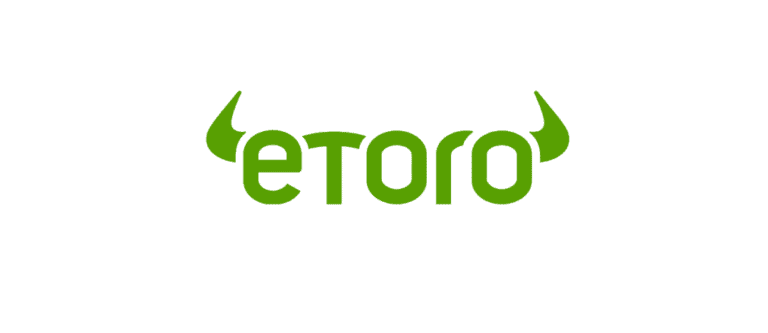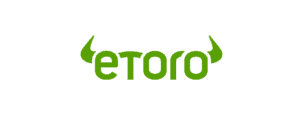 67% of retail investor accounts lose money when trading CFDs with this provider.
FAQs
When was TD Direct Investing launched?
Toronto-Dominion Bank launched a brokerage service in 1984 but the TD Direct Investing brand wasn't established until 2012.
Is TD Direct Investing regulated?
TD Direct Investing is regulated by the Investment Industry Regulatory Organization of Canada (IIROC) and the Canadian Investor Protection Fund (CIPF).
Does TD Direct Investing offer a mobile app?
Yes, TD Direct Investing UK offers four trading platforms, including a mobile app that's compatible with iOS and Android.
What is the minimum deposit at TD Direct Investing?
There is no minimum deposit.