CedarFX Review 2020 – Features, Fees, Pros and Cons Revealed
Fact Checked
Everything you read on our site is provided by expert writers who have many years of experience in the financial markets and have written for other top financial publications. Every piece of information here is fact-checked.
Disclosure
Please note that we are not authorised to provide any investment advice. The information on this page should be construed for information purposes only. We may earn commissions from the products mentioned on this site.
CedarFX is a zero-commission CFD broker that trades in over 170 markets. With this broker, you can trade forex, stocks, cryptocurrencies, indices, and more. Spreads are also very low across the board, making this one of the most cost-effective brokers in the UK.
Importantly, CedarFX does a few things differently than its competitors. Deposits and withdrawals are primarily conducted using Bitcoin, which makes for faster transaction processing so you can start trading or receive your earnings right away. The company also has a sustainability program in place that plants trees every time you trade.
So, is CedarFX right for you? In our CedarFX review, we'll take a closer look at everything this broker has to offer for UK traders.
What is CedarFX?
CedarFX is a relatively new UK CFD broker that puts its own unique twist on trading. The broker offers truly 0% commission trading accounts for all of the 170+ assets it offers. In addition, CedarFX keeps spreads well below the market average and doesn't charge any account fees. That means no deposit or withdrawal fees and no inactivity fee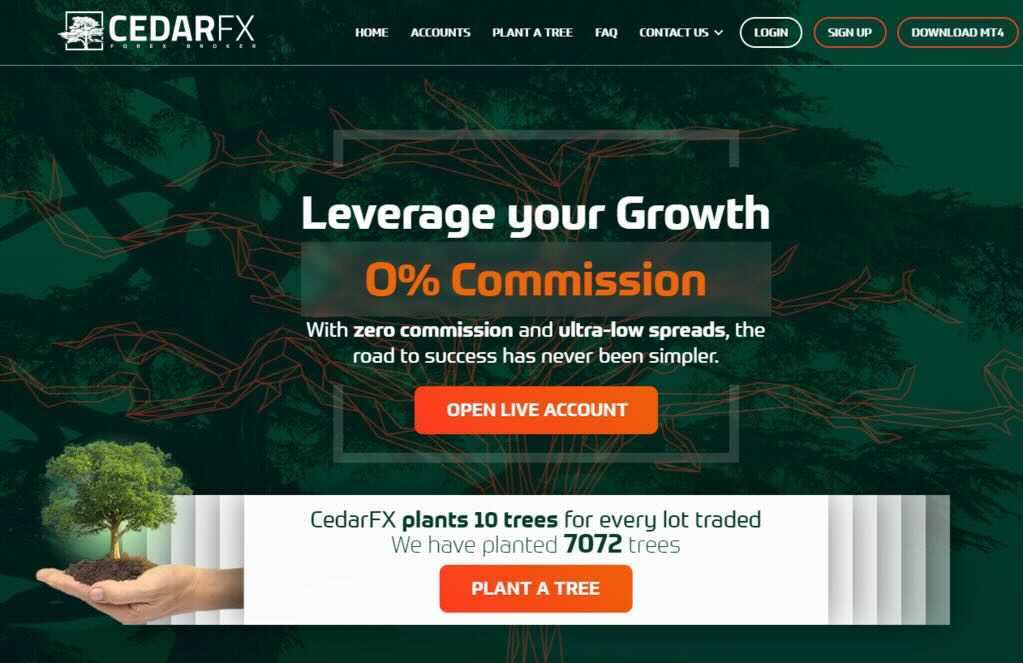 .
This broker also offers nearly instant deposits and withdrawals. That's thanks to the face that CedarFX only accepts Bitcoin for deposits and only sends Bitcoin for withdrawals. The platform makes it easy to set up a Bitcoin wallet with a third-party Bitcoin exchange when you sign up, so it's not a hurdle if you haven't used cryptocurrency before.
Another neat thing about CedarFX is that the broker has a sustainability program in place. If you sign up for an Eco account, which charges a commission of £0.75 per trade, your commission goes directly towards planting trees. CedarFX has partnered with Ecologi, a UK-based sustainability firm that ensures your commission is spent on reforestation and that tracks CedarFX's impact on CO2 reduction.
One thing to keep in mind about CedarFX is that this broker is not regulated in the UK or elsewhere. It is based in St. Vincent and the Grenadines, which have very little in the way of financial enforcement. UK accounts are not protected by the government's Financial Services Compensation Scheme.
However, this lack of regulation also enables the broker to offer far higher leverage than many other online forex brokers. You can trade with leverage up to 500:1 for major forex pairs.

What Shares Can You Buy on CedarFX?
CedarFX offers over 170 CFDs spanning 5 distinct asset classes:
Forex
You can trade CFD for any of 55 forex pairs, which is a fairly large selection. What's more exciting than the range of forex trading pairs, though, is the leverage that CedarFX offers. You can trade major forex pairs with leverage up to 500:1 and minor pairs with leverage up to 100:1.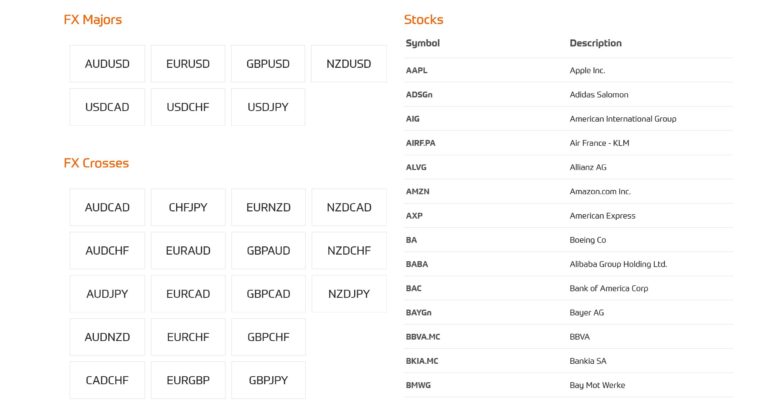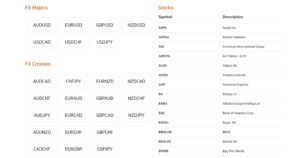 Cryptocurrencies
CedarFX offers cryptocurrency trading on 35 popular digital assets, including Bitcoin, Ethereum, Ripple, and more. All cryptocurrencies are traded in pairs with either US dollars or Bitcoin, rather than in pairs with the pound. You can apply leverage up to 100:1 for popular cryptocurrencies, although the broker is more restrictive when trading some lesser-known digital coins.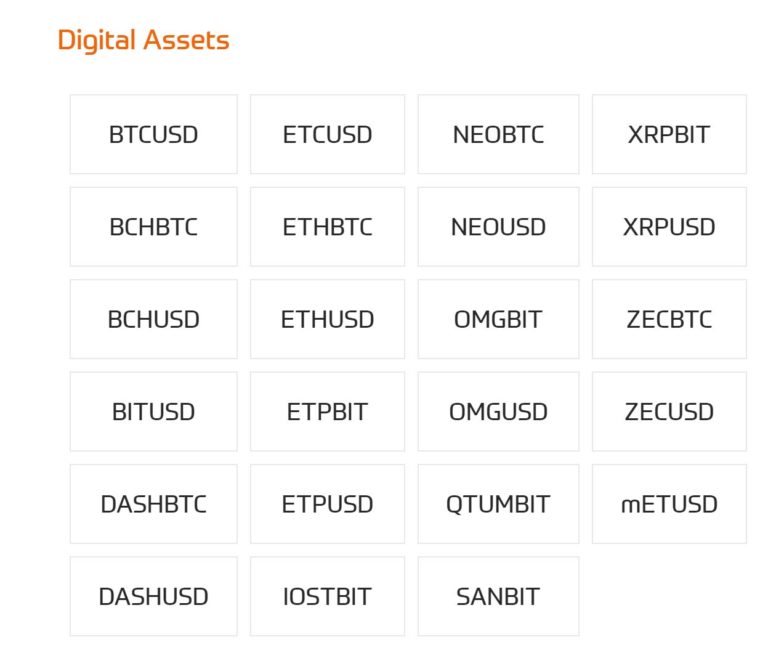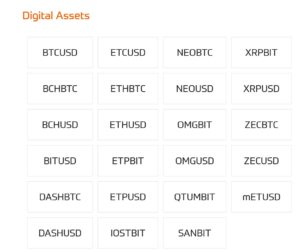 Stocks
You can trade 64 highly popular stocks with CedarFX. Nearly all of the shares available are from the New York and NASDAQ stock exchanges in the US, and you'll find hot companies like Tesla, Amazon, and Apple. All share CFDs can be traded with leverage up to 20:1.
Indices
CedarFX offers 11 CFDs for index trading. Several of these cover US market indices, but you'll also find indices for the UK, European, and Hong Kong markets. Indices trade with leverage up to 200:1.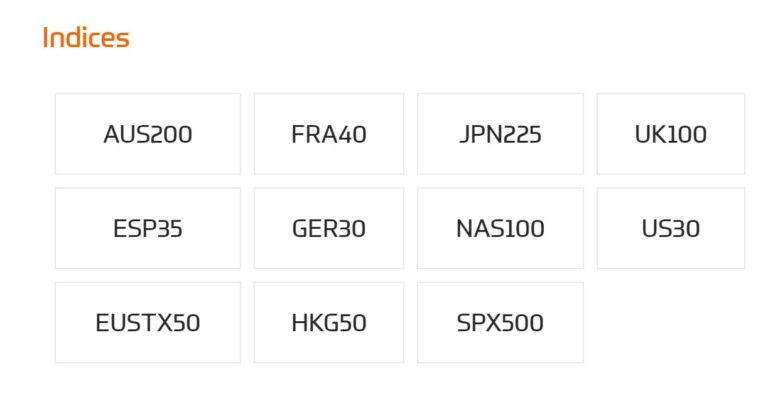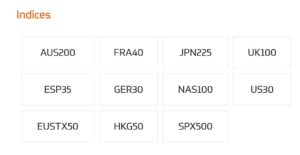 Commodities
CedarFX offers trading for gold, silver, platinum, natural gas, Brent crude oil, and WTI crude oil. For gold trading, you'll find CFDs that pair gold with both the US dollar and the Euro. Metals can be traded at leverage up to 500:1, while natural gas and oil trading can use leverage up to 200:1.
CedarFX Fees & Commissions
CedarFX is a commission-free broker. With a standard trading account, you won't pay any commissions regardless of what assets you trade or how much you trade.
The broker makes money instead through spreads, although these are well below the industry average. The popular EUR/USD forex pair carries a spread of 0.8 pips and the average spread for major forex pairs is around 1 pip. Bitcoin trades with a spread of 25 pips and Ethereum with a spread of 30 pips.


CedarFX doesn't charge any account fees. There are no deposit or withdrawal fees (from the broker), no monthly or annual account charges, and no inactivity fees. That said, since CedarFX uses Bitcoin for payments, it's worth noting that the Bitcoin Network charges a 0.0005 BTC (£7) transaction charge for deposits and withdrawals.
Eco Account
CedarFX offers an Eco account in addition to its standard account. The Eco account is not commission-free. Rather, you pay a commission of £0.75 per trade and that money goes directly towards planting trees around the world. The advantage to choosing an Eco account rather than simply donating to a reforestation organization is that CedarFX will match your commission and donate 100% of the funds to Ecologi, a UK-based sustainability firm.
Other than the commission, everything about the Eco account is the same as for the standard commission-free account. You can switch account types at any time, or open both standard and Eco accounts with CedarFX.


CedarFX Platform and Trading Tools
CedarFX uses MetaTrader 4 as its trading platform instead of providing its own proprietary trading platform. This is good news for traders, as MetaTrader 4 is incredibly capable, widely used, and available for desktop, web, and mobile.
We like MetaTrader 4 in large part because it is highly customisable. You can set up your dashboard in any way you like and take advantage of having multiple monitors by displaying as many charts as you want at one time. The platform comes with dozens of built-in technical studies, but you can also download more from the MetaTrader community or design your own using the integrated scripting language.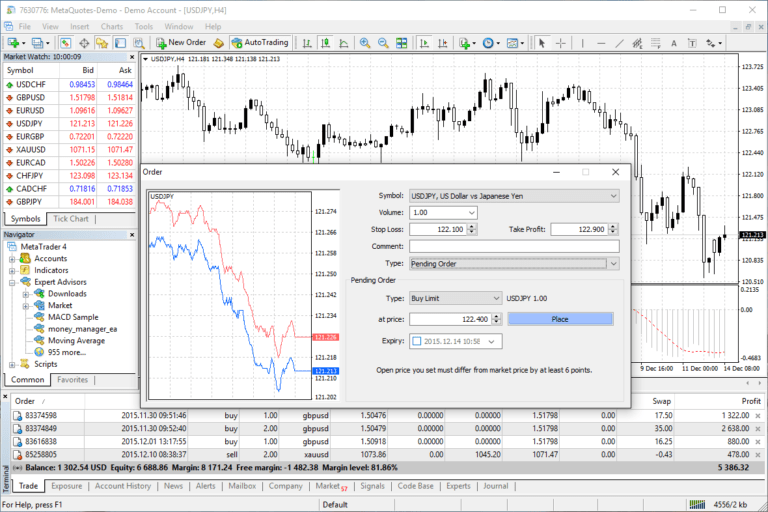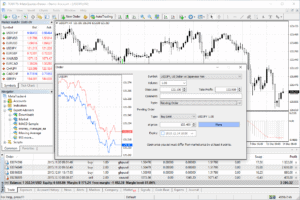 Importantly, MetaTrader 4 also supports forex signals and forex robots. You can build signals from scratch or pay for predesigned signals from the MetaTrader community marketplace. The software also supports backtesting, so you can test out your indicators and signals against historical price data for any asset that CedarFX offers.
The only downside to MetaTrader 4 is that it is a very comprehensive platform with a steep learning curve. If you just want to check the price of an asset rather than dive into technical charting, MetaTrader 4 can be overkill.
CedarFX App
The MetaTrader 4 trading platform is available as a mobile app for iOS and Android. Although it is not as easy to tap through as some brokers' mobile trading apps, the MetaTrader 4 app offers many of the same comprehensive charting tools as the web and desktop software. The app also supports watchlists, so you can easily track assets in your portfolio or that you are interested in trading.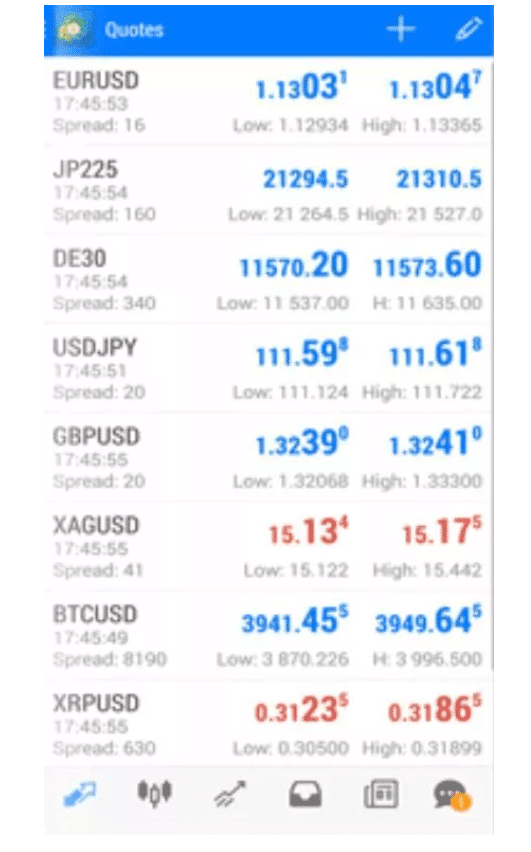 CedarFX Demo Account
CedarFX offers a paper trading account through MetaTrader 4. There are no fees associated with opening a demo account.
Research and Analysis at CedarFX
CedarFX doesn't offer any research and analysis tools, nor trading education resources. The broker doesn't offer any tools or platforms beyond MetaTrader 4.
CedarFX Leverage
Since CedarFX is not regulated by the financial agencies that oversee most online CFD brokers, it has a freer hand to offer leverage to traders. In fact, CedarFX offers significantly more leverage to non-professional UK traders than almost any other broker and is one of the best high leverage brokers UK.
| | |
| --- | --- |
| Asset Type | Maximum Leverage |
| Major Forex Pairs | 500:1 |
| Minor Forex Pairs | 100:1 |
| Cryptocurrencies | 100:1 |
| Stocks | 20:1 |
| Indices | 200:1 |
| Metals | 500:1 |
| Natural Gas & Oil | 200:1 |
Payments at CedarFX
CedarFX conducts all payments through Bitcoin. If you don't already have a Bitcoin wallet set up, CedarFX can help you create an account with a partner exchange when you sign up for a brokerage account. That way, you can also choose to fund your deposit by credit or debit card (the funds are converted to Bitcoin before being transferred to CedarFX). All withdrawals are to Bitcoin only.
One important advantage to using Bitcoin is that payments at CedarFX are exceptionally fast. Funds typically arrive in your account in minutes, depending on traffic on the Bitcoin blockchain. All withdrawals are settled within 24 hours, and most within an hour.
The downside is that paying with Bitcoin does entail some transaction charges. There is a spread to convert pounds to Bitcoin through an exchange when transferring funds from a credit or debit card. In addition, the Bitcoin Network charges a fee of 0.0005BTC (£7) to handle your deposit or withdrawal to or from CedarFX.
Customer Service at CedarFX
CedarFX offers 24/7 support by phone, email, and live chat. If you want to speak to a customer service agent over the phone, you will have to request a callback. Callbacks and email responses typically occur within 24 hours.
One thing to note is that CedarFX only provides support in English. The website and customer service representatives are not multilingual.
Is CedarFX Safe?
CedarFX is not a regulated broker, which raises more safety concerns than for other online brokers. Importantly, since CedarFX is not regulated, UK accounts are not protected by the UK's Financial Services Compensation Scheme. If the company goes out of business, there is no guarantee that you will be able to reclaim any funds or assets that you had in your account.
CedarFX is relatively young and doesn't publish any financial information. So, it's difficult to gauge whether this broker is worthy of your trust.
CedarFX Pros and Cons
Pros
170+ assets to trade
Zero-commission trades
Below-average spreads
Leverage up to 500:1 for forex and 20:1 for stocks
Extremely fast deposits and withdrawals
Eco account with matching contributions
Uses MetaTrader 4 as trading platform
24/7 customer support
Cons
Not regulated or insured
No research or education tools
Limited selection of stocks
The Verdict
CedarFX is an all-around excellent CFD broker if you're interested in trading forex, cryptocurrencies, stocks, indices, and commodities. This broker offers zero-commission trading and below-market spreads, which makes it one of the more cost-effective options available to UK traders. It also includes the MetaTrader 4 trading platform, which is the widely used and highly capable standard platform for forex and CFD trading.
The biggest concern we have about CedarFX is that it is not regulated or insured. That means you could be in trouble if the broker ever goes out of business.
However, the lack of regulation also allows CedarFX to do some key things differently than other brokers. CedarFX uses Bitcoin for payments, which enables very fast deposits and withdrawals. On top of that, the broker offers leverage up to 500:1 for major forex pairs and 20:1 for stocks, even for non-professional traders.
Ready to get started with CedarFX? Click the link below to sign up for an account today!
CedarFX – Commission-free CFD Broker with High Leverage
Your capital is at risk.
FAQs
Is CedarFX available in the US?
Yes, CedarFX is available to US and UK traders.
Can I fund my CedarFX account with a UK bank transfer?
No. At this time, CedarFX only allow you to fund your account using Bitcoin or a credit or debit card.
Does CedarFX offer a sign-up bonus?
CedarFX is not currently offering a sign-up bonus for new traders.
What happens if CedarFX goes out of business?
Since CedarFX is not regulated or insured, you do not have any protections if the company runs into financial trouble. There is no guarantee that you would get any funds you have deposited with the brokerage back.
How does a CedarFX Eco account work?
If you open a Cedar FX Eco account, you'll pay a £0.75 commission per trade. This money, plus a matching contribution from CedarFX, will be sent to Ecologi, a UK-based sustainability firm. The money is then used to plant trees to reduce global carbon emissions.