If you're looking to spread bet financial instruments on a tax-free basis – you'll need to open an account with a popular broker. The most notable platforms in this space allow you to trade on a 0% commission basis, alongside leverage and other useful tools.
In this guide, we review some of the Popular Spread Account UK in 2021 and walk you through the process of signing up.
Popular Spread Betting Account UK List
If you want to start trading now with some of the popular spread betting account UK providers – check out the popular platforms down below. We do, of course, review each spread betting account in full detail further down.
IG
ETX Capital
Capital.com
Popular Spread Betting Accounts UK Reviewed
In searching for the popular spread betting account UK – we looked at a wide variety of factors. This centres on key metrics like fees and commissions, tradable spread betting markets and regulation.
With this in mind, below you will find a selection of some of the most popular spread betting accounts UK for 2021.
1. Spreadex

We found that Spreadex is one of the most popular spread betting account UK. First and foremost, the platform covers traditional sports betting markets as well as financial instruments. Assuming you are interested in trading the latter – you will have access to thousands of markets.
For example, you may spread bet stocks and shares not only from the UK, but multiple international exchanges. This includes over 15 marketplaces from Europe, North America, Asia, and more. You may also trade ETFs and indices, with the latter offering spreads of just 0.6 pips per slide. If you're interested in gaining exposure to the global commodity markets, Spreadex supports everything from Brent crude oil and natural gas to gold and corn.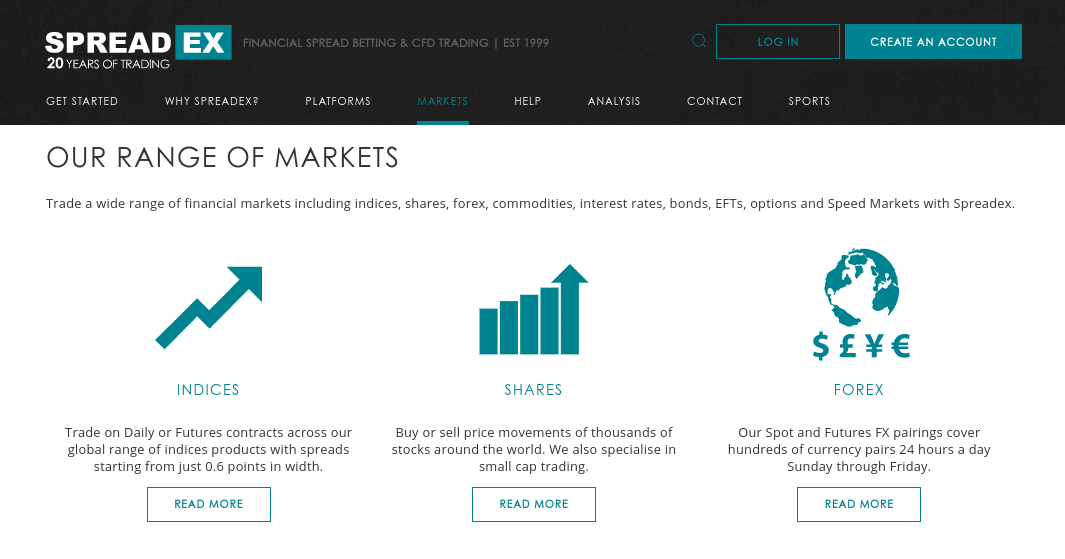 The forex spread betting department at Spreadex is also highly rated, with dozens of major, minor, and exotic currency pairs supported. Other markets available include options, bonds, and interest rates. When it comes to fees, Spreadex operates a 0% commission policy. In most cases, we found that the provider is very competitive in the spread department – meaning you will benefit from super-low fees across the board.
There is no minimum deposit threshold at Spreadex – so may get started with any amount that you like. The platform supports several convenient payment methods – including debit and credit cards. We should also mention that Spreadex offers leverage on all of its supported markets. You'll get up to 1:30 when trading forex and less on other asset classes. Finally, Spreadex has been operational for over two decades and it is authorized and regulated by the FCA.
55% of retail investors lose money when trading spread bets and CFDs with this provider
2. Pepperstone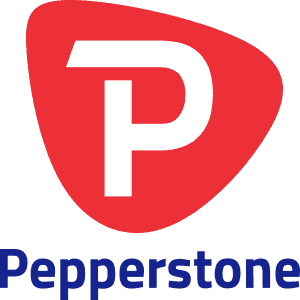 If you're an experienced trader – then you will want access to a spread betting account that comes packed with advanced tools and features. This will allow you to deploy your spread betting strategies to the best of your abilities. We found that the most popular spread betting account UK for seasoned traders is that of Pepperstone.
Firstly, the broker allows you to access your spread betting account via three advanced platforms – MT4, MT5, and cTrader. If you've been in the trading arena for some time, then you will note all three of these third-party platforms come pre-loaded with technical indicators, chart drawing tools, and the ability to fully customize your trading screen.

In fact, you also have the option of installing an automated forex robot so that you can spread bet in a fully passive manner. Irrespective of what platform you opt for, Pepperstone gives you access to an abundance of spread betting instruments. This includes a plethora of indices, hard and soft commodities, currencies, and shares from a number of international exchanges. When it comes to fees, Pepperstone is another UK spread betting broker that does not charge any commission.
Once again, all fees are built into the spread. To give you an idea of how competitive it the platform is, you have the option to spread bet EUR/USD from just 0.70 points and the S&P 500 index from just 0.4 points. You may open an account with Spreadex – which is authorized and regulated by the FCA, in minutes. There is no minimum deposit and you can choose from a debit/credit card or bank transfer. Finally, in addition to its spread betting offering, Pepperstone also offers CFD trading instruments.
78.6% of retail investor accounts lose money when trading spread bets and CFDs with this provider.
3. IG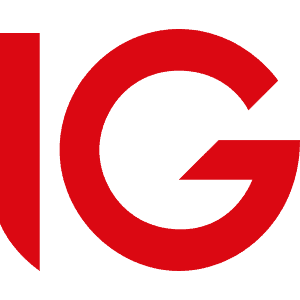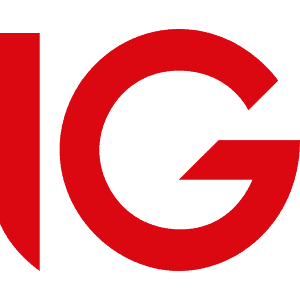 Another spread betting account provider to analyse is IG. Although the platform is super popular with those in the UK looking to purchase shares – IG is also home to an extensive CFD trading and spread betting facility. In fact, the latter is home to over 17,000 markets – so you'll never struggle to find suitable trading opportunities.
This includes thousands of stocks from a wide variety of markets. On top of equities listed on the LSE and AIM, you have the option to also spread bet companies based in the US, South Africa, Australia, Japan, Germany, France, and more. Other popular spread betting markets at IG include forex, hard metals, energies, interest rates, indices, and ETFs.  All of the spread betting markets at IG can be accessed with leverage – so you'll be able to boost your account balance by up to 1:30.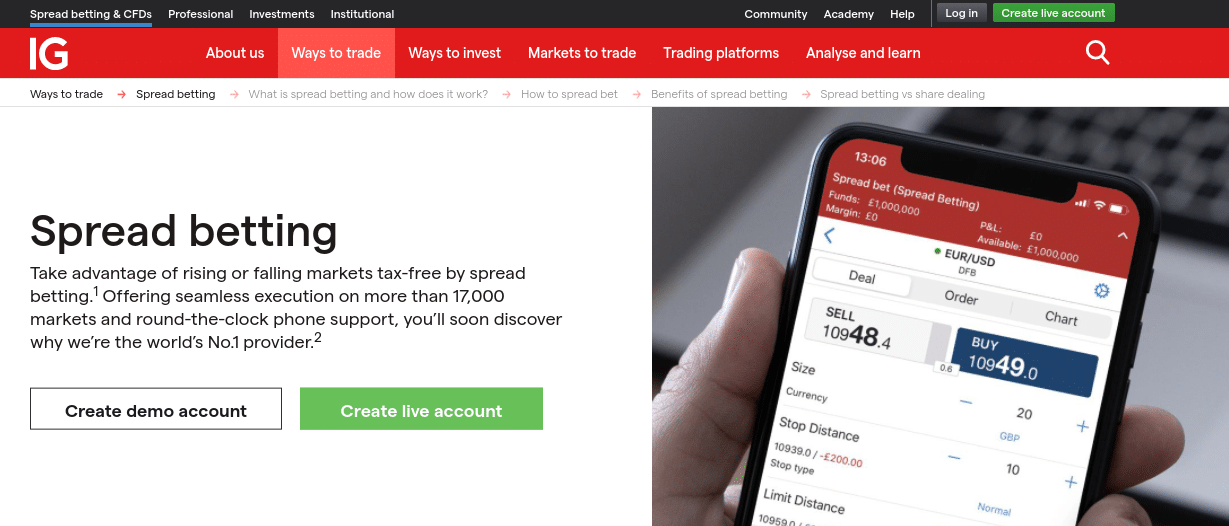 When it comes to fees, all spread betting markets attract a commission of 0% – apart from stocks. The latter comes with a variable commission that averages 0.10% on most UK and European markets. Other exchanges will attract different fees – so be sure to check this for yourself. You may open an account at IG by meeting a minimum deposit of £250. The broker – which has been operational since 1974, permits instant deposits via Visa and MasterCard.
71% of retail investors lose money when trading CFDs at this site
4. ETX Capital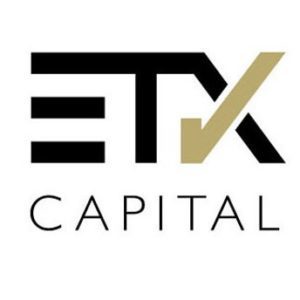 Launched in 1965 – ETX Capital is one of the most trusted and established brokers in the UK. On top of CFD trading, the platform is also popular with those looking to access tax-free spread betting markets. Here, you'll be able to trade over 5,000 financial instruments – which is inclusive of forex, indices, shares, and commodities. If you're a professional client, you'll also be able to spread betting cryptocurrencies.
When looking at the broker's spreads, we found these to be super-competitive across most markets. For example, users can trade major indices from just 1 point and currencies from 0.6 pips. In addition to tight spreads, ETX Capital allows you to trade on a 0% commission basis. ETX Capital also offers low minimum stakes. For example, this starts at 25p per point on major currencies and 50p per point on indices.

We also found that ETX Capital is suitable for spread bettors of all skillsets. For example, if you're a seasoned pro, you might elect to trade via MT4. Or, if you're just starting out, you might prefer to use the broker's native web-trading platform. Either way, you have the option to open an account at ETX Capital in minutes and the platform supports Visa, MasterCard, Maestro, Skrill, and Neteller. Perhaps the main drawback with ETC Capital is that it requires a minimum first-time deposit of £100.
74.5% of retail investor accounts lose money when trading CFDs with this provider.
5. Capital.com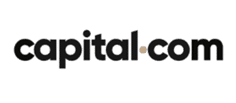 If you're attracted to the many benefits that spread betting offers – such as tax-free profits and leverage, but you're still a newbie – then it might be worth looking at Capital.com. This is because the provider is arguably one of the most popular spread betting accounts for beginners. In total, broker offers more than 3,000 financial instruments.
This covers everything from currencies, ETFs, and indices to stocks, precious metals, and energies. Each and every spread betting market at Capital.com can be traded without you needing to pay any commission. Much like Spreadex, it's only the spread that needs to be covered. There are no fees to deposit or withdraw funds – nor will you need to pay any stamp duty on UK-listed equity trades.

In terms of useability, there are several reasons why Capital.com is popular among UK users. Firstly, you may open an account and start trading via the demo facility without needing to risk any money. This will replicate live market conditions – so it's a great way to get to grips with spread betting as a beginner. The platform is also suitable for inexperienced traders as the minimum deposit is just £20.
This low minimum threshold is applicable to debit/credit card and e-wallet deposits only. If you elect to transfer funds from your UK bank account, the minimum goes up to £250. You will also find a wide range of educational and research materials at Capital.com – which covers everything from guides, videos, and market insights. The platform has a great reputation in the online trading scene and is fully licensed by the FCA.
79.17% of retail investor accounts lose money when trading CFDs with this provider.
Spread Betting Accounts Comparison
If you're still unsure which platform is right for you and your financial goals – check out our spread betting account comparison table below.
| | | | | | |
| --- | --- | --- | --- | --- | --- |
| Provider | Spread Betting Fees | Minimum Spread (Indices) | Payments | Demo Account | Platforms |
| Spreadex | 0% Commission All Markets | From 0.6 Points | Debit/Credit Cards, Bank Transfer | Yes – Free | |
| Capital.com | 0% Commission All Markets | From 0.7 Points | Debit/Credit Cards, Bank Transfer, E-wallets | Yes – Free | |
| Pepperstone | 0% Commission All Markets | From 0.4 Points | Debit/Credit Cards, Bank Transfer, E-wallets | Yes – Free | |
| IG | Stocks from 0.1%, All Other Markets at 0% | From 0.1 Points | Debit/Credit Cards, Bank Transfer | Yes – Free | |
| ETX Capital | 0% Commission All Markets | From 1 Point | Debit/Credit Cards, Bank Transfer, E-wallets | Yes – Free | |
How to Choose a Spread Betting Account UK for You
If you are still undecided as to which provider is right for you – we are going to help you choose some of the popular spread betting account UK for your needs. After all, no two platforms are the same – so it's important to do a little bit of additional research prior to opening an account.
Regulation and Safety
The spread betting industry is heavily regulated in the UK – much like other investment sectors. As such, your first port of call should be to ensure that your chosen spread betting provider is both authorized and regulated by the Financial Conduct Authorty (FCA).
You might be surprised to learn that the Gambling Commission is not involved in the spread betting scene – even though capital gains are viewed as gambling winnings.
Nevertheless, you should also ensure that your chosen platform is covered by the Financial Services Compensation Scheme (FSCS).
In doing so, this ensures that your brokerage account balance is protected up to the first £85,000 – should the unthinkable happen and the spread betting platform goes bust.
Additionally, you should also explore how long the spread betting provider has been trading and what reviews and ratings are like in the public domain.
Assets
The popular spread betting account UK providers will offer thousands of financial instruments on its platform. For example, Spreadex offers a highly diverse range of asset classes to ensure that traders of all shapes and sizes are covered.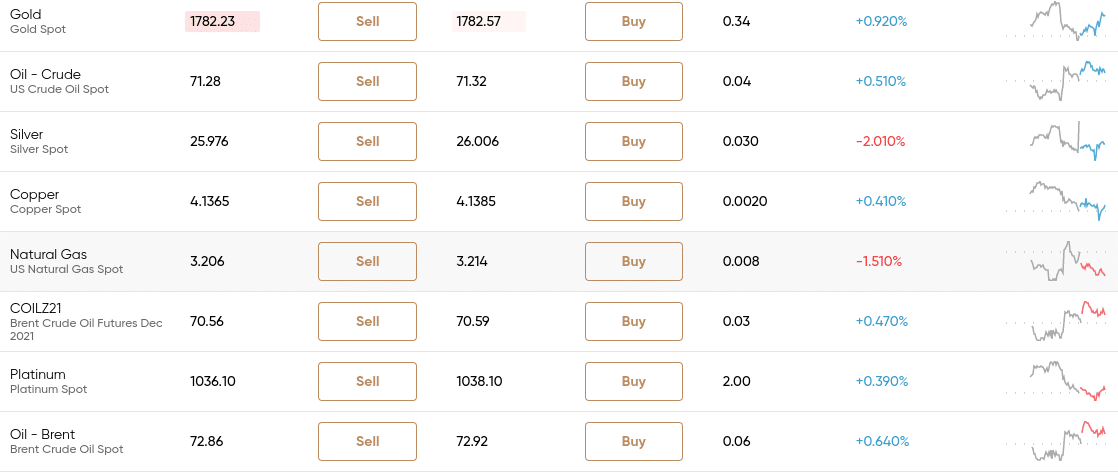 This includes everything from stocks and forex to commodities and indices. With that said, if you like to trade a specific financial market – such as the FTSE 100 index or USD/TRY,  make sure that the spread betting platform supports it.
Fees
When you purchase shares in the traditional sense from a UK stock broker – you normally need to pay a flat dealing fee. However, when you trade financial instruments via a spread betting provider – the pricing structure will work in a different way. That is to say, the popular spread betting accounts UK discussed today typically offer 0% commissions on all supported markets.
This means that the main trading fee that needs to be taken into account is the 'spread' itself. This is the gap between the long and short price of your chosen market. For example, the likes of Spreadex allow you to trade major indices from 0.6 points. This means that you need the value of your indices trade to increase by at least 0.6 points to make a profit.
In addition to spreads and commissions, you also need to look at overnight financing charges. This is a fee that is charged when you keep a spread betting position open for more than one day. This fee won't be applicable if you opt for a daily funded betting market, but it will on its quarterly counterpart.
Trading Tools & Features
If you've got a particular trading tool in mind – be sure to check whether or not the spread betting provider offers it.
Some of the most notable features that we came across when searching for the popular spread betting account UK are as follows:
Leverage
Leverage – which allows you to amplify the value of your trade, is offered by all of the spread betting account providers discussed on this page. In terms of limits, you won't be able to get more than 1:30 at any of the platforms we have reviewed today. This is as per FCA regulations to protected retail investors.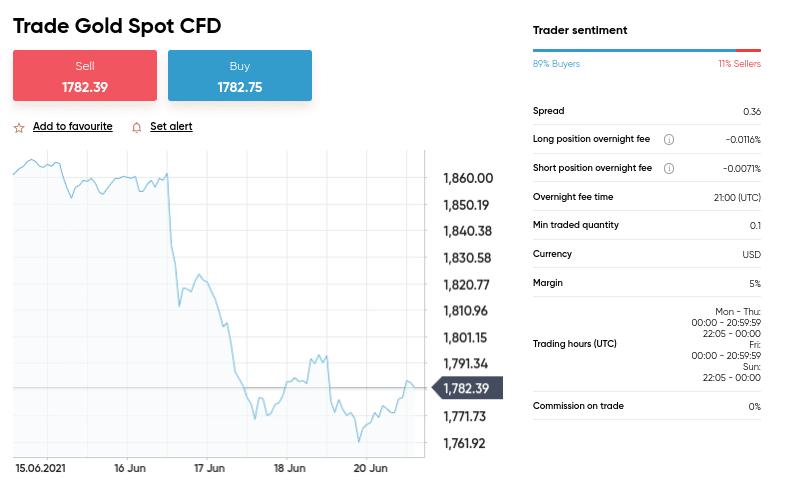 We did, however, also come across platforms that do not offer leverage at all, so you should check this for yourself before opening an account.
Third-Party Platforms
If you're relatively new to the spread betting arena, then you will likely be more comfortable trading via a basic web platform. This means that you may simply log in to your spread betting account and start trading via your browser. However, if you want access to more advanced charting tools – then it's worth using a broker that is compatible with MT4, MT5, or cTrader.
Educational and Research Materials
Some of the popular spread betting accounts UK that we came across offer an abundance of educational materials that can help you become a better all-round trader. For example, Spreadex is home to a number of blogs, guides, and explainers. In terms of research tools, you will also find live interviews, market updates, blogs, and an economic diary.
Bet Duration
Don't forget to check what bet duration periods your chosen spread betting provider offers. For example, if you only have access to daily funded markets, this means that your position will be closed at the end of each trading day. This won't be suitable for targeting longer-term trends.
On the other hand, if the broker also offers a quarterly bet duration, this means that you may keep your position open for up to three months. As such, this permits swing trading strategies.
Mobile App
Make no mistake about it – the popular spread betting accounts in the UK offer a fully-fledged mobile trading app. This allows you to perform a number of key tasks while on the move – such as depositing/withdrawing funds, performing research, or checking the value of your trading portfolio.
And of course – by having access to a mobile app – you have the chance to enter and exit spread betting positions no matter where you are. If a spread betting app is offered, it is all but certain that this will be compatible with both iOS and Android devices.
User Experience
The popular spread betting platforms will cater to both newbies and experienced pros. If you fall within the category of the former, then it's important that the user experience is suitable for your skillset. In particular, the spread betting trading arena itself should be easy to use and free of unnecessary jargon.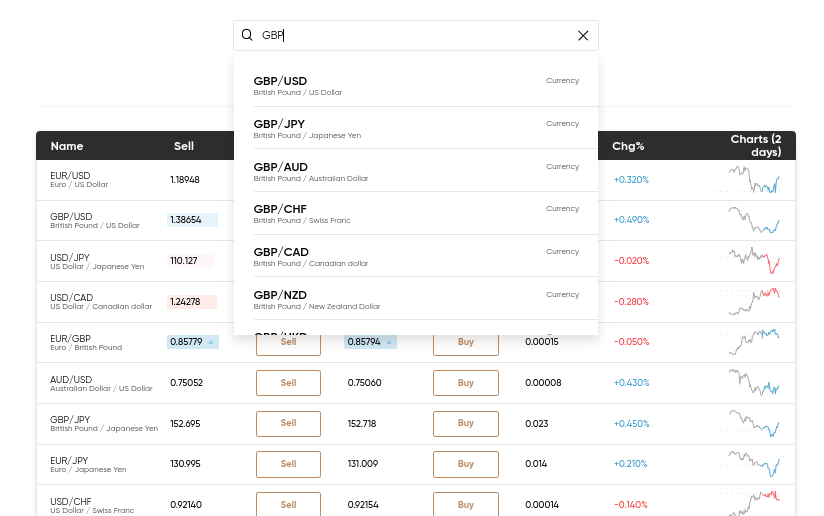 This means that you should be able to find your chosen spread betting instrument with ease and be able to read the terms of the respective market without needing assistance. The process of placing a buy/sell, market/limits, and stop-loss/take-profit order should also be seamless – as should depositing and withdrawing funds.
Payments
If you want to spread bet financial instruments with real money – then you will need to add some capital to your brokerage account. The popular spread betting providers in the UK support a range of everyday payments –  such as debit/credit cards and local bank transfers.
Some platforms will even support e-wallets like Paypal. Once you have established that your preferred payment type is supported, you also need to explore whether or not any deposit fees apply.
Customer Service
If you need assistance on your spread betting account – then you'll want to be able to speak with a support agent in real-time. The popular spread betting providers that we have discussed today not only offer telephone support – but a live chat facility. At the other end of the spectrum, we also came across platforms that only offer email support.
Spread Betting Demo Account
If you're relatively new to spread betting – then it's worth choosing a broker that offers a demo account. This will reflect real market conditions – meaning that you can learn the ins and outs of how spread betting works without needing to risk any money. Instead, the provider will give you an allocation of paper trading funds – which you may use as you please.
How to Get Started with Spread Betting Accounts UK
If you've read our guide up to this point and are ready to start spread betting financial instructions – we are going to walk you through the set-up process of doing so with a suitable broker of your choice.
Step 1: Create a Spread Betting Account
Getting started takes a matter of minutes. Simply make your way to your brokerage's website and begin the sign-up process. This will open a sign-up form and you'll be required to enter your name, email address, as well as choose a username and password for your new trading account.
Step 2: Complete the Verification Process
Users may be required to complete a simple KYC process, if they invest with a regulated broker. Upload a copy of your passport or driving license as proof of identity, and a copy of a recent utility bill or bank statement as proof of address.
Step 3: Deposit Funds
With a fully verified account, you're one step closer to start trading a range of assets with the click of a button.  Depending on the broker you choose, you can transfer funds using a debit card, credit card, bank wire transfer, as well as e-wallets such as PayPal, Neteller and Skrill.
Choose your preferred payment method and deposit your funds into the account.
Step 4: Search for Spread Betting Market
If your account is funded you can search for the spread betting market that interests you.Simple type in the name of the account on the navigation bar of your platform's account and hit enter.
Step 5: Place Spread Betting Trade 
The final step is to place a spread betting trade.
First, you need to determine whether you think the price of the financial instrument that you are trading will rise or fall. If you think it is will rise you will need to select a 'Buy Order'. If you think the asset will fall in value, select a 'Sell Order'.
You then need to enter your stake per point – and if you want to apply leverage, select your multiple. For risk-management purposes, it's also a wise idea to set up a stop-loss and take-profit order.
Finally, when you are happy with all of the information you have entered – confirm the order.
Conclusion
This guide has reviewed the popular spread betting accounts available in the UK. We noted that the popular providers will offer access to thousands of financial instruments across stocks, forex, indices, commodities, and more. You should also look for platforms that offer competitive fees and tight spreads, as well as support for your preferred payment methods.
FAQs
How do spread betting accounts work?
What is a popular spread betting account UK?
What trading fees do spread betting accounts attract?
Are spread betting accounts tax-free in the UK