Rocket Companies is a US-based holding company that is behind several personal finance brands. At the forefront of this is Rocket Auto, Rocket Mortgage, and Rocket homes. This stock had its IPO as recently as August 2020.
Although the shares are listed in the US and have been trading for less than three months – making an investment from the UK can be completed in minutes. The most important thing is that you find a trusted UK stock broker that offers Rocket Companies shares at a cost-effective price.
In this guide, we will walk you through the process of how to buy Rocket Companies shares online in the UK. We'll discuss the best brokers to buy the shares from, and guide you through the process of opening an account, depositing funds, and completing your stock purchase.

As Rocket Companies was only launched on the New York Stock Exchange (NYSE) in August 2020 – just a small selection of online brokers give you access to its shares. Additionally, as you will be investing from the UK – this further reduces the number of platforms that you can use.
Crucially, even if you do find an online broker that offers Rocket Companies shares – you still need to research metrics surrounding regulations, fees, and payment methods.
Nevertheless, below you will find a small selection of UK trading platform that you to access Rocket Companies stocks from the UK.
1. Plus500 – Commission-Free Platform for Trading Rocket Companies Stock CFDs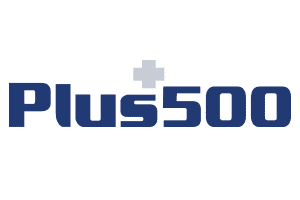 Plus500 is a popular online trading platform that has thousands of UK clients under its belt. The firm specialises exclusively in CFDs – meaning that you will be' 'trading' as opposed to investing. This does, however, provide a number of key benefits that you will not find when using a traditional brokerage house. Firstly, Plus500 allows you to trade Rocket Companies shares commission-free.
As such, it's only the spread that you need to look out for – which is the difference between the bid and ask price of the instrument. At the time of writing, this stands at just 0.44%. Furthermore, Plus500 allows you to trade Rocket Companies shares with leverage. Although stock CFDs usually come with a limit of 1:5 – in the case of Rocket Companies, this is capped at 1:2.
This is because the shares are still in their stock market infancy and thus – volatility levels are above average. Nevertheless, at 1:2 this does mean that you can trade with twice the amount that you have in your Plus500 account. In addition to this, stock CFDs at Plus500 give you the option of going long or short. This means that you can profit from the rise and fall of the stock – irrespective of which way the markets go.
Outside of Rocket Companies, Plus500 offers thousands of other stock CFDs from heaps of markets. You can also trade gold, oil, indices, forex, digital currencies and more. This trusted platform is itself listed on the London Stock Exchange. Plus500UK Ltd authorised & regulated by the FCA (#509909) – but its parent company is listed on the London Stock Exchange. To get started with this platform, you'll need to deposit at least £100 with a debit/credit card, Paypal, or bank transfer.
Pros:
Commission-free CFD platform – only pay the spread
Thousands of financial instruments across heaps of markets
Retail clients can trade stock CFDs with leverage of up to 1:5
You can short-sell a stock CFD if you think its value will go down
Takes just minutes to open an account and deposit funds
Cons:
CFDs only
More suitable for experienced traders
72% of retail investors lose money trading CFDs at this site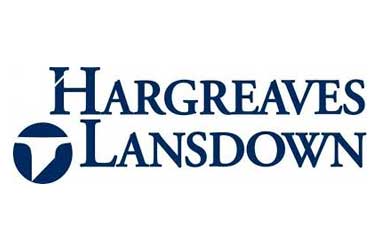 If you do not want to engage with short-term trading but instead simply want to buy Rocket Companies shares in the traditional sense – then Hargreaves Lansdown is likely to be the only option on at the table at present. This age-old stock brokerage house has been in the investment game for several decades and thus – has a top-rated reputation in the UK space.
The platform is super conducive for buying shares online as a newbie, as all you need to do is open an account and make a deposit with your debit card or UK bank account. Once you are all set up, Hargreaves Lansdown gives you access to thousands of shares from dozens of international markets – including that of Rocket Companies.
You will be required to meet a £100 minimum investment – which is more than reasonable. Hargreaves Lansdown also allows you to invest via direct debit – as long as you meet a £25/month minimum. When it comes to fees, it should be noted that Hargreaves Lansdown is somewhat on the high side. In fact, it charges an entry-level price of £11.95 per trade. You will pay this when you buy Rocket Companies shares and again when you offload them. You can, however, get this price down further if you trade regularly.
Although Hargreaves is more expensive than other top-rated brokers – with the likes of eToro allowing you to invest commission-free, the platform has one of the best stock research facilities in the online arena.  For example, its team of in-house analysts will regularly discuss earnings reports, financial results, stock market projections, dividend announcements, and more. Finally, Hargreaves Lansdown is heavily regulated – with a license from the FCA and partnership with the FSCS.
Pros:
Thousands of UK and international shares supported
Also offers bonds, investment trusts, ETFs, and mutual funds
Gain access to newly launched UK IPOs
Easily deposit and withdraw funds without being charged
Industry-leading research and analysis department
Telephone customer support is highly rated
Cons:
Entry-level commission of £11.95 per trade
Doesn't allow you to trade CFDs or apply leverage
Your capital is at risk
Once you have decided which online broker you wish to use – and whether you prefer to trade or buy Rocket Companies shares, you then need to move onto the research process. That is to say – you are advised to spend ample time exploring the good and bad points of this US stock before making an investment. This should be a minimum requirement of yours no matter which company you are considering buying shares in – especially one of young as Rocket Companies.
To help clear the mist, below we have outlined some important points to consider before you buy Rocket Companies shares. This includes some background information on the firm, its share price action to date, and what the future holds from an investment perspective.
What is Rocket Companies?
Rocket Companies is a US-based holding firm that consists of personal finance and consumer lending brands. Some of its most well-known subsidiaries include Rocket Loans, Rocket Mortage, and Rocket Homes.
In particular, Rocket Companies is now one of the largest mortgage originators in the US. To date, it has originated over $1 trillion worth of home loans. Interestingly, the platform also claims that 96% of all 'eClosings' in the US happen with Rocket Mortage.
Although the Rocket Companies traces its roots back to 1985 – it wasn't until August 2020 that the firm went public. Opting for the New York Stock Exchange, management at the Rocket Companies initially priced the shares at $22 per stock – which resulted in $1.8 billion being raised from the IPO.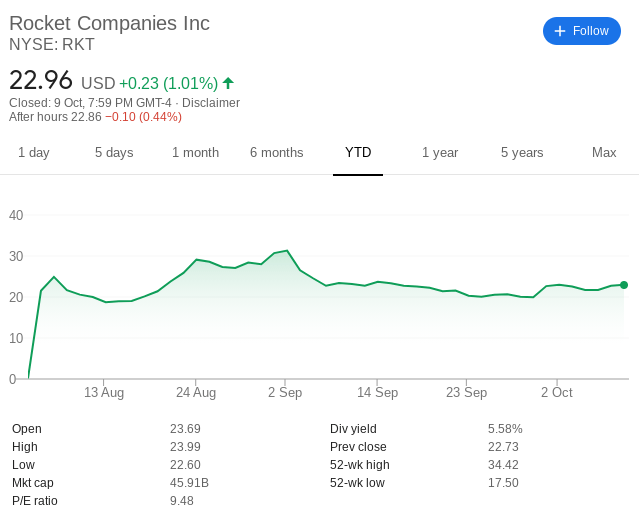 Although Rocket Companies stocks initially hit lows of $17.50 – the shares then went on an upward burst to $34. Since then, the shares have cooled off – with a current market price of just under $23. As such, this represents an increase of just 5% from its initial IPO.
Although Rocket Companies has been trading since 1985 – it's life as a public company is less than 3 months old. As such, the firm does not plan to pay any dividends for the foreseeable future. Instead, it plans to reinvest all retained earnings back into the growth of the company. As such, if you buy Rocket Companies shares today, you will only be able to grow your capital via a stock price increase.
The markets still seem somewhat undecided on the direction that Rocket Companies shares will take in the short-term. There was initially great exciting – with the shares going from an initial price of $22 to $34 in a matter of days. However, the stocks are now back to just above their original IPO price.
With this in mind, below we discuss some of the most important factors that you need to consider in deciding whether or not to invest in Rocket Companies shares.
The Stocks Could be Undervalued
One of the best ways to gauge the value of shares is to look at the P/E ratio. This looks at the size of the company's earnings per share against that of its current stock price. Although the average will vary depending on the sector in question – the S&P 500 has an average P/E ratio of between 13 and 15. In the case of Rocket Companies shares, this stands at 9.48 at the time of writing. As such, some would argue that the stocks are potentially undervalued.
Rocket Mortage is Booming
Make no mistake about – Rocket Mortage – which arguably the most important brand under the Rocket Companies umbrella – is performing extremely well at present. In its most recent earnings report, it underwrote more than $72 billion worth of mortgage originations, up 40% from the prior quarter.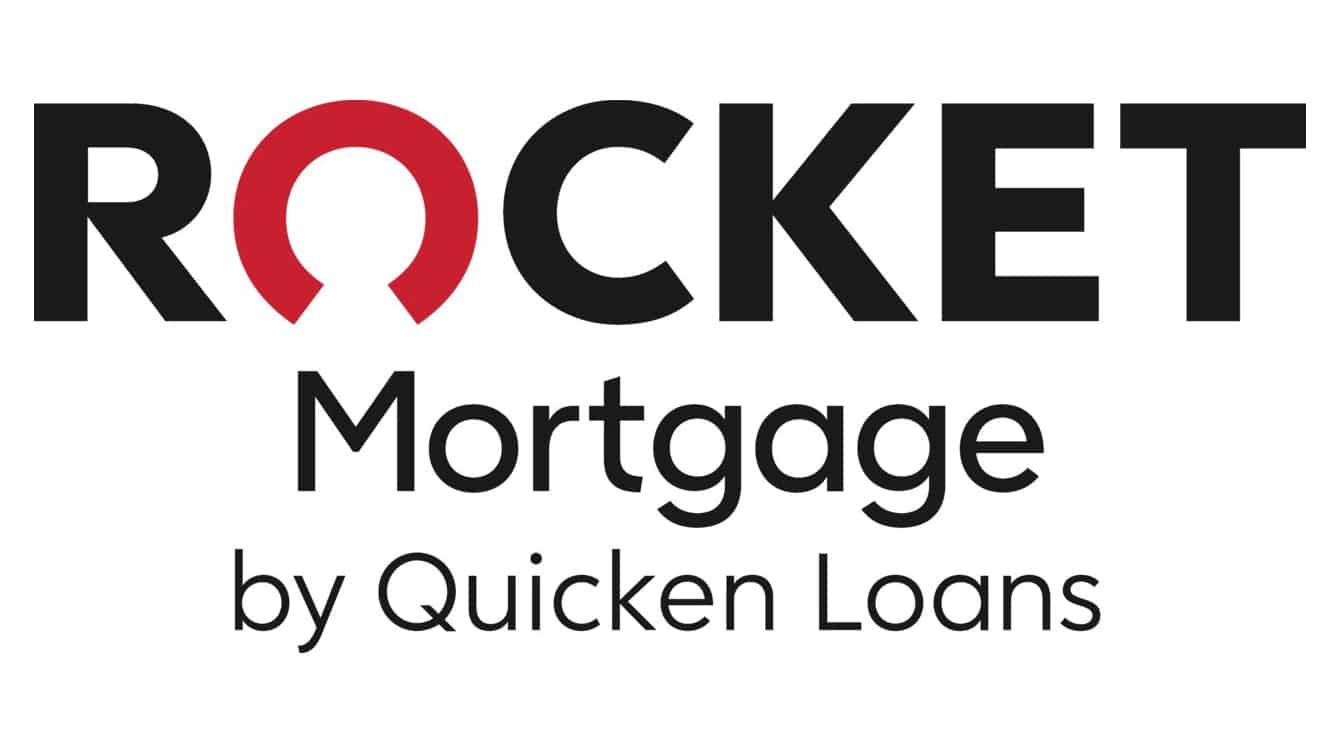 Even more impressively, this figure is over 126% high than 12 months previous. The best thing about its strong performance in the mortgage origination space is that it was able to offload a good chunk of its risk. Not only did this result in realisable inflows of cash, but at an average profit margin of 69%.
Mortage Sales are Good – But Largely Down to Record Low Intrest Rates
Leading on from the above section – it is important to remember that on a broader scale – mortgage applications in the US are on the rise. Crucially, this is largely because of record-low interest rates as per the Federal Reserve. In turn, this allows firms like Rocket Mortgage to offer industry-leading deals on repayment rates.
However, many would argue that the Federal Reserve can't keep interest rates this low indefinitely. As such, there is every chance that Rocket Mortgage will see a dip in origination sales if and when interest rates are once again hiked.
Rocket Companies is Armed With Cash and Cash Equivalents 
In times of economic uncertainties – investors will often seek companies that have a strong and stable balance sheet. In this sense, Rocket Companies stands out from many of its market competitors. At the time of writing, this includes cash and cash equivalents of over $1.7 billion. This does not include the $1.8 billion-ish it raised from its IPO.
In addition to this, Rocket Companies is also in possession of just under $18 billion in mortgages that are held for sale. What we also like is the fact that Rocket Companies management was successful in refinancing $1.25 billion in debt last month. This was with the view of clearing debt from its balance sheet that was tied to unfavourable interest rates. This represents smart financial planning.
Chance to Invest in and Around IPO Price
It is often the case that newly launched stocks go on a long-term upward trajectory after the IPO process has concluded. While this is great news for those that backed the respective company at launch – it can be frustrating for those that didn't get in early.
The good news is that although Rocket Companies shares went from $22 to $34 in a matter of days – the stocks have retreated back to IPO levels. At the time of writing, this stands at just under $23. As such, if you believe in the long-term viability of this growth stock – you can now buy the shares at just above its initial IPO price.
Step 3: Open an Account and Deposit Funds
Ready to trade or buy Rocket Companies shares right now? If so, you will first need to open an account with your chosen trading platform. To show you how easy the process is – we are going to show you the steps required with top-rated platform Plus500. This is because you will be able to trade Rocket Companies shares in a commission-free environment – as well as have access to leverage and short-selling facilities.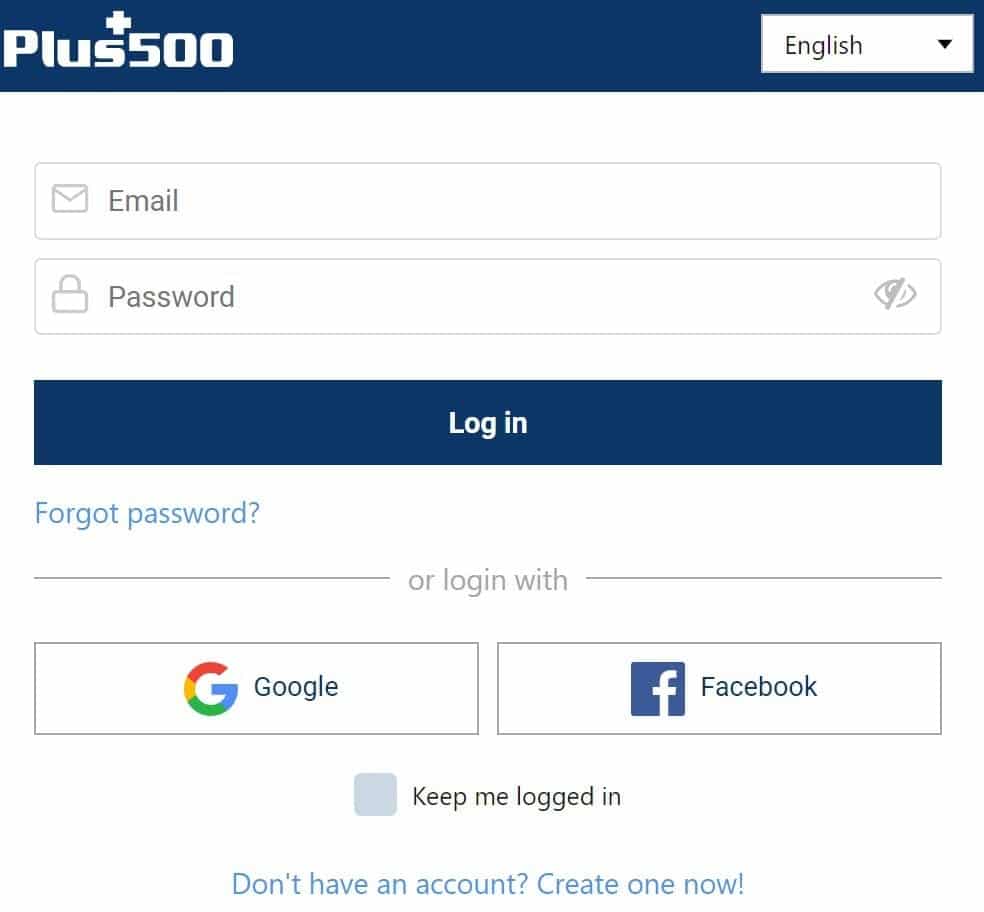 So, head over to the Plus500 website via your laptop or mobile phone and elect to open an account. As the case with all regulated trading platforms – you will now need to provide some personal and financial information.
This includes your:
First and last name
Home address
Date of birth
National insurance number
Email address
Phone number
Next, you will be asked to upload a copy of your passport or driver's license – alongside a document that verifies your home address. This can be something along the lines of a utility bill or bank account statement.
When it comes to making a deposit – Plus500 requires at least £100 to open an account. You can do this instantly with a UK debit/credit card or Paypal.
Once your deposit has been credited – you can start trading Rocketing Companies shares. To go straight to the respective trading page – enter 'Rocket Companies' into the search box. When you see the company name load up – click it.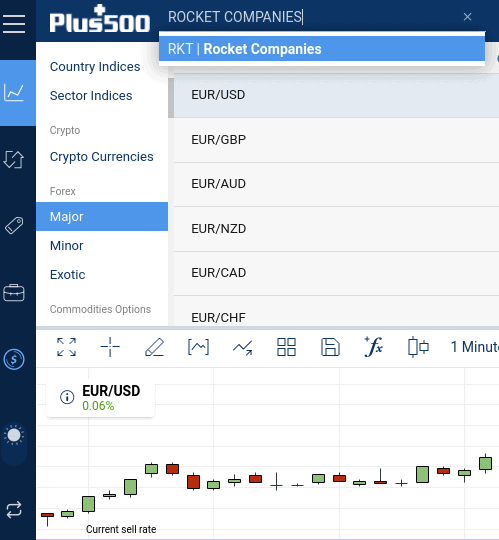 Then, you need to either click on 'buy' or 'sell' – depending on which way you think Rocket Companies shares will move in the market.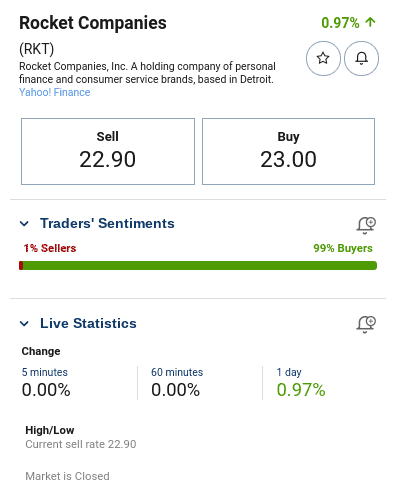 You will then need to set up an order. This includes entering your stake and entry price. Regarding the latter, you can elect to take the next available price to keep things simple.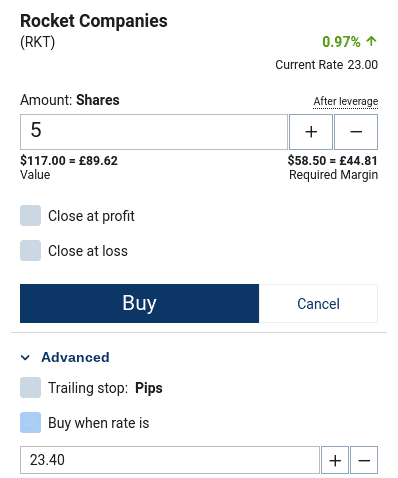 Finally, confirm the order to place your Rocket Companies trade.
Three months after its IPO of August 2020 – Rocket Companies shares are just above their initial price of $22. This ultimately suggests that the consensus on the stock is somewhat varied. With this mind, you are advised to perform lots of research in order to determine whether Rocket Companies is a buy or sell.
The Verdict?
If you're based in the UK and wish to invest in Rocket Companies shares, your options are still somewhat limited. This is because the company has only been public for three months – meaning that very few UK brokers give you access. With that said, we have hand-picked two platforms in particular that allow you to trade or buy Rocket Companies shares.
In our view, Plus500 stands out from the crowd – as it allows you to trade Rocket Companies stocks commission-free. You also have the option of applying leverage – and the minimum deposit stands at just £100.
Plus500 – Buy Rocket Companies With Zero Commission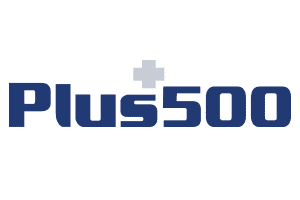 80.5% of retail investor accounts lose money when trading CFDs with this provider.
FAQs
What does Rocket Companies do?
Rocket Companies is a holding company that consists of personal finance and consumer lending brands.
What stock exchange is Rocket Companies shares listed on?
Rocket Companies is listed on the New York Stock Exchange.
How much were Rocket Companies shares originally worth ?
Rocket Companies priced its IPO at $22 per share.
Can you short Rocket Companies shares?
If you think that Rocket Companies shares are overvalued, you can short-sell them by using a regulated CFD broker. Plus500, for example, not only allows you to do this commission-free - but you can also apply leverage.
How much is Rocket Companies worth?
As of October 2020 - Rocket Companies has a market capitalisation of just under $46 billion.