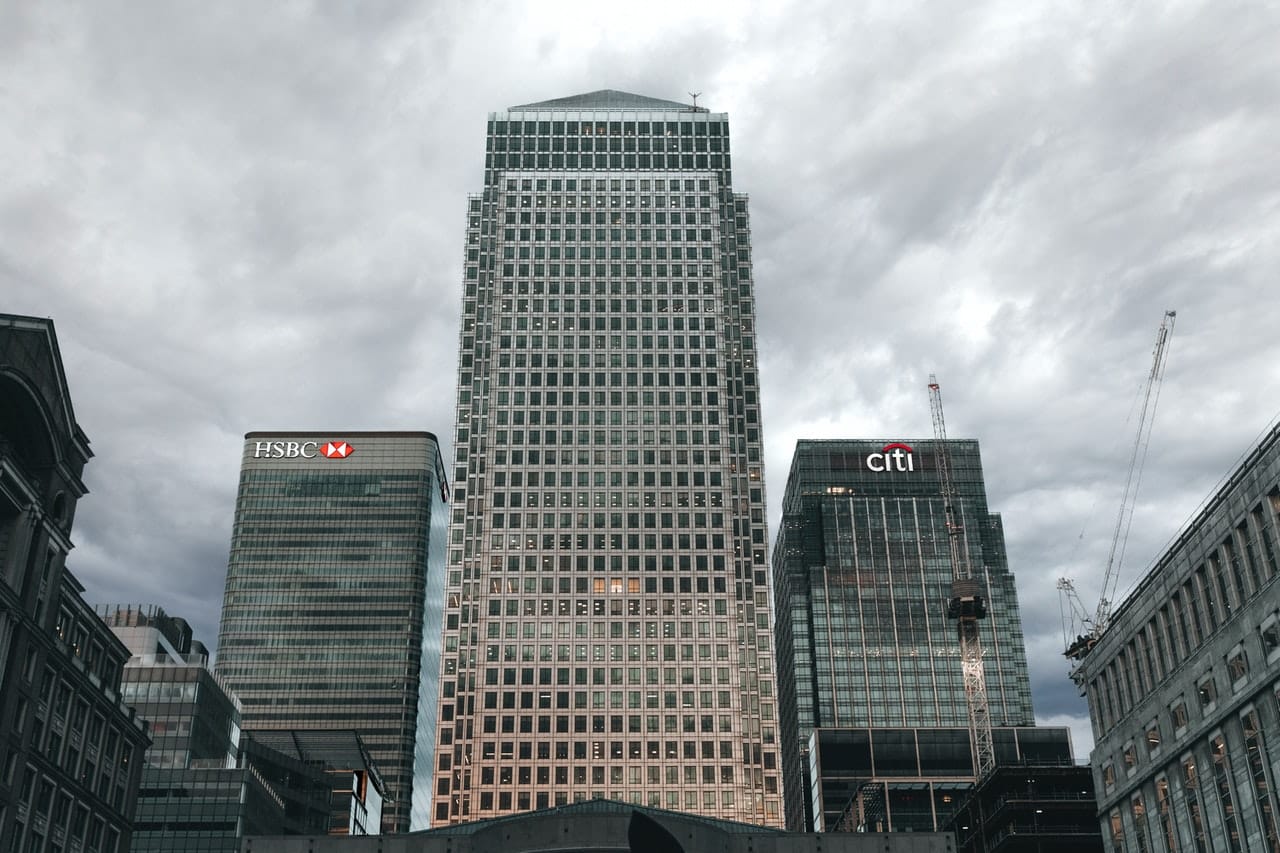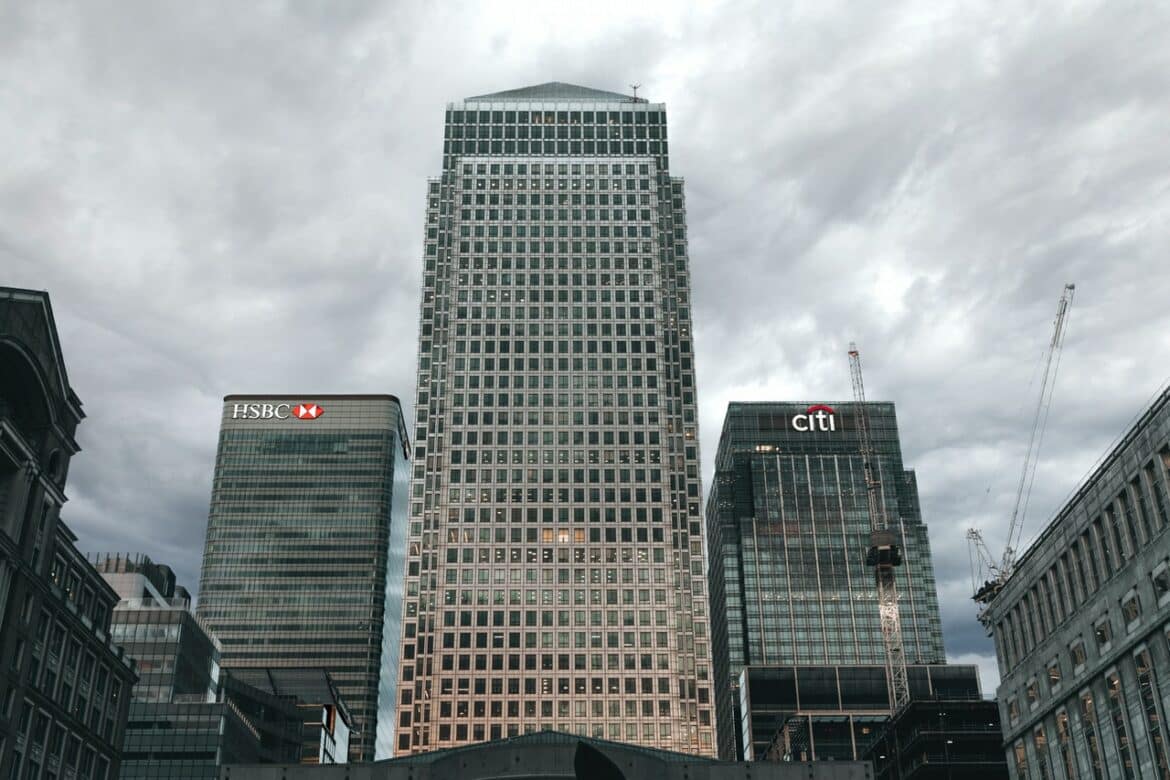 The second-quarter earnings season has kickstarted and this week we'll get the earnings from leading US banks like JPMorgan, Wells Fargo, and Citi. Bank shares have fallen in 2022 amid the broader market turmoil and recession fears.
Citi shares have fallen over 22% so far in 2022 and are in bear market territory. The bank has nonetheless been a relative outperformer in the banking industry. Here's what Wall Street analysts are expecting from the bank's earnings release this week.
Citi earnings estimates
Wall Street analysts expect Citi to post revenues of $18.3 billion in the second quarter, a YoY rise of 4.9%. Its adjusted EPS is however expected to fall 42.3% to $1.64 in the quarter. In the first quarter, Citi's revenues fell 2% YoY to $19.2 billion. While its net interest income increased amid rising rates, its non-interest income as well as lower revenues from Legacy Franchises, that it intends to exit more than offset that. Its net income also fell to $4.3 billion as compared to $7.9 billion in the corresponding quarter last year. The steep fall in profits was led by a rise in operating expenses.
Citigroup ended March with a loan book of $660 billion which was 1% lower than the corresponding period last year. Its total deposits however increased 3% to $1.3 trillion. The bank reported an ROE of 9% while its Tier 1 Capital ratio was 11.4%. The bank has been spending money on dividends and share buybacks. Its dividend yield of 4.4% is higher than most large US banks.
Warren Buffett took a stake in Citi
In the first quarter of 2022, Berkshire Hathaway, which is led by the legendary Warren Buffett, announced a new stake in Citi. Buffett has exited banks like JPMorgan Chase, and Goldman Sachs, as well as long-time holding Wells Fargo over the last two years. He has lately been buying more energy stocks. The first quarter 13F revealed purchases of Chevron and Occidental Petroleum. The Oracle of Omaha has been buying more Occidental shares since then and Berkshire now holds a roughly 19% stake in the company. Buffett also added more Apple shares in the first quarter.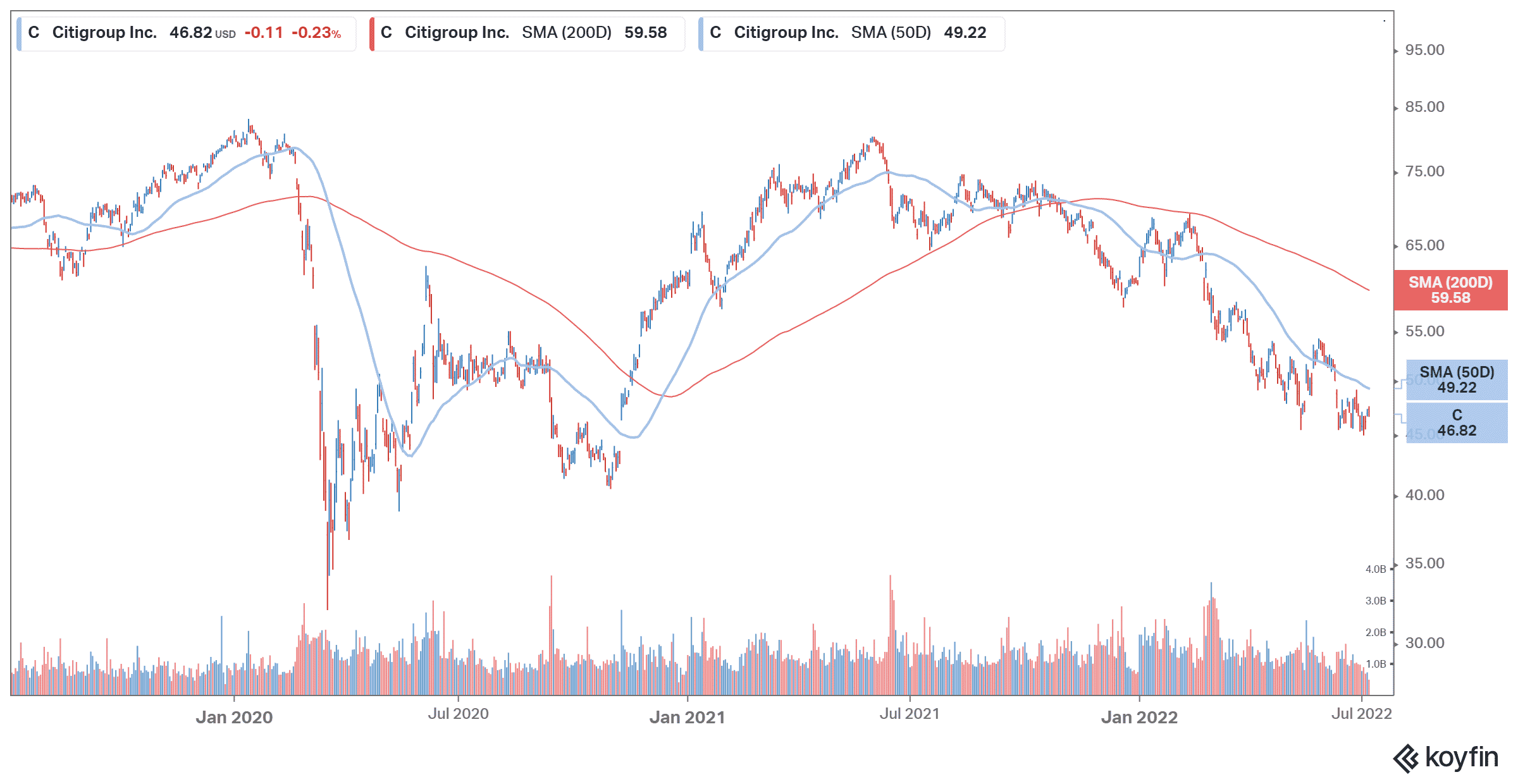 Turnaround
Under the leadership of its CEO Jane Fraser's, Citigroup last year announced a turnaround plan under which it would exit consumer banking in 13 markets including China and India. It has agreed to sell its India operations to Axis Bank for $1.6 billion. After the company exits all the 13 markets, it expects to release allocated tangible common equity of nearly $7 billion. It is looking to improve its operating metrics which have lagged peers for quite some time. The bank intends to increase its return on tangible equity to 11-12% over the medium term as compared to 10.5% in the first quarter.
Wall Street remains bearish on Citi
Meanwhile, despite tangible steps towards the turnaround and Warren Buffett's purchase, Wall Street analysts remain bearish on Citi shares. JPMorgan analyst Vivek Juneja listed Bank of America and Citi as the most exposed to the so-called hung loan deals, which are short-term financing arrangements. JPMorgan believes that banks would incur $2 billion in losses on these loans.
Other analysts have also been turning bearish on Citi. In May, Credit Suisse downgraded Citi shares from outperform to neutral. It said, "Risk vs. reward … we realize that the downside to C shares may prove more limited given a valuation within reach of prior cyclical troughs; but we believe the upside, relative to peers, will also prove more limited given the long road ahead in Citi's transformation process."
Bank shares
We are in a rising interest rate environment and yields of US bonds have spiked amid the Fed's rate hikes. The Fed raised by 75 basis points in June and analysts expect a hike of a similar quantum in July also. While rising interest rates are positive for the banking sector as it helps banks increase their NIMs (net interest margins), banks tend to see high loan losses in a recession. Notably, in 2020 banks had to set aside billions for loan loss reserves. However, as the economy staged a V-shaped recovery banks released a lot of reserves in 2021 which buoyed their earnings.
Bank earnings this week will be closely watched by analysts amid the noise over a recession. Given their exposure to different sectors of the economy bank earnings always attract outsized attention. In Citi's earnings call also, markets would look at the commentary on the business outlook amid recession fears as well as loan losses. The commentary on business transformation would also be worth watching.
Citi shares have lost over 31% over the last year and have a 52-week trading range of $44.93-$74.64. The shares are not far from their 52-week lows even as the broader markets have recovered from the 2022 lows.