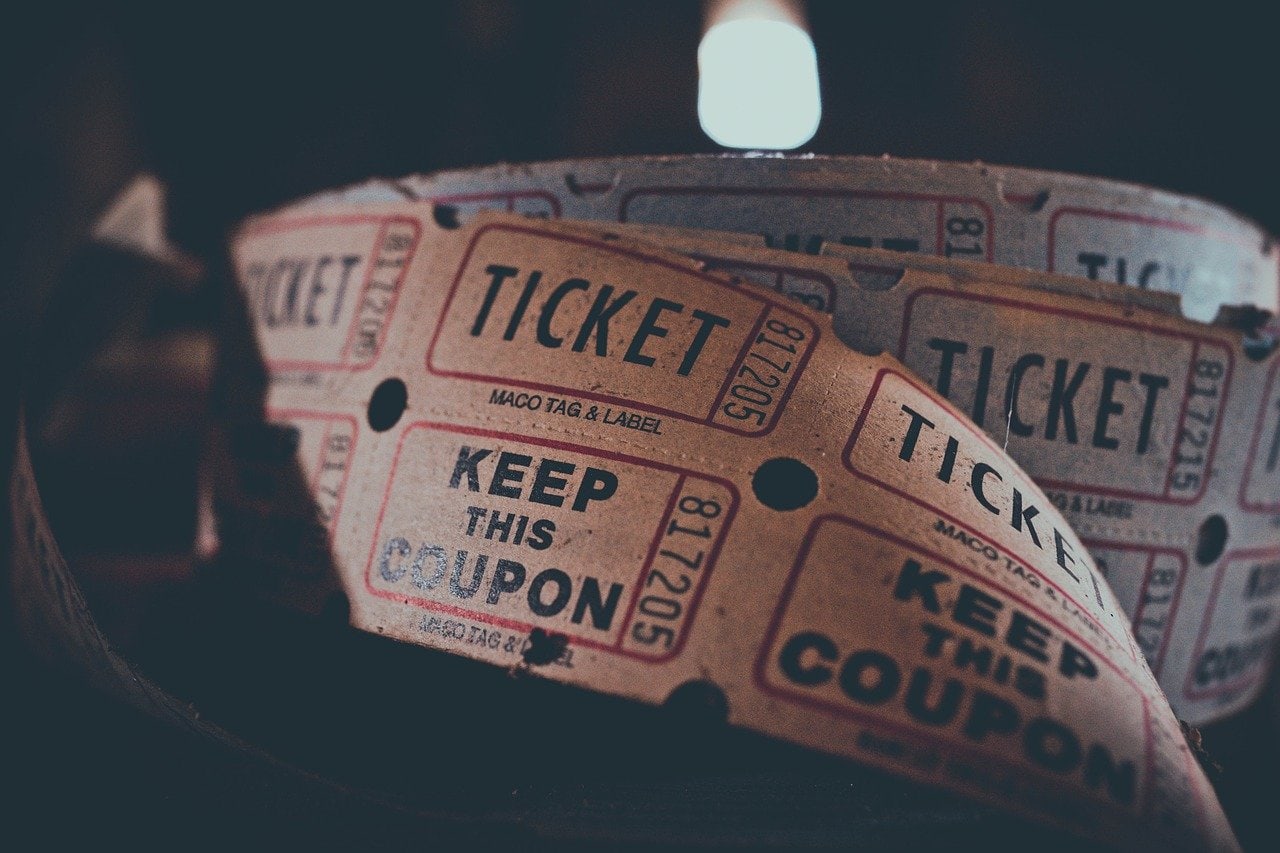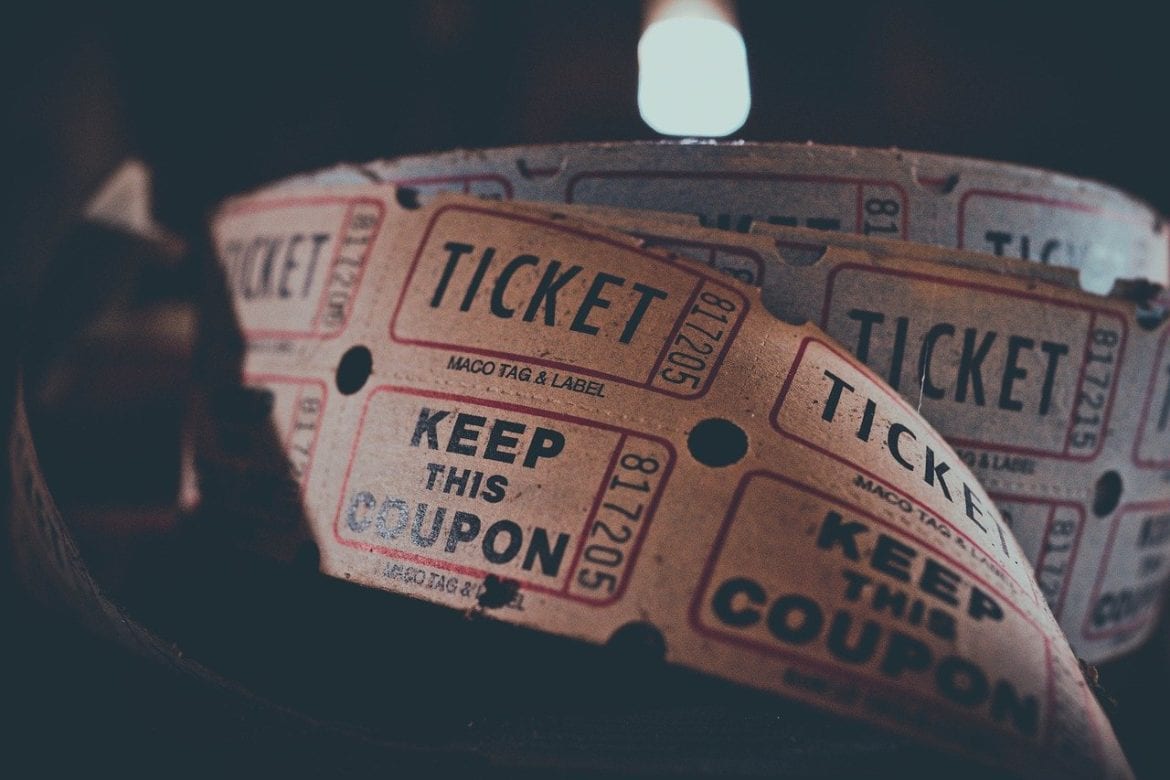 Cineworld shares were trading down over 5% in early trade on Friday continuing its recent dismal performance.
Cineworld emerged as the world's second-largest cinema chain in 2017 after acquiring Regal. It is the only listed cinema chain in the UK. AMC Theaters is the world's biggest cinema chain. AMC shares are down 43% for the year.
Cineworld shares are down almost 84% this year. Shares have been on a downtrend and have fallen in seven of the last 10 trading days. Shares are down 13% in August and are currently quoted near 33 pence per share. Cineworld shares made an intraday low of 18.3 pence on 17 March. However, shares closed at 21.4 pence that day, recouping some of their intraday losses. Its shares have been very volatile this year and jumped 152% on 18 March, a day after crashing to all-time lows the previous day.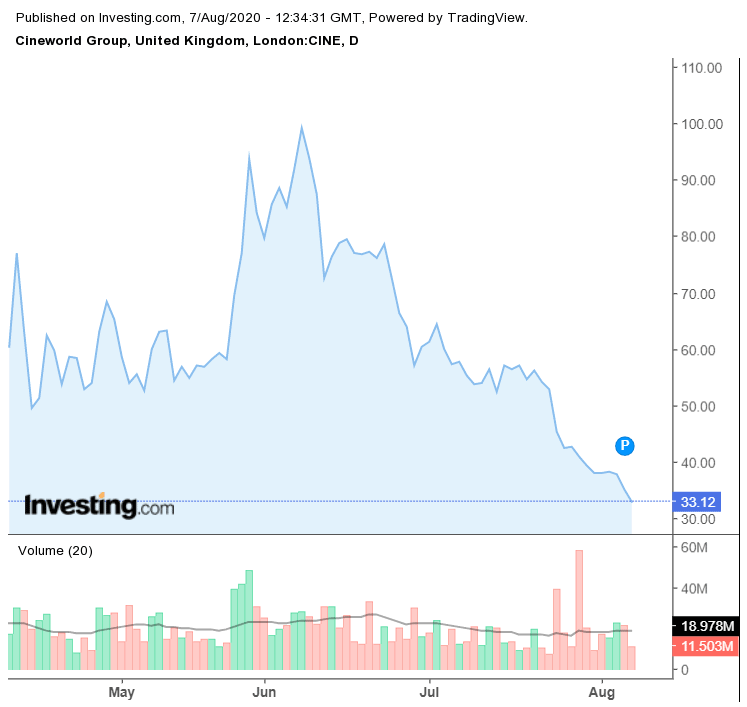 Cineworld shares: What's been happening this year
Cineworld, that has 787 sites across 10 countries with 9,500 screens previously planned to open its cinemas by 10 July. However, it had to delay the reopening to 31 July. In May, Cineworld announced a new credit facility and a waiver of debt covenants from its lenders. The move was expected to help it tide over the crash crunch as its cinemas were closed due to the pandemic. However, the company has failed to win over investors as is visible in its 2020 price action.
Cineworld was banking on new movie releases to revive its fortunes. Last month Mooky Greidinger, CEO of Cineworld said, "Movie fans around the world continue to be excited by the strong slate of summer films ahead, including Tenet, Mulan, A Quiet Place Part II, Unhinged, The Broken Hearts Gallery, Bill & Ted Face the Music, Greenland, and Antebellum as well as a special re-release of Christopher Nolan's Inception on IMAX."
He added, "Cineworld looks forward to welcoming these moviegoers back to our cinemas next month and believes that they will once again be immersed in the timeless theatrical experience they know and love,"
Theatres versus streaming platforms
Meanwhile, Disney dashed hopes for cinema chains when in its fiscal third quarter 2020 earnings call on Tuesday it said it would skip most theatres and instead stream "Mulan" on the company's streaming platform.
Disney's streaming platform crossed 100 million subscribers in the quarter which CEO Bob Chapek termed "a significant milestone and a reaffirmation of our [direct-to-consumer] strategy, which we view as key to the future growth of our company."
However, Chapek also termed the move to stream "Mulan" as a "one-off" and not a new business model where the company structurally skips theatres for its streaming platform. But then, steaming platforms are a big challenge for cinema chains like Cineworld.
Last month, Universal Pictures and AMC Entertainment signed a deal reducing the exclusive run time in theatres from 75 to only 17 days after which the movies can be streamed on streaming platforms like Netflix and Amazon.
"While we don't know the full details, we always analyze any new business decision within the industry," said Greidinger. He added, "People need to be aware that the first big movie from Universal is not releasing for six months, so there is no pressure here; however, we clearly see this as a wrong move at the wrong time."
He also said, "At Cineworld/Regal, we are not changing our policy with regards to showing only movies that respect the theatrical window."
Should you buy Cineworld stock this Aug 2020?
Cineworld shares look a high-risk play on the normalcy story. The fears of streaming services killing movie going look unfounded. Watching movies in cinemas is an experience as well as a social outing. While there would be some displacement of demand from cinemas to streaming platforms, the two can co-exist.
Analysts are quite bullish on Cineworld stock and its target price of £1.04 implies a premium of 212% over current prices. 2020 is a washout year for companies like Cineworld. However, once normal business activity resumes, the stock can bounce back sharply. The stock is valued at a 2021 price-to-earnings ratio of only 2.9x. To be sure, it is tough to comment on valuations for companies whose business is as affected as theatre chains. But the metric gives us insights on how much upside is there in Cineworld stock once its business resumes to pre-pandemic levels.