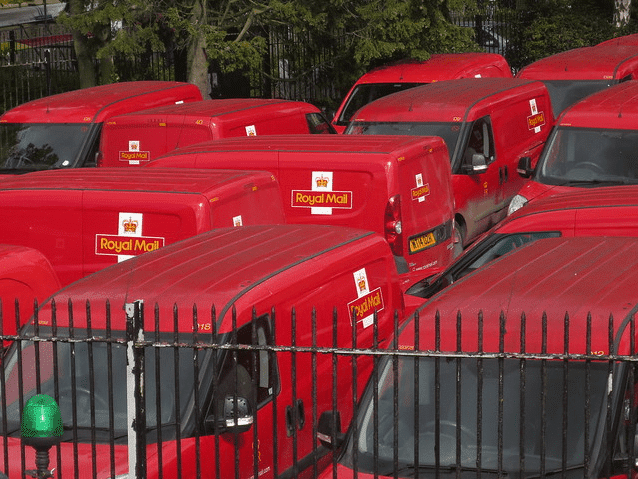 Royal Mail shares are trading 6% higher in afternoon stock trading activity in London at 303p per share after the company boosted its revenue guidance for the year.
This upped guidance came as part of the release of the firm's interim report covering the first half of its fiscal year, where the management highlighted that a second wave of lockdowns in the UK has once again prompted a spike in online shopping, which benefits Royal Mail's parcel shipping business.
The company now expects to see revenues growing between £380 million and £580 million by the end of its fiscal year, which is a significant improvement compared to an initial forecast given to investors in September that anticipated a jump in revenues between £75 and £150 million for the same period.
Meanwhile, Royal Mail (RMG) has also said that operating profits for its UK operations could break-even if the top boundary of this renewed revenue estimate is reached.
Revenues during the six months ended on 27 September landed at £5.67 billion, which represents a 9.8% jump compared to the same period last year. However, operating profits declined by as much as 133% compared to the first half of 2019 as a result of higher restructuring charges and one-off COVID-related costs.
As part of the firm's effort to cope with the increased volumes that will come from higher online holiday shopping, Royal Mail has announced a plan to hire around 33,000 extra workers. However, the management remains cautious in regards to the implementation of this plan, as they still see significant uncertainty about how this important period of the year will play out amid the pandemic.
Royal Mail is also still struggling to restructure its operations to deal with a shift from letters to parcel amid this online shopping boom, with the company expecting to see higher "mix change" costs of around £210 million by the end of the fiscal year.
How have Royal Mail shares performed this year?
Royal Mail shares have delivered a 35% gain since the year started as the company managed to reverse a downtrend it saw since its 260p December 2019 peak.
This reversal was aided by a boom in online shopping during pandemic lockdowns as consumers were forced to buy goods online while confined in their homes.
Meanwhile, a resurgence of the virus in the UK, and the restrictions that came with it, have once again influenced higher levels of online shopping recently, creating a potential year-long positive momentum for Royal Mail's parcel business.
That said, the firm still needs to address its union issues, which are related to the company's restructuring efforts amid a decrease in its legacy letter business.
What's next for Royal Mail share price?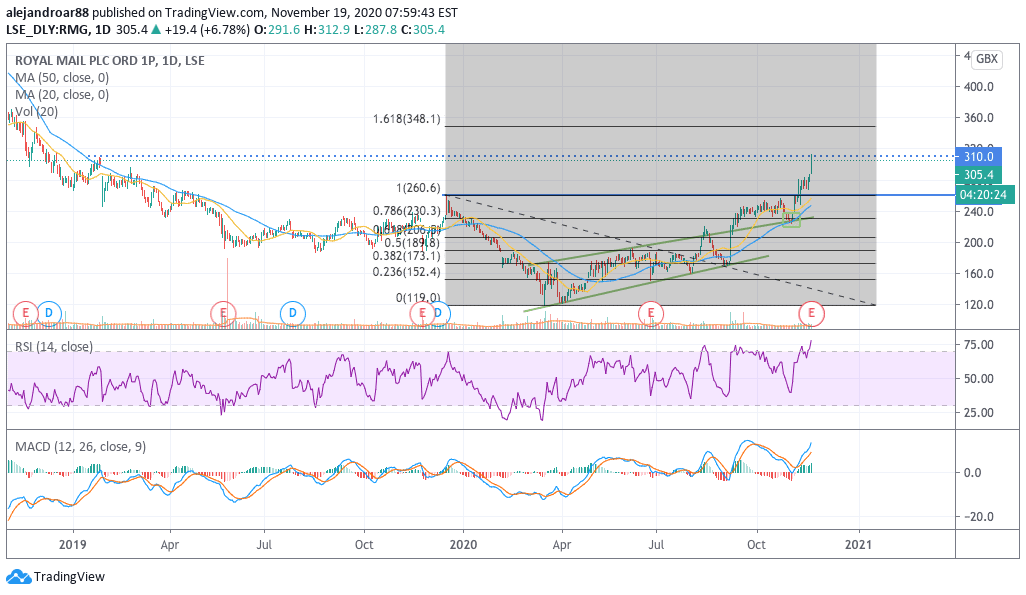 The daily chart above shows that Royal Mail shares have managed to surge to their highest levels since the early 2019s on the back of this pandemic tailwind.
The price action this year ended up reversing its downward course as a resulting of the online shopping boom, while in September the price rose above the price channel highlighted in the chart – finding support at the upper trend line only a few days after and bouncing off that level strongly until now.
Given this strong technical foundation, today's move reinforces a bullish short-term outlook for Royal Mail shares although the rally could take a brief pause as multiple indicators are already flashing overbought signals.
After that, investors should expect a continuation of this uptrend in the following weeks, with a potential first target set at the 350p level – which represents a 14.8% upside based on today's price.
Meanwhile, the median price target for Royal Mail stock according to the 13 analysts surveyed by the Financial Times sits at 300p per share, with the highest estimate standing at 400p and the lowest at 105p per share.