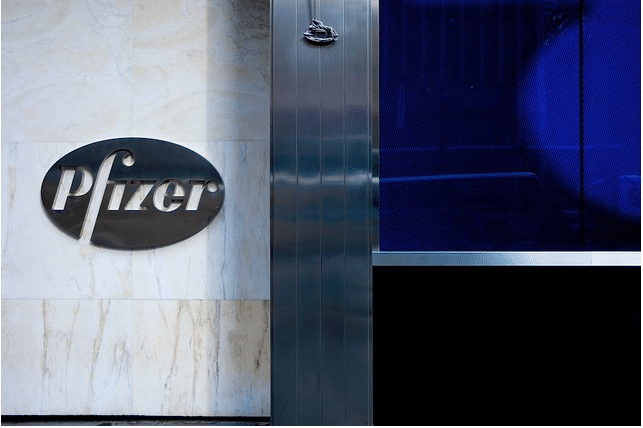 The price of Pfizer shares jumped yesterday and it is also moving higher during this morning's stock trading action following some upbeat comments from an analyst that highlighted a potential undervaluation of the firm's drug pipeline.
Only a couple of days ago, the American drugmaker obtained approval from the US Food and Drug Administration (FDA) for its pneumococcal vaccine Prevnar 20, which can now be used on adults older than 18 years old.
The approval marks another win for the pharmaceutical company in its effort to keep gaining ground in the market for invasive respiratory diseases although its rival Merck (MRK) has also been working on a similar drug that could get the nod from US regulators as soon as next month.
Upbeat comments from Louis Chen, an analyst covering the company for Cantor Fitzgerald, appear to have influenced yesterday's uptick in Pfizer shares, as the Managing Director of the financial services firm mentioned a potentially "unappreciated" pipeline of "first-in-class or best-in-class drugs" that could boost the firm's top-line over the coming years.
In March this year, Cantor reiterated a buy rating for Pfizer (PFE) with a price target of $53 per share for a potential 32% upside based on today's price. Meanwhile, this 12-month forecast from Cantor is one of the highest targets given to Pfizer among all analysts covering the stock.
So far today, the price of Pfizer shares is advancing 1.6% at $40.45 as the market appears to be paying little attention to this morning's beyond-expected inflation readings.
In other news, the United States federal government will be purchasing and donating a total of 500 million doses of Pfizer's vaccine to poor countries in an effort to help other nations in inoculating its citizens to put an end to the pandemic.
How have Pfizer shares performed so far this year?
Pfizer shares have produced gains of 11.8% so far this year while broad-market stock indexes such as the S&P 500 and the Dow Jones Industrial Average have advanced 13.1% and 13.5% during the same period respectively.
However, this seemingly below-average performance seems to be underpinning the stock's mid-term potential as Pfizer shares have effectively reversed a downtrend that started back in December 2020 after the firm reported a positive bottom-line performance during the first quarter of the year that exceeded the market's estimates on the back of higher vaccine sales.
According to data from Seeking Alpha, the consensus price target for Pfizer shares is sitting at $42.1 per share for a potential 4.5% upside while only 5 out of 22 analysts are currently bullish on the stock while the remaining 17 have maintained a neutral rating.
What's next for Pfizer shares?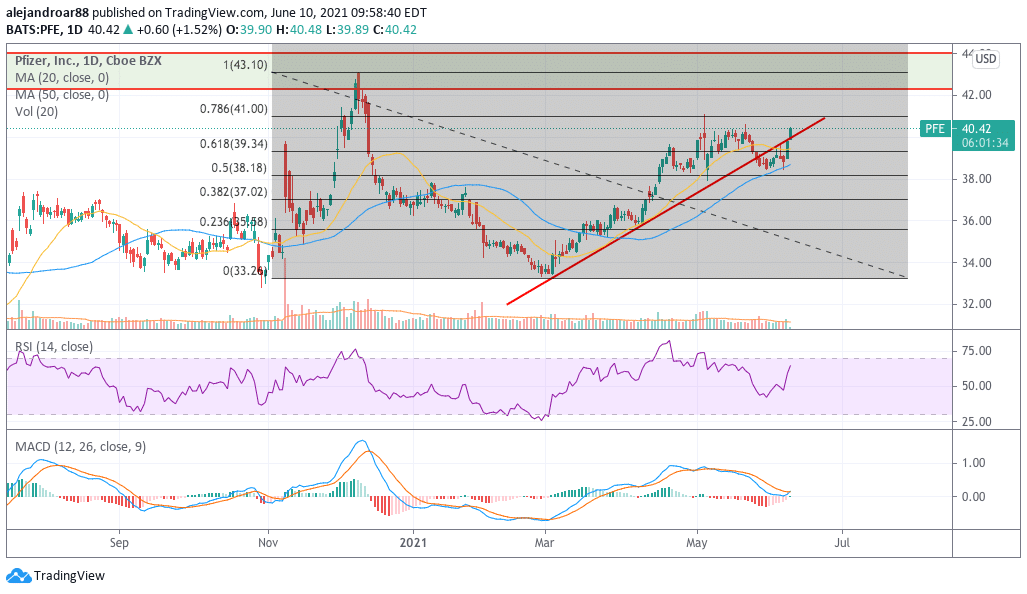 Pfizer shares are currently trading at only 11 times the firm's forecasted 2021 earnings per share (EPS) as the market expects that the tailwind provided by the pandemic to the firm's bottom-line should start to fade over the coming years.
Cantor's bullish comments on the company's unappreciated pipeline of drugs are particularly interesting but investors would require extensive medical and market-specific knowledge to possibly understand the impact that the approval of one or more of these products could have on the firm's top and bottom-line results.
That said, one can hardly go wrong when picking a company with such a robust earning-generation capacity and conservative balance sheet at a valuation multiple as low as the one Pfizer is displaying at the moment.
Meanwhile, from a technical standpoint, the outlook for Pfizer is bullish as well as the price has bounced off the 50% Fibonacci while climbing above the lower trend line highlighted in the chart after briefly breaking below it in the past few days.
This latest price action shows that the positive momentum prompted by higher-than-expected vaccine sales is still alive and kicking. In that context, a plausible near-term target for Pfizer would see the stock rising to the $43 level seen in December again for a 6.4% potential upside.