Boohoo nosedives 14.12%, but sell-side analysts retained a "buy" rating
Consequential repercussion of Sunday Times Article still ruses major routs
Why it's a fantastic buying window for Boohoo
Boohoo Group Plc., the UK-based fashion retailer targeting age group between 16 to 30, faltered further 14.12% to £224.50 a share on Wednesday, as a Sunday Times report that alleged the company of a potential breach of workers' right violation, has still been weighing on the London-listed Boohoo stocks.
Nonetheless, despite The Sunday Times allegation that the Manchester-based online fashion retailer were paying off as little as £3.50 per hour to its workers at a factory in Leicester, Central England, who had been making clothes for the online apparel retail, raising concerns over dour condition of its supplier factories and shrugging off more than 45 per cent of its market cap in less than a week, more than two-thirds of the sell-side analysts covering the fashion retailer's stocks had retained a "buy" rating, while only Liberum had slashed its rating for Boohoo stocks to "hold."
In point of fact, despite a raft of rancorous media reports slandering the Manchester-based online fashion retailer, out of nine sell-side analysts who had reviewed their Boohoo ratings this week, half a dozen among them had stuck on to a "buy" recommendation as before-mentioned.
Why is it a fantastic buying window for Boohoo stocks
Meanwhile, as Boohoo has issued a statement on Wednesday saying that it has agreed to an independent review of its supply chain in Britain due to the contemptuous accusations clattered by The Sunday Times report regarding workers' rights at one of its supplier factory in Leicester, referring to a raft of investors who have been increasingly centring their buying habits based on environment, social and governance (ESG), a Peel Hunt analyst John Stevenson, who had put a "buy" rating on Boohoo stocks, said on Wednesday's LSE closing bell, "We accept ESG is a journey for Boohoo."
In tandem, despite a nosedive of Boohoo scores on ESG measures according to Refinitiv data, which has clocked a reading of 35 out of 100 compared to its rivals ASOS and Next scoring 57 and 70 respectively, Peel Hunt's Stevenson was quoted saying that the negative media reports, which led to a drawdown of nearly 45 per cent or roughly £2 billion in market valuation of Boohoo in less than a week whose stocks' prices rose by five-fold until last month since its debut back in 2014s, had opened up a meticulous buying window given the scale of withering sell-off wave the apparel retailer had witnessed over the recent past.
Apart from Peel Hunt's Stevenson, a Jefferies analyst Andrew Wade held on to his "buy" rating for the Manchester-based online fashion retailer citing "firm commitment from Boohoo to transparency and accountability throughout its UK supply chain."
Concomitantly, according to data from Refinitiv Eikon, 21 sell-side analysts covering the Boohoo stocks had reviewed their rating on Wednesday with 13 recommending a "buy" rating.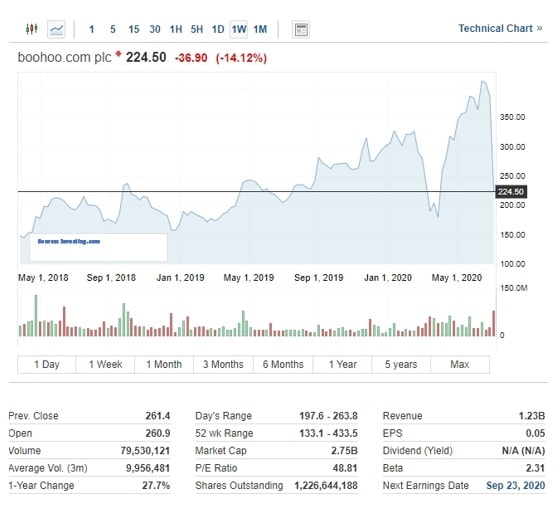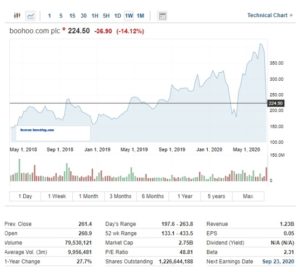 Technical viewpoint
Apart from an evaporation of £2 billion in market cap, the weekly chart had indicated that the whiplash Boohoo stocks had digested over the past three sessions, but a sidestepping of the sell-off waves this week coupled with the online fashion retailer's strident tone over an independent review should proffer enough reason to a roaring back of the Boohoo stocks in a near- to medium-term outlook.