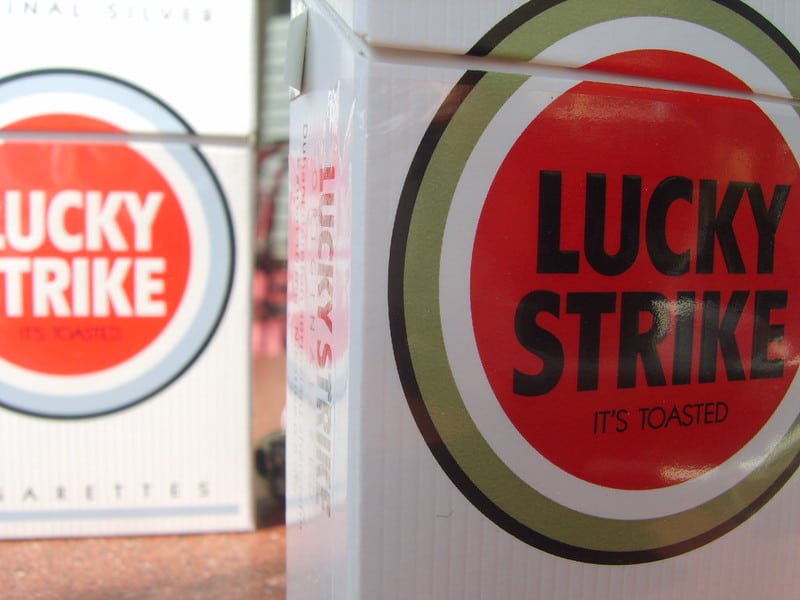 British American Tobacco shares are heading down today after being downgraded by JP Morgan, as a result of worries about the firm's focus on heated tobacco products (HTPs) along with other fundamental weaknesses.
The American investment bank highlighted that the company's increased focus on HTPs could result in a slow down in investors returns over the coming years, even though the impact of this segment in the firm's sales is still fairly small.
Meanwhile, JP Morgan further emphasised that there were "several near-term risks" aside from the HTP issue including weak first half results and performance in the company's next-gen products.
Moreover, analysts from the bank believe that British American Tobacco (BATS) is still at an early stage of development when it comes to HTPs compared to its rival Philip Morris International (PM), which makes the latter a better bet in the future of the industry.
As a result of these views, JP Morgan downgraded BATS to neutral from overweight while it slashed its 12-month price target to 3,100p, down 11.4% from a previous forecast of 3,500p per share.
Last year, British American Tobacco THP products – including its flagship battery-powered tobacco inhaler 'glo' – accounted for 44% of the firm's new categories sales, yet revenues from this particular product line were down 12.9% compared to 2019.
Overall, THP products accounted for 2.46% of the firm's total sales while new categories as a whole accounted for just 5.6% of BATS revenues for 2020.
What are tobacco heating products (THPs)?
Tobacco heating products (THPs), or heated tobacco products (HTPs) as they are also known, are marketed as reduced-exposure products, which means that they offer smokers the experience and flavor associated with traditional cigarettes while allegedly limiting health hazards.
These products are considered "an integral part of the global nicotine industry's future," according to JP Morgan, which is why they are putting a strong emphasis on how BATS is preparing itself for this growing trend.
In this regard, the company qualified British American Tobacco efforts to develop THPs as "still at the investment stage" while other companies like PMI are reportedly several years ahead in the product development cycle.
Today's downgrade from JP Morgan is pushing British American Tobacco shares down 2.5% at 2,787p per share in mid-day stock trading action.
What's next for British American Tobacco shares?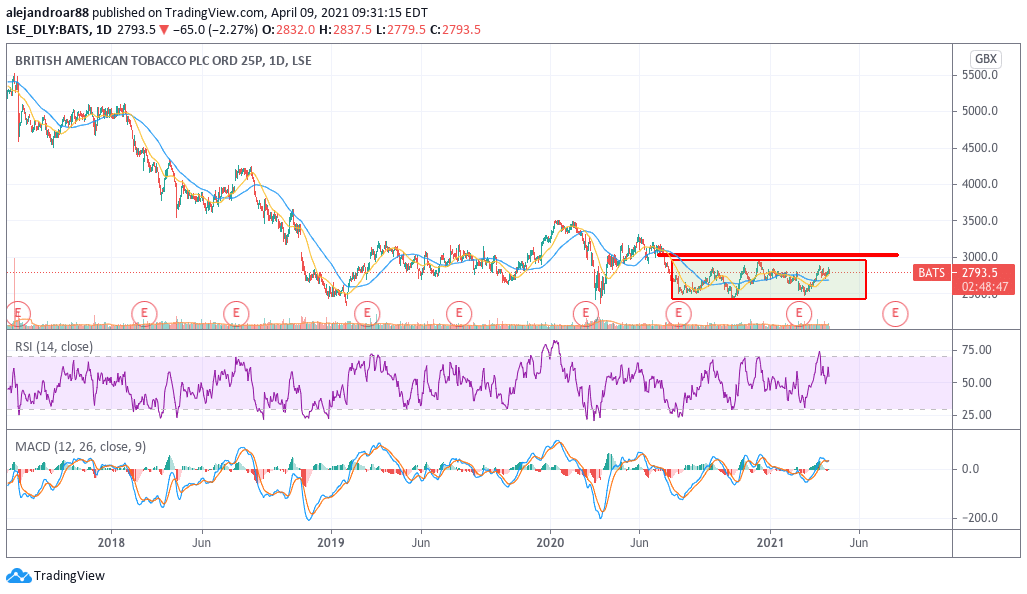 The price action seen by British American Tobacco shares lately shows a consolidation pattern that has been unfolding for quite a while now, with the stock failing to jump above the 3,000p level for nearly ten months now.
Meanwhile, the company's 7.8% dividend yield is one of the elements that make this stock highly attractive to investors, while its financials support the continuation of the dividend as is unless the business faces a strong downturn.
Last year, BATS managed to even raise its dividend to 215.6p per share – up 2.5% compared to 2019's distributions – which represented a 77% payout ratio based on the company's statutory diluted earnings per share. This distribution resulted in a total of £4.75 billion pocketed by shareholders.
It is important to note that, in the past three years BATS has managed to maintain its net income above this level.
Moreover, by the end of 2020, BATS cash reserves stood at £3.1 billion while the firm managed to generate around £7.3 billion in free cash flow. This results in a dividend coverage of almost 1.5 – not bad and possibly high enough for the company to withstand a temporary decline in profitability while maintaining its dividend.