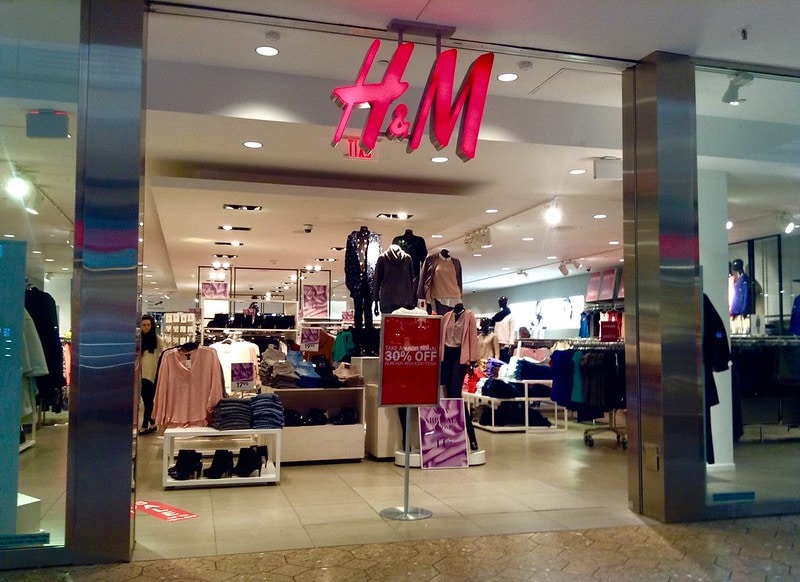 H&M shares are higher by almost 12% during today's stock trading activity in Sweden at SEK 159.35 per share after the company revealed this morning that it managed to turn a pre-tax profit of almost SEK 2 billion – around $230 million – during its third fiscal quarter.
The company attributed these positive results to a higher volume of full-priced sales along with the firm's ability to cut costs during the pandemic – which contributed to increase its profits for the quarter.
This level of profitability exceeds almost six times the consensus based on data collected by FactSet, as analysts were expecting SEK 396 million in pre-tax profits for the retailer during the quarter – although these numbers represent a 60% drop from the SEK 5 billion the company earned before taxes during the third quarter of 2019.
Sales for H&M landed at SEK 50.87 billion, which is 19% less than what the company sold during the same period last year – making this achievement even more surprising.
Meanwhile, Hennes & Mauritz's management team also said it has managed to reopen most of its 5,000 stores worldwide, with little over 200 stores still closed as a result of the pandemic.
What's next for H&M?
Fast-fashion retailers like H&M have struggled to keep sales afloat during the pandemic as people have been forced to work from home, which has reduced the demand for office apparel and casual wear, as consumers have turned to comfortable clothing while they remain locked in.
This reality is reflected by the company's lower sales during the quarter – although a significant portion of that impact can also be attributed to store shutdowns.
On the other hand, H&M's capacity to remain profitable during such a serious downturn is definitely a surprisingly positive turn of events, as the retailer's trimmed-down organisational structure could become an asset in the near future when sales go back to normal. H&M should be able to generate higher profit margins as a result of this pandemic-led restructuring.
However, a resurgence of the virus in Europe could prolong H&M's demand pains for longer than expected, possibly putting a cap in the stock's short-term growth potential – although its long-term prospects are very interesting.
The firm will release its full earnings report for this quarter on 1 October and analysts will be expecting to see how H&M's inventory has behaved during the downturn, as a build-up could indicate that the company will be forced to mark down a significant portion of it in the near future – which will put pressure on its sales over the coming quarters.
Are H&M shares a buy based on these positive results?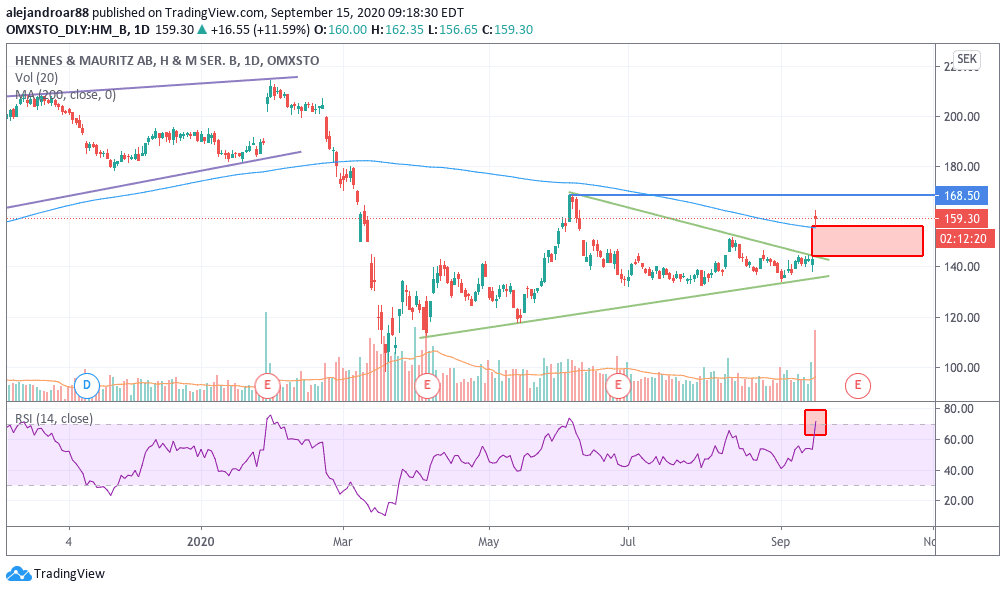 As a result of today's jump, H&M shares have managed to break above a wedge that has been forming as a result of a set of higher lows it has posted since the stock's bottom in March, although failing to surge to a higher high until now.
The RSI is currently entering overbought territory after today's move – which is normal – and it would be positive to see the stock moving above the SEK168.5 resistance shown in the chart above while posting a higher high in the oscillator as well, before taking a breather.
One negative element weighing on the stock is that today's price action has left a big price gap at the $144 level, which the market will eventually look to fill, although nobody can tell when.
Given the fact that H&M managed to turn a high level of profitability while facing strong headwinds, it would be plausible to think that a lot of bullish sentiment is going to emerge from this – although the full report will provide more evidence about the firm's outlook.
At this point, H&M shares could be an interesting long-term buy and today's announcement may lead to the creation of a new uptrend at a higher level and it is highly likely that the stock will retest its June high in the next few days or weeks.