The London Stock Exchange (LSE) is one of the largest trading markets globally. With that said, did you know that the company behind the exchange – the London Stock Exchange Group – is a publicly-listed entity itself? As a result, you can now buy LSE shares from the comfort of your home.
However, it is important to note that you are not buying shares in companies listed on the LSE. On the contrary, you are investing in LSE as an exchange provider. As such, the price of stocks listed on the exchange itself is somewhat irrelevant to the value of LSE as an entity.
In this guide, we show you how to buy LSE shares online in the UK. To ensure you can do this in the safest and most cost-effective way possible, we also discuss the best brokers to do this with in 2020.

The London Stock Exchange Group is now on the largest companies listed on the exchange. With a market capitalization of over £30 billion, it is also a key player on the FTSE 100 index.
As a result, there are hundreds of UK stock trading sites that allow you to invest in LSE shares.
To help point you in the right direction, below we list a selection of low cost, convenient, and heavily regulated stock brokers that allow you to buy LSE shares online.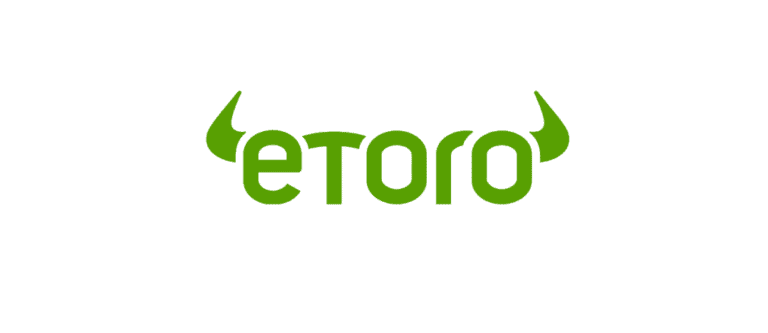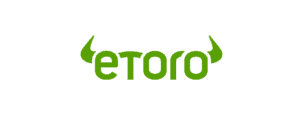 eToro has grown to exponential heights since its launch in 2007. In fact, there are now over 12 million investors using the online stock broker to buy and sell shares. This makes sense when you consider the industry-leading pricing structure offered by eToro.
That is to say, by opening an account with the platform you can buy over 800+ shares without paying a single penny in commission. Not only is this the case with leading FTSE 100 shares like LSE – but also 16 international exchanges. This means that you buy shares in companies like Facebook, Apple, and Amazon without paying any fees.
This is also the case for less liquid exchanges – such as those based in Sweden, France, and Canada. What we also find is that the spreads offered by eToro can be very competitive when trading large-cap stocks. This ensures that you are able to trade in a truly cost-effective manner.  eToro is also popular with UK investors because of how simple it is to get started.
You don't need to have any prior investment experience, as you simply need to choose which companies you wish to buy shares in and meet a $50 (about £40) minimum purchase. You will, however, need to deposit at least $200 (about £160) in order to get your account set up. You can do this instantly with a UK debit card, credit card, or e-wallet. You can also do a bank transfer, but it can take a few days to settle.
When it comes to the safety of your investments, eToro is regulated by the Financial Conduct Authorty (FCA). This means that client funds must be held in segregated bank accounts. You will also benefit from the £85,000 protections of the FSCS.
Pros:
User-friendly online stock broker
Buy shares without paying any commission or share dealing charges
800+ shares listed on UK and international markets
Buy shares or trade CFDs
Social and copy trading tools
Accepts PayPal
Mobile trading app
Holds an FCA licence
Cons:
Not suitable for advanced traders that like to perform technical analysis
67% of retail investor accounts lose money when trading CFDs with this provider.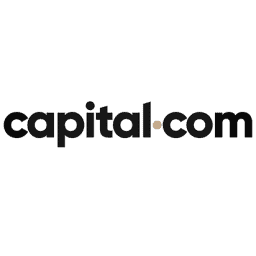 Capital.com is a hugely popular CFD broker that gives you access to over 2,000 stock CFDs. For those unaware, this means that you will be trading LSE shares as opposed to buying them. In simple terms, this gives you the flexibility of making gains when the shares go up – as well as down. This is because CFDs allow you to enter buy and sell positions. This is not possible when using a traditional share dealing platform.
In the case of Capital.com, you will be able to trade LSE shares without paying any commission. Once again, it's just the spread that you need to take into account. At the time of writing, this amounts to a very favourable spread of just 0.22p. A major advantage of going the stock CFD route is that you can apply leverage to your LSE share trade.
This stands at a maximum of 1:5 at Capital.com, meaning that you only need to put up a margin of 20%. For example, an account balance of £250 would allow you to sell or buy LSE shares at a stake of £1,250. In simple terms, this is amplifying your gains (or losses) by a factor of 5x. What we also like about Capital.com is that it allows you to get started with super-small amounts. In fact, you can deposit just £20 at the platform, which is ideal for newbies.
If you think that you might like the option of trading LSE shares while on the move, Capital.com offers a fully-fledged investment app. Once you have installed it, you will have access to the same account features as found on the main website. This is available on iOS and Android devices only. Finally, Capital.com is a good choice for those of you that are concerned about safety. Crucially, this is because the platform is fully-regulated by the FCA.
Pros:
Trading on hundreds of US and UK shares
Educational app for new traders
AI assistant identifies your weak points
Trade ideas generated daily
Excellent charting and analysis interface
100% commission free trading
Cons:
Cannot build custom trading strategies
75.26% of retail investor accounts lose money when trading CFDs with this provider.
Step 2: Research LSE Shares
Before you proceed to buy LSE shares from your chosen online platform, we would suggest performing some in-depth research. This will ensure that you are making a viable investment that meets your long-term aims. It will also ensure that you cover both the risks and rewards of LSE as a company.
With this in mind, below we give you some important background information on LSE shares – as well as where the markets anticipate the stocks moving in the coming months and years.
What is the London Stock Exchange Group?
London Stock Exchange Group (LSE) is the organization behind the UK-based stock marketplace of the same name. That is to say, LSE is a fully-fledged company that offers its own products and services. Naturally, this mainly centres on the London Stock Exchange – which itself hosts thousands of companies both large and small.
To ensure you understand that LSE is a separate entity from the exchange itself, below you will find a list of the firm's core services:
Information Services
Risk and Balance Sheet Management
Capital Formation
In Layman's terms, LSE does everything form provide the framework for shareholders to buy and sell stocks in a multi-trillion pound environment, facilitate bond and IPO issuers, and even provide benchmark services for ETF and index funds.
The most important takeaway here is that by buying LSE shares, you are not investing in companies listed on the London Stock Exchange. On the contrary, you are investing in the future value of LSE as a single entity. If investing in the wider London Stock Exchange is what you are trying to achieve, you are best advised to consider an ETF or mutual fund that tracks the FTSE 100.
LSE Share Price History
So now that you know what the London Stock Exchange Group does, and how it differs to the wider exchange of companies, we now need to explore the firm's share price history. First and foremost, the LSE was listed on the London Stock Exchange in 2007. It currently has a market capitalization of over £30 billion, which makes it one of the largest stocks on the exchange. In fact, it is a major constituent of the FTSE 100 index.
Back in 2001, you would have paid in the region of 380p for a single share in LSE. Since then, the company has grown to exponential heights. At the time of writing in August 2020, it is valued at 8,592p. To put this rapid upsurge into perspective, this works out at growth of over 2,161%. As always, in order to assess whether or not this growth is in line with the wider economy, a good starting point is to look at the FTSE 100 index.
After all, this is an excellent mechanism to assess how the UK stock markets are performing. So, during the same period – July 2001 and August 2020, the FTSE 100 index grew from 5,537 points to 6,175 points. This works out at an abysmal increase of just 11%. Additionally, this illustrates that there isn't a direct correlation between LSE as a company with that of the wider London Stock Exchange.
This sentiment is further highlighted when you look at the figures from 2020.  For example, at the start of the year, you could buy LSE shares at 7,770p. Although the shares took a hit in March (as per the COV-19 pandemic), the shares are now priced at 8,592p. This means that LSE shares are up by 10% for the year. In comparison, the FTSE 100 started the year at 7,604 points and is now worth 6,175 points. This means that the wider index in 18% down for the year.
LSE Shares Dividend Information
If you're wondering whether or not LSE shares pay dividends, you will be pleased to know that they do. In fact, the firm has a long-standing history of paying dividends since it became a publicly-traded entity. As an LSE shareholder, you will be entitled to a dividend payment twice per year.
The interim dividend is usually distributed in September, and the final dividend in May. Crucially, LSE strives to take a progressive approach to dividends, meaning that it will attempt to increase the size of its payment each year.
Should I Buy LSE Shares?
As per the share price history we discussed above, there is much to like about LSE shares. With that said, it is important to first look at the current position of a company before making an investment, and where its shares are likely to go in the short and long run.
Below we list some of the most important considerations that you need to make before you buy LSE shares.
Outperforming the Wider FTSE With Ease
Although we briefly discussed the historical share performance of LSE earlier, it is crucial to empathize just how important this is. After all, the ultimate aim of most seasoned investors is to outperform the markets. The best way to quantify this is to look at how the FTSE 100 index has performed during the same time period.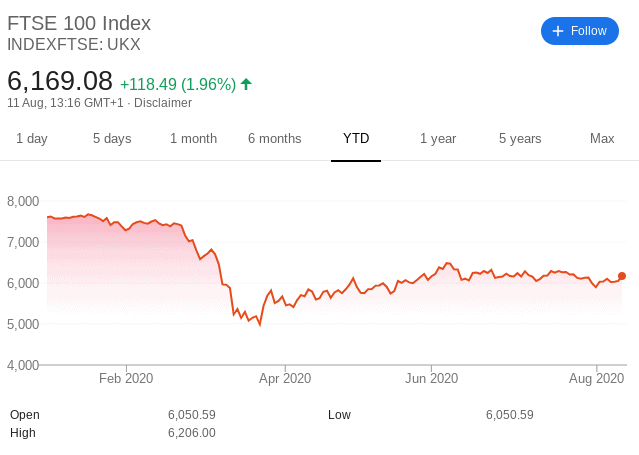 In this sense, there are two clear metrics that make LSE shares stand out from the crowd. First and foremost, while LSE has grown by over 2,100% since its inception in 2001, the FTSE 100 has grown by just 11%. It doesn't take a rocket scientist to recognize that the two investment streams are country miles apart in terms of returns.
But, some would argue that the response to the wider COV-19 pandemic is even more impressive. For example, the FTSE 100 is down 18% from January to August 2020, while the LSE is up 10%.
Both Bear and Bull Markets are Beneficial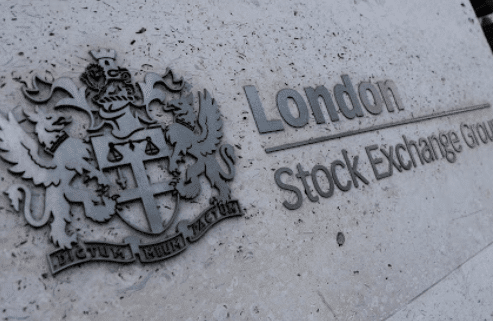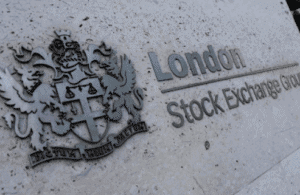 As the organization that provides the framework for investors to buy and sell shares on the London Stock Exchange, one the firm's core revenue streams is commission. That is to say, every time an investor places an order through its exchange, LSE makes money.
Now, there are typically two main drivers behind increased trading volume – a strong bear or bull market. The former is when there is fear in the wider markets. A prime example of this was seen earlier in the year.
In response to the fears of COV-19, firms on the FTSE 100 lost anywhere between 30% and 50% in the space of weeks. As this resulted in a mass sell-off, LSE cleaned-up so-to-speak in the commission department. At the other end of the spectrum, the firm will also see an increase in commission when a bull market is in play.
This is when market sentiment is extremely strong and investors flock to buy more shares. The key point is here is that regardless of how the wider stock markets are performing, LSE as an exchange can make money. Its profits are further amplified when trading volumes are high.
Diversified Revenue Model
Although the LSE generates a good chunk of its revenues through the London Stock Exchange, it is also involved in other segments of the financial arena. For example, LSE is also the owner of the Borsa Italiana – which is the primary stock exchange of Italy.
Additionally, the firm has a significant stake in the European clearing space. For those unaware, the clearing services offered by  LSE ensures that buyers have sufficient capital to purchase shares from the open marketplace. Once again, LSE can profit from its clearing services regardless of how the markets are performing.
Strong Dividend Payer
It was recently reported that 445 of the UK's largest public companies were forced to cut or outright suspend its dividend payment as per the impact of the COV-19 pandemic. And what about LSE? Well, just this month the firm announced that it would be increasing its interim dividend.
In fact, the board have decided to hike its upcoming dividend by 16% to 23.3p per share. This further highlights just how strong the firm's financials are at present. Looking at the figures closer, LSE reported increased revenues of 4% for the first six months of 2020. This translates into an increased income of 8%.
Step 3: Open an Account and Deposit Funds
Now that we have discussed the potential outlook of LSE shares in the coming months and years, we are now going to discuss the process of making an investment.
Your first port of call will be to open an account with your chosen UK stock broker. We are going to show you the steps with top-rated platform eToro, which is one of the best share dealing accounts in the UK and allows you to buy LSE shares without paying any commissions.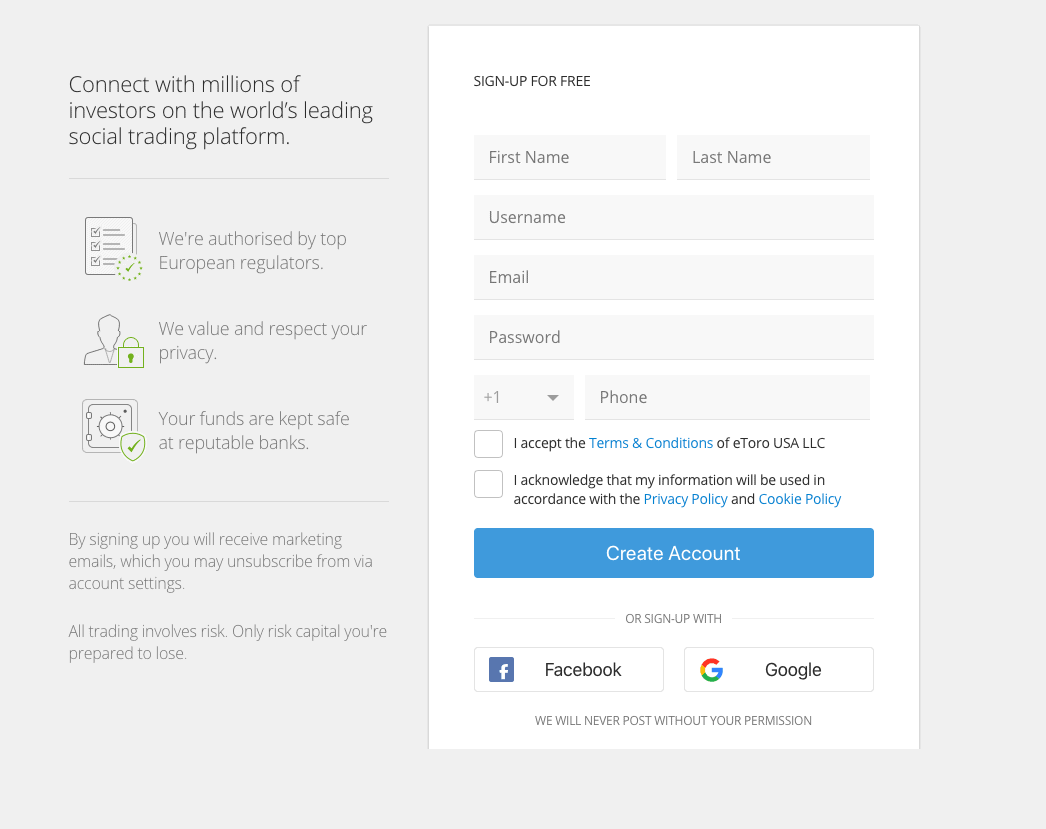 Once you are on the eToro homepage, elect to open an account.
You will then need to enter some personal information – such as your:
Full name
Nationality
Date of birth
Home address
National insurance number
Contact details
Username and password
You will also be asked to upload the following ID:
Passport or Driver's License
Recent Utility Bill or Bank Account Statement
If you're in a rush and don't have the documents to hand, you can do this at a later date (as long as you do not intend on depositing more than £1,800).
In term of making a deposit, you can do this with a debit/credit card, bank account transfer, or e-wallet. Don't forget, eToro requires a minimum deposit of $200 (about £160).
Step 4: Trade or Buy LSE Shares
Once your deposit has been confirmed, you can then buy LSE shares.
Enter 'LSE' into the search box at the top of the page and then click on the result that loads up.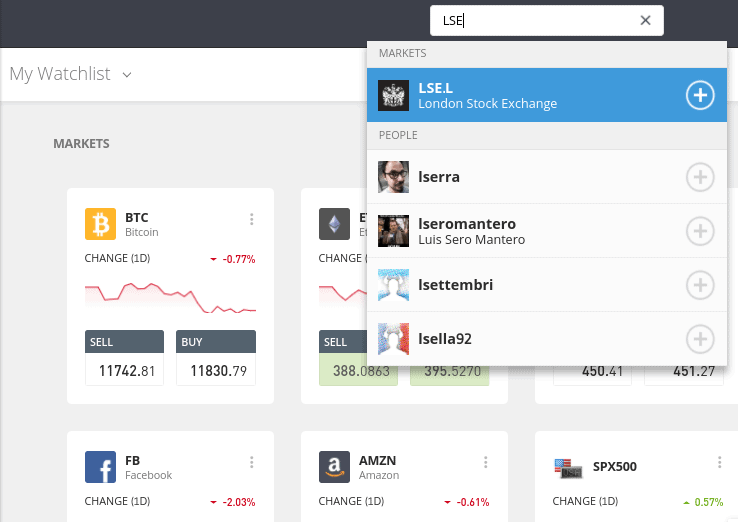 Then, click on the 'Trade' button.


Finally, enter the amount of money that you wish to invest in stocks of LSE. This should be in US dollars.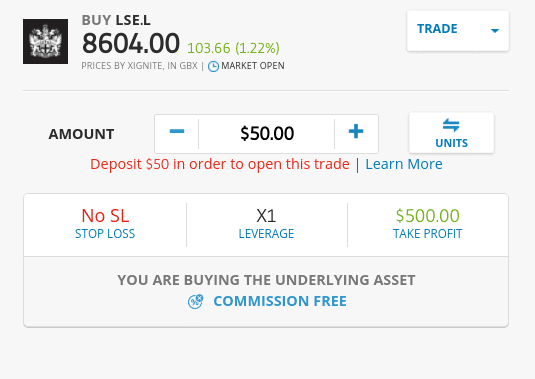 Once you click on the 'Open Trade' button, you will have completed your purchase of LSE shares!
LSE Shares Buy or Sell?
In terms of whether LSE shares are a buy or sell, this ultimately needs to be your decision. However, the general consensus – as per its tremendous start to 2020 – is that LSE shares are a solid buy.
The Verdict?
In summary, buying LSE shares is a process that can be completed in minutes. All you need to do is open an account with a trusted FCA broker, deposit some funds, and then choose how much you wish to invest. If you want to buy LSE shares in the most cost-effective way possible, eToro allows you to invest on a commission-free basis.
You can instantly deposit funds with a debit/credit card or e-wallet, and there are no registration or monthly platform fees to contend with.
Simply click the link below to get started!
eToro – Buy LSE Shares With Zero Commission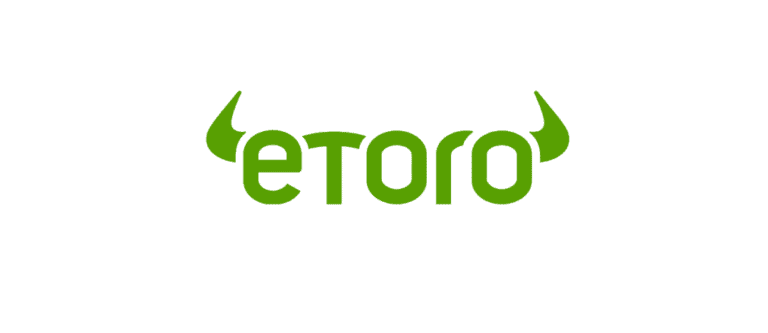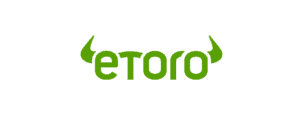 67% of retail investor accounts lose money when trading CFDs with this provider.
FAQs
[sc_fs_multi_faq headline-0="h3″ question-0="What is the London Stock Exchange Group?" answer-0="As the name suggests, the London Stock Exchange Group is the organization behind the stock exchange of the same name. Amongst a number of other products and services, the Group facilitates the buying and selling of shares listed on the London Stock Exchange.   " image-0="" headline-1="h3″ question-1="What stock exchange are LSE shares listed on?" answer-1="LSE shares are listed on the London Stock Exchange. " image-1="" headline-2="h3″ question-2="Do LSE shares pay dividends?" answer-2="Yes, LSE shares do pay dividends. In fact, while 445+ companies have since cut or suspended their dividend payment in response to the COV-19 pandemic, LSE has actually increased the size of its payment by 16%.      " image-2="" headline-3="h3″ question-3="When did LSE go public?" answer-3="LSE first went public in 2001. Fast forward to 2020 and the firm now has a market capitalization of over £30 billion. This makes it one of the largest companies on the London Stock Exchange.   " image-3="" headline-4="h3″ question-4="How do you buy shares in the London Stock Exchange?" answer-4="This depends on what you mean. If you want to buy shares in the London Stock Exchange Group, then you can do this with an online broker. If you want to invest in the wider London Stock Exchange, then you might want to consider an ETF or index fund that tracks the FTSE 100. In doing so, you will be buying shares in all 100 firms that make up the index.  " image-4="" count="5″ html="true" css_class=""]