Interested in building a long-term portfolio with £10,000? That's enough money to create a highly diversified set of investments and see a tangible return over time.
In this guide, we'll show you how to invest 10,000 pounds UK and highlight the 10 best way to invest 10,000 pounds in 2021.
How to Invest £10K Pounds 2021 – Top Investments Revealed
If you're wondering how to invest £10K UK in 2020, check out the top 10 investments we've picked out below.
Tesla – The Next Trillion-dollar Company – Invest Now
Shopify – Making eCommerce Possible for Businesses Everywhere – Invest Now
Ethereum – The Future of Blockchain Application – Invest Now
IBM – Best Dividend-paying Stock
Taiwan Semiconductor Manufacturing – The World's Dominant Chip Supplier
iShares Emerging Markets ETF – Invest in China and Beyond
Snapchat – Best Short-term Investment
Vanguard Short-term Bond ETF – Low-risk Bond Investing
Amazon – Global Leader in Cloud Computing
BP – Best UK Stock to Buy and Hold
Best Way to Invest 10,000 Pounds UK
There is an infinite number of ways to invest £10,000. Here, we've put together a portfolio of 10 stocks, ETFs, and cryptocurrencies that we think will stand the test of time and produce strong returns for investors. Feel free to tweak this portfolio or add your own stocks, depending on your risk tolerance.
1. Tesla – The Next Trillion-dollar Company
Tesla was one of the hottest companies on the US stock market in 2020. The electric automaker's shares climbed an incredible 695% last year, and it continued to climb in the first months of 2021. With a pullback underway, right now could be the best way to invest 10K in what could be the world's next trillion-dollar company.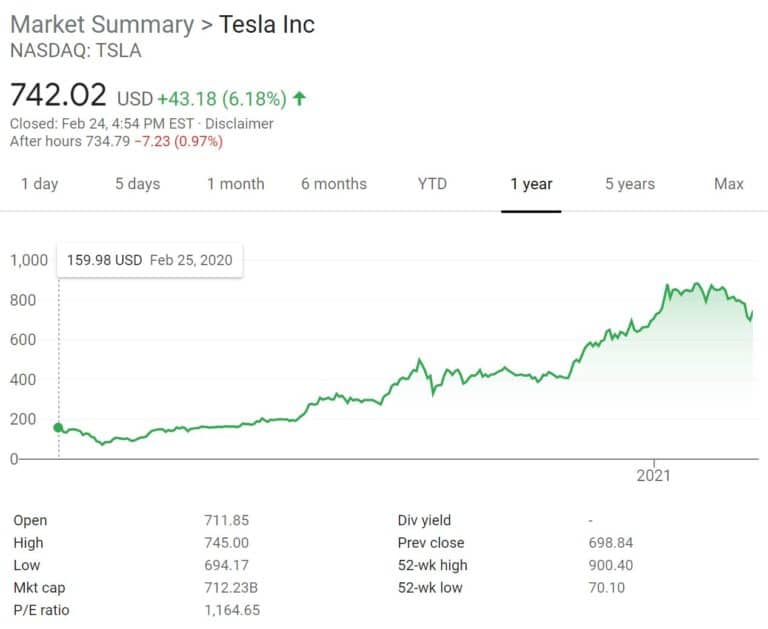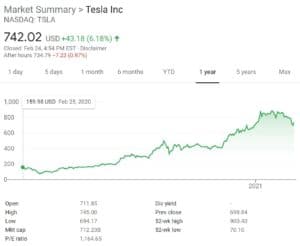 Although Tesla's star has risen quickly, we think this stock still has plenty of growth ahead of it. The company is rapidly ramping up production in its new gigafactories, and demand for Tesla's vehicles continues to increase year after year. On top of that, Tesla is one of the few US vehicle manufacturers to get traction in China – an enormous and fast-growing market that could fuel Tesla's growth for decades to come.
To be sure, Tesla shares are a high risk investment. The company has a price-to-earnings (P/E) ratio of 1,165, which is incredibly expensive. But this company's prospects look very attractive and it can be the anchor stock for the high-growth portion of your portfolio.
Your capital is at risk.
2. Shopify – Making eCommerce Possible for Businesses Everywhere
Shopify is another growth stock that's seen a lot of attention from investors, but – in our opinion – still has its best days ahead of it. This eCommerce company enables small businesses around the world to build online stores. It's crucial for any business that wants to be online, and it's market is increasing year after year as more people become entrepreneurs and internet access in emerging markets increases.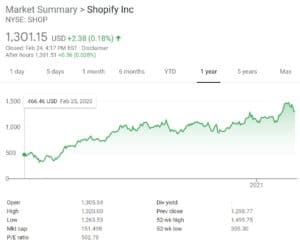 Shopify's biggest competitor is Amazon, but the two companies approach the online marketplace in completely different ways. Whereas Amazon is where consumers go to buy things, Shopify is in the background – in fact, many shoppers have never even heard of it. Importantly, a large amount of Shopify's revenue comes from subscription costs, which are more reliable than transaction fees.
You might want to consider investing in Shopify shares as the world continues the transition from brick and mortar to online shopping.
Your capital is at risk.
3. Ethereum – The Future of Blockchain Applications
While Bitcoin attracts much of cryptocurrency investors' attention, the second-most popular digital currency, Ethereum, is a very attractive long term investment. While Bitcoin only enables peer-to-peer financial transactions, Ethereum leverages blockchain technology to build infrastructure for a huge range of applications, so it's one of the best ways to invest in blockchain.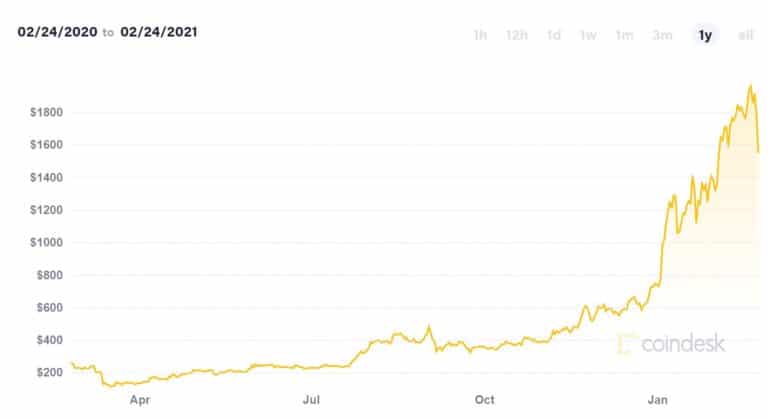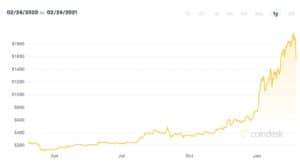 In fact, Ethereum's underlying idea – smart contracts – can be used for issuing loans online, writing digitized legal agreements, streamlining logistics, and so much more. The Ethereum network has been held back thus far by slow transaction speeds, but a fundamental shift in the way the cryptocurrency works is currently underway.
So, while Ethereum might not eclipse Bitcoin in the years to come, it has more real-world potential. Where there's potential, there's money – so buying Ethereum is our pick for the best cryptocurrency investment today.
Your capital is at risk.
4. IBM – Best Dividend-paying Stock
Investing in dividend stocks is a great way to add cash flow into your portfolio. And there are few better dividend stocks than IBM, which pays out a yield of 5.3%.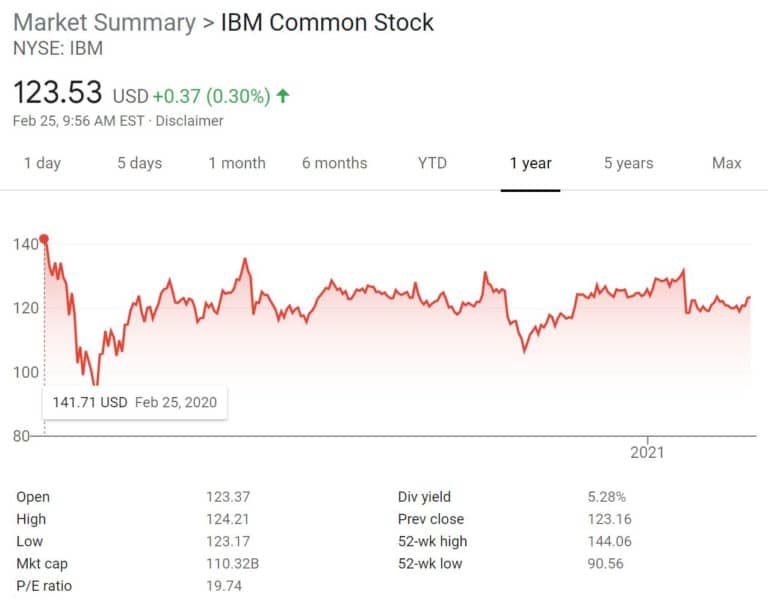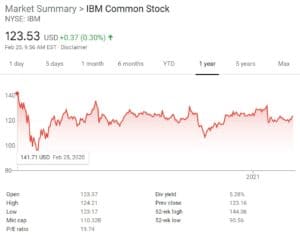 One reason to like IBM shares is that this blue chip giant has been largely left behind by the tech boom. The stock price has been flat over the past 5 years as IBM has worked to develop a new strategy and adapt to new technologies. That might not sound great, but it means that IBM trades with an incredibly cheap P/E of just 19.7 – good luck finding another tech stock with a P/E ratio that low!
Plus, we're optimistic that there are brighter days ahead for IBM. The company is working hard to build up its cloud computing business, and it has an enormous base of current clients who would be willing to use its services in this arena. On top of that, IBM is a leader in AI and blockchain technologies – tech that hasn't fully come to fruition yet but should be incredibly valuable in the near future.
Your capital is at risk.
5. Taiwan Semiconductor Manufacturing – The World's Dominant Chip Supplier
Taiwan Semiconductor Manufacturing isn't as well-known among investors as semiconductor stocks like NVIDIA or AMD. But this Taiwanese company makes more than half of the world's chips for computers, servers, cars, and everything else that needs semiconductors to function. By comparison, Samsung is the next biggest chip foundry, and it controls less than 18% of the global market.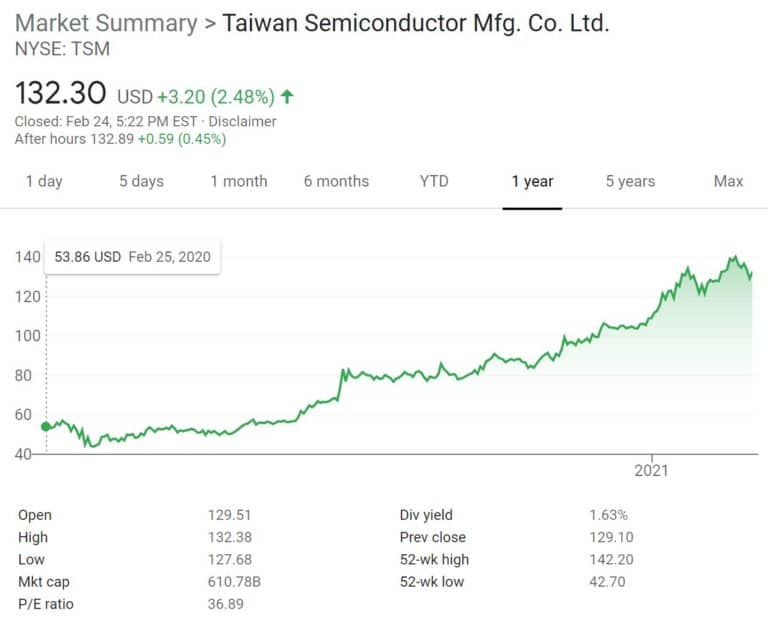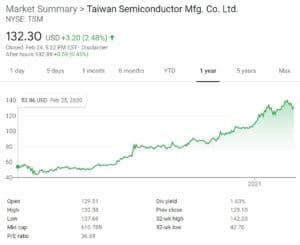 Demand for semiconductors is expected to grow by nearly 50% in the next 5 years, as more and more devices rely on computing power. Taiwan Semiconductor Manufacturing is well-positioned to remain on top of this growing market, as the company has continually reinvested in its technology and kept its chip design partners happy.
Despite the potential in this market, Taiwan Semiconductor Manufacturing is surprisingly cheap. The company trades at a P/E ratio of just 37 – and that's after the stock more than doubled in value last year. This company could be worth a lot more in the years to come, and the 1.6% dividend yield is an added bonus for investors.
Your capital is at risk.
Investing in rapidly growing markets like China and Southeast Asia is important, but it can be tricky. Many brokers only offer trading on a limited number of emerging market shares, and it's hard to know what companies in these markets are worth your money.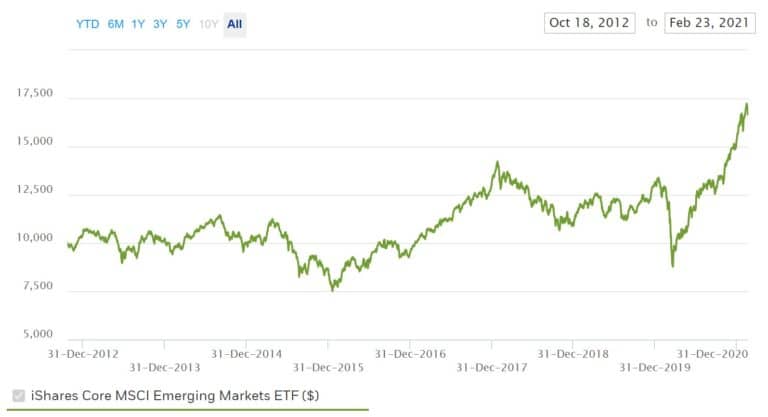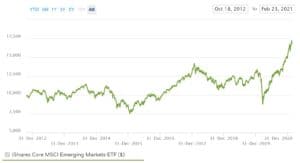 That's where the iShares Core MSCI Emerging Markets ETF comes in. This fund invests in top stocks in China, Singapore, South Korea, Nigeria, Brazil, and more. The ETF has more than 2,700 stocks, so you're well-protected against a few individual stocks that don't live up to expectations.
One of the best things about the Emerging Market ETF is that it's very inexpensive. The fund has an expense ratio of just 0.11%, and it returned over 18% last year.
Your capital is at risk.
7. Snapchat – Best Short-term Investment
Snapchat has long faced headwinds from investors over concerns about the company's potential to monetize its users. But over the past year, this stock finally picked up steam. Snapchat shares gained over 207% in 2020, as the company reported increasing revenue and incredibly high user growth.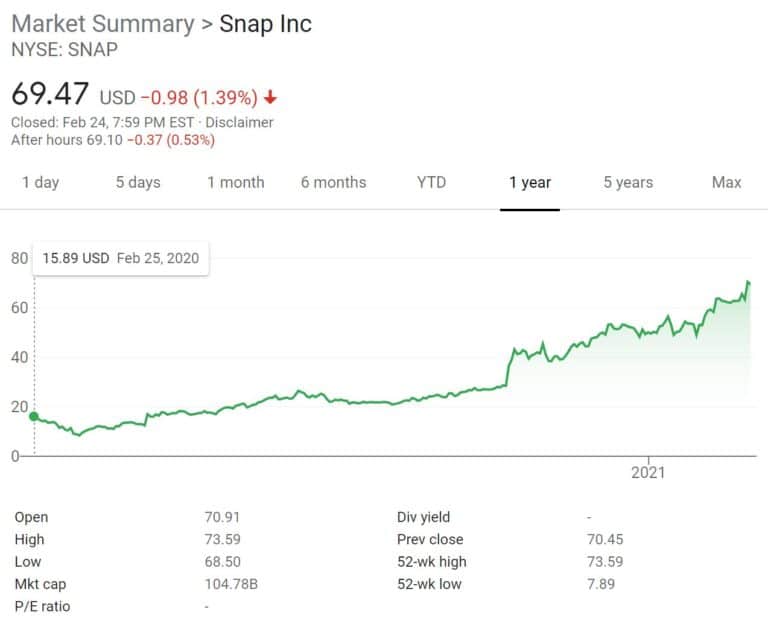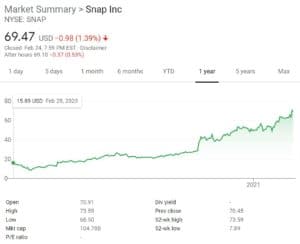 Snapchat is the perfect short-term investment for your portfolio in 2021. The social media platform's user base is extremely loyal, and Snapchat appears ready to finally monetize those users. It has more pull with Gen Z'ers than any other platform, so it could demand a premium price from advertisers.
In addition, Snapchat is cheap right now. The company is trading at a lower price-to-sales ratio than it did at the time of its IPO in 2017. It also has a market cap of just over $100 billion. Snapchat could be worth a lot more, and 2021 is the year that investors will realize this social media platform's full potential and drive the shares higher.
Your capital is at risk.
8. Vanguard Short-term Bond ETF – Low-risk Bond Investing
The Vanguard Short-term Bond ETF is one of the best ways to invest in the bond market. This fund is extremely low risk and offers a better return than a savings account. In fact, it's a great alternative to holding cash while you're waiting for a pullback in the stock market to buy-in.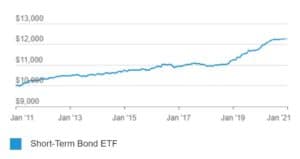 The Short-term Bond ETF is passively managed and invests primarily in U.S. government treasuries and high-quality investment-grade corporate bonds. The chances of any of these bonds defaulting are close to zero.
Vanguard charges an expense ratio of just 0.05%, which is incredibly inexpensive. Over the past 5 years, the fund has returned 2.5% since interest rates have been historically low. As we said, it's not exciting, but it's better than a savings account.
Your capital is at risk.
9. Amazon – Global Leader in Cloud Computing
No list of where to invest 10,000 pounds would be complete without Amazon. This company returned over 70% in 2020 – and that's for a company that's already worth over $1 trillion! This has been one of the best-performing companies of the past decade, and it could be one of the top performers over the next decade, too.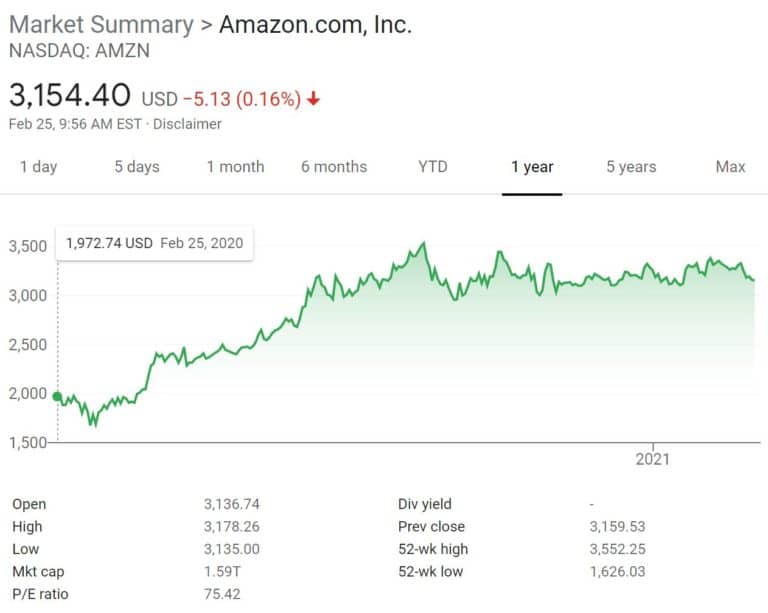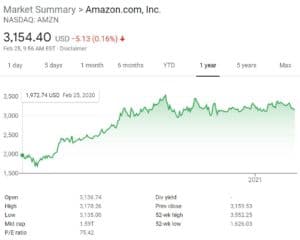 What excites us most about Amazon isn't its eCommerce business, although that's a huge revenue driver for the company. Instead, it's Amazon Web Services. Amazon is the global leader in cloud computing and controls over 30% of the global market. Microsoft is in second place, and it's not close behind.
As AI and the Internet of Things become more important to every company in the years ahead, the computing services that Amazon provides will become ever more essential. As long as Amazon Web Services remains head and shoulders above what competitors are offering, Amazon will continue to thrive.
Your capital is at risk.
10. BP – Best UK Stock to Buy and Hold
BP, the oil behemoth, has been a dominant company on the UK stock market for decades. It's long been one of the most valuable companies in the FTSE 100 index, as well as one of the UK's highest-paying dividend stocks. Today, BP shares pay out a dividend of nearly 5%.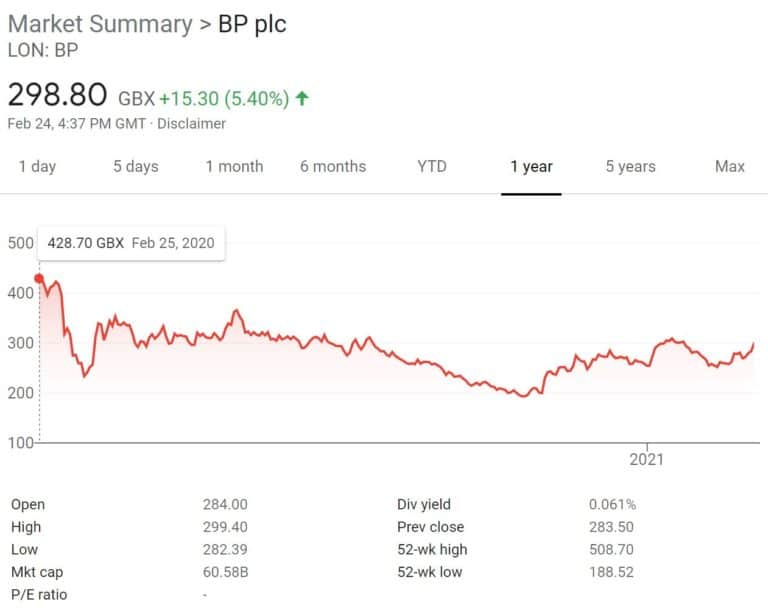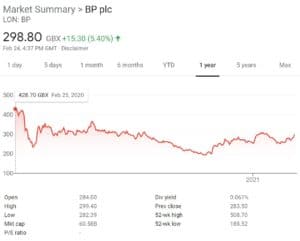 One of the biggest concerns around buying oil stocks has been the long-term trend towards renewable energy. But on this front, BP is extremely well-positioned to continue leading the energy sector for decades to come. The company plans a 10-fold increase in zero-carbon energy technology by 2030, and to scale back its oil business over the same timeframe.
There's every reason to think that BP could become the de facto leader in developing fueling stations for electric vehicles. In addition, BP has worked harder on developing low-cost biofuels than almost any other company. Success in either of these paths would be very lucrative for BP in the long run.
BP was hit extremely hard by the coronavirus pandemic, and the stock remains down nearly 40% from its price at the start of last year. With that in mind, right now could be the perfect time to buy this LSE-listed stock.
Your capital is at risk.
How to Choose Smart 10,000 Pounds Investments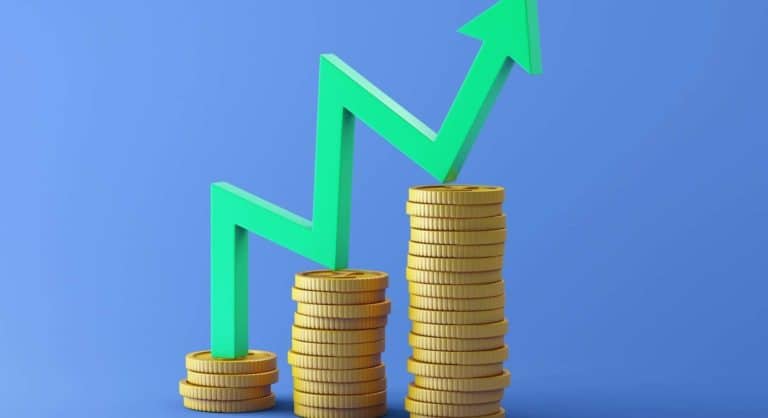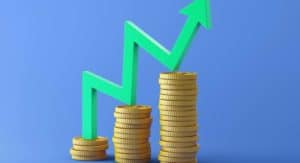 When choosing the best way to invest 10,000 pounds in 2021, it's important to take on a portfolio-building mindset. £10,000 is a lot of money, so you'll want to spread it out over a handful of different investments instead of putting it all in one stock.
So, how can you invest your money to maximize returns and minimize risk? There are a couple of things to consider when building a £10,000 portfolio.
First, think about your timeframes. Some investments, like ETFs, might be very long-term investments with a time horizon of 5-10 years or longer. Other investments, like individual stocks, might have a time horizon as short as a few months or as long as 5 years. Mixing assets with different time horizons enable you to keep your options open and ensures that you'll have cash on hand to invest in whatever new opportunities arise along the way.
Another thing to consider is how to balance risk and return. It's okay to invest in high risk, high return stocks, cryptocurrencies, and other asset classes. However, these high risk investments shouldn't make up your entire portfolio – there's simply too great a chance that the market could crash and there would be no investments holding your portfolio up.
Instead, invest in some lower risk stocks and funds in your portfolio. These might not be the most exciting investments, and they can seem silly when the market is going up and up. But you'll be very glad to have them during the next market crash.
Finally, it's a good idea to mix different asset classes and market sectors as much as possible. If all of your investments are in, say, the auto industry, what happens to your portfolio's value if a new type of vehicle disrupts transportation as we know it?
By spreading your investments across sectors and assets, you reduce the likelihood that a single disruption can drag down your entire portfolio. It's a simple form of hedging that also has the advantage of giving you exposure to a wider range of investments that could be winners in the years ahead.
Where to Invest 10000 Pounds UK – Best Investment Platforms
In order to invest your money in the stock market and build a portfolio, you'll need a UK stock broker or stock app. Finding the right stock broker is key to your success since your broker determines what assets you have access to trade, how much it costs to trade, and more.
To help you get started, let's take a closer look at two of our top-rated brokers for where to invest 10K for both short- and long-term investing: eToro and Fineco Bank.
1. eToro – Invest in Stocks, ETFs, Cryptos, and More with 0% Commission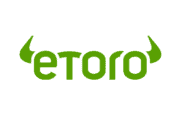 eToro is our favorite UK broker for investing in the market. This multi-asset broker allows you to trade nearly 2,000 stocks from around the globe and hundreds of ETFs. In addition, eToro is a full-service cryptocurrency exchange with 15 digital currencies available and offers CFDs for forex, commodities, and indices.
If you're trading stocks with eToro, you get to choose whether you want to buy shares outright or trade CFDs. Both types of trading are 100% commission-free, so it really just comes down to whether you're looking at a short-term trade or a long-term investment.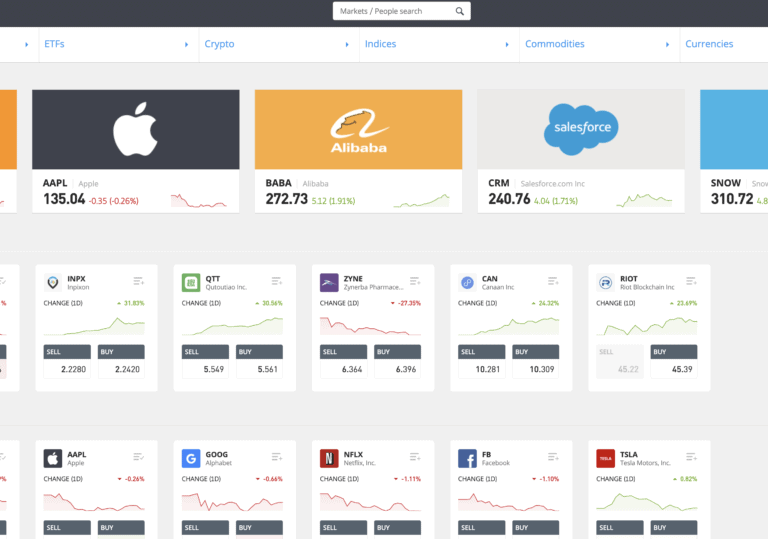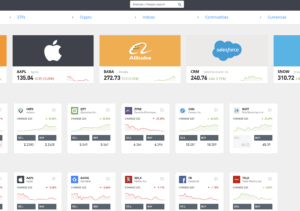 67% of retail investors lose money when trading CFDs with this provider.
Another thing we like about this broker is that it offers a social trading network. You can interact with thousands of other investors from around the world to share success stories, investment ideas, and more.
eToro also supports copy portfolios, so you can easily mimic a professional trader's portfolio in just a few clicks, making it extremely easy to learn how to invest 10K. This is great if you want to invest in a specific market sector, like renewable energy, but can't find an ETF that you like.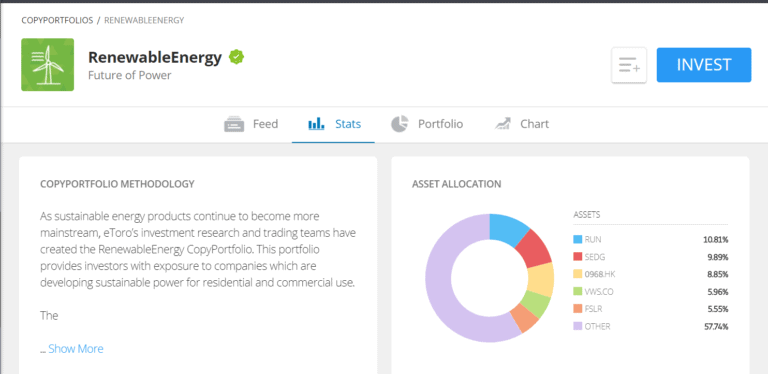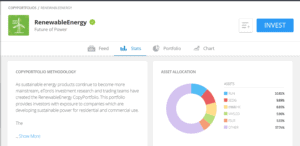 This broker also offers excellent fundamental research and 12-month price targets from professional analysts. These tools are extremely useful for deciding whether to buy a specific stock as a long-term investment. The only thing eToro doesn't have is a tool for analysing your portfolio so that you can see whether you're adequately diversified across market sectors.
Before eToro offers such a wide variety of markets and lets you invest both small and larger amounts, it's you're looking to invest 1000 pounds, invest 5000 pounds, or even invest 1 million pounds!
eToro is regulated by the UK's Financial Conduct Authority. The broker offers 24/5 customer support.
Pros
Huge selection of assets to trade
100% commission-free stock and CFD trading
Built-in social network for investors
Copy professionally built portfolios
Analyst research and fundamental analysis
Cons
Limited portfolio analysis tools
67% of retail investors lose money when trading CFDs with this provider.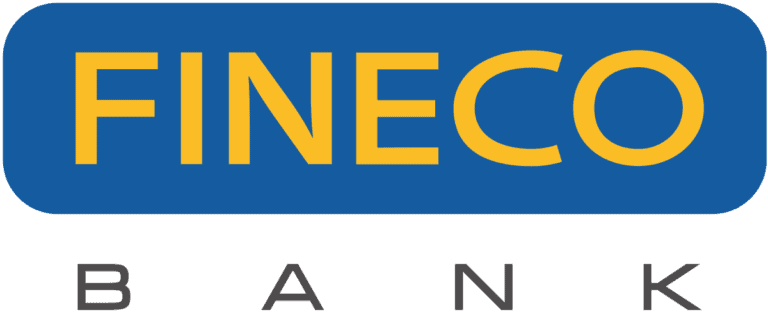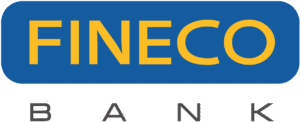 Fineco Bank is an Italian multi-asset broker that offers share dealing, ETF investing, and CFD trading. The array of stocks and funds to trade is enormous, with over 10,000 shares and thousands of more ETFs on offer.
This broker isn't quite 100% commission-free, but for the selection of assets you get and the low cost of trading we think it's fairly inexpensive. Fineco Bank charges £2.95 for UK stock trades, $3.95 for US stock trades, and nothing for CFD trades (including stock CFD trades). ETF investing carries a fee of 0.25% per year.
Part of what makes Fineco Bank special is its highly advanced web trading platform, known as PowerDesk. This software is light on fundamental analysis, but it's immensely powerful for technical analysis. It comes with dozens of built-in indicators and a news feed, plus customisable layouts to help you monitor the markets.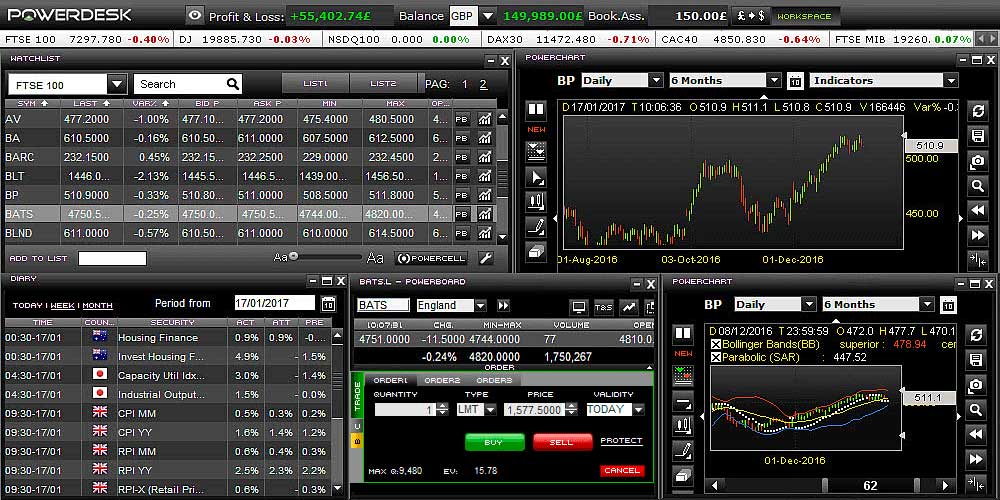 Your capital is at risk.
Fineco Bank also has a streamlined mobile stock trading app and a variety of portfolio analysis tools. We especially liked the global stock screener, which enables you to sort through the thousands of stocks on offer to find ones worth investing in.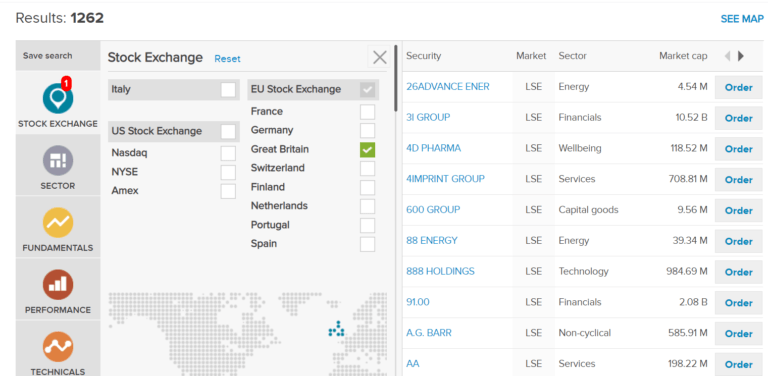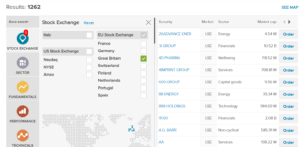 Fineco Bank is regulated by the Bank of Italy and is publicly traded on the Milan Stock Exchange. The broker offers customer support by phone and email 7 days a week.
Pros
Over 10,000 stocks to trade
Low-cost share dealing and ETF investing
Advanced technical analysis platform
Global stock screener
Support 7 days a week
Cons
Limited fundamental analysis
Not fully commission-free
Your capital is at risk.
How to Invest £10K Pounds Tutorial
Want to build your £10,000 portfolio? We'll show you how to get started with eToro, which offers commission-free stock trading and advanced tools for monitoring your investments.
Step 1: Create an eToro Account
To get started, head to eToro's website and click 'Join Now' to register a new account. You can sign up using your email address or your Google or Facebook login information.
Before you can deposit funds, you'll need to verify your identity. This step is required by UK financial regulators. Just upload a copy of your passport or driver's license and a copy of a recent utility bill that shows your address.
Step 2: Deposit Funds
Next, add funds to your account. eToro requires a minimum deposit of £160, but this won't be a problem if you're planning to deposit £10,000. You can pay by debit or credit card, bank transfer, PayPal, Neteller, or Skrill.
Step 3: Start Investing
Now you're ready to start building your portfolio. Search for the first stock on your list – if you're using our recommendations, Tesla – in the box at the top of the eToro dashboard. When it appears in the drop-down menu, click 'Trade' to open an order form.
Enter how much money you want to invest in Tesla shares in US dollars. You can set a stop loss for your trade to protect yourself against losses, or use a take profit level to sell your shares at a specific gain.
When you're ready, click 'Open Trade' to buy your first shares and start investing your £10,000.
Best Way to Invest 10K 2021 – Conclusion
Figuring out the best way to invest 10,000 pounds in 2021 can be a challenge, especially if this is your first time building an investment portfolio. With our 10 top investment picks and tips for how to invest 10,000 pounds, you can navigate the market like a seasoned pro.
Ready to build your £10,000 investment portfolio? Click the link below to get started with eToro today!
eToro – Best Broker to Invest 10,000 Pounds with Zero Commission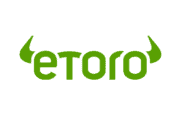 67% of retail investors lose money when trading CFDs with this provider.
FAQs
Can I invest £10,000 in a Cash ISA or SIPP?
Should I invest my entire portfolio in the stock market?
Can I invest £10,000 in a savings account?
How can I invest £10,000 in the most tax-efficient way?
Do I need financial advice to invest £10,000?
Read next