How to Buy Harley-Davidson Shares UK – With 0% Commission
Fact Checked
Everything you read on our site is provided by expert writers who have many years of experience in the financial markets and have written for other top financial publications. Every piece of information here is fact-checked.
Disclosure
Please note that we are not authorised to provide any investment advice. The information on this page should be construed for information purposes only. We may earn commissions from the products mentioned on this site.
Harley-Davidson is one of the most recognizable brands in the world. The company's iconic motorcycles can be found on roads around the world and Harley-Davidson riders congregate in the tens of thousands at rallies to show off their bikes.
Harley-Davidson's share price was hit hard at the start of the COVID-19 pandemic, but the company's stock has almost recovered to its pre-pandemic price. However, the share price has been trending downward for most of the past five years and the road ahead could be rough for Harley-Davidson. So, it's worth thinking carefully about whether you want to buy Harley-Davidson shares or short the stock in order to profit from a drop in price.
Whether you want to buy Harley-Davidson shares in the UK or sell shares short, this guide will explain everything you need to know. We'll highlight top UK brokers you can use and take a closer look at what the future may hold for this vaunted motorcycle manufacturer.
Step 1: Find a UK Stock Broker That Offers Harley-Davidson Shares
Harley-Davidson is a US stock that trades on the NYSE (New York Stock Exchange). So in order to buy shares, you'll need a UK stock broker that offers trading on the US stock market.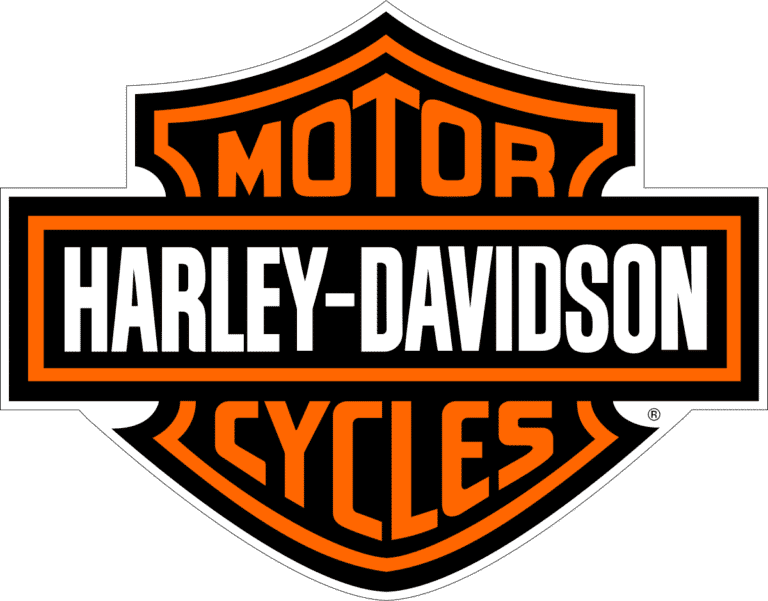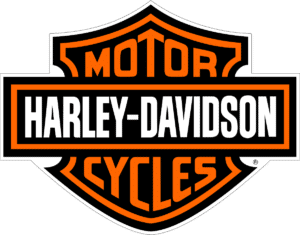 You have a lot of options when it comes to picking a stock broker, but not all of them are equal. The best brokers in the UK offer fully commission-free trading, which means you pay nothing but a small spread when buying and selling shares. On top of that, top brokers have few or no account fees to ensure that you get to keep all the profits from your successful trades.
Another thing to consider when choosing the right broker for your needs is whether you get access to an advanced trading platform. Ideally, your broker should provide in-depth technical charts and analysis tools so that you can fully evaluate stocks in real-time. Make sure the charting interface is also available through a mobile stock trading app so you can buy and sell on the go.
With those things in mind, let's take a closer look at two of our top recommended brokers for buying Harley-Davidson shares in the UK:
1. eToro –Buy Harley-Davidson Shares with 0% Commission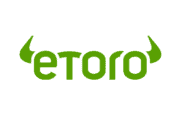 When it comes to trading stocks in the UK, there are few platforms better than eToro. This broker offers access to more than 800 stocks from around the world, including on the NYSE, London Stock Exchange, and exchanges in Tokyo, Johannesburg, and throughout Europe. You can also buy and sell more than 450 ETFs and stock indices, making it easy to get exposure to broad areas of the global market.
One of the things we like best about eToro is that the platform offers both share dealing and CFD trading. You can invest in Harley-Davidson shares directly if you want to hold the company for the long term, or use CFDs to actively trade the company or short the stock. You can trade CFDs with leverage up to 5:1. Best of all, there are absolutely no commissions no matter how you decide to trade with eToro.
Another feature that helps to set eToro apart is its technical trading platform. This broker has a proprietary web and mobile charting interface that comes with more than 100 technical indicators and drawing tools. You can't create your own indicators, which is slightly disappointing, but there are few other restrictions on your analysis. Helpfully, you can also place orders without ever leaving your charting window.
eToro also offers a comprehensive social trading network. You can share trading ideas and setups with thousands of other traders from around the world, or quickly gauge market sentiment around Harley-Davidson shares. eToro also supports copy portfolios, enabling you to set up your portfolio so that some or all of it automatically copies the positions of a professional trader.
Importantly, eToro is highly trustworthy. The broker is regulated by the UK's Financial Conduct Authority as well as several other global watchdogs. In addition, all UK trading accounts are backed by the Financial Services Compensation Scheme. That means that you're protected for up to £85,000 in the event that eToro goes bust – which isn't likely to happen in any case.
Pros
800+ stocks from around the world
100% commission-free trading and investing
Buy shares outright or trade CFDs
Charting interface features over 100 technical studies
Includes global social trading network
Regulated by the FCA
Cons
Cannot create custom indicators
Small withdrawal fee of £4 per transaction
67% of retail investor accounts lose money when trading CFDs with this provider.
2. Libertex – User-friendly Trading Platform with No Spreads

Libertex is another top UK CFD broker. Libertex doesn't have nearly the same wide selection of stocks as eToro – it carries less than 50 shares, mostly from the US and UK – but it offers CFDs for Harley-Davidson and some of its competitors.
A big part of what sets this platform apart is that unlike other online CFD brokers in the UK, Libertex doesn't charge spreads. Instead, Libertex assesses a small percentage-based commission for trades that can be as low as 0.1% for stocks. Since these commissions don't change over time like spreads, it can be much easier to track what you're paying to trade. Plus, Libertex's commissions end up being cheaper for many UK share investors than floating spreads.
What's nice about using Libertex to buy or short Harley-Davidson shares in the UK is that you get access to a very user-friendly trading platform. Libertex has developed its own web-based charting interface that offers dozens of built-in technical studies. You can place trades right from the chart window and easily set up advanced orders. Better yet, Libertex's charting software is available through a mobile app for iOS and Android devices.
Libertex is especially suitable if you want to trade more than just stocks. This broker offers an extremely wide selection of currency pairs for forex trading along with dozens of metals and energy products for commodity trading. You can access leverage up to 30:1 when trading forex and expand your technical analysis through the popular MetaTrader trading platform.
This broker is fully regulated by the Cyprus Securities and Exchange Commission (CySEC), a highly trusted financial watchdog. All client accounts are kept fully separate from Libertex's own accounts. Plus, even though Libertex doesn't come under the authority of the UK's Financial Conduct Authority, your account is still protected by the Financial Services Compensation Scheme.
Pros
User-friendly web and mobile trading platform
Pay a low fixed commission to trade share CFDs
Offers forex and commodity trading
Includes MetaTrader 4 for forex trading
Regulated by CySEC
Cons
Limited selection of global stocks
Doesn't offer social trading network
Your money is at risk.
Step 2: Research Harley-Davidson Shares
Wall Street analysts are torn about whether Harley-Davidson shares are a strong buy or an investment to avoid. Before you make a decision about whether to buy, short, or hold off on this company, it's important to do your own research.
To help, we'll cover all the basics you need to know about this motorcycle manufacturer and look at where Harley-Davidson stock might be headed in the years ahead.
Harley-Davidson Share Price History & Market Capitalisation
Harley-Davidson, Inc. was founded in 1903 in Milwaukee, Wisconsin in the United States. The company was not only one of the first motorcycle manufacturers in the US, but was also one of only two companies in its industry to survive the Great Depression.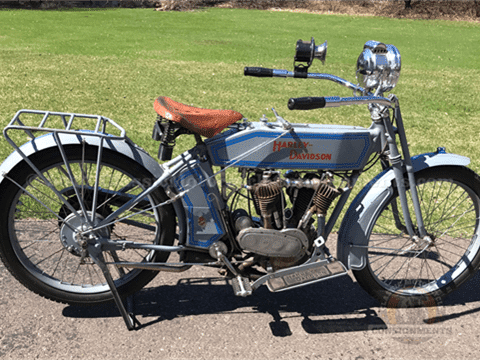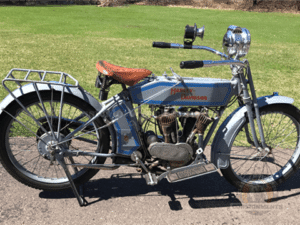 Over the past 100-plus years, the company has undergone a variety of major changes, restructurings, and owners. Through it all, Harley-Davidson has established an incredibly loyal global following and expanded its footprint from the US to Europe to Asia. The company now sells not just motorcycles, including its famed chopper models, but also related products like clothes, jewelry, and motorcycle accessories.
Harley-Davidson held an IPO in 1986 on the NYSE, listing under the ticker symbol 'HOG.' Shares were priced at just $0.43 USD each. The stock slowly grew in value, ultimately peaking at more than $73 per share in 2006. Harley-Davidson's share price was already on the decline prior to the financial crisis in 2008, but the economic crisis and resulting drop in consumer spending led to shares declining to just $8.33 by 2009.
The company's stock recovered quickly as the economy in the US and Europe rebounded, and Harley-Davidson was buoyed by increasing sales in China and Southeast Asia. The stock peaked again at over $72 per share in 2014, before declining to just $35 per share at the start of 2020 as a result of slowing global growth.
The coronavirus pandemic initially crushed Harley-Davidson's shares. In March, the stock fell to just $14.31 at one point. However, it has since followed the broader market recovery and shares are now trading at $35.71 as of the previous close. Over its entire 52-week range, Harley-Davidson stock essentially lost half of its value and then regained it.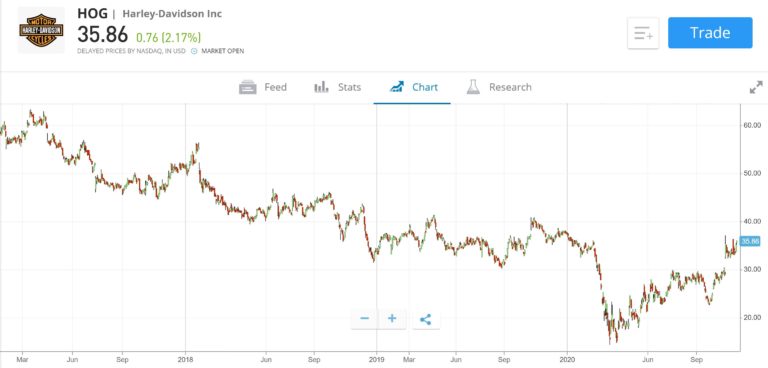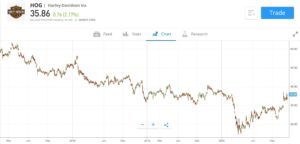 At the current share price, Harley Davidson has a market cap of just $5.5 billion. If that seems small for a global auto company, it is. Ford has a valuation of over $34 billion, and Tesla's market cap recently surpassed $387 billion.
Harley-Davidson reported an EPS (earnings per share) of $0.78 for the quarter ending in September, but an EPS of just $0.73 for the trailing 12 months. That's an EPS growth rate of -72%, which indicates just how hard the company has been hit by the COVID-19 pandemic. Harley-Davidson also saw EPS fall, although less dramatically, from 2016 to 2019.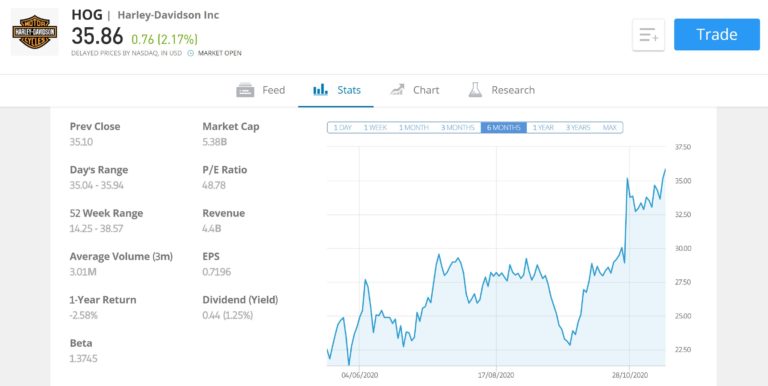 Harley-Davidson Shares Dividend Information
Harley-Davidson does pay a dividend to investors, but we would hardly consider it a dividend stock. The company paid out just $0.375 per share per quarter before the pandemic, and cut its dividend to just $0.02 over the last three quarters. At the current share price, that amounts to a dividend yield of just 0.23%.
Harley-Davidson's leadership team hasn't made any announcements about whether the dividend will return to its pre-pandemic level in the future, or whether the company will scrap its dividend entirely. It wouldn't be too surprising to see the latter considering that Harley-Davidson currently had over $8 billion in debt.
Should I Buy Harley-Davidson?
Harley-Davidson stock has seen a rapid recovery since hitting a low of less than $15 per share in March. However, this motorcycle manufacturer still faces a difficult road ahead. Let's take a look at some of the factors that are likely to impact the company in the years ahead.
Extreme Valuation
One of the first warning signs to investors about Harley-Davidson that the stock might be overvalued is its P/E (price-to-earnings) ratio. As of November 2020, Harley-Davidson has a P/E ratio of around 49.9. However, from 2012 to 2019, the company's P/E ratio never exceed a value of 16.
That's a clear signal that Harley-Davidson stock is currently overvalued, at least relative to its performance in 2020. Even if the company's earnings increase as the coronavirus pandemic winds down – which could still be a year away or longer – Harley-Davidson shares have almost no potential share price upside without maintaining an exorbitant valuation based on P/E.
Declining Sales
An important thing to know about Harley-Davidson is that the company's stock price was falling long before the pandemic. The share price has been declining since 2014, losing nearly half its value.
The problem for Harley-Davidson is that it's slowly losing customers and quickly losing money. The company's revenues dropped 12% over the past five years, but profits dropped by 53%. The difference is due to the fact that Harley-Davidson has spent millions of dollars on developing new products like electric motorcycles. These products simply haven't been a hit with the company's customer base.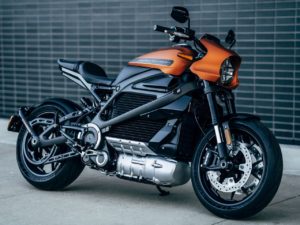 More concerningly, Harley-Davidson's new products also haven't been able to attract millennials to the company. In the US, Harley-Davidson's biggest market, the company's loyal customer base is increasingly aging. Unless the motorcycle manufacturer can rebrand or do something else to capture the attention of a younger generation, it's difficult to see a path forward in which sales increase rather than decrease over time.
Trade Uncertainty
Another reason for Harley-Davidson's share price troubles over the past several years has been the US-China trade war. China retaliated against President Trump's tariffs by taxing imports of Harley-Davidson motorcycles and making the raw materials the company needs more expensive. That put Harley-Davidson in a vice, making its products more expensive to build and less attractive to consumers in China.
While the trade war started to settle down at the start of 2020, tensions between the US and China – an important growth market for Harley-Davidson – remain high. It's not clear what path President-elect Joe Biden will chart on China, but more restrictions on sales of Harley-Davidson motorcycles in China are a possibility.
Step 3: Open an Account and Deposit Funds
Ready to trade Harley-Davidson shares in the UK? We'll show you how to open a trading account with eToro, which offers 100% commission-free trading, an advanced charting platform, and a vibrant social trading network.
To get started, head to eToro's website and click 'Join Now.' The process for registering a new account only takes a few minutes. Just enter a username and password for your account and personal details like your name, email, and phone number.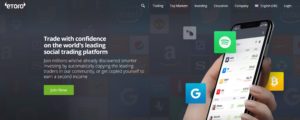 In order to comply with government regulations, eToro also requires you to verify your identity. You can upload a copy of your driver's license or passport along with a copy of a recent utility bill or bank statement to complete this step.
The next step is to fund your new trading account. eToro requires a minimum deposit of £140, which you can pay by debit or credit card, UK bank transfer, or Neteller or Skrill. There's no deposit fee when you fund your account with eToro.
Step 4: Buy Harley-Davidson Shares
Now you're ready to buy or short sell Harley-Davidson shares. From the eToro dashboard, search for 'Harley-Davidson' or 'HOG' and click 'Trade' when the company appears in the menu.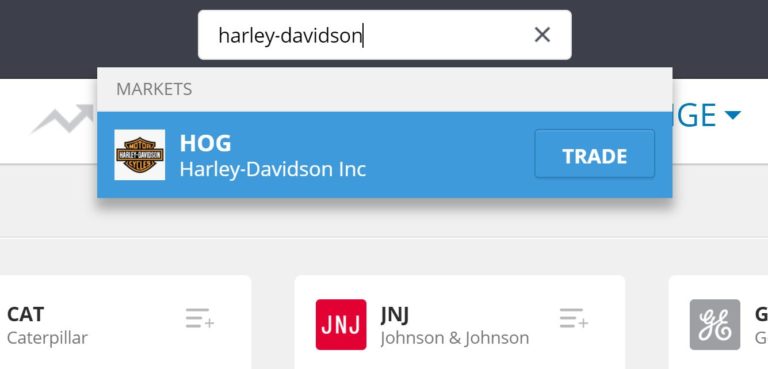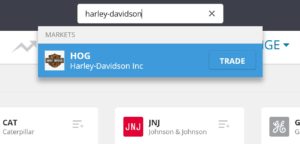 In the order form that appears, you can choose whether to buy shares of Harley-Davidson or sell them short. You will also need to enter how much you want to buy or sell in USD. You can enter any amount over $50 since eToro allows you to purchase fractional shares. If you want to apply leverage to your trade, select an amount up to 5:1.
Once your order is ready, click 'Open Position' to complete your trade of Harley-Davidson shares.
Harley-Davidson Shares: Buy or Sell?
Harley-Davidson shares may still have some upside left in the short term. But over the long term, we think traders are better off short selling shares of this US stock than buying them.
Harley-Davidson has seen its costs of business rise dramatically in recent years thanks to the US-China trade war and the need to development motorcycles that appeal to a younger generation. Profits have fallen by half in the past five years, yet the share price barely reflects this change. Based on Harley-Davidson's P/E ratio, the company is extraordinarily overvalued relative to its historical average.
To be sure, Harley-Davidson has some strengths. It's survived crises before, it has a brand and products that are recognized around the world, and it has an extremely loyal following. However, the company needs to make big changes fast to keep up with changing consumer preferences, and so far it has proven unable to find a next-gen motorcycle that fits the bill.
So, for now, keep Harley-Davidson on your watchlist. If the stock makes more moves higher with the broader stock market without any fundamental changes in how Harley-Davidson's business operates, look for an opportunity to short sell shares.
The Verdict
Harley-Davidson is a vaunted company that has flourished for nearly 120 years. But the road ahead appears bumpy for this motorcycle maker as it faces restrictions on global trade and changing preferences in a younger generation of automotive consumers. While Harley-Davidson shares could continue to rise in the short term, we think the best option for trading this company is to short sell shares for the long term.
Ready to trade Harley-Davidson shares in the UK? Sign up for an eToro account today to get started!
eToro – Buy Harley-Davidson Shares with 0% Commission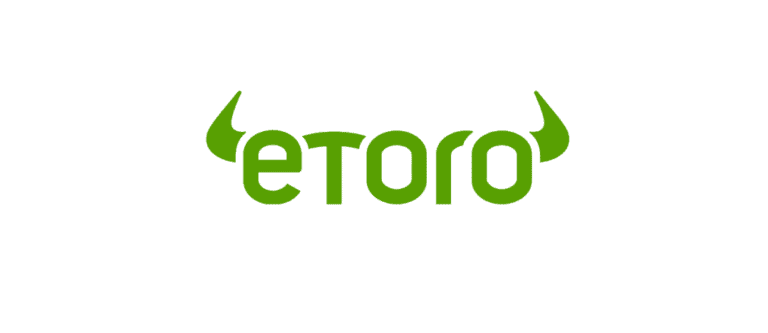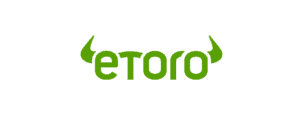 67% of retail investor accounts lose money when trading CFDs with this provider.
FAQs
What is Harley-Davidson's stock ticker symbol?
Harley-Davidson trades on the NYSE under the ticker symbol 'HOG.'
Who is Harley-Davidson's chief executive officer?
Harley Davidson is run by CEO Jochen Zeitz, who took over in March 2020 just as the company's stock was in free-fall from the coronavirus pandemic.
Can I invest in Harley-Davidson via an ISA or SIPP?
You can invest in Harley-Davidson through a UK ISA (Individual Savings Account) or SIPP (Self-invested Personal Pension) as long as your broker offers these account types and Harley-Davidson shares.
Are there currently tariffs on Harley-Davidson imports to China?
China still has some tariffs on imports of Harley-Davidson motorcycles from the US, which the company expects to cost $5 million or more this year.
What is the average age of Harley-Davidson's customers?
The median age of motorcycle owners in the US, Harley-Davidson's primary market, is 47. That's up from 40 just 10 years ago and from 32 in 1990. Riders between 18 and 24 have dropped from 16% of all motorcycle owners in 1990 to just 6%.