How to Buy Ferguson Shares – With No Commission
Fact Checked
Everything you read on our site is provided by expert writers who have many years of experience in the financial markets and have written for other top financial publications. Every piece of information here is fact-checked.
Disclosure
Please note that we are not authorised to provide any investment advice. The information on this page should be construed for information purposes only. We may earn commissions from the products mentioned on this site.
With the housing market booming in both the UK and the US, demand for construction and supplies looks set to increase as we progress through 2021. One company that is well placed to benefit from this demand increase is Ferguson PLC – and with solid trading results to start the year, the outlook for the company's share price looks rosy. In this guide, we'll tell you everything you need to know about How to Buy Ferguson Shares UK.
We discuss key elements to be aware of and showing you how to invest in Ferguson shares without paying any fees or commissions.
How to Buy Ferguson Shares UK – Step by Step Guide 2021
If you are looking to buy Ferguson shares in the UK right away, the steps below will show you how to do so with eToro in under ten minutes. In the following sections, we'll analyse Ferguson in detail, covering everything you need to know to make an informed trading decision.
Step 1: Open an account with eToro – Head to eToro's website and click 'Join Now'. Enter your email address and choose a username and password.
Step 2: Upload ID – Verify your eToro account by uploading proof of ID (a copy of your passport or driver's license) and proof of address (a copy of a bank statement or utility bill).
Step 3: Deposit – Deposit via credit/debit card, bank transfer, or e-wallet.
Step 4: Buy Ferguson Shares – Type 'Ferguson' into the search bar and click 'Trade' next to the first option. On the following page, enter your desired investment amount and click 'Open Trade'.
Step 1: Choose a Stock Broker
When you buy shares in Ferguson, you'll have to open an account with a broker to facilitate your investment. These days there are so many brokers to choose from, so it can seem like a challenging prospect trying to narrow it down to one option.
Not to worry – the section below discusses the two brokers we feel are the best in the UK when it comes to buying Ferguson shares.
1. eToro – Overall Best Broker to Buy Ferguson Shares UK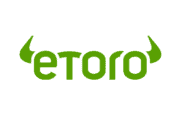 Our favoured broker when it comes to buying Ferguson shares is eToro. eToro has a fantastic reputation worldwide when it comes to safety and reliability and is bolstered by regulation from both the FCA and the FSCS. These regulatory bodies ensure eToro's users are protected from scams and that their capital is covered in the unlikely instance that the company goes bankrupt.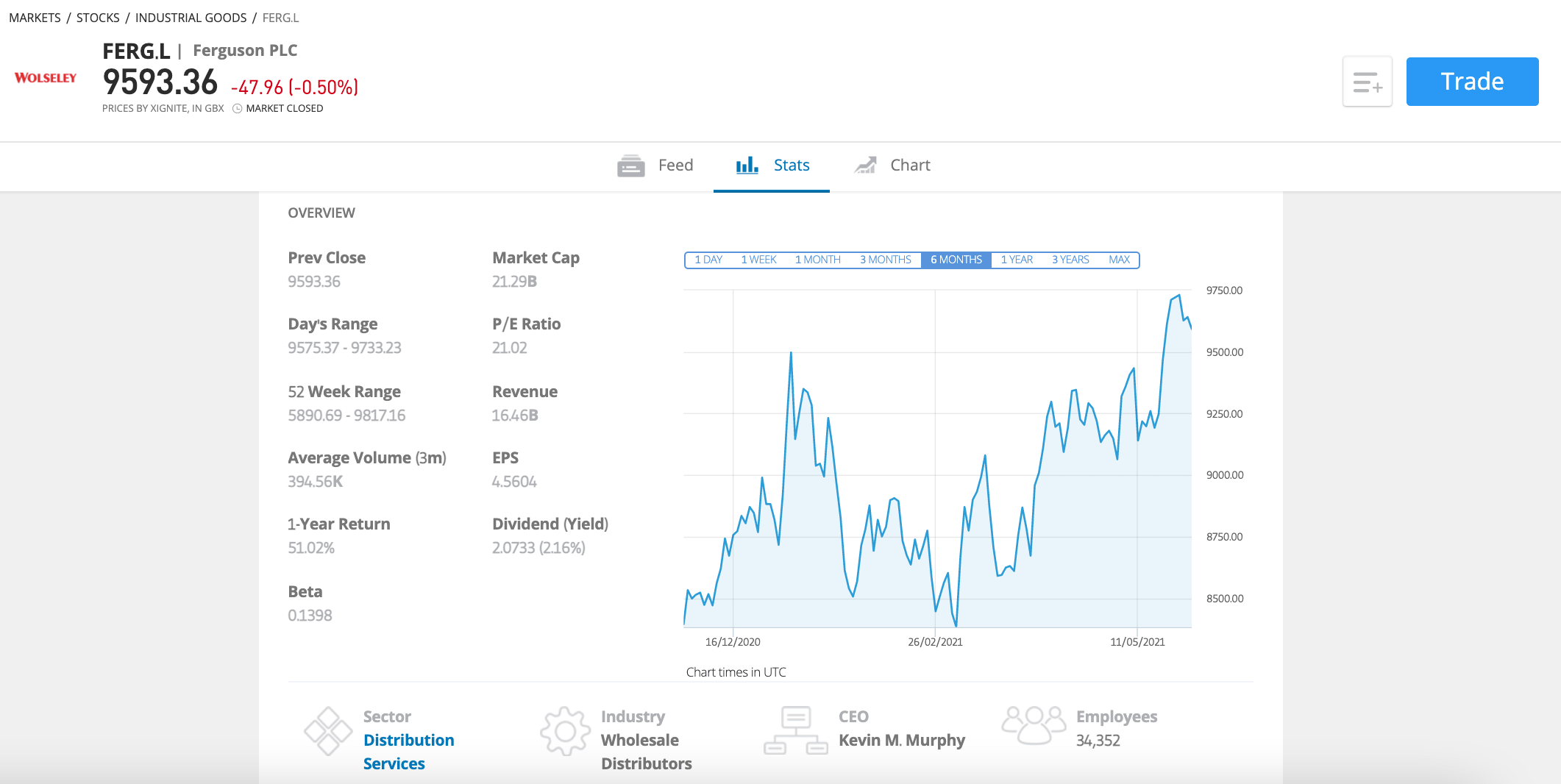 In addition to their high level of security, eToro also offers users commission-free trading on thousands of assets. This means that when you make an investment, you will not have to pay a percentage of your position size as a commission, which is what some other brokers do. Furthermore, eToro allows investments in stocks from as little as $50 (approximately £35), meaning you can start small and build your position size up over time.
Aside from their attractive fee structure, eToro also offers numerous valuable features, most notably their CopyPortfolio feature. This allows you to invest in a professionally managed portfolio – without having to pay any hefty management fees. Various CopyPortfolios are offered to users that all invest in different sectors, including banking, fashion, and even cryptocurrency!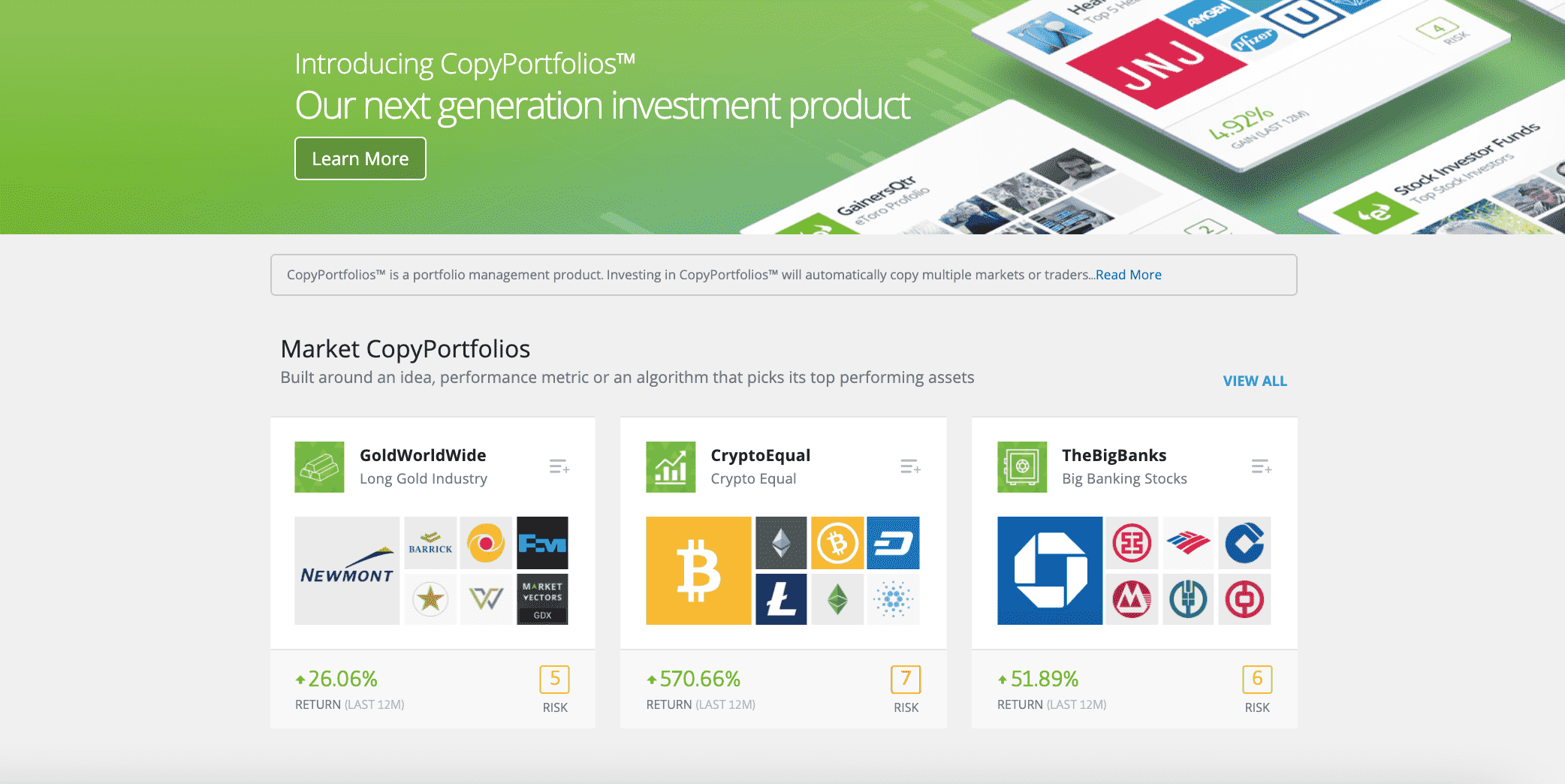 Past performance is not an indication of future results
Finally, eToro's sign up process is very streamlined and only takes about ten minutes to complete. Furthermore, it can be completed online – no need to send in paper documents to verify yourself. This reason, combined with the 0% commissions, FCA protection, and valuable features, make eToro your best bet when it comes to buying Ferguson shares.
Pros
Buy Ferguson shares with no commissions
No stamp duty tax on UK shares
Over 2,400 global shares and 250 ETFs
No deposit or monthly account fees
Innovative CopyPortfolio feature
Regulated by the FCA
FSCS protection
Cons
Small withdrawal and inactivity fees
67% of retail investor accounts lose money when trading CFDs with this provider. 
2. Fineco – Best Broker to Buy Ferguson Shares in the UK with Leverage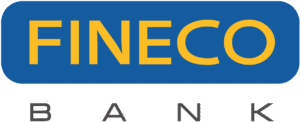 If you're looking for an alternative way to buy Ferguson shares in the UK, we'd also recommend checking out Fineco Bank. Fineco Bank (referred to simply as Fineco) is based in Italy but also accepts UK-based customers. In terms of regulation, Fineco is regulated by both the Bank of Italy and the FCA – providing a high level of safety and reliability when trading with them.
Fineco mainly specialises in CFD trading, which is where you purchase a contract based on the price of an asset rather than the asset itself. This provides for a quick and easy way to speculate on an asset's price. It also allows leverage to be used to boost your potential profits. Fineco offers leverage of up to 1:5 on their stock CFDs, which essentially allows you to 5x your position size.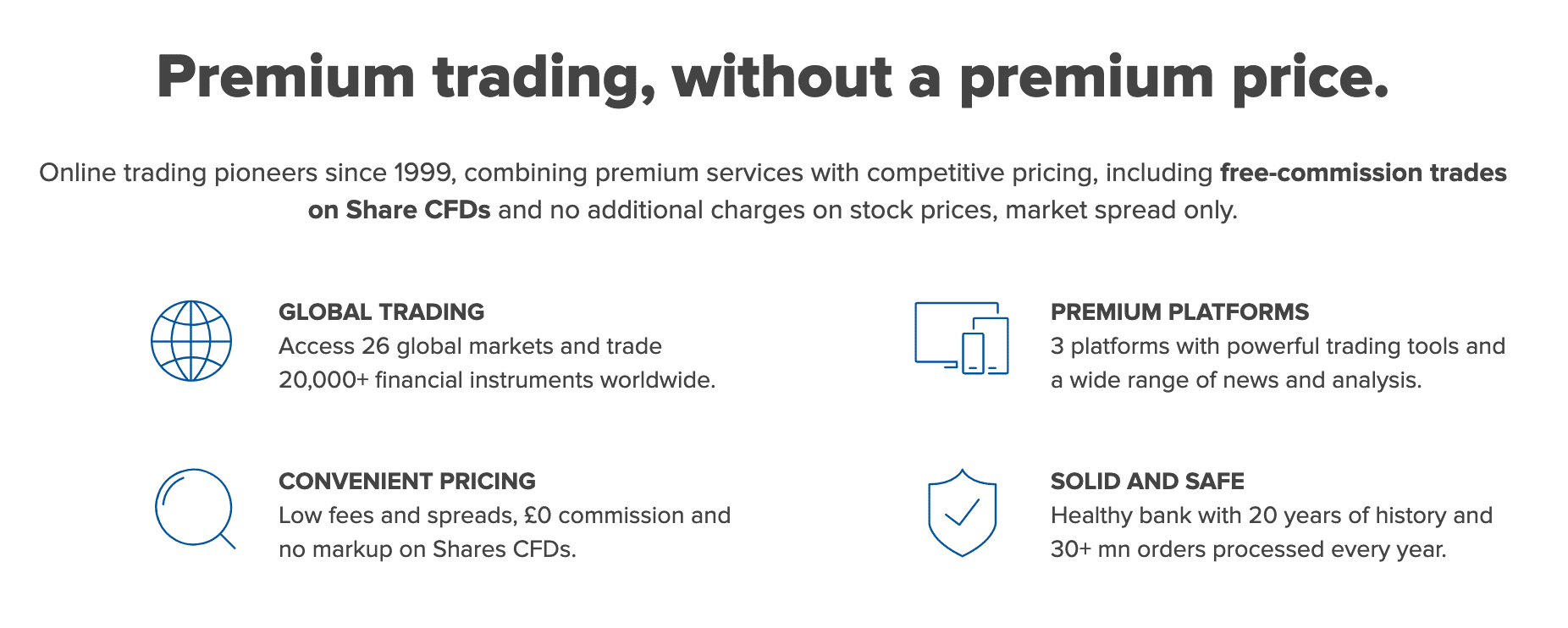 In terms of fees, Fineco charge a flat fee of £2.95 per trade that you make – although this can't compete with eToro's commission-free structure, it's still very low relative to other brokers in the space. Fineco does not charge any monthly account fees or inactivity fees, allowing investors to trade the markets cost-effectively.
Finally, if you are looking for other assets to trade in addition to Ferguson, Fineco offers a wide range of options. With a fantastic selection of ETFs, futures, options, and currencies to choose from, there's sure to be an option for everyone. Fineco even offers a helpful demo account, allowing beginner traders to get a feel for the platform before trading for real.
Pros
Access to thousands of UK and international shares
Low fees when buying Ferguson shares
Deposit funds with a UK bank account
Fully regulated by the FCA and the Bank of Italy
Public company listed on the Italian Stock Market
Futures and options trading available
Full banking services
Cons
0.25% annual fee
No support for debit or credit card deposits (except with Fineco card)
Your capital is at risk.
Research Ferguson Shares
When getting involved in equity trading, there are a few things you need to do to ensure you're making an effective investment. Researching the company you plan on investing in is vital, with areas such as the company's business model and financial status being two elements to pay attention to.
To streamline this research process, we've done all the work for you – so in the sections that follow, we'll explore Ferguson and its financials in detail, helping you make an informed investment decision.
What is Ferguson?

First off – what is Ferguson, and what do they do? Ferguson PLC is a plumbing and heating products distributor based in the United Kingdom. Ferguson's chief executive is Kevin Murphy, who has been in place since November 2019. The company started life back in 1887 as a sheep shearing business called Wolseley and continued working with wool for the next 70 years. Once the demand for wool began declining, and the firm started pivoting into the heating supplies business.
Over the next few decades, Wolseley conducted large-scale acquisitions of both manufacturing and distribution businesses and finally entered the US market in the early 1980s. Following this, Wolseley expanded into the European market too, acquiring many smaller distribution companies in various countries. However, although the company had a strong presence in both the UK and Europe, most of Wolseley's business was coming from North America.
Due to this, the company rebranded to Ferguson in 2017. Currently, Ferguson is the world's leading value-added distributor of plumbing and heating products, according to their website. Ferguson utilises their extensive experience within the industry to source the best products which they can distribute to other businesses and tradesmen, ensuring they receive some compensation in the process.

In addition to sourcing products, Ferguson offers various 'value-added' services to their customers. The company provides 'take off' software for contractors, which allows them to measure out plans electronically rather than by hand, streamlining the design and production process. Ferguson also offers numerous solutions for tradesmen, including pre-assembled units and kits and a 24/7 commercial water heater service.
Looking at revenue, data provided by Hargreaves Lansdown noted that Ferguson generated $21.81 billion in revenue in the twelve months to July 2020. This represented only a 0.9% decrease from the previous year, which is remarkable considering the reduction in demand for construction and renovations brought about by the pandemic.
In terms of the stock market, Ferguson is currently listed on both the London Stock Exchange (LSE) under the ticker 'FERG' and the New York Stock Exchange (NYSE). In addition, Ferguson is also one of the companies that make up the FTSE 100 Index. At the time of writing, Ferguson has a market capitalisation of £21.49 billion – making it the 24th largest company in the UK by market cap.
Ferguson Share Price
Now that you have an idea of who Ferguson are and what they do, let's take a look at their financials and the past performance of their share price. At the time of writing, the Ferguson share price is quoted at 9584p per share. This is slightly below the company's all-time high of 9824p that occurred on 24th May 2020. The Ferguson share price is currently just over 6% up from the beginning of the year but is 48% up from the same date last year.
It's always good to look at the price chart when stock trading as it gives an idea of market sentiment. Looking at the daily timeframe, the Ferguson share price has been on a strong bullish run since the lows of March 2020 and has easily surpassed the highs that were experienced before the market crash. Price is only 2.5% below the all-time high and is currently trading sideways – this hints at a pullback rather than any bearish momentum.
Looking at the company's financials, for the three months ending in April 2021 (defined as Q3 2021 by Ferguson's accounts), the company made $5.91 billion in revenue – a 24.5% increase from the same time a year previous. Ferguson also made an underlying trading profit of $560 million, up a remarkable 68.2% from a year ago.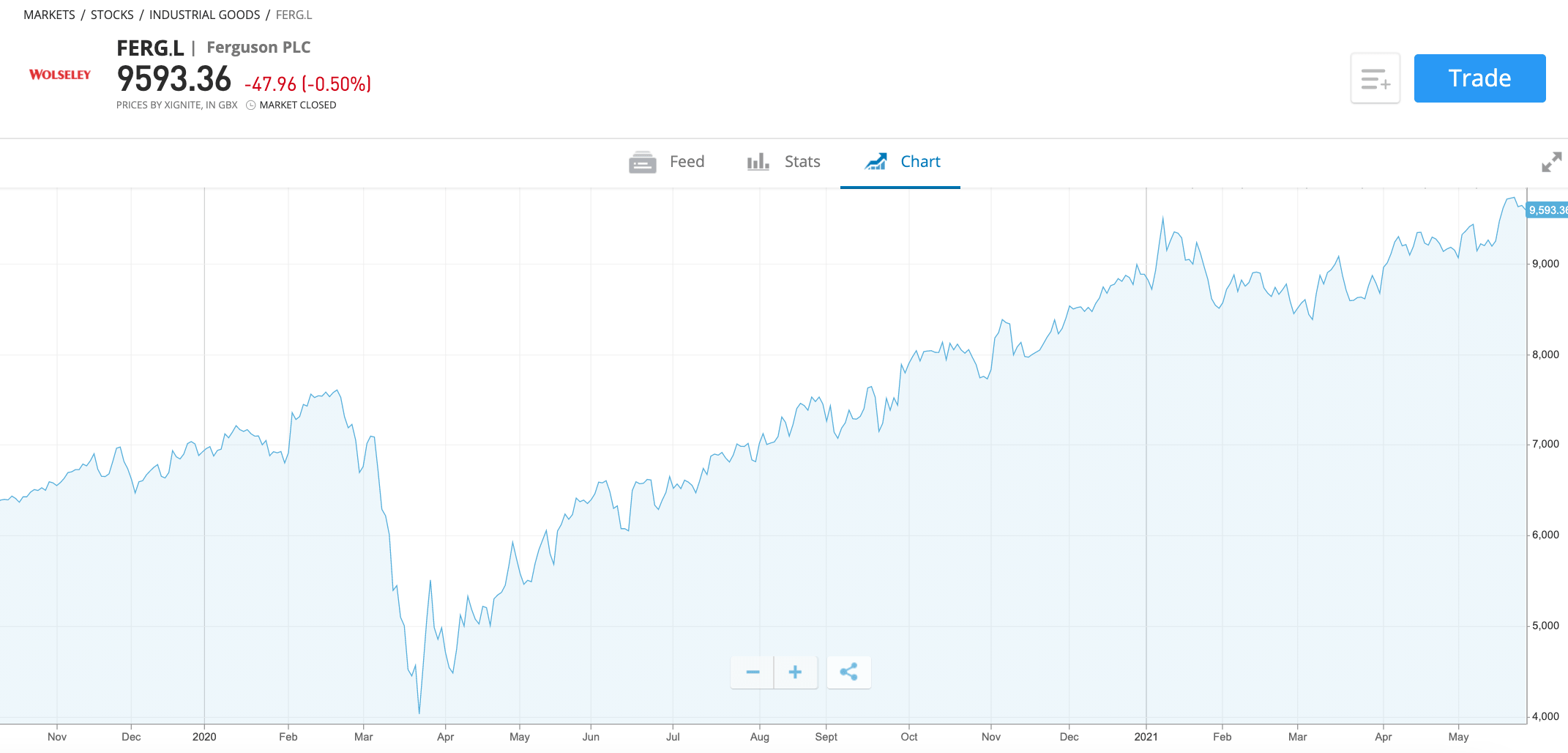 67% of retail investor accounts lose money when trading CFDs with this provider. 
Diving into the numbers a little deeper, it's a good idea to take a look at Ferguson's price to earnings ratio (P/E) and earnings per share (EPS). In terms of the former, data gathered from Guru Focus states Ferguson's P/E ratio as 52.7 at the time of writing. A higher P/E ratio usually signifies a higher company value – and Ferguson's P/E ratio certainly fits the bill. On the same day last year, Ferguson's P/E ratio was sitting at 18.54, so it has grown substantially since then.
Moving on to EPS, data from the Shares Magazine reports Ferguson's EPS figure as $2.03. This figure is arrived at by dividing the company's profit by the number of shares outstanding – a higher EPS usually means a company is more profitable. In terms of Ferguson's EPS, this is a healthy number and represents the fact that the firm is making a consistent and notable profit.
Overall, by looking at the data presented above, you can see that Ferguson is doing pretty well in a financial sense. The Ferguson share price is just below all-time highs, and the company is showing profit growth year on year. Furthermore, Ferguson's P/E ratio and EPS estimate are positive, indicating the company's financial health.
Ferguson Shares Dividends
If you are investing for income, it's wise to look at the company's dividend stats. In Ferguson's case, the firm's dividend yield is currently 2.59% for 2021, a slight decrease from the 3.59% that investors received in 2020. The most recent dividend payout was £0.525, which was distributed on 11th May 2021.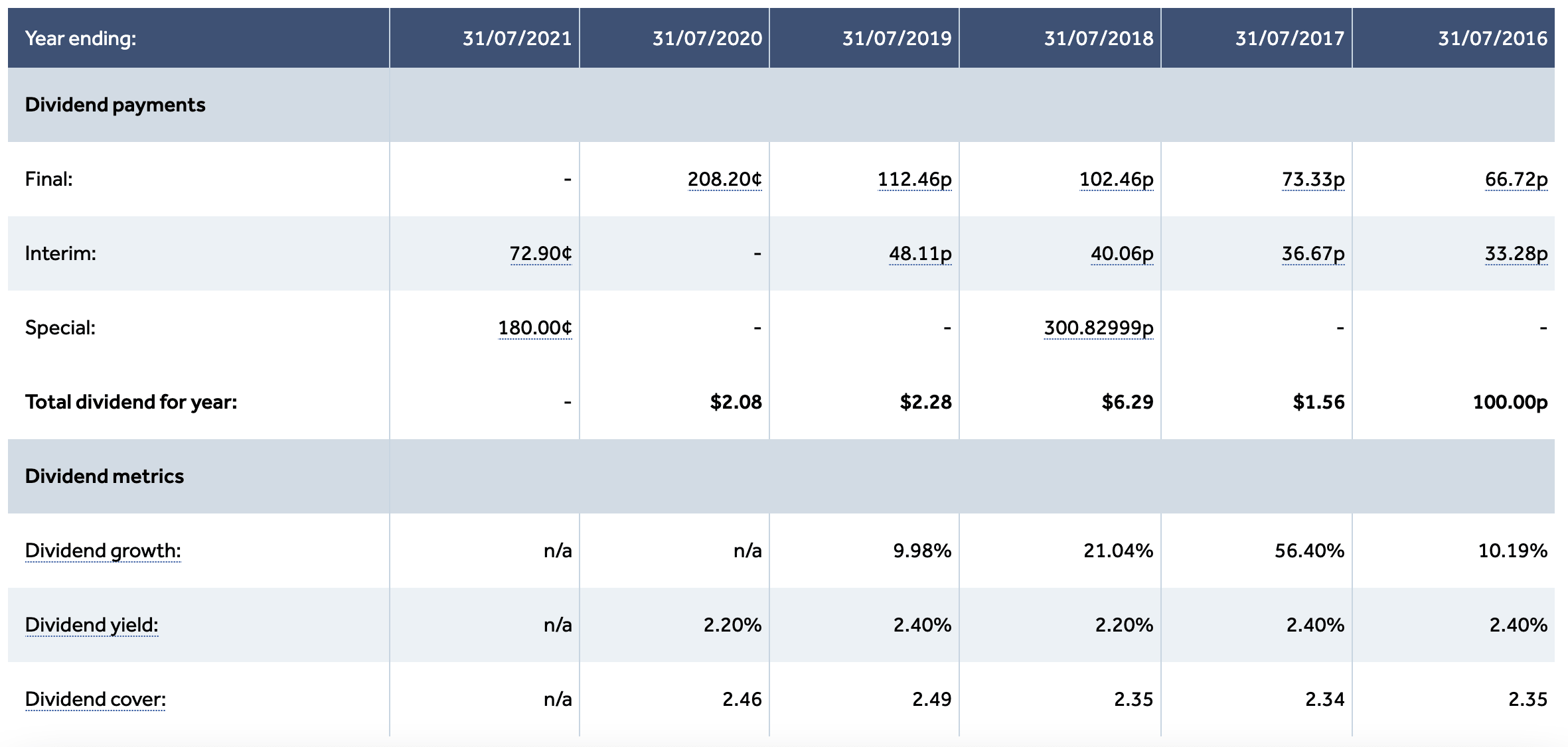 Looking at historical payments, Ferguson has paid between £1.60 and £1.82 per share in the last three years. Notably, the company paid an impressive £4.45 per share in 2018 – representing a yield of 7.58%. A yield this high certainly would have made them one of the best dividend stocks for that particular year.
Ferguson does pay a significant portion of its profits as dividends, with 42.27% being given to shareholders in 2021. Although yields took a slight hit in 2020, that is to be expected given the decrease in demand and the resulting impact on profits. In the future, if Ferguson can continue generating solid profit growth, there's every chance that dividend yields could increase over the next twelve months.
Are Ferguson Shares a Good Buy?
Considering all of the information above, is it a good idea to buy Ferguson shares in the UK? In our opinion, we feel it is. Ferguson has showcased impressive resilience in the face of the pandemic, with revenues not changing too much. With economies now reopening, it gives them an excellent chance to capitalise on increased demand.
Demand Increases from Property Sector
Expanding on this point a little more, one of the main reasons Ferguson shares could be considered a buy is the opportunity to benefit from the booming housing market. Data from the ONS states that UK housing prices have increased by 7.5% until January 2021, which marked a turning point for the market as the previous four years have shown a slowdown in growth.
In addition, it's not unlikely that this price growth could continue further. The government advised people not to move house during the pandemic, and now that lockdowns are easing, it's likely that large numbers of people will decide to change properties. This increased demand will then force price upwards if supply remains the same. This could be good news for Ferguson, as it will mean more demand for their products to help with construction and renovations.
Solid Financials
In addition to the benefits associated with demand increases, Ferguson also has excellent company financials. As noted earlier, revenues for the past year have only been affected very slightly by the Coronavirus pandemic – this highlights how robust the company's business model is. Furthermore, looking at the chart below, you can also see how high Ferguson's margins are.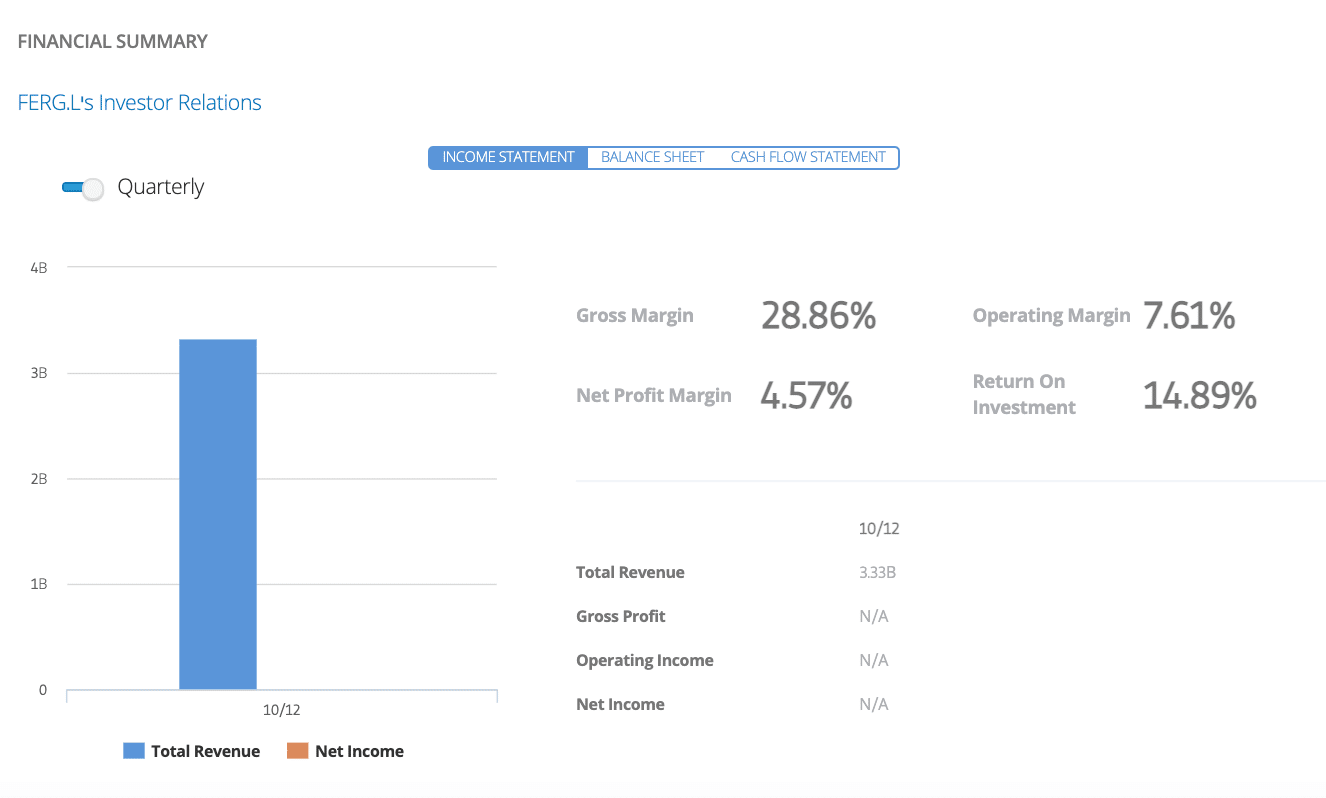 A company with solid margins is always better than one just scraping by when it comes to share price – and the Ferguson share price certainly reflects this. Ferguson's most recent trading report noted that margins are growing yearly and that they recently repurchased $140 million of their own shares. Companies usually do this when they are going through a good period financially, which adds further confidence for people looking to buy Ferguson shares in the UK.
Overall, by considering the points raised above, we feel Ferguson would be an excellent addition to many investors' portfolios. The company has a solid and growing presence in the UK, US, and Canada and even has operations throughout Europe. As economies reopen and demand increases, it could mean positive things for Ferguson's revenues – and ultimately, their share price.
Open an Account & Buy Shares
Now that you have everything you need to know about Ferguson as a company, it's time to discuss how to actually buy Ferguson shares. To facilitate your investment, you'll need to create an account with a reliable broker. We recommend using eToro, as they are FCA-regulated and do not charge any commissions when you invest.
By following the steps below, you'll be able to buy Ferguson shares in the UK in less than ten minutes.
Step 1: Open an eToro Account
Navigate to eToro's homepage and click the 'Join Now' button in the top right. On the following page, simply enter your email address and choose a username and a password for your account. If you'd like, you can even complete this process through eToro's handy smartphone app.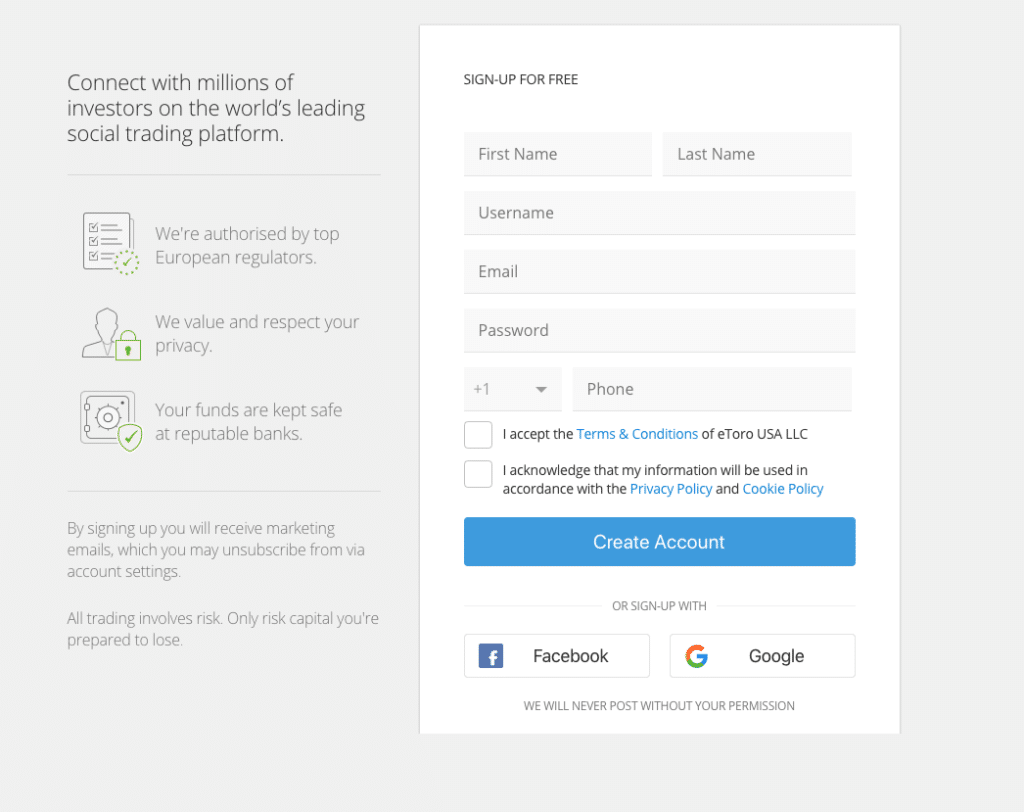 Step 2: Verify your Identity
To set up your account, you'll have to verify your identity. To do so, upload proof of ID (a copy of your driver's license or passport) and proof of address (a copy of a bank statement or utility bill). eToro will then verify these documents, which usually only takes a few minutes to complete.
Step 3: Make a Deposit
New eToro users must make a minimum initial deposit of $200 – however, this amount drops to only $50 (around £35) for subsequent deposits. To make this deposit, you have the following options available to you:
Credit card
Debit card
Bank transfer
PayPal
Neteller
Trustly
Klarna
Skrill
Step 4: Search for Ferguson shares
Click into the search bar at the top of the screen and type in 'Ferguson'. Then, click the 'Trade' button next to the first option in the drop-down menu.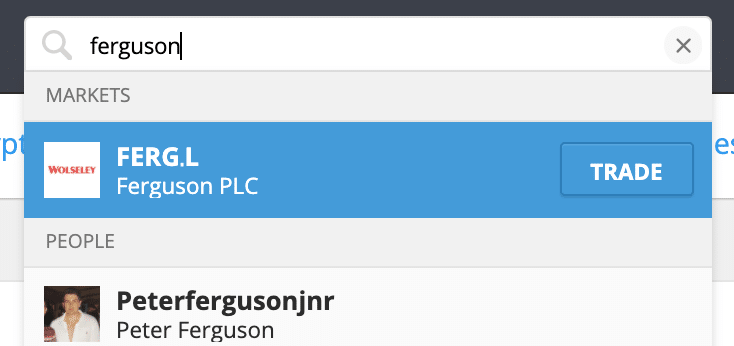 Step 5: Buy Ferguson shares in the UK
To finalise your investment, simply enter the amount you'd like to invest – eToro allows you to purchase shares from as little as $50 (around £35). After this, decide whether you'd like a stop loss or leverage, and click 'Open Trade'.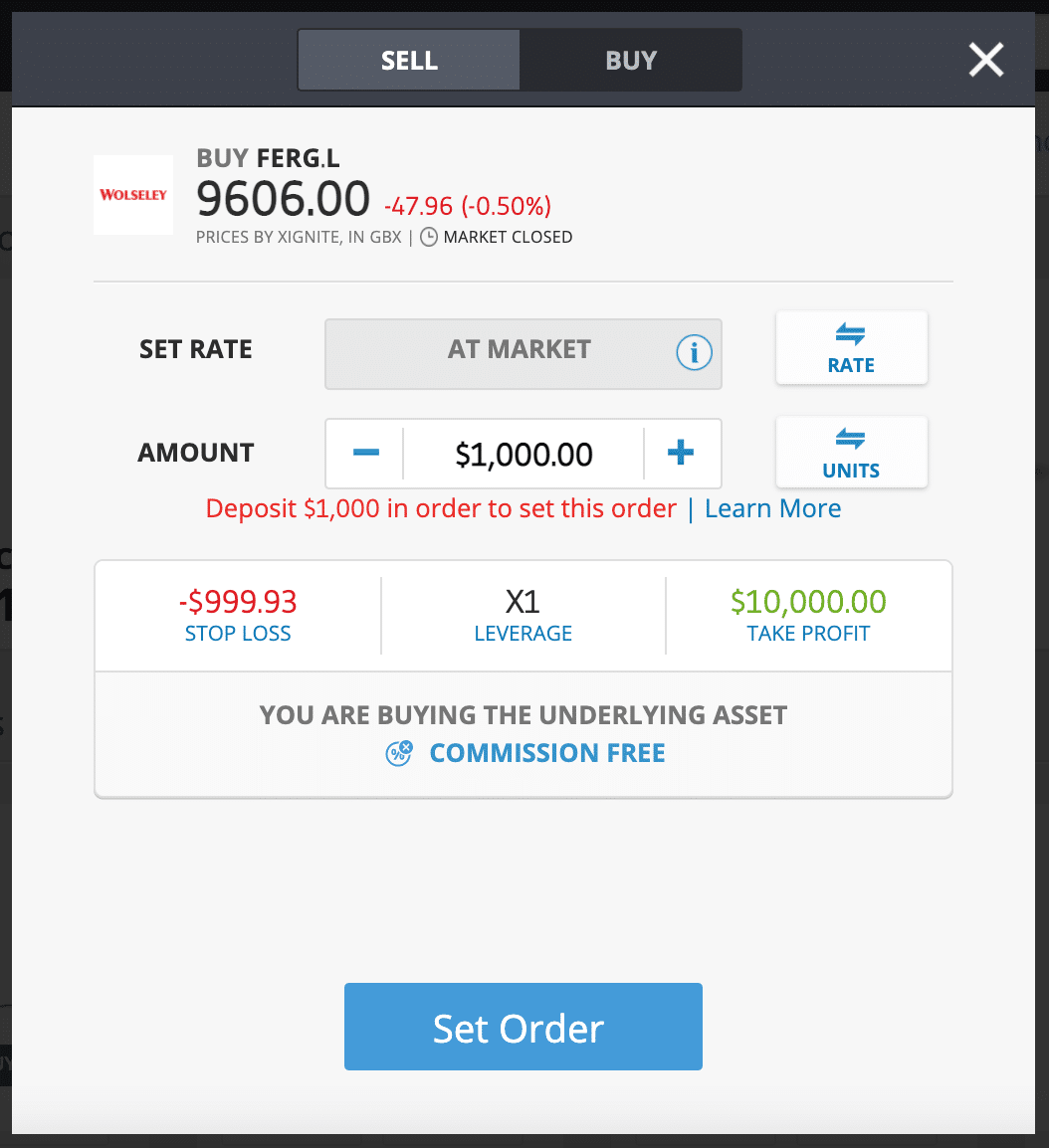 And that's it! You've officially invested in Ferguson – all in less than ten minutes!. 
Ferguson Shares Buy or Sell?
So, summing everything up, are Ferguson a buy or a sell opportunity. We feel it is the former, as the company has a solid business model that looks set to benefit from lockdown easing. Furthermore, the lack of volatility in Ferguson's share price combined with the gradual growth makes an investment in Ferguson a good option for people interested in low-risk investments.
Ferguson pays a solid dividend to shareholders, which is always a plus for people looking for a passive income stream. Notably, this dividend has showcased yearly increases before; and although it took a slight hit in 2020, it has already recovered in 2021. If margins can remain tight and profits continue increasing, there's a good chance that yields could continue to rise.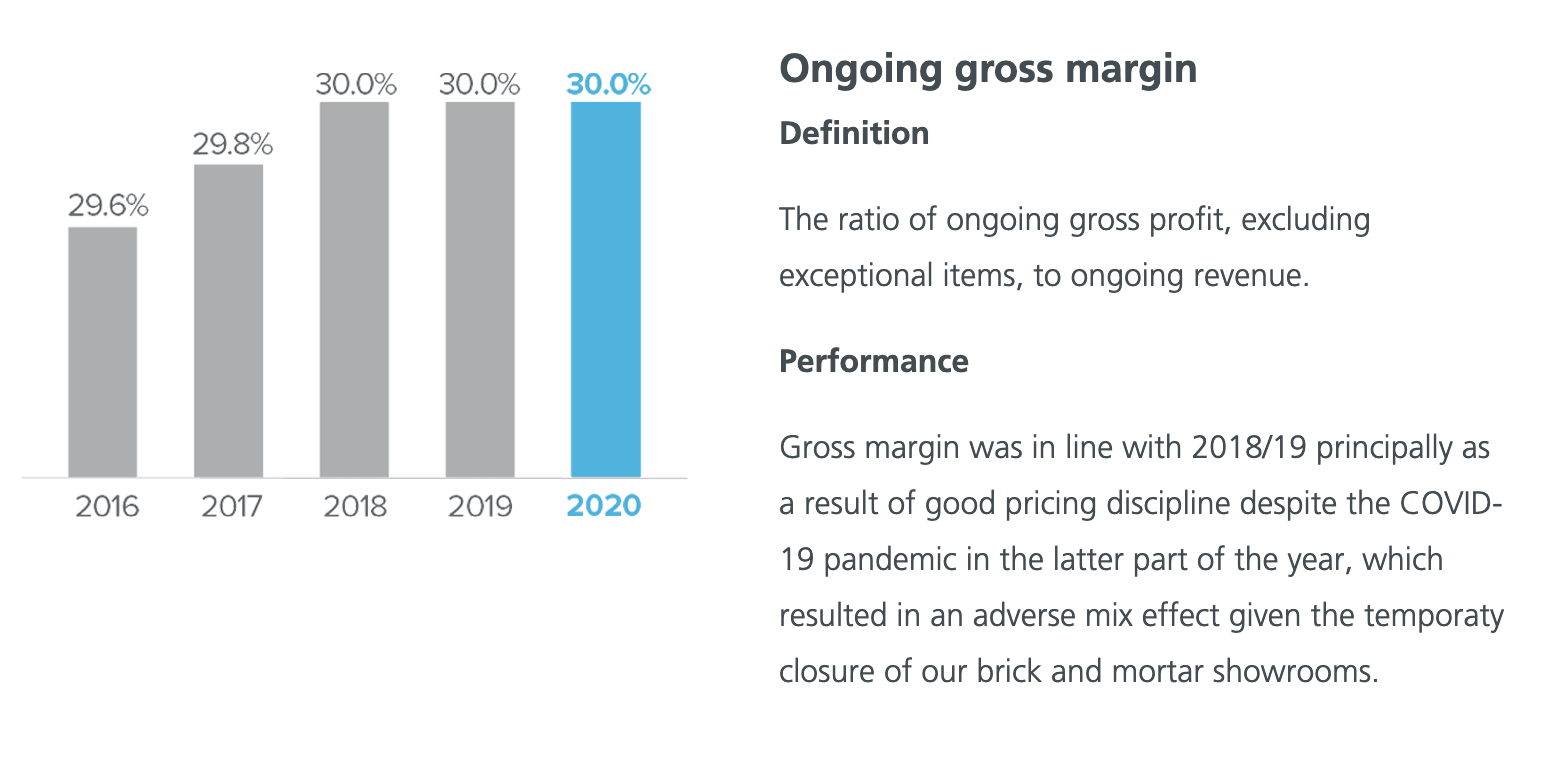 The company also has a significant presence in America, which is a vast market. The US economy is beginning to recover, and certain policies in place by the government are likely to increase construction over the next few years. As Ferguson is well placed within the sector, they could benefit from this demand.
Overall, Ferguson is a solid buy opportunity if you are looking for a stock that has the potential to generate capital returns over a more extended period. As mentioned, the company's share price doesn't tend to be very volatile, which will appeal to investors with a lower risk tolerance. Combine this with the reliable dividend and strong financials, and we certainly believe Ferguson is a good addition to portfolios from many investor types.
eToro – Buy Ferguson Shares With 0% Commission
Throughout this guide, we've analysed Ferguson in great detail, diving into the company's business model and exploring its financial status. With the property market continuing to grow, we feel Ferguson are a company that is well placed to profit from demand increases related to constructions and renovations. If margins can remain tight, this could mean further bullish momentum for the company's share price over the next 6-12 months.
If you'd like to invest in Ferguson shares today, we'd recommend partnering with eToro. We recommend eToro highly when buying shares as they are FCA-regulated and do not charge any commissions. What's more, the account opening process is super easy, allowing you to be up and running in less than ten minutes!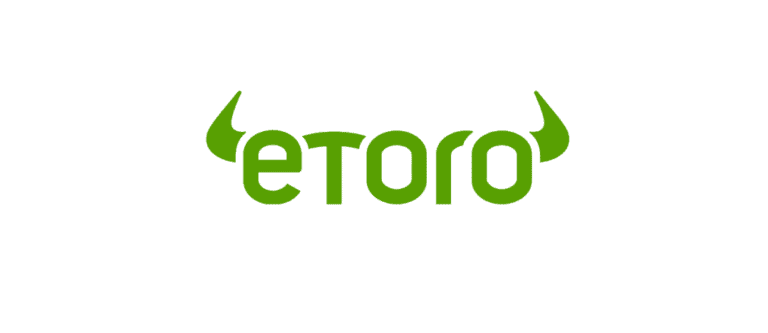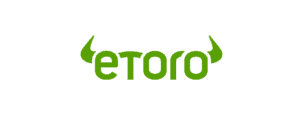 67% of retail investor accounts lose money when trading CFDs with this provider. 
FAQs
What is the best way to buy Ferguson shares in the UK?
In our opinion, the best way to buy Ferguson shares in the UK is through a reliable broker. We recommend eToro for this because not only are they regulated by the FCA, but they do not charge any commissions when placing trades.
Are Ferguson shares a buy?
Ferguson is well placed to benefit from economies reopening and the housing market flourishing in the UK and the US. Furthermore, top analysts predict growth in Ferguson's EPS, which tends to be a good sign for the share price. These factors combine to make Ferguson a good investment opportunity for your portfolio in 2021.
How do I sell my Ferguson shares?
If you decide to sell your Ferguson shares, all you have to do is go to your open orders page on your broker's platform and opt to close out your position. The value of your position will then be deposited into your trading account.
How much do Ferguson shares cost?
At the time of writing, one Ferguson share costs 9584 GBX (pence). In addition to the share cost, some trading platforms will add a commission on top, which can vary depending on who you trade with. However, by trading with eToro, you can avoid these commissions altogether.
Does Ferguson pay dividends?
Yes – Ferguson made two dividend payments in 2019, one in 2020, and have made two in 2021. Dividend yields have always hovered between 2.20% and 2.40% annually.