Best Copper ETF UK – Compare Top ETFs 2021
Fact Checked
Everything you read on our site is provided by expert writers who have many years of experience in the financial markets and have written for other top financial publications. Every piece of information here is fact-checked.
Disclosure
Please note that we are not authorised to provide any investment advice. The information on this page should be construed for information purposes only. We may earn commissions from the products mentioned on this site.
Copper is a precious metal mainly used in the construction sector and the manufacturing of electrical equipment. The high demand for the metal has pushed investors to commit funds to copper ETF to diversify their portfolios. In this Copper ETF guide, we will discuss the performances of some of the top copper ETFs.
Best Copper ETF UK 2021 List
If you're pressed for time, here's a summary of the best Copper ETFs available today. You can scroll further down to learn more about each of the best ETFs outlined here and the platforms where you can buy these assets.
WisdomTree Copper ETF (COPA) – Best ETF Copper For Low Management Fee – Invest Now
The United States Copper Index Fund (CPER) – Best Copper ETF For High Yield – Invest Now
Global X Copper Miners ETF (COPX) – Top Copper ETF For Modest Expense Ratio – Invest Now
iPath Series B Bloomberg Copper Subindex Total Return ETN (JJC) – Best Short Copper ETF For Low Expense Ratio
WisdomTree Copper 3x Daily Short (3HCS) – Top Short Copper ETF for UK Investors
Best Copper ETFs UK Reviewed
The red metal has been dubbed the 'new oil' by market analysts. Given the growing importance of green energy appliances, copper is expected to play a crucial role in the global economy and lifestyle.
For this, we highlight some of the best copper ETFs to invest in today.
1. WisdomTree Copper ETF (COPA) – Best ETF Copper For Low Management Fee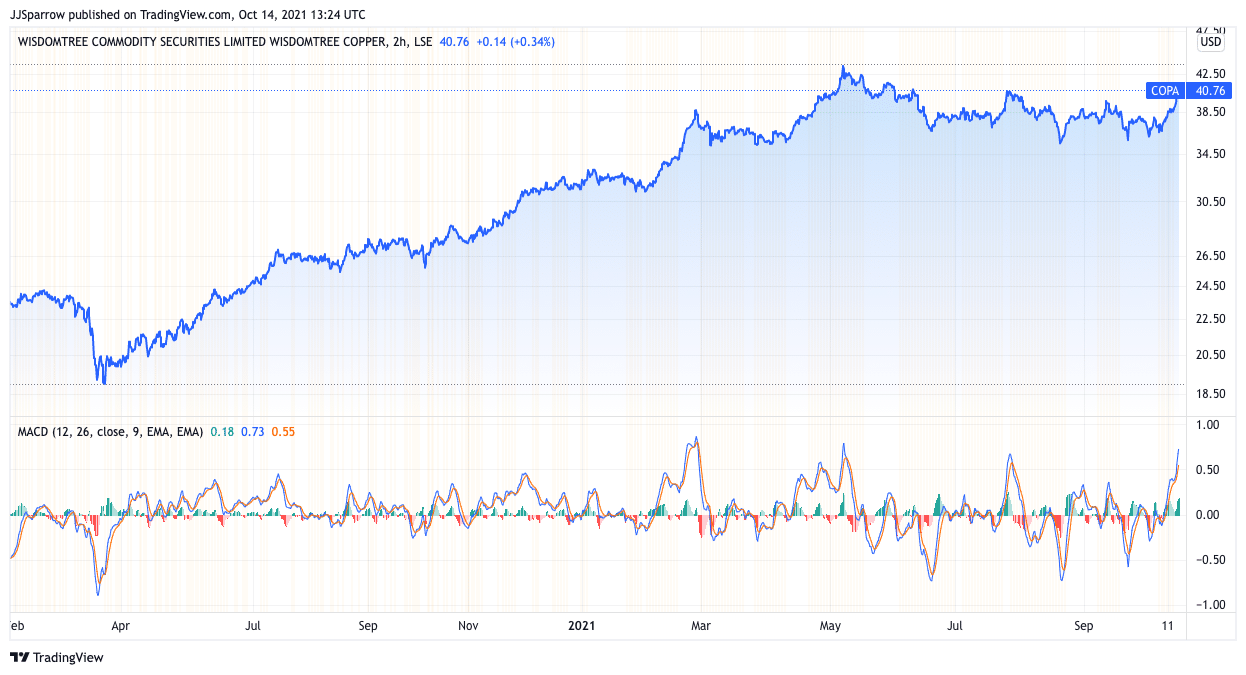 Issued by the WisdomTree Commodity Securities Limited, WisdomTree Copper ETF, known simply as COPA, is a top copper ETF in the commodities industry. Founded in 2010, COPA targets the movement of prices in copper futures contracts in the Bloomberg Commodity Index.
A futures contract functions more like an agreement between a buyer and a seller to buy an underlying asset at an agreed price at a future date. COPA offers a synthetic and fully funded collateralized swap for investors and only charges a 0.49% management fee. However, it does not offer a hedging feature against the US dollar. `Management fee is set at a low 0.49%.
In terms of performance, COPA has slightly underperformed against the underlying Bloomberg Copper Subindex Total Return. Its 12-month trailing return is pegged at 41.05%, while the Bloomberg Index stands at 42.51%. A three-year return also stands at 16.24% and 17.47%. COPA is currently trading up 2.59% and pegged at $34.89.
Your capital is at risk.
2. The United States Copper Index Fund (CPER) – Best Copper ETF With Long-Standing Reputation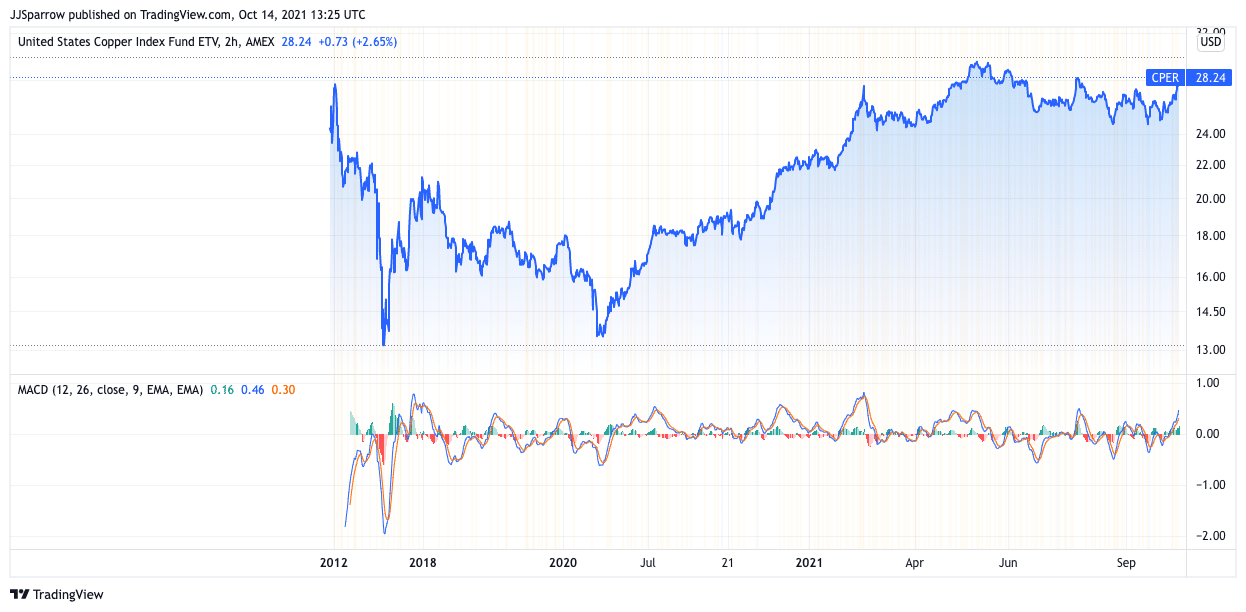 Created in 2005, the United States Copper Index Fund (CPER) operates as a commodity pool in that several investors' funds are pooled together to trade the commodity futures market. These combined funds are traded as one investment fund in a bid to increase leverage and potential returns on investments (ROI).
CPER tracks an underlying index's performance, which is the SummerHaven Copper Index Total Return. The SummerHaven Index tracks the performance of selected copper futures contracts monthly.
CPER has an expense ratio of 0.8% and is trading at $27.53, up 15.67% year-to-date (YTD). With over $287 million in assets under management (AUM), CPER has a three-month daily trading volume of 392,068. Like WisdomTree, CPER does not offer a hedge against the greenback but only trades futures contracts on copper prices.
Your capital is at risk.
3. Global X Copper Miners ETF (COPX) – Top Copper ETF For Modest Expense Ratio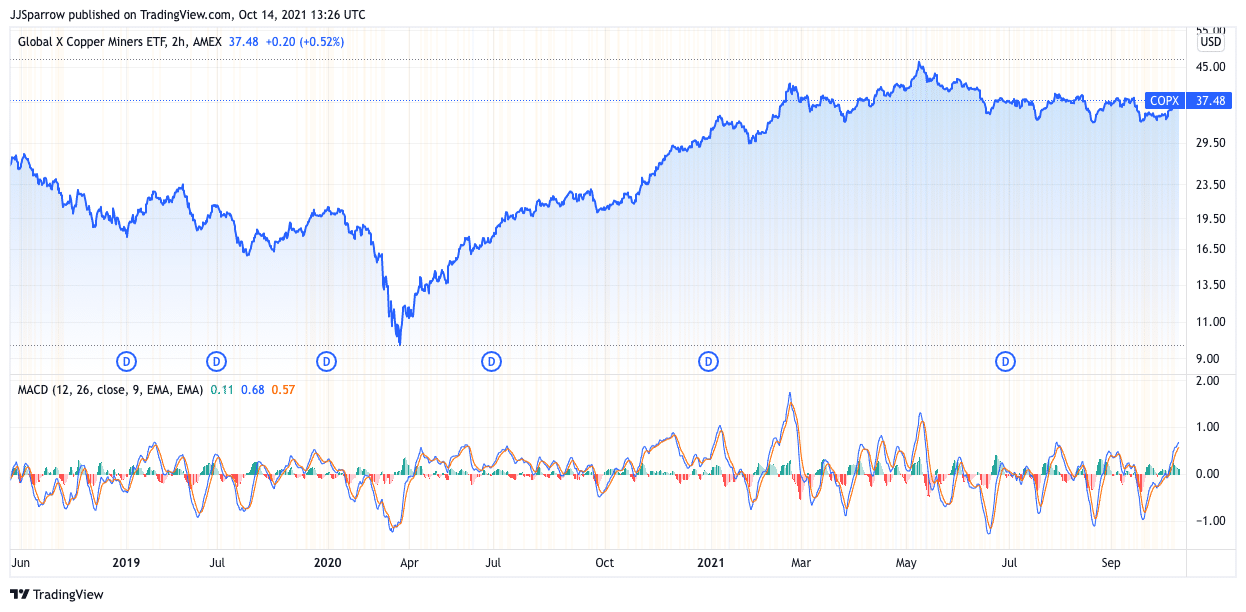 Also founded in 2010, COPX is a copper ETF that tracks the performance of the Solactive Global Copper Miners Total Return Index. It has over $1 billion in assets under management (AUM) and holdings in 33 top-ranking copper mining businesses and indices.
COPX has branches in some of the world's rich copper regions, with a 37% stake in the Canadian area and 10.04% in China. This Copper Miners ETF also has holdings in the US, India, Britain and several others in differing proportions.
COPX aims to track the performance of copper mining and is focused on ensuring efficient access to a basket of companies in the copper mining business. On expense ratio, COPX is pegged at a modest 0.65%, with dividend distribution occurring semi-annually. At the moment of writing, COPX trades at $37.48, up 2.43% in the last 24 hours.
Your capital is at risk.
4. iPath Series B Bloomberg Copper Subindex Total Return ETN (JJC) – Best Short Copper ETF For Low Expense Ratio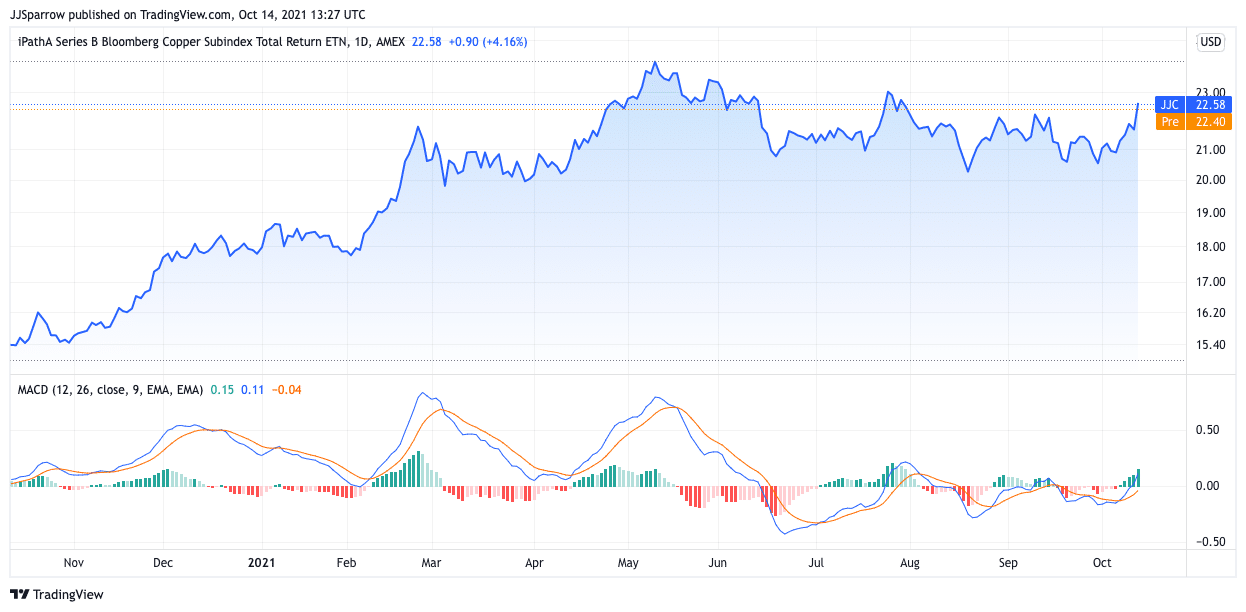 Although not an exchange-traded fund (ETF) at the core, the JJC fund shares similarities. It is an exchange-traded note (ETN) – an unsecured debt instrument that tracks the price of a security and functions more like a stock. It can also be used as an inflation hedge, given its debt profile.
JJC provides exposure to the Bloomberg Copper Subindex Total Return and is one of the top-performing funds in the copper ETF space. The fund has a 52.5% performance over a one-year ratio with over $88.7 million in AUM. It is issued by UK-based Barclays Capital and has a three-month average daily trading volume of 80,926 and it has a low expense ratio of only 0.45%.
Over the past year, JJC has mostly been on an uptrend and has averaged $15 in value. The index fund is up 46.81% and currently trades at $22.58.
Your capital is at risk.
5. WisdomTree Copper 3x Daily Short (3HCS) – Top Short Copper ETF for UK Investors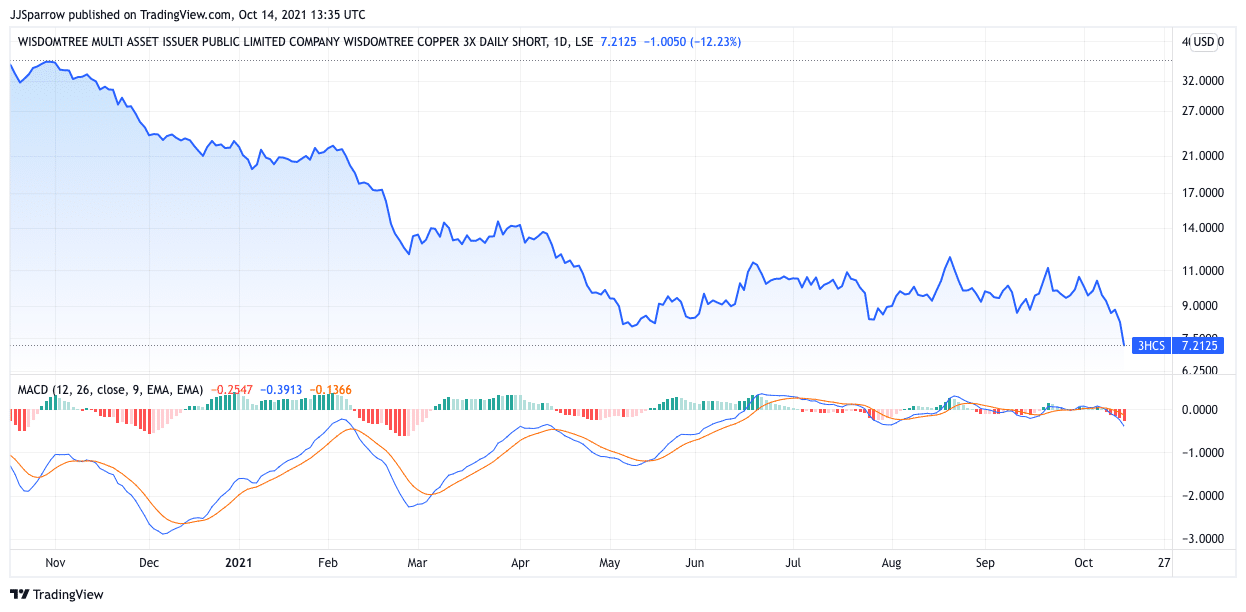 Looking for Copper ETF GBP, look no further than the WisdomTree 3X ETF. Issued by the WisdomTree Multi-Asset Issuer PLC, 3HCS is structured as an exchange-traded commodity (ETC). It aims to provide a total return three times the inverse daily performance of the NASDAQ Commodity HG Copper ER Index and the revenue earned as interest on the collateralised capital.
Founded in 2012, 3HCS is domiciled in Ireland and has over $55 million in AUM. It does not offer currency hedging for invested capital and uses a swap replication method. Management is pegged at a high of 0.99%, with an indicative spread of 0.37%.
In terms of performance, 3HCS has seen its value continue to spiral down in the year. It shot to a 52-week high of $36.02 in January 2021 before facing a sharp market correction. At press time, 3HCS trades at $7.4650, down 0.2% in the last 24 hours.
67% of retail investor accounts lose money when trading CFDs with this provider.
Are Copper ETFs a Good Investment?
Similar to the best Gold ETFs, Copper ETFs are quite valuable. Copper ETFs like the Wisdomtree Copper ETF allow you to gain exposure to copper without buying the precious metal. The United States is moving forward with a plan to invest heavily in infrastructural improvements. The $3.5 trillion infrastructure bill already passed in the Senate, and its reading in the House is expected to happen before the year closes. The bill aims to fix highways, bridges, airports, and more. So, you can expect copper to play a significant role in these construction projects.
Another good run for copper investment is the growing use of the metal by hospitals and other healthcare centres to reduce the spread of germs amid the coronavirus pandemic. Copper is already up significantly this year, and its price is expected to push even higher.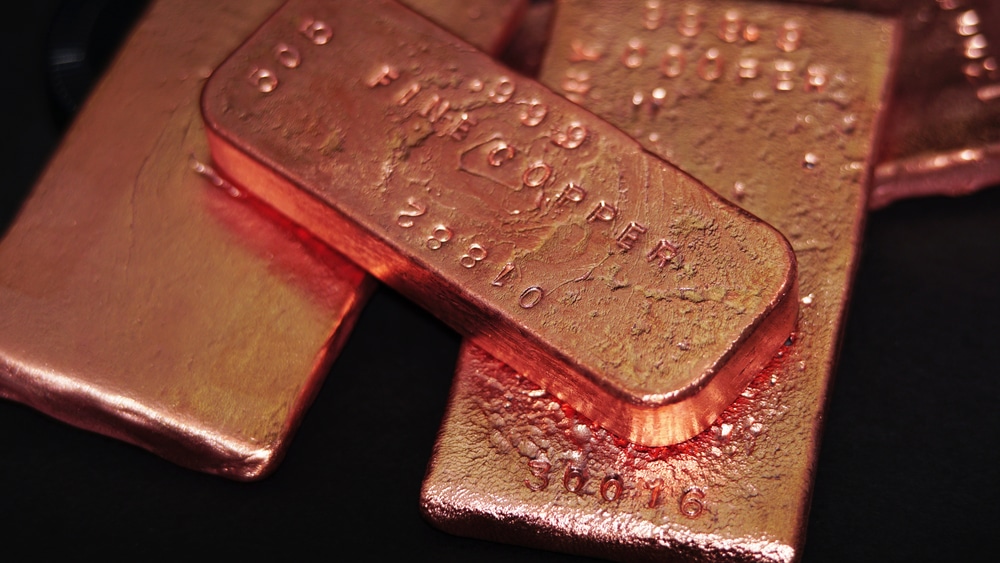 Currently, almost half of the world's copper supply comes from China, Peru, and Chile. The Democratic Republic of Congo also holds a significant amount of copper deposits. These countries are prone to disruptions due to government policies, labour disputes, and other macroeconomic factors. Presently, the price of copper futures stands at $4.38. T5is is up by 24.4% from the start of the year when the futures went for $3.52 a piece. But, it is about 10.6% down from the yearly high of $4.90, which was notched on May 10.
The price of these futures appears to be doing quite fine technically, trading above all of its moving average (MA) indicators. So investors looking for both short and long-term gains could enjoy many benefits by getting exposure to copper. Demand for the precious metal seems to be ramping up, with futures having a relative strength index of 58.28. This is still underbought, but so you can feel confident to invest in copper ETFs as well.
Where to Buy Copper ETFs
Having established the importance of buying a copper ETF, it is worth noting platforms where prospective investors can buy it.
1. eToro – Best Stock Broker for Copper ETFs
eToro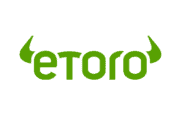 is one of the most popular financial services applications in the world. The stock brokerage platform is especially great because it offers access to several assets, from cryptocurrencies and traditional stocks to bonds and ETFs. As you can expect, some of the most popular copper ETF options are available on this platform too.
eToro was launched in 2007 and has been operating since then. The platform is regulated by several tier-1 jurisdictions, ranging from the United Kingdom's Financial Conduct Authority (FCA) and the Australian Securities and Investments Commission (ASIC). The company is based in Cyprus, and it operates in over 100 countries in the world.
As a multi-asset service provider, eToro makes its user interface as seamless as possible. The platform has a clean and clear user layout that allows beginners to purchase their favourite copper ETFs easily. The whole process can be completed in a few minutes.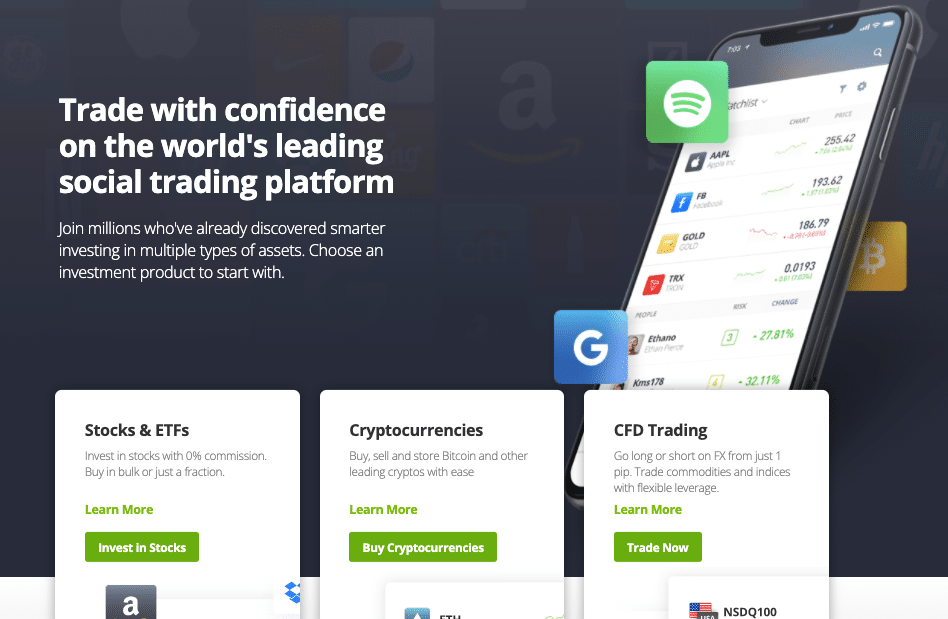 As for popular features, eToro's prime offering is Copy Trading. Users can find some of the most popular traders on eToro and copy their trades with this feature.
So, you could simply find some experienced copper ETF investors and copy their moves. When they make money, you do too.
In terms of fees, eToro makes trading and investing as affordable as possible. You don't incur any fees for opening an account or depositing, and UK users can also enjoy access to commission-free ETF trades. But, while deposits are free on eToro, withdrawals come with a flat rate of $5. The platform offers support for several deposit and withdrawal channels, from PayPal and other payment processors to bank transfers, debit and credit cards, and so on.
eToro has a research and educational section for learning about buying copper ETF. This section enables investors to analyse the market before committing funds.
Pros:
Zero-commission ETF investing
Quick signup process
A broad selection of assets available
Cons:
High minimum balance of $100
67% of retail investor accounts lose money when trading CFDs with this provider.
2. Libertex – Best ETF Platform with Zero Spreads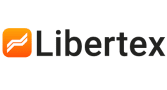 Libertex is one of the oldest and most popular trading apps in the industry. The service has been operating since 1997, and it is part of the Libertex Group. The company is licensed to operate in about 120 countries. Like eToro, Libertex offers access to multiple asset classes – including precious metals and ETFs. If you're looking to get your hands on a copper ETF, Libertex is a great platform to use.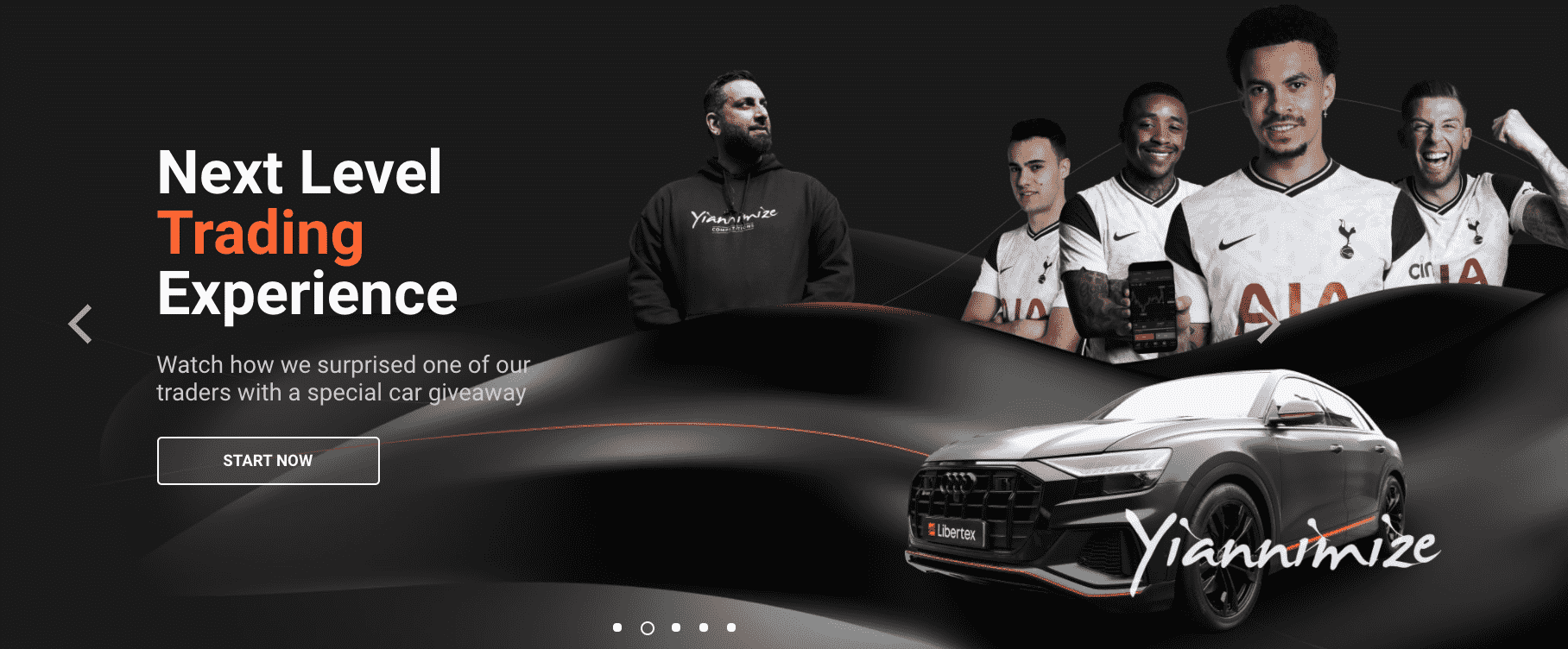 The platform even offers access to margin trading options, with a maximum of 1:500 leverage for sophisticated traders. In addition, all trades on Libertex have zero spreads, which means there's no deviation from the bid and ask price. In addition to ETF trading, Libertex offers stock CFDs, forex trading, indices Traders on Libertex enjoy no fees or commissions on their activity. Deposits and withdrawals are entirely free, and the platform doesn't charge any hidden costs. So, you have a massive opportunity for profitability.
The platform accepts deposits using several methods, including bank transfers, cards, and payment processors. However, note that several channels – such as Sofort, Trustly, and Multibanco – can only be used to make deposits.
Pros:
No commissions on trades
Zero spreads
Free deposits and withdrawals
Great customer service
Cons:
Insufficient education sector
A limited number of ETFs
83% of retail investor accounts lose money when trading CFDs with this provider.
How to Invest in a Copper ETF
Investing in a copper ETF isn't so challenging these days. Thanks to the proliferation of online trading platforms and brokerage services, you can set up an account and open a portfolio of some of your favourite copper ETF options as quickly as possible.
eToro is our top-rated platform for investing in a copper ETF; here's how you get started.
Step 1: Sign Up and Get Started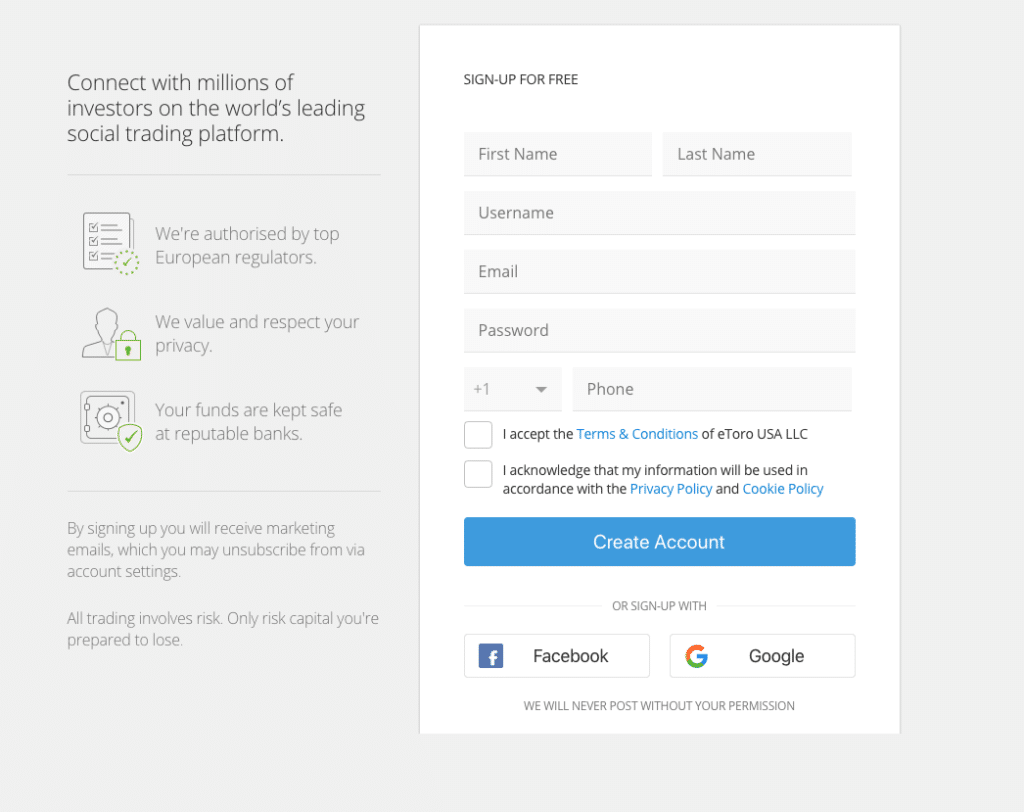 67% of retail investor accounts lose money when trading CFDs with this provider.
Visit the eToro home page, create your account, enter your desired username, password, and fill in your email address.
Step 2: Verify and Deposit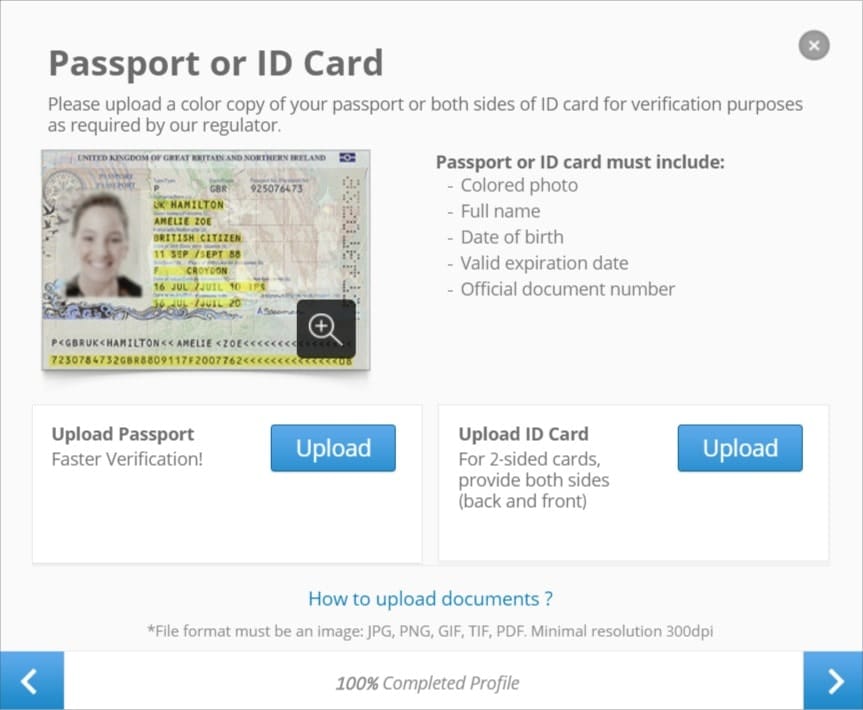 The next step is to verify your identity. This is required as eToro is a regulated broker that adheres to strict know-your-customer (KYC) rules. Note that you will need to carry out verification before you can fund your account. Get a government-issued identity card and enter the relevant details. Once your profile is verified, you can then fund your account. The minimum deposit amount is $50
Step 3: Choose the Copper ETF
The next step will be to head over to the eToro Markets page and select ETFs. eToro offers access to 256 ETFs, and you can find some copper ETF options on the list as well.
Select the copper ETF you would like, then choose Trade. You can choose Buy or Sell based on the direction you'd like to trade. Click on "Open Trade," to get started.
Conclusion
Copper ETFs are a great way to get exposure to the asset. It is one of the most in-demand precious metals, and a copper ETF allows you to take advantage of this investment opportunity.
The availability of several trading platforms and services means that you can easily get access to copper ETFs. But, eToro offers you the best chances. It is easy to use and quick to get started, and you benefit from commission-free trading on copper ETFs.
However, there are risks involved in trading copper ETFs. So investors should do their diligent research before committing funds.
eToro – Buy Copper ETFs with 0% Commission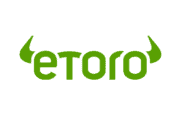 67% of retail investor accounts lose money when trading CFDs with this provider.
FAQs
What makes a good copper ETF?
What is WisdomTree Copper?
Is there a copper ETF on the ASX?
Is there a leveraged copper ETF?
How much is a copper ETF?